Before I even arrived in Nepal I was worried about both trekking and finding the right guide.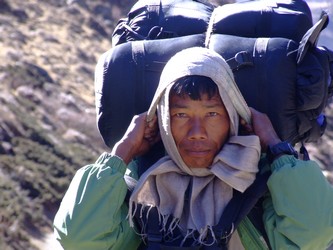 It's not easy to know what to expect when you arrive in Nepal, or even from home when planning a trek.
From online tour companies claiming the world to confusing forums there is a lot of information out there.
This page will help you with answers to the questions I had before arriving.
My problems were the following:
---
This was an issue as I had been told I would meet up with plenty of people in Nepal. Eventually I did, but at the start when I arrived in Pokhara there were few people around. So I was at the mercy of agencies, hotels and touts.
So I spent a week canvassing all the hotels, agencies and personal guides out there.
Here's what I found out, it might save you some time too:
(1) Hotels and Agencies charge commissions for guides, so the price of a guide is greater going through them.
(2) The average cost was USD $18-30 per day for a trekking guide.
(3) When I asked if I could join another group an agency had going I was told yes. But they did not know the numbers going until a day before they left. Meaning I did not know whether I would be sharing the cost of a guide with 2 people or 5.
(4) Most agencies had a 1-5 guide to trekker ratio.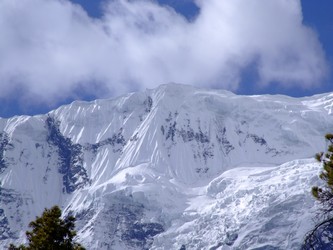 (5)
All Agencies claimed their guides were covered with insurance.
(6)
Trekking permits were included in some prices but not in others.
(7)
Many agencies tried to push all inclusive packages which included hotels, food etc. These started at a scary USD $1550 and up fee for the Annapurna Circuit (about the same for Everest Base Camp).
(8)
There was little difference in hiring a guide from a hotel or agency other than the cost.
(9)
Hiring a guide without going through an agency started at around USD $25 per day, so with more than one person the cost could be split however there were many hidden fees with just a guide and it's not split if I bought a package trek as everyone must pay for the guide.
(10)
Pokhara is a much better place than Kathmandu to find a trekking guide for the Annapurna region. Most treks start from Pokhara and not KTM unless it's for Everest Base Camp and treks around the Langtang region in which case Kathmandu is better.
---
---
This was easier to decide once I got to Nepal. After one or two sit downs with agencies and asking them to suggest places based on my time frame I had a better idea. Also some good online photo galleries showed me what to expect. I chose the Annapurna Circuit (and have since been to EBC along with many more treks).
A good place to look at more treks is this list of treks in Nepal
---
---
I had so much advice from online articles and forums I was a bit boggled with the information. Doing an online search simply brought up bucket loads of online tours rather than actual advice from a human who had been trekking. To get things moving, once you know how many days you have for trekking this is essentially a good starting point. After that pick a trek with the same or slightly less number of days.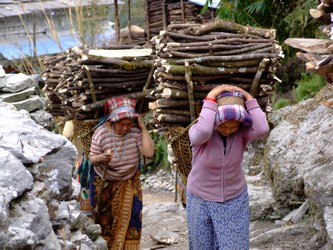 Then question the guide and agency about it e.g. what you will see etc. Before you go it helps to ask about trek conditions, time of year etc. Do ask for a guides qualifications too. Many cheaper guides simply don't have any recognized qualifications or insurance (hence they are cheaper). Don't fall for cheap guides or street guides because if things go wrong on a trek you really will need a guide who is experienced and insured. Aside from that experienced guides explain a lot more about the surrounding mountains and landscapes than inexperienced guides. This is something I can't emphasis enough. It's a once in a life time trip so try and not skimp!
Likewise don't believe in websites or travel blogs you come across who are promoting one company. They've most likely received a free trek to promote the company or are being paid to promote them - such is the world we live in today. Again, for the record I do not accept sponsored treks, posts, meals, accommodation or anything of the kind. Everything is paid 100% by me. I've written guidebooks to Nepal for over 10 years which contain clear and impartial advice.
It's also important understand that on online forums like TripAdvisor need to be read carefully as many companies have paid for ratings, reviews, and have profit making spammers getting in the way of the truth. Do notice I don't promote any companies here so at least, here, you know it's my personal experience ;-)
---
---
Let me start off my clearing up one pet peeve I have. Booking a guide/trek online is incredibly expensive.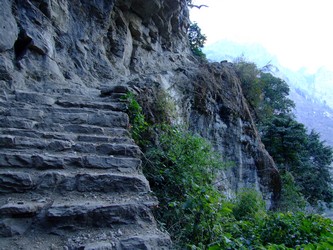 I know one person who was quoted $600+ for a 6 day Poon Hill trek. Included was a luxury tourist bus from Kathmandu to Pokhara. 3 Star Hotel in KTM and Pokhara. Expert guide fully insured, Maps included, quality guest houses on the trek. (they sometimes throw in meals too).
Let me break that down to reality.
(1)
Pokhara to KTM one way on a Greenline Bus $24-26 including lunch and water.
(2)
3 Star hotel in KTM and Pokhara $10-20 USD (everyone's a 3 star by the way)
(3)
Cost of guide - lets say $USD 25 per day
(4)
Cost of treking lodge (guesthouse) $USD 5-10 tops, depending on season. It can be as low as $4 depending on the season
(5)
Meals Dhal Bhat $6-8 or Steaks etc. $12-$14 +
(6)
Map 250 rps
Now you can do the math. For some it's convenience that makes booking online better, and that's fine. For others you might want to re-think due to costs. One important thing to note when booking online is that you don't get to choose your guide!
Another point is that those "too good to be true" online prices for a trek and guide often bundle you in with a group of other trekkers. This can often be problematic because if the other group are larger than yours then they will dictate what happens on the trek. Or, if you read the confusing small print, many companies leave out essential things. There are many good trekking guides but also many bad trekking companies and guides out there only thinking about profit at any cost - including your safety. So again, it really is "let the buy beware". Do your research and don't believe all those 5 star reviews on websites where such companies are well able to write up dozens of fake reviews.
The COVID-19 pandemic decimated the trekking industry in Nepal. Many trekking guides simply took up regular paying jobs and have not returned to trekking. As such, prices have increased as those who rely on the income had to pay back loans, so they increased their fees to cope. Likewise with less guides, they are back in control of setting rates. A side effect of this is that there's been an influx of unqualified trekking guides and indeed fake trekking guides which has resulted in more accidents in the mountains. It's not ideal, but that's the reality.
Another important matter to consider is not skimping on a guides costs. If this is your first trek in Nepal I really do recommend you go with an experienced guide who speaks good English and knows the area well. It's your once in a lifetime trip so make the most of it with a good guide.
You are welcome to contact me if you'd like the details of the guide I use however it would be appreciated if you purchased one of my guidebooks to Nepal first (they also list reputable trekking guides).
You can also try my Find A Trekking Guide Service or my Nepal Travel Planning Service. .
For Everest Base Camp trekkers here's a cost break down of the Everest Base Camp trek for all other treks here is a break down on the cost of a trek in Nepal.
---
---
Interview at least 3 guides, whether they be independents or from an agency. Remember, you will be with this person from anywhere between 3 - 25 days!
Suggested questions to ask and confirm:
(1) Agree on the route.
(2) Agree on the price.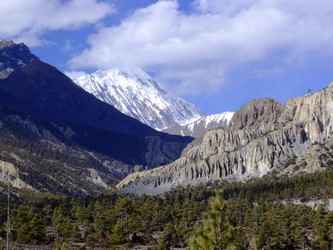 (3)
Agree on the need for porters and who's responsible for them beforehand.
(4)
Agree that you will make the final decision on a guesthouse to stay at en route.
(5)
Ask how many times the guide has done the trek?
(6)
Do they have a family? What do they do aside from Guiding - in other words try to get to know them a bit better personally.
(7)
Agree about who pays for what en route?
(8)
Confirm they are registered guides and that they are insured (they will have certificates to prove this).
(9)
Ask them if they will be drinking alcohol on the trek (in other words find out if this could be an issue).
(10)
Confirm that your guide will be paying for his own food and accommodation.
(11)
Reconfirm the finances.
(12)
Ask yourself if are you totally happy and comfortable with the guide?
Get with the times and go virtual!
The days of being afraid of booking ahead and not knowing who your guide is until you arrive are over. There's widespread internet in Nepal and nearly all trekking agencies and guides have smartphones. It means you should and can (with good companies) be able to meet and talk with your guide months ahead of your trek!
It means knowing how good they are at speaking your language. What their mannerisms are like. And, how you get on together. It's not a question of being best friends, it's literally about getting to meet the person you are hiring beforehand.
Keep in mind that when emailing or messaging a local trekking guide their English grammar may not be so great. But in person or rather over video using Skype, WhatsApp or Facebook Messenger you can talk directly with them in English.
This is something I've been recommending with my
Find a trekking guide service
for years now. If you are going trekking with someone for weeks, it's great to meet them face to face first!
---
---
In March 2023 Nepal Tourism Board enacted an old law that required trekkers to now have a mandatory trekking guide. This includes single people, couples, groups, mountain bikers etc.

The enactment of this law has been controversial. Local hotels, restaurants, and businesses are all losing out to package tours. Moreover, local guides must now be registered to a trekking company. So no more independent freelance guides either.

Need help finding a trekking guide? Try my Find a local trekking guide service.
---
---
You need a fully qualified trekking guide or porter-guide that is registered with a trekking agency. A porter does not count as a guide and it is illegal to use a porter aas a guide in Nepal.
First the difference:

(1)
A guide should speak good English and be able to tell you about the places you pass though. They can arrange accommodation and negotiate with tea houses and eateries for you. A trekking guide does not carry your equipment.

(2)
A porter carries your equipment for you and no more (20kg max). They don't often speak any English. Most can carry two backpacks that they will strap together. But it's very important you do not take advantage of the porter. They are usually very proud people and will attempt to carry things that are just too heavy. Which is not good.

(3) There are porter-guides too. A trainee guide if you will. They have been porters that have completed their guide training but may still be working on their English or building their hours up on the trekking routes. They can carry some of your gear but not as much as a full porter.

(Note) I would recommend leeaving heavy bags at your hotel rather than hiring a porter specifically for carrying things you will not need on the trek. That said if you plan on carrying camera equipment such as SLR's and tripods having a porter can be a great help to free you up.

---
---
Many women go trekking in Nepal both in groups and solo.
It's important that you feel comfortable with your guide. The majority of guides are male. However there are some agencies with female only guides and porters that you might want to consider if you are not comfortable with a male guide. However these guides are much more expensive and in recent years even when booked seem to be unavailable once you actually arrive in Nepal. Do take care.
On all treks there are registration stops and your details are logged. Again the best advice I can give is go with a recommended guide who has good references. You may also want to do the following for piece of mind:
Let your friends and family know your itinerary
Buy a sim card with data to stay in touch with people (it won't work everywhere, but it can help)
Take a photo of your guide and his license and send it to your friends and family. Make sure the guide and or trekking agency know you've done this.
It's worth reading about solo female travel in Nepal.
---
---
Early! If you want a good guide then understand they book out quickly. Post pandemic there is a shortage of good guides in Nepal as many had to take up secure jobs elsewhere.
Some people book a guide one year in advance. This is good in the sense that they are guaranteed a good guide and don't have to worry about it again. At the bare minimum I would advise booking a guide once you have your flights booked - that way you'll know exactly how many days you will be in Nepal (don't forget to add days for domestic flight delays from places like Lukla - add 2 days back up if possible).
The biggest issues come about when trekkers leave it until the last minute. Not only are guides booked out, which raises the price of finding one, but the quality goes down too along with difficulty in securing local transport. All those ads for treks and guides don't tell you about this, but it's clear as day to everyone in Nepal.
Moral of the story? Book early, it will save you money and secure you a good guide for your trek. Leave it to the last minute and you run the risk of a less experienced guide at a higher price.
Need help finding a trekking guide? Try my Find a local trekking guide service.
---
---
In relation to the guides duties when on a trek it depends what you agreed at the start.
(1) They can help get you a trekking permit before you leave.
(2) Generally guides will not carry anything for you, but will usually carry a light coat if you get stuck.
(3) They do get commission from guesthouses and so on and yes they pay much lower rates than you for accommodation and food. Considering the annual wage in Nepal, this is not much.
(4) The cost of food and water goes up the higher your altitude as it takes more effort to move things up there!
(5) Tipping a guide was never customary until about 20 years ago (it's not part of traditional Nepali culture). However, it's now seen as normal when it comes to trekking. Depending on how you feel your guide did, 10% of the treks value is the average. If taking a porter, make sure the guide splits some of this with them. Again, it's not mandatory to tip - it's based on if you felt the guide went above and beyond in being a trekking guide!
(6) It's up to you to be sure you are prepared with adequate clothing, equipment and physical ability. While your guide can offer help it's still your trek!
(7) Important: Due to the pandemic many trekking guides changed to full time work and have not returned. It's meant a shortage of guides and an increase in costs. It has also meant some people are taking advantage and fake or under qualified guides are once again approaching people online, in the streets and being offered by hotels. Do be careful when choosing a guide and ask to see their qualifications.
My Find a Local Trekking Guide Service only uses guides and trekking companies that can provide these for you. It is highly advisable you take these additional precautions before planning your trip to Nepal as the authorities do have a habit of changing the regulations quite often.
---
Recommendations: I will not be listing any guide names here (if you are stuck, see below). I've have written reviews of many agencies and local guides in my Trekking in Nepal guidebook and in my Nepal guidebook. Keep in mind that contacting guides from overseas is tough. The internet in Nepal in slow and unpredictable as are the phone lines. They are also often away on treks and not able to communicate during that time. While most guides speak good English, written English might be difficult for them. If you have all your gear, you can generally be good to go in 1-2 days. For more information on Nepal check out my Guide to Nepal.
Alternatively you can avail of my Find a Local Trekking Guide Service.
---
** If you are seriously stuck or interested in the preferred guide I use you can contact me. However they are also listed in my guidebooks and it would be appreciated if you purchase one before contacting me. He is 100% genuine, honest, has a great experience of the land and is often the envy of several other trekkers I meet on treks **
---
---
You might find my following free guides helpful:

My guide on trekking in Nepal

Check out my guide on equipment & gear needed for trekking in Nepal
Check out my list of treks to do in Nepal complete with maps
Check out my guide on how to travel overland into Tibet for a lot more!
How to choose a trekking guide in Nepal
My Day by day account of trekking to Everest Base Camp in the off season (winter)
Check out my How to travel overland into Nepal guide
Check out my country Guide to Nepal
---
Are you ready to trek in Nepal? If so, then you'll love my trekking books!
---
These guidebooks are a hands on trekking guidebooks that are better than the rest. Yes, really!
The books contain day-by-day guides with accuracy using scalable maps, photographs and travel-tested up-to-date trekking information. Just like my other guidebooks these have been proven to be the best interactive, or paperback guidebooks to Nepal available anywhere today.
So what are you waiting for? Get your hands on these guidebooks and start trekking in Nepal today!
---
Was this page helpful to you? If so please tell others!