So you want to go to Everest Base Camp and want to know how much it will cost?
There's so much information out there that it's often hard to get a straight answer.
You'll find your straight answer on this page.
First, it's really important to remember the following as your price will depend on it.
How many days do you want to trek for? - EBC can be 12 -16 days on average.
The cost of trekking has increased in price in recent years - get an updated guidebook!
What time of year are you planning to go? Peak season is more expensive than off season.
Who do you buy the trek from? Travel agent, online group travel, online agent, in country guide, local guide.
What type of trek do you want to do? All inclusive, guide only or independent?
Lets deal with the biggest issue first, where and what type to buy a trek along with the costs!
Kathmandu Airport Delays 2023
All Lukla flights are meant to be leaving from Ramechhap airport (Manthali) (4-5 hours from Kathmandu). However, the reality in 2023 is that only 50% of this flights will be leaving from Kathmandu / Ramechhap randomly. Yes, it's a mess. At the moment some flights are designated to Kathmandu while other are told to leave from Ramechhap. Most trekking agents have a handle on this. For more information see my full
guide on trekking to Everest Base Camp
.
Something to keep in mind
It's worth considering a local trekking agency over a big international agency. Generally speaking the international online agency will be paying staff in other countries while a Nepali agency will be paying local staff. The result with hiring via a Nepali agency is that your costs will be lower and you are helping the local economy.
Booking a trek/tour online with a private company is probably the more costly way of arranging a trek to Everest Base Camp. Here's my list of recommended Nepal trekking tours
Prices range per person from USD$1,800 all the way to $5,000 for an average 12 - 15 day trek (many will show lower prices that exclude many things like meals etc).
Prices generally include: permits, round trip flights from Kathmandu to Lukla, accommodation, meals - unfortunately in recent years many also omit these too so price look lower.
Prices won't include: travel insurance, visa fees, trekking equipment.
The benefits of booking online are if you are stuck for time then everything will be pre arranged for your arrival. You can literally arrive in Kathmandu on day one and head out trekking on day two.
The negatives are that you'll be paying a premium for this. You won't be able to meet or choose your guide before hand and you'll need to read the small print carefully.
If booking online with a private company do take note of what's included in your package. Some things like permits, meals, or Lukla flights are not mentioned and need to be clarified in writing. This is a huge downfall with booking online - they try to make the prices look cheaper but leave out important/expensive necessities .
Cost Advantages and Disadvantages of booking online
Expense

Easy to see prices

Hidden Charges

Trust
Warning: Be wary of cheap online prices!
It's very important to be aware of "too good to be true prices" online. That $900 EBC camp trek by a "well known" agency might well mean you'll be joining another much larger group which can cause all sorts of problems later on i.e. people not showing up, other last minute routes being selected, no choice in accommodation, being with a big group of another nationality you may not like etc.
Likewise, that $900 EBC trek price when you look at it may also be missing out something like your meals - many bad trekking agencies will right it in a way that looks like you are getting meals included only it actually refers to the trekking staff meals being included and not yours!
In 2023 teahouses in the Everest region increased their accommodation and food prices to cope with a lack of tourists and staff. Some trekking companies are dealing with this by providing less quality accommodation and meals.
In 2023 it's also important to be aware of Nepal's fake helicopter rescue scam which is also linked with very cheap treks being offered online and in Nepal.
Moral of the story? Read this page carefully and you'll quickly be able to calculate the cost of an Everest Base Camp trek based on your own needs and expectations of a trek.
---
---
The difference between booking online with a private company and a booking company can be one in the same - it can also work in your favor.
Prices range per person from USD$1,600 all the way to $5,000 for an average 12 - 15 day trek.
Prices generally include: permits, round trip flights to Lukla, accommodation, meals (again be aware of things like your meals not being included so the price looks lower).
Prices won't include: travel insurance, visa fees, trekking equipment.
A booking company (Viator, Get Your Guide etc.) sources the best deals from private companies. Some of those private companies are local companies while others are popular well known international tour companies. Here's my list of recommended trekking tour packages.
The same cautions apply to tour booking companies when it comes to trekking as international trekking companies. Make sure you know what's included in the price! In recent years trekking companies have been wording their "Includes" list with confusing terms like meals included for staff - which reads like meals are included for you, when they are not. Likweise, the pricing is often shown for group treks and not doubles or singles which will be a lot more expensive.
The pro's with a booking company are that they list their prices for you. They generally have flexible dates for trekking. You are booking through a well known booking company.
The con's are that you still don't know your guide before you go. The booking company is generally a 3rd party to some confusion can occur and you can't have a one on one conversation to sort it out. Likewise, the included in the price lists on these sites are marketed to make it look like everything is included, wherein in fact there is usually something left out that you will be made to pay later.
Cost Advantages and Disadvantages of using a booking company online
Expense

Easy to see prices

Hidden Charges

Trust
If you are interested in finding a booking company who has trekking tours then I've put together an up-to-date list of booking companies offering trekking tours and treks to Nepal.
---
---
This is about the second most popular way to arrange a trek to Everest Base Camp.
Prices range per person from USD$1,600 up to $1,800 for an average 12 - 15 day trek.
Prices should include: permits, round trip flights from Kathmandu to Lukla, accommodation, meals.
Prices won't include: travel insurance, visa fees, trekking equipment, drinking water.
The benefits of booking a package trekking tour to Everest Base Camp is that everything is taken care of for you. Accommodation will be booked ahead, meals will be paid for and arranged. You should get to meet your guide beforehand. You won't be in a group with others.
The negatives are that you'll still be paying a premium for this and many agencies will try to make out that your accommodation will be top rate. The reality is there's a strong chance it will be pretty standard. Likewise, prices are better for couples than for a solo trekker.
Cost Advantages and Disadvantages of booking a Package trek with a Nepali company
Expense

Easy to see prices

Hidden Charges

Trust
---
---
This is about the most popular way to arrange a trek to Everest Base Camp and the costs are broken into two important choices.
Generally speaking you can either choose from a guide only cost. Or a package trek.
The package trek is basically the same as the one listed above but a little cheaper and more included.
Prices range from USD$1400 up to $1

,600

with bargaining.
Prices include: A guide, a porter, Lukla flights, permits, meals & accommodation.
Prices don't include travel insurance, visa fees, trekking equipment, drinking water.
For a local guide with a package trek they'll handle all the accommodation, meals, permits and flights for you. Prices here are around the USD$1,200 region but drop a little if there's more than one person going.
The benefits of arranging a local guide package trek from a local trekking agency is that you can shop around. You can meet and interview several trekking guides (I recommend this). Otherwise if you don't have time you can use my Find a Guide Service.
The trekking agency will also help you book your Lukla flights in advance of your arrival.
The negatives are that if you do this method yourself, then you'll need a few more days in Kathmandu.
The positives are that you'll get to meet your guide before the trek either in person or online - so there's a great element of trust from the start. The guide gets your permits and arranges your flights for you ahead of time. You can discuss the trek, the type of accommodation you expect and if you have any food issues. They'll often include things like trekking poles or sleeping bags.
Cost Advantages and Disadvantages of hiring a local guide & package trek
Expense

Easy to see prices

Hidden Charges

Trust
If you don't have time to hire your own local guide and package trek you can use my Find a Guide Service.
---
---
This is one of the most economical and better options but you should be aware of a few things.
Arranging an independent trekking guide can often mean not going through an trekking agency. You should never hire a street guide from Kathmandu. Most are not registered or have been struck off the registered list. Always hire a guide from a trekking company or through a recommendation and make sure they are licensed!
Prices range from USD$500-600 with bargaining.
Prices for guide only include: the guide only!
Price doesn't include: Lukla flights for you or the guide, accommodation, permits, meals, travel insurance, visa fees, trekking equipment, drinking water.
The biggest negative is that your guide might not be qualified or have legitimate references. You can ask to see them in advance. Secondly they'll often not mention that you also have to pay for their Lukla flights.
You'll also need to arrange your own accommodation and meals when out trekking. This means having to carry large quantities of Nepali rupee with you.
The positives here are a decrease in cost. However it's recommended that only people who've trekked before in Nepal consider this option.
Cost Advantages and Disadvantages of hiring a local guide only
Expense

Easy to see prices

Hidden Charges

Trust
You can use my
Find a Guide Service
if you are looking for local experience, qualified and registered guide.
---
---
This is the third cheapest method for getting to Everest Base Camp.
Prices range from USD$500+

with bargaining
Prices for guide-porter only include: the guide-porter!
Price doesn't include: Lukla flights for you or the guide- porter, accommodation, permits, meals, travel insurance, visa fees, trekking equipment, drinking water.
A guide-porter is basically a guide who is still in training, hasn't got their qualifications or only just got his qualifications. They might not speak English well either. They should have been to Everest Base Camp before - but do be warned they might not have been. Likewise if the are not yet a qualified guide you need to be sure they are a registered porter so they are covered by insurance otherwise you will be liable in the even of an incident.
---
---
This is the second cheapest cost for getting to Everest Base Camp.
Prices range from USD$300+ with bargaining.
Prices for porter only include: the porter!
Price doesn't include: Lukla flights for you or the porter, accommodation, permits, meals, travel insurance, visa fees, trekking equipment, drinking water.
A porter is only meant to carry up to 20kg of your equipment. They are not meant to be guides. Few speak English well which can be an issue in making things understood.
I've seen quite a few people try to take a cost cut in hiring only a porter to act as a guide to Everest Base Camp. It just doesn't work out that way. Don't expect any directions or help if you get lost. Likewise many guides are reporting trekkers who use porters as guides.
If you have experience trekking in Nepal or mountaineering then it might be worth a consideration to hire a porter. But if you've never trekked before or are just looking to cut costs on a trek to Everest Base Camp then hiring a porter to act as a guide is not a good idea.
A porter's job is only to carry luggage or equipment and no more.
---
---
This is the cheapest method in getting to Everest Base Camp but only for those with prior experience trekking in Nepal.
No guides, guide-porters or porters - just you.
Zero prices aside from accommodation, meals, drinks, permits and flights.
You can reduce your costs even further by trekking from Jiri to Lukla rather than flying.
Benefits here aside from reduced costs would include a fully independent trek to Everest Base Camp.
Negatives would be that this option really should not be taken by anyone who has no or little trekking experience in Nepal. Secondary negatives would be that if you get into difficulties or have an accident you really are on your own!
NTB and TAAN are still issuing TIMS cards for the region even though they are not required and you do not need them as a solo trekker. You just need a Sagarmatha National Park Permit and a TREK CARD (available in Monjo and Lukla only)
Do remember it's very important to get trekking insurance for Nepal before going!
---
---
The Everest Base Camp Trek is on average one of the most expensive treks in Nepal. Yes, the views are spectacular. Yes you get to visit and see the world's tallest mountain. However compared to other treks in Nepal the price is certainly higher.
How can you make the Everest Base Camp trek cheaper? The biggest cost factor for the trek is booking online as covered above. On the ground the biggest cost factors are food and a guide.
There are a few things you can do to lower these costs. However under no circumstances should you put your health at risk. Just in case you were wondering accommodation is not so expensive especially when sharing. Most tea house make their profit from serving meals and not providing rooms.
Because of this the golden rule is you have to eat where you sleep on a trek in Nepal.
The cost of domestic flights to Lukla has increased significantly in 2023, especially for non-Nepali travelers. While it may be frustrating, contacting your own Embassy in Nepal can indeed be a reasonable course of action to address the issue. Here are some steps you can take:
Contact Your Embassy: Reach out to your country's embassy or consulate in Nepal and explain the situation. They may have information on how to handle such complaints and can provide guidance on the best course of action.

Document Your Experience: Make sure to provide the embassy with all relevant details, including the dates, airlines, and specific costs you encountered. The more information you can provide, the better they can assess the situation.

Express Your Concerns: Clearly articulate your concerns about the excessive pricing and its impact on travelers. Embassies are there to assist their citizens and may take the issue seriously if it affects a significant number of their nationals.

Ask for Assistance: Request that your embassy or consulate intervene on behalf of its citizens. They may choose to raise the matter with the relevant authorities in Nepal, including the Nepal Tourism Ministry, to address the issue.

Seek Updates: Stay in touch with your embassy to receive updates on their actions regarding the matter. They might be able to provide information on any progress or developments related to the high flight costs.
While it may seem like a long shot, embassies do have diplomatic channels to address issues like this. By reporting the problem to your embassy, you increase the chances of it being noticed and potentially addressed. Additionally, if multiple travelers from your country report the issue to the embassy, it can create more pressure on the authorities to investigate and take corrective action.
For those wondering, it is still cheaper to fly into Lukla than to trek their from Jiri. This is mainly due to the additional week you need at both ends of the trek e.g. transportation, accommodation, meals etc.
First, see above for choosing the right type of trek for your budget!
Next we'll break the trek down into different areas that you can save on costs and places that you shouldn't!
Eat the right food
To lower the cost of your food budget simply stick to Vegetarian Dal Bhat. This is a combination plate of rice, lentils, soup and vegetables. It's what the locals eat. You get double servings! It's filling, loaded with carbs and it varies slightly in each tea house. Yes, it can get boring but you'll only be eating like this for 12 days. It's also significantly cheaper than ordering chicken sizzlers, pastas and so forth. A bowl of noodles may look cheaper but the noodle quality will not be the same as Dal Bhat in terms of entry. You can also get meat Dal Bhat but to be honest it's rarely worth it as the meat is often more bone or fat than meat. Eggs are available throughout. For breakfast, stick with porridge. It's filling and often better than the current pancakes on the EBC route.
Let the Porter carry some weight
If you are taking a porter and they have extra weight then don't be afraid to pack up some trekking bars and milk powder. A 500 gram packet of porridge in Kathmandu can cost 130 rupees and last for 4-5 days while a single bowl of porridge at Gorak Shep can cost 500 rupees. So, you get the point. If there's two of you going, then sharing the weight of carrying some things can help.
Buy Snacks Before the Trek
Avoid purchasing sweets or soft drinks on the trek. They are expensive.
Filter Water
Use a water filter or a steripen or water treatment to lower the cost of buying bottled water for the 12 days.
A local package trek is about the same price
Taking the right trekking guide or a local trekking package can also lower your budget.
If you are only trekking to say you've "done Everest" then you can get away with less experienced (but qualified) guide. The difference will be language, enthusiasm and knowledge.
A less experienced guide will get you to Everest while a more experienced guide will make every day of your journey days you'll remember & cherish forever
Finally remember because a local package trek from USD1,400+ seems a lot more than "just hiring a guide" they often include flights, accommodation, permits, meals and a guide. When you add up all these things. It often works out similar to a guide only deal. The insider secret is that local guides get discounts on meals and accommodation on this trek - this is how they make a profit. Opting for this type of package means you don't have to worry so much about what you are ordering at dinner time or if there will be a room waiting for you in the next village after a long day. So if you have a big appetite, want some security and to relax then going with a local package trek can actually save you money.
For more on hiring guides do read about how to hire a trekking guide in Nepal.
Still trying to work out your budget? Below is a full breakdown on the price of a trek to Everest Base Camp.
---
---
Aside from package tours which include guides and porters there a few other things you need to keep in mind when calculating the full cost of the trek. Here is a complete breakdown on what everything costs on the trek.
Cost of Flights to Lukla
Lukla flights generally cost $215 one way in 2023. For a guide or porter it's $90-100 (yes, they get a reduced rate - normally it's included in their price quotation to you for a package trek). So a return flight is likely to cost you $430 USD. This is set to increase again soon.
Guides and trekking agents offer slightly cheaper flights than online prices. It's also much safer to book through a trekking agency or guide than online - if there are any schedule changes, delays or cancelations a guide or agency can refund you immediately whereas online booking has resulted in delays in reimbursement.
Please note that 50% of flights have been leaving from Kathmandu and the rest from Ramechhap airport depending on conjestion. If leaving from Ramechhap the cost of the flight is the same, but you'll need to pay for transport to Ramechhap and then if needed another night stay there.
Many package treks are arranging private transport at no cost to trekkers. However if you are trekking alone then you'll either need to take a
local
bus for
2
00 rupees, a micro van which is USD $200 (18 seats-price split depending on the number of seats) or a private car $
20
. Do keep in mind that the journey takes 4-5 hours and private cars are likely to charge more if driving at night.
Cost of Accommodation on the Everest Base Camp Trek
Accommodation along the trail varies. Off season low-end tea houses can be as little as 100-200 rupees. However prices rise the further you go along the trail and can hit 1,500 rupees at Gorak Shep. Prices also change between off-peak and peak seasons.
Everest Base Camp Trek Accommodation Price Indexes
Low Altitude
Low-mid Altitude
Mid Altitude
Mid-High Altitude
High Altitude
Low season Shared

toilet

$3
$3-5
$5
$5-6

$6-7
Peak season Shared

toilet

$5
$5-6
$6-750
$6-8
$9-10

+



Private bathroom
$20-100+*
$20-100+*
$20-40*
$20-50*
N/A Periche & Dingbouche are the last places**
Prices in USD
* Some high-end Hotels like Everest View charge up to USD $300 for a room in peak season.
** Rooms with private bathrooms stop after Periche and Dingbouche. They are simply not available - so don't expect private bathrooms all the way no matter how much a trekking company says you'll get great rooms (for an added price).
In late 2018 a new 500 rupee minimum charge was introduced after Namche Bazzar. As of the 2023 peak season this minimum charge is only randomly being made. If trekking on a package trek this will not effect you. If trekking solo then it may effect you so be sure to get a receipt for any payment you make.
Remember, during off-peak season the price of a single room goes down and it's easier to bargain for better prices. However during off-peak season dorm rooms are often closed. Dorm rooms are available in some low to mid altitude villages but the prices are not that much different at $2-3 a bed.
During peak season prices are often set and bargaining is harder. Like in many places the cheaper accommodation tends to fill up the quickest. The average cost of a room along the Everest Base camp trail is between $5-6. Above that and you are looking at en-suite's at $20-40.
If you are on a package tour your accommodation will be paid for already. If it's not to your liking, then you can pay more on the spot to upgrade (provided there's a room available).
There are high-end luxury hotels and lodges along the trail which run between $100 - $300 per night. These won't be included in package treks. However you may supplement them yourself or indeed arrange with a guide or package trek to have them included. There are only a few of these hotels up to Everest View, so don't buy into any company telling you about luxury accommodation at Gorak Shep, Dingbouche, etc
Read more about what trekking accommodation and tea houses are like in Nepal.
Extra accommodation fees
Yes there's still more to pay for. It seems cheeky but accommodation on the Everest trek does not include many things that guesthoueses or hotels do in the rest of Nepal. Basically with an average room you get the following. A room with a bed, a single sheet, a blanket and a light. You also get the use of a shared bathroom and a cold shower.
The following are extras:
Hot Showers
Your accommodation fee does not include a hot shower unless you are paying for an ensuite room. Cold showers are free (not so nice). A hot shower on the Everest Base Camp trail can cost from 200 rupees to a more likely 600 rupees per hot shower. Many people on a budget just skip them or opt for a bucket of icy water in the bathroom.
Heating
If you want an electric blanket or electric heater they cost $20 per night. Not all accommodation have them though so ask your guide. All accommodation have a common room where there is a wood stove.
Battery Charging
Wait, there's more again. There's also an hourly charging fee for batteries or devices that will set you back about 200-600 rupees. Power banks are usually charged for $10.
Internet
There's one final expense - internet. WIFI charges range from 200 rupees to 500 rupees and even then the service is very slow. It's best used for sending a message home to let them know your are okay. If internet is important to you then you could look into getting an http://everestlink.com.np/ card with prices from $20 for 10GB. Not all tea houses have this connection nor is it always working but it is becoming more wide spread.
The good news is there's no fees (yet) for a blanket or an extra blanket. An electric blanket can cost $20 per night in some teahouses.
Hotels and guest houses in Nepal don't charge to mind your baggage so long as you stay with them before going on your trek. The exception are a few backpacker hostels which have started charging to mind your bags.
Meal prices again vary. Dal Bhat at the start of a trek can start at 600 rupees and at the base camp (Gorak Shep) go for 1600 rupees. Again that price varies between high and low trekking seasons.
Bottles of water also go up in price. One liter of bottled water can start at 100 rupees and at high camp cost as much as 500+ rupees!
Do be mindful of water stations. Most have not had their filters cleaned. It's worth bringing your own filtration system.
So note that in 2020 there will be a plastic bottle ban on the Everest Trek. This ban is no longer being followed strickly due to the lack of clean filtered water on offer.
| Item | Price |
| --- | --- |
| Pancakes | 300-600 Rupees |
| Fried eggs (2) | 250-500 Rupees |
| Porridge | 400-600 Rupees |
| Tibetan Bread | 300-600 Rupees |
| Dal Bhat (Meat) | 800-1800 Rupees |
| Dal Bhat (Veg) Fried Noodles | 600-1200 Rupees |
| Boiled Potatoes | 400-600 Rupees |
| Fried Noodles (Veg) | 450-600 Rupees |
| Fried Potatoes with Cheese | 550-900 Rupees |
| Pasta with sauce | 500-800 Rupees |
| Macaroni with Cheese | 500-900 Rupees |
| Pizza with cheese & veg | 1000+ Rupees |
| Sherpa Stew | 800-1200 Rupees |
| Apple Pie | 500-800 Rupees |
| Tea/Coffee | 100-400 Rupees |
| 1 liter beer | 1000+ Rupees |
| Soft Drinks (Coke, Sprite etc.) | 200-500 Rupees |
| 1 liter boiled water (for filtering) | 100-300 Rupees |
Meat is harder to find past Namche and is likely to be frozen rather than fresh. The reason is simple: refrigeration (or lack thereof) may not be so stable so the meat may cause stomach issues. Meat is also more expensive and becomes scarcer the higher up you go. There are even steaks (Buffalo/Buff) available for USD $16++. Likewise the infamous Yak steak which can be purchased for an even higher price though it's strongly rumored to be buff. Again, quality and hygiene should be considered.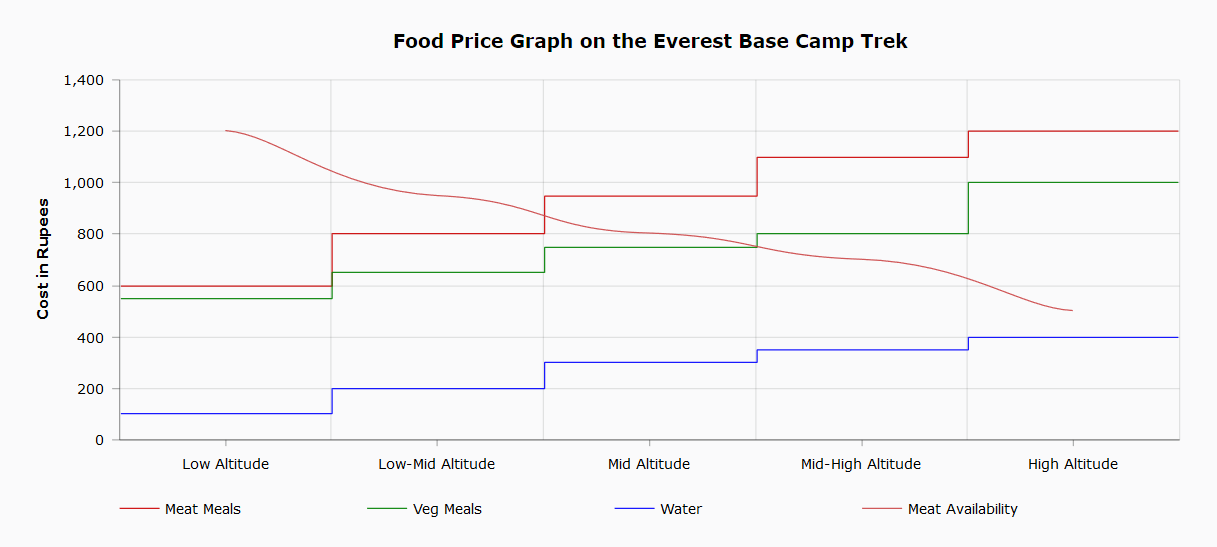 The above graph shows how food prices increase as the altitude increases. The reasons are twofold. It takes extra cost to bring the food up in altitude and it's harder to grow fresh vegetables or keep livestock in high altitude.
Bringing your own snacks can help you save money. I often bring Yak cheese, oatmeal bars and milk powder.
Perhaps the biggest cost for trekkers is bottled water. With prices starting at 100 rupees per liter and rising to 400 rupees a liter. Unfortunately many of the filtered water drinking stations are not well maintained. So, the best option is to bring your own water filtration system like a steripen, lifestraw, chlorine pills or iodine drops. Keep in mind if you do have health issues then steripens and lifestraws do not kill all parasites nor viruses.
It was announced in 2019 that the Everest Trek Region (Solukhumbu) plans to ban all plastic bottles in 2020 with fines being given to those with them. Hard sealed plastic drinking bottles are not banned. in 2023 it seems things have relaxed again and bottled water is once again available.
The total permit cost for a trek to Everest Base Camp is: 5,000 rupees.
This cost is made up of two permits.
National Park tickets (permit) prices for Sagamartha National Park cost 3000 rupees.

Solukhumbu regional fee is 2000 rupees for group trekkers.

TREK CARD is 2000 rupees for solo trekkers (you then don't have to pay for the Solukhumbu regional fee or TIMS card)
The TIMS card is no longer needed since 2020. It used to cost USD $20 if you were trekking alone or $10 if you were with a guide. For trekkers going alone, you do not pay the Solukhumbu regional fee, instead you pay $20 for the new (2023) TREK card which can only be bought in Monjo or Lukla.
Do read about the latest trekking permit and national park fees in Nepal.
While here you can find full details on how and where to get your Everest Permits.
Guide prices vary by season, region and whether you hire one from an agency or independently. Guides in the Everest region cost a little more than most regions in Nepal.
If you find all this complicated or overwhelming then do consider my Find a Trekking Guide Service or my Nepal travel planning services. For a well researched list of local guides please get my Nepal guidebook.
Cost of guide on the Everest Base Camp Trek
Low-end prices for guides in Nepal can start at around $27 per day. The average cost of a trekking guide is $30. While high-end guides are $50+.
Generally speaking the higher the cost of your local guide the better they should be. They'll put safety first, have a good knowledge of the environment and many years of experience etc. These prices only apply to local guides. They do not count for online trekking packages as you will not be directly dealing with the guide.
Cost of a
porter

-

guide

on the Everest Base Camp Trek

Again guide-porter prices vary by season and if they are from an agency or not. Porter-guides usually cost $23-25 per day.
Cost of porter on the Everest Base Camp Trek
Porters usually cost between $22 per day (do remember that porters are not guides and can't be tasked with such a job).
All registered guides, guide-porters and porters should have their own insurance. If a guide or company is trying to pass this cost onto you then walk away there is something amiss. If they do not have insurance then the trekker is liable to cover their costs (unscrupulous porters and guides are aware of this and often cause problems for trekkers mid-trek).
Average 12 day trek cost to Everest Base Camp
Item
Cost USD $
Permits (Sagamartha & Solukhumbu/TREK card)
50
Guide x 12 days
336
Accommodation x 12
60
Meals 3x5
360
Water 4 liters a day
96
Charging Batteries (3 charges)
15
Transport (public)
10
Flights (RTN)

430

Total
1,3

57
Don't forget the extras like travel insurance, snacks, tipping the guide, and equipment.
---
---
10% of the overall trek price is a good general tip to give a guide, guide-porter or a porter.
However, tipping is not customary in Nepal. The custom of tipping started with the influx of foreign trekkers and the trekking industry.
The result is most guides now expect a tip as do guide-porters and indeed porters. Some trekking companies rather rudely list "mandatory tip" on their price lists. I tend to avoid these companies.
Calculating the tip
In Nepal there is a 10% service charge added to all hotels and restaurants, though in 2019 it became part of the overall price of a restaurant or hotel bill. It's a good gauge on tipping a guide.
10% of the overall trek cost remains a good number. You can then split that 10% between the guide and the porter/s.
It is however important to point out that a tip is not mandatory and the 10% tip is just a guideline. If you feel your guide has been exceptional and gone above or beyond their duties then feel free to tip as appropriate. Or if you feel that the guide/porters have not been as good as expected then similarly you might not want to tip as much.
---
---
Firstly you should note that there is a difference between travel insurance and travel insurance with trekking allowed. The vast majority of travel insurance polices do NOT let you trek!
You need specific travel insurance that covers you up to the altitude you are going!
If you are trekking to Everest Base Camp and climbing Kala Patthar then your maximum altitude is 5,543 m (18,192ft). Most travel insurance polices work in blocks of altitude so you would need coverage up 6,000m.
Prices will depend on a range of options from age, nationality and duration of the trek.
You can read here about my recommended travel insurance for Nepal.
---
Are you ready to trek in Nepal? If so, then you'll love my trekking books!
---
These guidebooks are a hands on trekking guidebooks that are better than the rest. Yes, really!
The books contain day-by-day guides with accuracy using scalable maps, photographs and travel-tested up-to-date trekking information. Just like my other guidebooks these have been proven to be the best interactive, or paperback guidebooks to Nepal available anywhere today.
So what are you waiting for? Get your hands on these guidebooks and start trekking in Nepal today!
---
Was this page helpful to you? If so please tell others!