---
Located south of Patan Durbar Square Uku Bahal (Newar Buddhist Monastery) is known locally as Rudravarna Mahavihar. One of several popular attractions of culture worth stopping by to see in this wonderful city.
The area around Uku Bahal contains 3 courtyards and each has interesting and unique features. The highlight is of course the main Uku Bahal central courtyard which was started by King Shivadev (590-604) as one of five monasteries.
The outer courtyard is marked by an impressive gate with two flag bearing lion statues on top that wouldn't look out of place in London. These were a later addition in 1680.
The courtyard at the back of Uku Bahal is relatively modern and actually belongs to the residents surrounding it. None the less it's worth taking a walk around it and possibly admitting some of the painted sculptures and stupa there.
Take note of the small ticket price for the temple below as it also covers the nearby Mahaboudha Temple.
Did you know?
Although started by King Shivadev the monastery was later renovated by Rudradev so its name became known as "Shivadev Samskarita Rudravarna Mahavihara".
When it was founded the monastery was located in the Wankulli district. So it's name become commonly known as Wankuli Bihar. Over the years this changed to Uku Bahal!
Not only is the Uku Bahal courtyard one of the most well preserved courtyards in Nepal it's also one of the impressive. You usually have most of the place to yourself as day trippers don't often spend much time here on their tour. So, the moral of the story is visit independently if you like this type of heriage (my guidebook also goes into detail).
Take note of the well preserved roof struts along the northern side of Uku Bahal. They are said to be some of oldest in the valley. Much of the color paint is still visible on them and is likely to match the original paintwork.
Splendid items found inside include dorjes (thunderbolts), brass bells, winged horses, peacocks, a statue of Rana Prime Minister Juddha Shumsher who donated money for the repairs to the Bahal after the earthquake in 1934.
Also of note are the pair of stone lions which are highly unusual in Nepal and look distinctly British. There are also a pair of ornate Garudas who don't seem to be rivaled elsewhere in the country.
---
---
The current fee for foreigners is 50 rupees. This ticket is also valid for the nearby Mahaboudha Temple. So you only need to buy one ticket at either compound
---
---
Use this map of Patan for to locate Uku Bahal and other highlights in Patan. For a better map download my full travel guide to Patan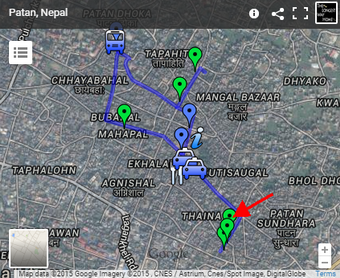 Uku Bahal is located at the end of a main street in south Patan.
As you come out of the Mahaboudha temple compound take a right then the first street to your left. Uku Bahal will be the first on your right marked by its impressive gateway and black stone lions. See my guide below for detailed directions.
---
Get the Best Nepal Guidebook
---
Without question you can use this website to plan out your trip to Nepal for free. The above map is just one of over 100 from my Nepal guidebook. There's is however a big difference in using a website and having a dedicated guidebook.
When I first came to Nepal 10+ years ago I was very disappointed with the big brand guidebooks on offer. So, I set about writing my own. It's is far better! Check out the details below and you'll see why, I promise.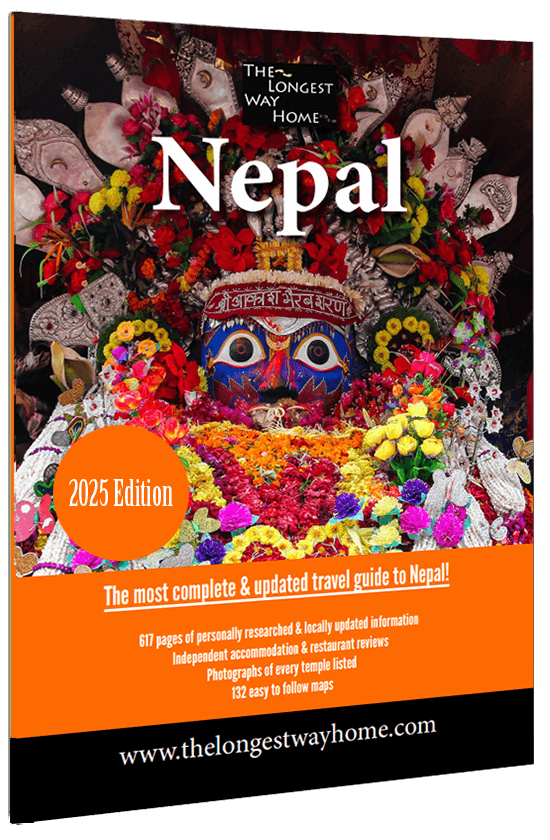 ---
Was this page helpful to you? If so please tell others!