Nepal's tourism map spans east to west and north to south.
The central attractions are located in the central area of the Kathmandu Valley and the trekking regions of the north east, north central and north west.
Other attractions include the jungles in the south central region and the south west.
Finally to the central west is the adventure and relaxation area of Pokhara.

Places to travel in Nepal
The above map gives you a very clear idea of what there is to see and do around Nepal. In conjunction with the page on places to visit in Nepal you can also use it for short itineraries when visiting Nepal or long itineraries to Nepal.
One very important aspect of any map of activities in Nepal is distance. While Nepal uses kilometers it is not worth your time to do the same due to mountain terrain, bad roads and detrimental weather conditions. It's better to use time as a distance measurement when traveling because it will give you a better idea of the time needed to reach the location no matter the speed you travel.
An example of this would be the distance from Pokhara to Kathmandu is 5-7 hours by bus or 20min by plane rather than 147km.
---
Get the Best Nepal Guidebook
---
Without question you can use this website to plan out your trip to Nepal for free. The above map is just one of over 100 from my Nepal guidebook. There's is however a big difference in using a website and having a dedicated guidebook.
When I first came to Nepal 10+ years ago I was very disappointed with the big brand guidebooks on offer. So, I set about writing my own. It's is far better! Check out the details below and you'll see why, I promise.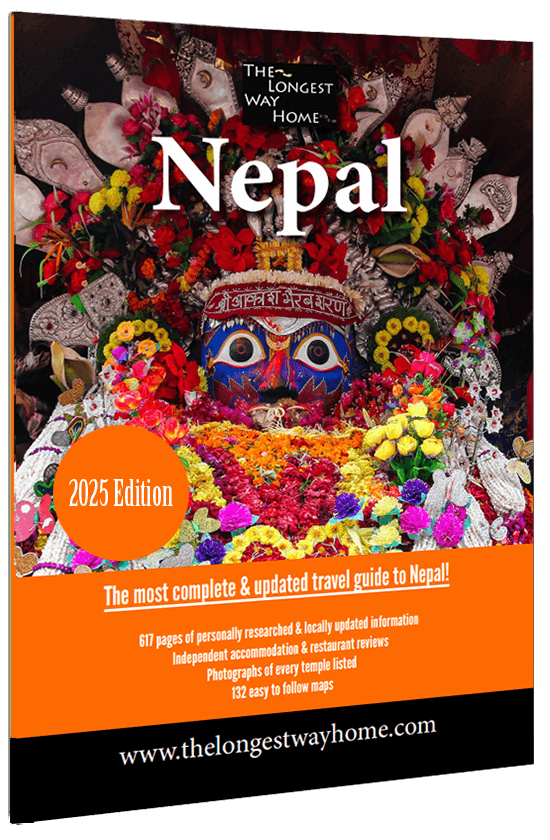 ---
Was this page helpful to you? If so please tell others!