---
The Guerrilla Trail is also known as the Shangri-La trail has been open since 2006 when the civil war in Nepal ended. The trail takes place in the Myagdi District of Gandaki Pradesh in western Nepal.
The area was once home to the Maoist revolutionists and was a central area in the 10 year civil war in Nepal. The name "Guerrilla Trail" literally comes from the revolutionary Guerrilla's that used to occupy the area. Today there is peace throughout Nepal with this trek being created in help local residents recover. Today it still remains as one of Nepal's greater low altitude treks that takes you on journey through fascinating lands.
Manaslu from the Guerrilla Trail -
(photo: photographs by Surendra Rana are provided with permission by Pawan Shakya from Himalayan Travel Guides - the publisher of my guidebook to Nepal)

The Guerrilla Trail is 12-20+ days depending on your requirements and time. It's important to note that although Manaslu and Dhaulagiri mountains appear it's not a "mountain viewing" trek per se. The Guerrilla trail is more about valleys, culture and nature. Read on to learn more about this transformative trail through remote areas in western Nepal.
Please note: the maps on this page are not to be used as physical trekking maps, they are here only to show the rough outline and region of a trek. Dedicated Guerrilla Trail maps by Himalayan Map House are available in Nepal.
Trek Overview
| | |
| --- | --- |
| Difficulty: Moderate-Hard | Days: 12-20+ days |
| Max Altitude: 3,414 m | Distance: 274 km (170.5 mi) |
| Accommodation: Teahouse | |
Distance shown is the full trek but does not include driving distances to and from the trail heads. The final distance will depend on side treks, extra days taken e.t.c. A fully detailed guide to the Guerrilla trail with more details is below
.
Honesty counts!
Every travel guide on this site has always been 100% independent, unbiased & honest. I do not accept sponsorships, free treks or tours. I do not own a trekking company or business in Nepal. I pay my own way & in turn write
authentic guidebooks to Nepal
. Rest assured, this is a genuine travel guide that you can trust.
Trekking guides are now mandatory in Nepal:
In March 2023 Nepal Tourism Board announced that all trekkers (solo, couples, groups, etc.) must have a licensed trekking guide from a registered trekking company if they want to trek in Nepal. Freelance trekking guides are also no longer permitted and only guides registered to trekking companies are allowed. The ruling is controversial in many aspects. There are likely to be changes to this ruling over the coming months and indeed years. However, the reality is that you now need a trekking guide to do this trek. Find a registered guide in my
Trekking in Nepal Guidebook
or use my
Find a Nepal Trekking Guide Service
.
---
The Guerrilla Trail stretches from Dhorpatan Hunting Reserve to the west of Beni all the way to Myagdi, Rukum and Rolpa villages. The Dhorpatan Hunting Reserve remains the only legal hunting area in Nepal.
With over 200km to cover the trail offers a low altitude remote trek with little to no commercialization. Many trekkers report never coming across another trekker on the Guerrilla trail.
The Guerrilla trek is not known for stunning mountain views though Dhaulagiri and Manaslu can be seen.
Caves where revolutionaries hid and mountain hideouts are often on show though they are largely no more than mounds now.
Dhorpatan Hunting Reserve itself rarely gets hunters anymore. Those that do appear are only allowed to hunt overpopulated blue sheep, tahr, muntjac and wild boar.
Most people visit Guerrilla Trail to get a sense of remote and rural Nepal. Teahouses are quite basic and bucket showers every few days is about the norm. For long-term visitors to Nepal this trek offers a taste of old Nepal. While for new visitors it's a chance at a low altitude trek.
---
---
This map shows you the Guerrilla Trail.
Please note this map should not be used as a practical trekking map.
---
---
The Guerrilla Trail is best thought of a low altitude cultural nature trail.
Highest point of the Guerrilla Trail
At (3,414 m / 11,200.79 ft) Crossing the Jaljala Pass is the highest part of this trek.
Valley hill in Dhorpatan
Highest sleeping point on the Guerrilla Trail
The highest place to sleep is in Dhorpatan (2,870 m / 9416.01 ft)
Total distance of the Guerrilla Trail
The Guerrilla Trails distance can be 274 km or more to 120 km depending on which routes you take.
How long have people been hiking the Guerilla route?
The Guerilla Trail only came to fruition in 2006 aver the decade long civil war in Nepal ended.
The trail was established as a non-commercial trail to help the local residents rebuild.
Is there any wildlife to seen on the Guerrilla Trail?
Dhorpatan Hunting Reserve gets most of the attention outside of domestic livestock on this trail. Snow leopards, musk deer, red pandas, and blue sheep are all found within the reserve. However only four animals are allowed to be hunted, Himalayan Tahr, blue Sheep, muntjac and wild boar. Many trekkers object to paying a permit to enter a hunting reserve however locals say the fund also go towards conservation efforts.
What mountains can you see on the Guerrilla Trail?
Dhaulagiri and Manaslu can be seen on this trail. The Guerrilla trail is primarily a nature and cultural hike.
History of the Guerrilla Trail
The guerrilla war in Nepal is a part of the civil war between Maoists and the National Government between 1996 to 2006. During this period many guerrilla rebels hid out in in remote areas of Nepal. This trail encompasses many of these areas. You will often come across old stone hideouts along the trail itself. An initiative was set up to help local villages, and to preserve a part of Nepali history by having a trekking route through the region.
---
---
Highlights of the Guerrilla Trail include:
A low altitude trail across a remote area
Few other tourists
Cultural villages rarely visited
Valley views
Can be extended
---
---
Arranging a regular Guerrilla Trail Trek
Treks for Guerrilla trail can be found however do not expect many of the guides to know the route that well. Some may quite honestly have never been on the trek. This is not a huge issue as it is quite low altitude but it's still worth keeping in mind.
Package treks & tours to the Guerrilla Trail bought online
Package treks & tours to the Guerrilla Trail are available online though not widely. Many of the itineraries are quite dated and do not take into account the new roads.
Package tours for a 14-16 day trek start from around USD $1200
Pro's of a package trek on the Guerilla trail is that everything will be arranged for you in advance.
Con's include overpriced tours with guides that cannot guarantee they know the area. Permit information is not clear and porters are not always included.
Package treks bought in Nepal for the Guerilla Trail
You'll stand a better chance at getting what's included in the trek nailed down if you arrange the trek in Nepal. A package trek will include, accommodation, meals, permits and a guide. They may also include a porter.
As the trek is low altitude you'll have no shortage of agencies saying they can do it. However you will have a problem finding a guide who has done it. Costs would be around USD $1000.
Pro's of a local package trek include being sure of what you are paying for.
Con's include trekking companies promising they know the route very well when they've never been.
If you'd like to take the hard work out of finding a guide or package hike for the Guerrilla trail before you arrive then do try my Find a Trekking Guide Service.
Hiring a local Guide for the Guerilla Trail
Pokhara is the best place to find a local guide for the Guerilla Trail. It's best to hire one from a trekking company and not off the street. It is a long trek so you should meet the guide first and make sure you feel they are right for you.
There is information online suggesting you just head off an hire a guide on the way. Today's Nepal is not the same as it was even a few years ago. Hiring an unlicensed guide means you will be liable for their medical costs if an accident occurs. If they are licensed from an agency they will be covered.
Hiring a local guide can cost between $25-50 per day based on their experience.
If you are looking for a local registered trekking guide for the Guerrilla trail trek I recommend you read my article on How to find a trekking guide in Nepal.
In my guidebook to Nepal there are several well vetted trekking agencies you can choose from that hire out local guides.
You can also save some time by using my Find a Guide Trekking Service to get a local guide.
Trekking the Guerrilla Trail without a guide
A guide is not mandatory on this trek. However, if you venture into Dolpo then they are. Ensure you stick with the Guerrilla trail.
This trail is low altitude and so safe in regards to altitude sickness. Dehydration is the most common problem along with heat exhaustion. Trail routes are not well marked out. Experienced trekkers with prior experience of trekking in Nepal should only consider going on this trek alone.
If you are looking for a guide for the Guerrilla trek I recommend you read my article on How to find a trekking guide in Nepal.
You may also use my Find a Guide Trekking Service.
---
---
The Guerrilla Trail is low altitude. The weather can get very humid in the summer. Cloud coverage and rain can also effect this trek.
Dhorpatan Weather by month
Avg. Temperature
(°C)
Avg. Temperature
(°F)
Precipitation / Rainfall (mm)
January
2.8
37.0
41
February
3.9
39.0
38
March
8
46.4
54
April
11.8
53.2
45
May
14.1
57.4
54
June
15.7
60.3
86
July
14.9
58.8
216
August
14.7
58.5
196
September
13.6
56.5
101
October
10.9
51.6
45
November
6.2
43.2
9
December
3.9
39.0
20
Do note that the above are average temperatures and Dhorpatan does not have an accurate weather station. On average expect higher temperatures during the day.
The above chart shows a more accurate representation of day and night temperatures in Dhorpatan. Do note that the low altitude usually means the temperature in this region can feel higher due to humidity.
Months with the best weather to trek the Guerrilla Trail
Mid October - November/(early)December: Nepal's peak and best time to go on the Guerrilla trail.
February-March-April: this is the end of the dry season in Nepal and the second best time of year to go hiking to go on the Guerrilla trail. This time of year also has the added advantage of the surrounding countryside in full bloom.
December to January/February: the skies are clear but it can get very cold.
May - June: The hot pre-monsoon season means things get uncomfortable and humid. The valley and hills around the Guerrilla trail are starting to bloom with flowers but most will be covered by the forest.
June - Mid September: this is Nepal's Monsoon season and the least popular time to go trekking on the Guerrilla trail. The risk of leeches and heavy rain will increase.
For more details please see my guide on the best time of year to go trekking in Nepal.
---
---
There's been quite a bit of confusions about what permits are needed on the Guerrilla Trail over the years. This has largely been because of the Dhorpatan Hunting Reserve and people not wanting to pay to enter a hunting area. As a result some trekkers claim to have entered without having to pay as they were not hunting. In recent years things have tightened up and the Dhorpatan Hunting Reserve permit is claimed to be used for helping to conserve the area as well. TIMS card checkpoints are rarely open.
It's important to note that if you do decide to enter the Dolpo region (not on this page) you'll need permit for that region.
You need two permits for the Guerrilla Trail
Dhorpatan Hunting Reserve Permit
TIMS Card
Dhorpatan Hunting Reserve Permit
The Dhorpatan Hunting Reserve Permit is for entry into an area that is Nepal's only wildlife hunting reserve. The permit does not give you a right to hunt. A hunting permit is separate.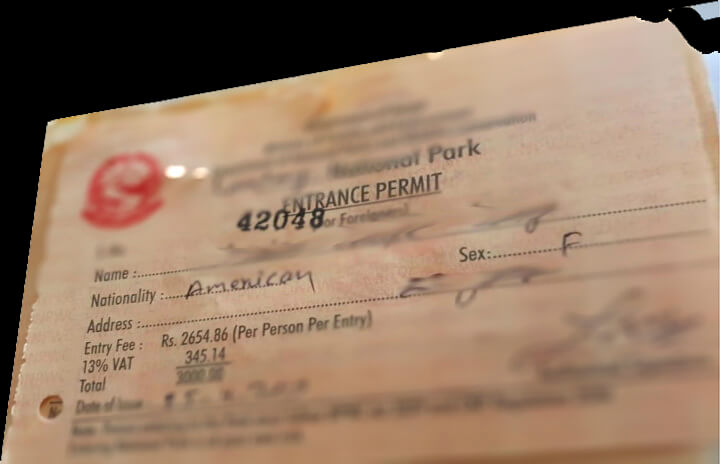 Steps to getting a Dhorpatan Hunting Reserve Permit.
The Dhorpatan hunting Reserve Permit is only available in Dhorpatan at the official office
Pay 3,000 rupees to get your permit
Trekker Information Management System Card (TIMS)
You'll also need a Trekkers Information
Management System Card (TIMS). The card is meant to help protect trekkers through registration checkpoints along a trek including along the Dhorpatan trek and the Guerrilla Trail. Checkpoints are scarce.
You can get a TIMS card at the Kathmandu or Pokhara tourism board offices.
*

Do note that the TIMS Card is now a flat 2,000 rupees and a trekking company is the only one that can apply for it.
---
No specialized equipment is needed for the Guerrilla Trail.
The trail takes place over two or more weeks. Without a porter do take note of the weight you are carrying over such a period.

A pair of trekking boots, trekking shoes or footwear suitable for off-road walking while being good with steps
A wind / rain proof jacket
Long sleeve shirt
Trekking pants / shorts
Trekking poles
Water bottles
Water purification system
Map
Head torch
Sun hat/warm hat
Sunglasses
Sunblock
Food and accommodation on this trail is basic. It's well advised that you bring an adequate water filtration system. Likewise an medicines you may need. Hand sanitizer or disinfectant and wet wipes come in handy.
Please note the above is a very basic list. For a full comprehensive trekking list please see my article on trekking equipment you need for Nepal
---
---
The Guerrilla trail is largely listed as a medium to hard trek. The trekking aspects of this trek are quite easy compared to other treks. The more difficult aspects of the trek for many people are the basic tea houses, basic meals, duration and depending on the time of year the humid heat.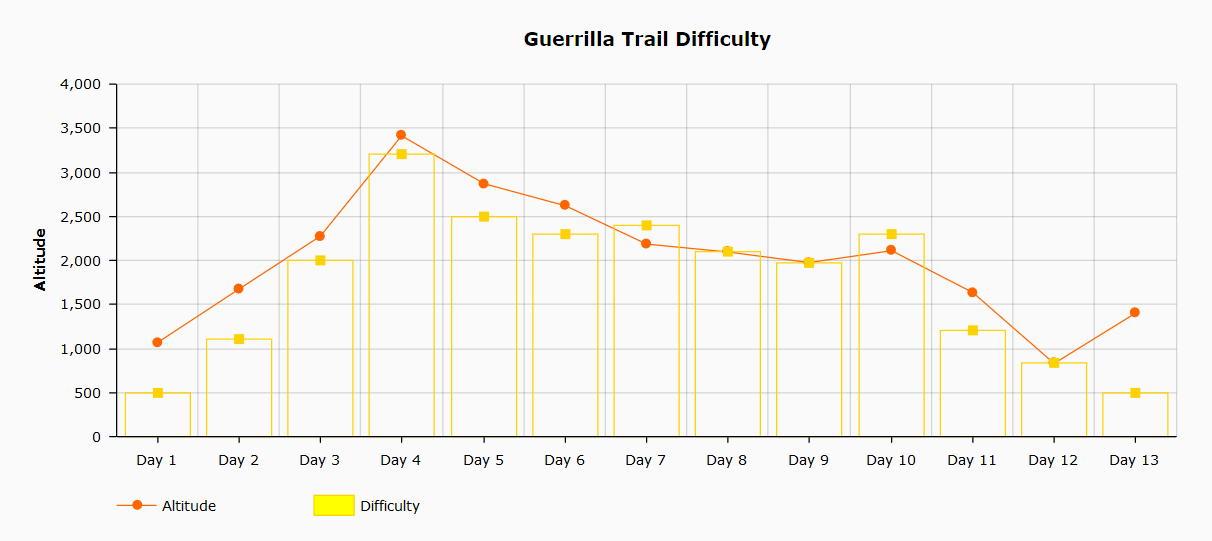 A lot of the hike's difficulty will depend on where you start it from. If starting from Budhanilkantha then be prepared for several hours of walking on road, broken roads and dirt roads. The stretch of road from the park gates to Nagi Gompa can be a muddy obstacle course if it's been raining. There's also not a lot to see. A better option if at all possible would be to drive up to Nagi Gumba and start from there.
Trekking poles will help with the steps on the way up and especially on he way down.
---
---
Fitness for the Guerrilla Trail relative to your own fitness levels. The trek is noted as being moderate to hard. There are some long days on this trek and you will be carrying your bag for 14+ days.
As always I would advise anyone going trekking or hiking to see a doctor before they go for a check-up
If you are sedentary before the trek then you may want to consider some exercise to help with the daily trekking.
---
---
Basic Dal Bhat is something you will need to contend with on this trail. The area is not frequented by many trekkers so the menus are basic and limited.
The best meals to stick with is what's fresh. This is largely Nepal's number one dish of Dal Bhat. It may get repetitive but it is contains a lot of sustenance to keep you going. Rice, lentils, curry, potatoes and vegetables are usually different at each meal.
Do note that as the Guerrilla trail is not frequented by many trekkers the hygiene preparation for meals may not be the same as other treks. Do ensure your meals are cooked freshly and hot.
---
---
Most of the accommodation on the Guerrilla trail is basic. Expect tea houses for the most part. If you are used to Nepali accommodation in the rest of the parts then it will be manageable.
Unless you head north from Dhorpatan then there's no camping involved. Though tents are available in Dhorpatan.
Read more and see what trekking accommodation is like in Nepal.
---
---
The Guerrilla Trail is relatively cheap compared to other treks. Most of this is due to the lack of commercial treks in the area.
Working out your budget
Package tours to the Guerrilla trail do exist but are usually overpriced. It's a long trek so the costs usually add up.
Online package tours for 1 day hike can cost USD$1200 per person. This does not include water or a porter. You will get a guide and Dhorpatan hunting reserve entrance fees paid for.
In country package tours Package treks to the Guerrilla trail are best bought in Pokhara. Common extras include private jeep vs. bus and a porter. Do read through itineraries carefully. $800-900 would be a good price.
My Find A Guide Service can help you out here but do try to get in contact before arriving in Nepal.
Guide only services for the Guerrilla Trail can cost from $27 to $50 per day. These can be the most economical ways to go. However do make sure you go with a registered guide from a trekking agency. Likewise make sure you like the guide personally before going as you'll be with them for nearly two weeks.
As mentioned earlier many guides are not familiar with the Guerrilla trail so you'll want to question them thoroughly before going.
Trekking the Guerrilla Trail by yourself given the low altitude of this trail doing it by yourself is visible. However you should have good trekking experience - especially in Nepal. Maps for the trek are often difficult to read. You'll also need to take into account the duration of the trek.
If you are looking for a guide for the Shivapuri Hike then I recommend you read my article on how to find a trekking guide in Nepal. Alternatively use my Find a Trekking Guide Service.
Average 13 day Guerrilla Trail Trek
| | |
| --- | --- |
| Item | Cost USD $ |
| Permits (Dhorpatan Hunting Reserve, TIMS) | 50 |
| Guide x 13 days | 351 |
| Accommodation | 35 |
| Meals 3x13 | 195 |
| Water 4 liters a day | 52 |
| Transport (private/public-RTN) | 40 |
| Total | 723 |
The above budget shows that some in country packages may just work out to be a good deal after all. Many prebook your transport and permits for you which takes a lot of hassle out of the trek.
Filtering water on this trek is important and a lot of the water may not be as clean compared to high altitude mountain streams. Boiling your water will help along with bringing your own filtration / purification system.
Accommodation on this trek can vary in terms of cost. 400 rupees is a good average though 500 is becoming the new norm. Meals can again vary depend on what you eat. veg dal bhat can get repetitive so allow for some treats every now and then.
Travel insurance should be included and do make sure you are covered for trekking Here is my recommendation for travel insurance when in Nepal.
How to reduce your budget on the Guerrilla Trail
Take local transport where possible to Beni. Though experience tells the tale that sometimes the exhaustion and heat of local transport may just mean private transport could be a better choice.
---
---
This page shows you a 13 days itinerary on the Guerrilla trail. It should be noted that there are alternative itineraries that can go up to 25+ days with east.
The 13 day itinerary is chosen as a low altitude itinerary which allows for as much transport to be done by vehicle as possible so there's more trekking done than sitting.
Valleys are one of the highlights on the Guerrilla Trail in Nepal
13 Day Guerrilla Trail itinerary
Day
Route
Distance (km)
Highest Altitude
1
Pokhara to Darbang
8-10 hours (drive)
1,070m
2
Darbang to Takam (side trek to Mattikanna)
4 hours avg
1,675m
3
Takam to Moreni
5 hours avg
2,275
4
Moreni to Gurjaghat (Jaljala Pass)
7-8 hours
3,015m/3,414m
5
Gurjaghat to Dhorpatan
3-4 hours avg
2,870
6
Dhorpatan to Niseldhor
4 hours avg
2,620
7
Niseldhor to Taka
7-8 hours
2,185
8
Taka to Lukum
6 hours avg
2,095
9
Lukum to Thawang
6 hours avg
1,975
10
Thawang to Sukulbang
8-9 hours avg
2,110
11
Sukulbang to Jelbang
3 hours avg
1,635
12
Jelbang to Sulichaur

*

6 hours avg
830m
13
Sulichaur to Kathmandu

**

14-16 hours (drive)
1,400m
* Jeeps are available from Jelbang to Sulichaur if you need to speed up your journey and make it a 12 day Guerrilla trail itinerary.
** Buses and jeeps are available to Kathmandu or Pokhara. Alternatively you could take a bus or jeep to Butwal and transfer there to Kathmandu, Pokhara or Lumbini.
What's the best Guerrilla Trail Itinerary?
The Guerrilla Trail is low altitude with an ever encroaching road network. Many trekkers will incorporate it with a lower or upper Dolpo trek - however you will need Dolpo permits.
Other longer treks involve Dhorpatan to Thankur. Thankur to Kayam. Kayam to Pelma. Pelma to Maikot. Maikot to Archhalgaon. Archhalgaon to Kharabang. Kharabang to Chargaon, Chargaon to Chhipkhola. Chhipkhola to Pokhara. Pokhara to Syarpu Lake. Syarpu Lake to Khalanga. Khalanga to Rukumkot. Rukumkot to Jamabagar. Jamabagar to Dharmsala. Dharamsala to Taka then following on with the 13 day itinerary. It's a long stretch of a trail which you may of course want to finish in Pokhara which would make it a 14 day trek.
---
---
For alternative treks do read my list of treks in Nepal which is continually being added to based on popularity or request.
If looking for a trekking guide I recommend you read my article on
How to find a trekking guide in Nepal
or you can use the
Find a Guide Service
.
---
Are you ready to trek in Nepal? If so, then you'll love my trekking books!
---
These guidebooks are a hands on trekking guidebooks that are better than the rest. Yes, really!
The books contain day-by-day guides with accuracy using scalable maps, photographs and travel-tested up-to-date trekking information. Just like my other guidebooks these have been proven to be the best interactive, or paperback guidebooks to Nepal available anywhere today.
So what are you waiting for? Get your hands on these guidebooks and start trekking in Nepal today!
---
Was this page helpful to you? If so please tell others!