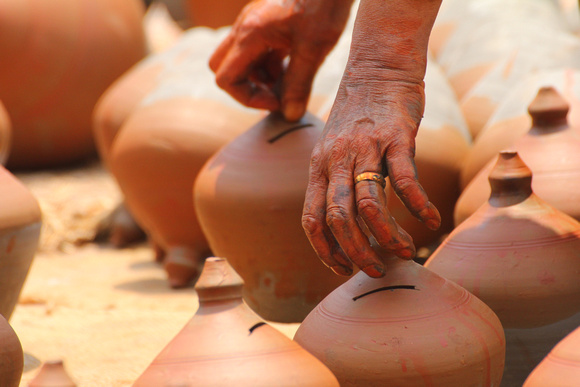 Making pots the old fashioned way in Bhaktapur's pottery square
It's like a step back in time to visit Bhaktapur. Handicrafts are still made by hand here and not imported from China with a label stuck onto them. Traditionally spun and fired clay pots are a fine example of Bhaktapur's thriving craft trades. It's a fascinating process to watch. More perhaps because of the people than the actual pot making.
Where to find pottery square in Bhaktapur
First things first. There are actually two pottery squares in Bhaktapur. More if you go further out from the town, but they are smaller and less popular. The first pottery square is, Suryamadhi, located to the East of Dattatreya temple and square. This one is said to be the oldest pottery square, but it's also a little commercial. Good for bulk buying of standard pots, bad for enjoyability. It's also not always that active.
A better choice is to visit Talako's Potter's Square which is just south of Bhaktapur Durbar Square along some very nice side streets. At peak times it can get a little touristy, but nothing too much.
Visiting Bhaktapur Pottery Square
If the sun is shining life in Baktapur's pottery square is running at full blaze. The wide open brick courtyard will be awash with a mix of small grey and brownish red clay pots, all sectioned off depending on design or purpose. In among this maze of clay ware you'll see a person tending to each pot much like a dedicated gardener might tend to their plants. Every pot is examined by hand before being turned to face the sun at new angle or dipped into a bucket of colored water.
Large woven baskets are regularly brought out to gather freshly baked pots while another person weaves their way along behind them with a wooden tray of newly fired pots to replace the finished ones. It's a finely tuned system of human pottery rotation from this centuries old tradition.
Traditional pottery being made right in front of you
I had the full intention of getting up close and photographing a pot being made from start to finish. But on observation that seemed to tip the boat on being too touristy. I watched as other tourists meandered into the square. Camera's in tow they'd eventually end up in at a potter's wheel snapping away. From the distance one could see the irritation in the locals faces.
It wouldn't take long before a relative would jump to the potters rescue and accost the tourist with either a request for payment or deeper offering of letting them make a bowl at another potters wheel. I think the choice would be given depending on the look of the tourist. If they were cheap looking then a photo payment. If they looked wealthy then they'd be offered to make a pot and then pay quite a bit more for it.
I don't blame the locals at all. Though it could certainly be set up better to profit more. Some have already started by offering pottery lessons over the course of a week.
For me the real enjoyment came from sitting back and watching life in potters square go about its business.
Watching the potters at work
Everyone has a role in Pottery square. The young men are occasionally seen lifting heavy bags of clay from the back streets up closer to the square while also firing up the wood fueled kilns.
Middle aged men and women beat clay as equals while both also use the potter's wheel. Young children seem to fleet from spinning pots to watching the stores. Older women seem to have the role of tending to pots as they bake in the sun.
Meanwhile those who have surpassed an indecipherable age sit around the square enjoying the sun, engaging in quite chats while occasionally nodding off to sleep.
It's an amazing process to witness so many generations of a family at work together. Everyone has a role and a part to play in seeing a pot being created.
Sometimes it's better not to know how things are made
In my travels I've found the whole process of potters at work interesting. In West Africa I joined in with some pot making and created a tiny jug with an artistic sag to the right.
It's that whole spin the potter's wheel thing with your feet while cupping your hands around wet clay trying to shape it and keep it in the center of the wheel that's the tricky bit.
Here I see experts at work. I see old lady's picking up candle stick holders and dosing them in milky red water. I don't know why. Something to do with coloring the clay or keeping it from cracking under the sun.
Truth of the matter is I didn't want to know the in's and out's of pottery. It seems to be a little different everywhere in the world I go. What satisfied me the most was simply watching these potters at work while enjoying the suns warm glow.
There was no need to join in. Simply being there and watching the world go by was enough. Perhaps that's what makes Bhaktapur such a charming place. You don't have to do anything other than enjoy this old world charm.
Coming Soon:
Finding "that" rare place in the world 
---
---
Get my Guidebook to Nepal & discover more than anyone else!
Find out more about places like this with the most up-to-date, popular and dedicated guidebook to Nepal in the world. Over 617 pages, 110 maps & 984+ photographs of every temple listed plus photos of every day on all the treks shown, jungle safaris and so much more.
Take a look below and you'll find out why this beats all other guidebooks!