---
---
Use the +/- to zoom in and out on the map
Click on the icons to see location titles
Change to "map" view to see the map more clearly
Refer to below for recommended places
Read my full guide to Thamel
The blue lines represent the roads in Thamel with traffic while the green lines represent the roads that are "traffic free".
---
---
Nearly every store front in Thamel will have something popular for tourists. These will include Trekking agencies, trekking gear, tours, restaurants, bakeries, cafes, bars, Nepalese clothing, souvenir stores, laundrettes, mini-supermarkets, couriers and hotels.
Do note that Thamel, being touristy, is not the cheapest of places to purchase many of the following. However, for many, it is the most convenient.
Books: Do try Paradise booksellers for your second hand or new books before going to the more popular Pilgrims who, due to a fire, have moved further down the street from their decades old location.
Food: Rumdoodle has lost much of its charm since moving but still remains the place where giant footprint cutouts from trekkers hang on the walls.
Best pizza in Nepal still belongs to Fire & Ice.
Cheapest eats go to Star Momo and McDonalds (no not the fast food chain).
Cheap steaks belong to Crazy Burger while more moderately to expensive good steaks are found in Everest Steak House.
Shipping / Couriers: Recommended courier goes to Direct Way Cargo (Nepal).
Trekking Gear: The real North Face Store where you can buy genuine NF gear at US/Euro prices. Ask for Sabina and tell her I sent you!
Souvenirs: Souvenirs are found en masse at regal chowk and at the bottom of Thamel (see map below for more)
Getting around Thamel tips:
Finding you way around Thamel might seem a little confusing at first as there are no street signs. Just use store fronts as landmarks.
Meanwhile You can download and print a basic map to Thamel or use the map above as a guide alongside the full travel guide to Thamel.
The very best maps to Thamel can be found in my guidebooks to Nepal.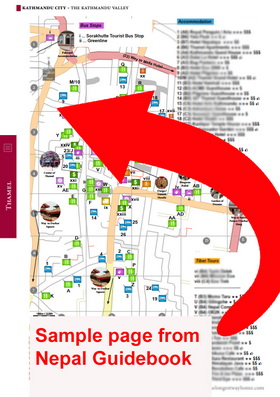 You may also find the maps for the Kathmandu heritage walks helpful.
---
---
Liked this page? You'll love my books! They are hands on guidebooks that are better than the rest. Yes, really! In them I cover all attractions with step-by-step accuracy using well researched information, photographs and travel tested walking tours.
Available in print or digital editions - the best guidebooks for visiting Nepal.
---
Was this page helpful to you? If so please tell others!