---
---
Thamel is a popular tourist district within the capital city of Kathmandu. It's comprised of 5 main streets and many more smaller ones that crisscross the area. For many Thamel is an addictive kaleidoscope of sensory bombardment that will either have you running for your hotel or staying to bask in its frenzy.
Most first time visitors to Nepal will usually end up in Thamel after leaving the airport by taxi. Accommodation is easily found around Thamel and if not, there will be plenty of agents around to show you some hotels of their choosing.
Thamel is filled with tour agents, trekking guides, trekking stores, clothing stores, restaurants, cafes and bars all catering to the countries number one industry: tourism. Love it or hate it Thamel is a one-in-a-lifetime experience that offers several layers to that dynamic first impression.
In October 2017 Thamel was made "traffic free" alongside it being a "horn free" zone. However, the reality was that only two streets were ever made traffic free and in 2022 motorbikes along with speedy rickshaws and the odd horn blowing car still frequent this area. Larger vehicles also continue to try entering. As for horns ... well beep, beep continues too. More on this later.
Meanwhile let's discover more about Thamel below!
Reaching Thamel from Kathmandu's Airport, also known as Tribhuvan International Airport, is relatively easy as it is close by. A taxi is the easiest and quickest option to or from the airport to Thamel. There is a bus service from the airport to Thamel but it is irregular and often not working.
Currently Taxis are banned from entering two roads in Thamel. See "Traffic Free Thamel" below for more. Hotels and guesthouses will often pick guests up and bring them directly to hotels in Thamel.
Due to the small area that consists of Thamel there are several designated taxi parking areas (Narshing Chowk & J.P. Road). Rickshaws are move common to take people from the old heritage quarter near Kathmandu Durbar Square than from other parts of Kathmandu.
The main tourist bus stop is located just outside Thamel in Sorhakhutte (near Paknajol) which have morning buses to Chitwan and buses to Pokhara. They also drop you here in the afternoon. The main Kathmandu Valley bus terminal is in Ratna park which is also outside Thamel but can be reached by foot in 20 minutes.
---
---
Thamel can be difficult to understand when you first arrive. There are no street names on signposts in general. It's best thought of as a mass of unorganized streets. Locating a restaurant or hotel at a junction (chowk) is a good way to find your way around)
There's no fixed boundary to Thamel as such. Although it's not a particularly large area knowing its center is a good way not to get lost in the cacophony of streets, people and traffic that await.
I choose the center of Thamel to be the street junction between the 3 mini supermarkets by Hot Breads Bakery. Officially this is known as Chaksibari Chowk. This is one of the "pedestrian areas".
From there you can head south along Chaksibari marg (road) to Durbar Square.
South-east, or the road directly in front of Hot Breads leads to the large junction known as Narshing Chowk and the road called Thamel Marg where the pedestrian area ends. It's here, motorcycles, bicycles and everything else with four wheels still try to and do enter elsewhere in Thamel. Even if walking it's best to stay alert for traffic.
To the south or left at Hot Breads are souvenir stores leading to J.P Road and further to Thahity Chowk which leads to Durbar Square.
If you take the east road from Narshing Chowk you'll pass Tri Devi with more expensive trekking store and on to Kantipath, Durbar Marg and the old royal palace.
If you take a left (north) at Hot Breads you'll pass Kathmandu Guesthouse & Sam's bar to another junction. From here to the left you'll reach Satghumti (Seven Corner Street) with a mix of trekking stores, coffee chops and eateries.
Further on is the neighborhood of Paknajol and Kaldera and a little further north Sorhakhutte/ morning tourist bus stop for Chitwan / Pokhara. This is also the walking route to Swayambhunath Monkey temple.
If you get lost in Thamel - ask for Hot Breads Bakery - everyone knows where it is and will point you back towards this central area.
There are maps on this page to give you an idea of locations. But please visit my larger more detailed map of Thamel for a better way of locating places.
For the very best details on Thamel my guidebooks to Nepal contains extensive travel guide information which include the latest information on Thamel.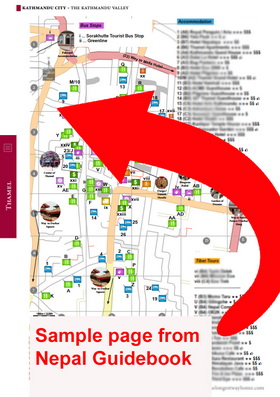 You may also find the maps for the Kathmandu heritage walks helpful.
---
---
In October 2017 Thamel was made a vehicle free area. In 2022 the idea of traffic free Thamel is a joke as nobody enforces it.
The reality is that only two roads in Thamel have been made traffic free and some vehicles still get past the small randomly occupied traffic police road stop.
Officially taxis and other vehicles, including motorbikes and rickshaws, are now banned from entering Chaksibari Marg in Thamel. This is the road that runs in front of Hot Breads Bakery passed Kathmandu Guesthouse and up to the next junction. At the other end the road finishes at J.P. Road. The short road in front of Hot Breads leading to/from Narshing chowk is also vehicle free.
There's one more street which has been vehicle free for over a decade known as Mandala Street which links the two main roads together, Mandala street is probably the only true traffic free street in Thamel albeit with a hotel's underground parking at the center.
For those concerned about hotels offering airport pick-ups there's little to worry about aside from the few hotels along Chaksibari Marg. Hotels still pick people up by cars which stop at the border to the traffic free area. There's rarely more than 200 feet to walk and hotels send porters to carry your bags.
"Traffic free Thamel" is more like "One main road in Thamel has been made semi-pedestrian friendly" rather than the international perception of really being traffic free.
"Car honking" is also banned in Kathmandu but it's still rampant and annoying in 2022!
---
---
While Thamel may be the center of Kathmandu to many tourists it's also one of the oldest areas in the capital when it was known as Tabitha Bahal. The old buildings throughout Thamel are designed in Newari style (the first traditional inhabitants of Kathmandu valley).
Although many people will walk through Thamel's many temples, monasteries and shrines and not notice them, there are plenty to be found.
Bikramsila Mahadev which is more commonly known as Bhagwan Bahal in North Thamel is noted as being the first monastery in the area. Although it is said to be over 1000 years old there are manuscripts inside that date back 3000 years.
Further to the south of Thamel is Maitripur Mahabihar Bahal which is also noted as being one of the first monasteries constructed by the Newari people.
Both monasteries can be freely visited today. Do read the Temples of Thamel to discover more about its heritage and history. Alternatively the book Kathmandu Valley Heritage walks contains every heritage site in Thamel.
---
---
Thamel is a maze of side streets filled with wonderful stalls selling everything you can imagine in Nepal.
However do be aware that Thamel is touristy so the prices are higher than in other areas. Here's a list of the best things to buy in Kathmandu and how to bargain for souvenirs in Nepal.
To the north of Thamel is Satghumti (seven corner street) which has a mix of traditional style Nepali clothing stores, trekking stores and the odd trinket store.
Chaksibari Street is one of the two longest streets in Thamel. It's semi-pedestrianized and consists mainly of trekking gear stores, travel agents, souvenir stores and the last book shops of Thamel. The same is true for the short extension of Chaksibari leading to Narshing chowk. It's at this junction that you will find a few of Thamel's supermarkets. These were traditional trekking goods stores but have since become a little bit more generic. There's not fresh produce there but plenty of chocolates, cereals, biscuits, dried goods, toiletries, batteries and everything in between. All at slightly inflated prices.
The longest street in Thamel is simply known as Thamel Marg and it houses everything from trekking stores, souvenir shops, pashmina sellers, tea shops, leather shops and jewelry shops. It's not traffic free and gets congested in the late afternoon. Most of the jewelry and trinkets are at the southern portion of Thamel street.
J.P. Road joins Chaksibari and Thamel Marg to the south. There's a new shopping center under construction while the rest of the street offers trekking stores, souvenir stores and the odd book shop.
Going east from Narshing Chowk will bring you to Tri Devi where you can shop for more branded trekking gear items, jewelry and pashmina.
Finally, just before Tri Devi is the road commonly referred to as Jyatha to the right. Here you can find everything for sale from trekking gear to bookshops and the odd remaining fruit seller.
All of Thamel's streets offer hotels, restaurants and cafes.
Credit cards or cash? Many of the stores and restaurants in Thamel take international credit cards. However in budget to mid-range accommodation I recommend you pay in cash to avoid additional charges that tend to appear on Nepali receipts. High-end hotels are much more likely to charge credit card fees plus VAT but are now usually too expensive to pay in cash. In restaurants and hotels the "plus plus" of service and vat charges are often added to credit card bills along with a 4% credit card. That's a mighty 27% in extra fees. With cash, there's more transparency and bargaining ability.
In 2022 the 10% service charge issued in restaurants and some hotels was abolished ... then brought back, then removed again. Technically as of now the 10% service charge is not legal. However that's not stopping some venues from charging it - there's little you can do as they'll merely say it's for paying the staff - and yes service charge is not legally binding to pay staff with either. In all cases, look at the menu, prices and if the Service Charge is not mentioned then ask about it before agreeing to purchase a meal or nights stay to be sure.
ATM "Lounge's" can be found near Fire Club (close to Hot Breads). On the way to Tri Devi just after Narshing Chowk to the left and up by Hotel De Arts. There's also an ATM inside the gates of Kathmandu Guesthouse. Most have limits of 25,000-30,000 rupees plus 500 rupee withdrawal fees.
The COVID-19 pandemic affected all of Nepal including Thamel. While some businesses did not survive one year, others held on in the hope tourism would restart quickly again. It did not. The result is that many businesses took our loans, or did whatever they could to stay afloat. Today some businesses are barely hanging on. Others were temporarily shuttered, or rented out their space to other businesses. Larger firms took over spaces, and are still waiting for the smaller businesses to collapse so they can take over. It's important to keep these things in mind as shops, restaurants, and even hotels can come and go overnight in Thamel. See my guidebooks to Nepal for the latest.
Use this huge map of Thamel showing many of these places (it opens in a new window). Even more details are found in my guidebook.
---
---
As you may have read above Thamel has a nice collection of books shops. There's used to be many more but rising rents, low profits and the digital age has meant their decline. However compared to many other capitals Thamel probably has more per square mile than anywhere else.
For cheap books Paradise book sellers is the best place. Take a right at Hot Breads continuing south along Chaksibari street passed Summit book shop and down to the new Pilgrims Book House (vast range but expensive) - the old one burned down in May 2013. Continue south to Paradise book sellers. In 2019 the original owners nephew repainted the blue store front but has thus far neglected to put the stores name up. They will order you anything you need and have a good secondhand selection of books.
If you are in looking for Himalayan Map House, they moved all operations to their store in Kathmandu Durbar Square. However, if you show them this web page, you can get a 10% discount on my paperback guidebook to Nepal - now a national best seller! And my paperback edition of Kathmandu Valley Heritage Walks. All print books are also available on Amazon, Barnes & Noble - however, if you purchase though my guidebook shop, you'll be buying directly from the publisher and indeed author! You can also get the digital versions there too (make sure you get the right version for your needs).
At the bottom of Chaksibari road take a right and there's are a few more book shops. Along Jyatha are some more book shops worth checking out.
Here is my full list of bookshops in Kathmandu.
---
---
There are so many trekking stores in Thamel it's impossible to list them all. Many come and go every year. The stalwarts and more trusted selling good gear are listed in my First Time Trekking in Nepal book.
Officially the only branded stores are the "real" North Face Stores opposite Fire & Ice along Tri Devi Marg and Columbia just before Tridevi in Thamel. These are the only stores selling official merchandise. Do however be aware that the prices are about the same as Europe or the USA.
Beside the North Face Store are a few other stores selling branded names like Mammut and Black Yak. They too are a little pricey.
After that there is a two story Korean trekking store beside the south entrance to Mandala street which has reasonable gear. Near Paradise booksellers is a La Sherpa which is by no means cheap but the items are relatively okay.
It's very much worth your while to check out the Sonam trekking stores. It's Tibetan owned and they sell a mix of genuine and fake gear. The stores are usually large and it's easy to pick things up quickly there. The largest outlet is around the corner of J.P. Marg along Thamel Marg.
Here's an article about the latest trekking equipment in Kathmandu.
I give a full list of recommended trekking stores including the best local suppliers and agents in my full guidebook to Nepal and first time trekking in Nepal books.
---
---
For local cheap eats: try Momo Star and Mc Donald Fast Food for good food or for edible burgers try either the Burger House near Satghumti (seven corners) or the new one at Narshing Chowk. The new favorite is Merhabah Turkish which is incredibly good. All are located in the northern portion of the larger interactive map at the bottom of this page. Narshing Chowk has a selection of late night kebab and sandwich stores - the oldest is Sandwich Point. Sorry Western Tandoori fans but this out of date guidebook favorite doesn't pass my cleanliness test!
It is best to avoid the street carts and street stalls selling food in the evenings. The meat is not refrigerated. Likewise, wash al street cart fruit with your own water rather than the jugs of water used on the streets.
Here is a list of the best budget restaurants in Kathmandu
For mid to high level restaurants: La Dolce Vita Restro or Fire & Ice are good options for Italian. Himalayan Steak house near Chhetrapati or OR2K in Mandala street are great eat places. Northfield cafe for Mexican food and curries, Roadhouse cafe for continental food.
One of the best places to eat in Thamel is unquestionably Black Olives just passed Z Street in North Thamel. Rosemary restaurant is always packed during peak season with some great staff and excellent food despite rising prices. For more breakfast options try Yala Cafe (next to Rosemary). Again Merhabah has some the best value and tasting breakfasts in Thamel. In 2019 try Cafe Mitho near Chhetrapati along with the delicious Forest and Plate on the top floor of Mandala Street.
Finally here is the latest list of the best restaurants in Kathmandu.
Bakeries, cakes and snacks: You are in for a treat if you have a sweet tooth for cakes! There's a bevy of bakeries in Thamel. The latest to offer baked goods is Flat Iron Grill who serve up baguettes among other goodies in Mandala Street. To find the best places check out this exclusive article on bakeries & cakes in Nepal.
My guidebook to Nepal has extensive reviews of all the best places to eat in Thamel for all budgets - I pay for everything (no sponsors), so you know the reviews are 100% genuine.
---
---
Thamel has become a favorite night spot for Nepali in recent years. Expect crowds on a Friday night along with entrance fees.
For those looking to avoid the crowds Sam's bar remains an easy going place. For new age bars try Z streets offerings. Tom & Jerry's has live music and good offers on drinks during most nights. LGBQ Bars in Thamel are limited but Pink Tiffany's opposite club H2O is gay friendly.
Fire Club is a thumping nightclub for Nepali weekenders. Purple Haze is a great live modern music and dance bar worth a trip to during the week. Otherwise leave it to the sometimes smoky Club OMG where Nepali party goers like to hang out at weekends.
Not sure where to go? Let the music guide you. Most bars and clubs will have blaring music you can hear from the street. Sometimes it's easier to simply listen out to what you like the sound of.
Bars and clubs in Thamel usually close up at around 1am. Though there is a push recently to extend this to 24 hours.
---
---
In the past few years coffee shops in Thamel have been popping up and disappearing at rate of every three months. Prices differ greatly between a simple espresso and a soya latte. So do shop around.
Most coffee sold in Nepal is grown in the country. Yu can read more about coffee in Nepal. Most beans are dark roasted. Even the mid-roast beans are more dark that you can expect elsewhere.
While long term chains like Himalayan Java remain popular the coffee is less than stellar in recent years. In my experience it's best to taste and try in several coffee shops for a bean you like. One of the most popular roasters is Jalpa. Generally speaking a coffee shop serving Jalpa will be offering a good brew. IF you spot gold foil Everest Coffee do be warned that it's a very dark acidic roast.
If you are after a stunning traditional cloth filtered coffee then head to Chikusa. You won't find a Soya Latte here but you will get a wonderfully rich Americano. Suresh and Rupesh are usually at hand there and you just might see a glimpse of the odd award on their walls.
Here's a list of the best coffee shops in Kathmandu.
---
---
There are couriers and exports on every street in Thamel. A word of warning though - many add additional charges onto their first price. Generally speaking all your goods will arrive safely. It's just a question of being overcharged.
Avoid Chinese exporters - most are fronts for other businesses and there have been reports of parcels never making it home.
Most exporters will ship your goods home using an Internationally known exporter like DHL or FEDEX. However they usually have a list of international couriers who work with your home countries national couriers which can be cheaper. EMS is also available though considerably slower.
Do not bother going to the main DHL or FEDEX offices as their prices are higher. They give discounts to local couriers and charge walk-in customers more!
If you'd like to know the honest courier I've used for years then please feel free to contact me.
---
---
If you are looking for souvenir bargains stay away from Thamel.
Try closer to New Road, Kathmandu Durbar Square or better yet wait for your trip to Bhaktapur. If you must buy in Thamel the area down by J.P road is okay to pick up trinkets or for larger souvenirs try the junction at Narshing Chowk where a random stall opens occasionally; just remember to bargain!
If you want to wander a little further the souvenir stands in Kathmandu Durbar Square are the best value in Kathmandu.
For Nepali stores, cashmere and woolens try along the street south of McDonald Fast Food on the Northern part of the map (North Thamel Marg) all the way down to the Sandwich Point and further south. Once you pass the turn to J.P Road keep going south and you'll come across more souvenir shops and bead stores.
Nepal has a great reputation for locally made jewelry and beads. Thamel is one of the best places to find these items in Kathmandu. For beads and jewelry do read about where to buy beads in Kathmandu.
Another popular item is tea. There are many types of tea grown in Nepal and it's well worth checking some of the tea store out. For the best do read where to buy tea in Kathmandu.
---
---
Aside from shooting some pool in one of Thamel's many bars there is also a couple of indoor sports centres.
Astrek offers an indoor climbing wall that reaches 50 feet. There's also a bouldering option. Rates start from 400 per hour not including equipment.
Kathmandu Sport Climbing Center: Opened in 2018 this wall is climbing center offers new equipment and a small refreshment area. It's popular with backpacks as it's close to the new popular backpacker area of Kathmandu in Kaldera chowk.
You can read more about indoor climbing in Kathmandu here.
---
---
Thamel is relatively noisy for a quiet nights sleep as traffic and people are constantly moving. That said there are still some great bargains out there for travelers of all budgets.
Kathmandu Guest House: One of the first hotels in Thamel and one of the largest with private gardens and a priority on heritage.
Fairfield by Marriot: Thamel's newest and most upmarket hotel.
Hotel Visit Nepal: Noisy front facing rooms, but otherwise a quiet area for those on a budget.
Hotel Yala Peak is a one of the best options for those on a budget looking for clean accommodation.
Do check out my full listing and reviews of accommodation in Kathmandu.
For backpackers do note that in 2018-2019+ most hostels have nearly all moved out of Thamel. Do read about where to find the best place to stay in Kathmandu for backpackers.
Meanwhile if you are in a rush you can just use my search box below to find the cheapest rates.
Need more personal reviews? Again, my guidebook to Nepal has an extensive list of accommodation reviews in Thamel. Every stay was paid for my me as I don't accept sponsored stays. It means you get genuine reviews for all budgets.
---
---
The following articles and photographs are great for those wanting to discover more about Thamel.
Thamel: how it has changed over ten years.
Discover the Temples of Thamel
---
---
Between taxis, big SUVs, motorcycles, rickshaws, a mass of people and GPS blocking buildings using a map around Thamel is not the easiest. It's a good idea to duck into a storefront or cafe to get your bearings. Using landmarks on a map are better than street names (there are none). Refer to the section above about navigating the streets of Thamel for more.
By walking: cycle rickshaws and taxis are available from Tri Devi Marg - from there you will need to walk unless you have arranged a hotel pickup. The best way to get around Thamel is to simply walk. It's only about 20mins from end to end.
The Map: use the above map of Thamel as a rough guide to finding your way around. Do visit my full map of Thamel for a better view. Three blue lines represent the roads in Thamel with traffic while the green lines represent the roads that are "traffic free".
---
---
Thamel is not for everyone. It's filled with people, souvenir shops and stores. There's a push to make it more up market. Unless you are used to this sort of environment it can get tiring after a while. The new no vehicle policy has certainly made it more pleasant along at least one street. But not dramatically so - time will tell how long this lasts.
Hop into a cafe to get away from it all rather than try to shop all day long. Due to the hustle and bustle I've seen people get tired out more quickly than when they went trekking!
Here are some more tips to help you around Thamel..
Street children are often plying the streets of Thamel looking for cash or handouts. Dealers of narcotics also tend to congregate here (it's illegal to purchase drugs in Nepal and police are often undercover here)
Thamel at night is relatively safe. Bars and clubs tend to close early (1am). Don't let this safe aspect lull you into letting your guard down though. Thamel is changing.
Take care around Tri Devi at night (or day) when trying to find a taxi due to the touts around. Do read about how to get around Nepal.
If shopping then bargain hard. It's a touristy area so prices are higher than elsewhere.
---
---
Liked this page? You'll love my books!
100% independent guidebooks, with no sponsored trips or ads. Designed to help travelers get the most out their trip to Nepal with premium detailed guides, insider information, impartial hotel and restaurant reviews, complete trekking routes, dedicated heritage walks & much more ...
Available in print or digital editions - the best guidebooks for visiting Nepal.
---
Was this page helpful to you? If so please tell others!