The secret to getting your camera repaired in Kathmandu
Nepal is a beautiful country to photograph. However it does take its toll on your camera and lenses. Dust is the main culprit in Nepal. Just leave your phone out for an hour or so and you'll see the grit build on the screen. The same goes for your camera – especially DSLR cameras.
Add in the odd wild festival like Holi where colored dust powder is thrown everywhere and soon you'll be seeing dust on your camera screen, sensor and lens. You might also start to hear a grinding noise as you move your lens. Yep, time to get it cleaned before it gets worse.
Likewise it's easy to drop or have your camera knocked around until it stops functioning. Being in Nepal without a camera is a bad idea. But where do you go or where can you avoid getting cheated?
Typical places to get your camera repaired in Kathmandu
First of all, forget Pokhara or anywhere else other than Kathmandu if you want your camera repaired. The next thing is locating a good camera repair store in Kathmandu. They are mainly located in Thamel and New Road. Here's my guide on where to buy or get your camera repaired in Kathmandu.
Local "experts" will tell you New Road is the better place. It's not hard to see why either. New Road contains several long established camera stores, is "local" compared to touristy Thamel so the rational is that it should be cheaper. Most of this is true.
There are a few small repair "studios" along New Road who do small repairs. For bigger repairs or finer work they all go to one particular store. The same with Thamel. They'll then charge you extra as a 3rd party. And some more extra charges if you are a tourist.
All complicated repairs also end up in one unmarked repair store. I know where it is.
Camera damage after the Holi Festival
Holi is one of my favorite festivals in Nepal. This year I tried to go prepared for the onslaught of colored dust, dyes and water. I wrapped by camera in cellophane and then a light plastic bag. It was painful to use but from prior experience I knew it was better than the alternative.
Everything worked well for the first few hours. But soon enough, water, wind and usage caused the cellophane to unwrap a little. Then some more. Then you just stop as it get ridiculous trying to hold it all together.
By the end of the day my camera was covered in dye colors and powders. I spent the following day cleaning it out. There was no dust on the sensor. I removed my battered haze filter only to discover a shiny layer of glittering dust on the actual lens itself. Far beyond my scope of equipment to repair.
There was no point taking the lens anywhere other than Kiran's repair shop.
Camera Repair Shop
That's the name of the only place that does really good camera repairs in Kathmandu – the Camera Repair Shop. To make matters more difficult there's no name over the door. It's at the back of a small indoor private parking drive beside a tailor.
The cramped little workshop is literally filled with old cameras and lenses from decades of repair work. You'll usually find the owner Kiran Shrestha hunched over the workbench at the back of the shop. Bright lights, magnifying glass and a bevy of tools surrounding him.
I showed Kiran my lens and he inspected it and my camera with due diligence. I explained my cameras perils with Holi which was of no surprise to the elder camera repair man.
"Dust," he huffed. "Will do my best."
I then handed him my multi colored camera. He again inspected it.
"First lens," he replied. "Come back in two days."
The most honest repair man in Kathmandu
Two days later and I returned. Kiran was just putting the seals back on my lens. He smiled and handed it back to me. Sure enough the entire lens had had been cleaned to perfection. Not a speck of dust remained.
I handed him back my slightly less colored camera. He was not impressed with my cleaning efforts. He took a bit longer inspecting my camera. Opening up the sensor area, doing a white board test etc.
"No problem," he said with an honest smile. "No dust inside."
And, that was that. There was no need to get the camera cleaned and he didn't charge me a thing. The lens repair cost was about the price of a two person meal in Thamel. Or about one quarter of the price a shop in Thailand charges me.
Last of the honest camera repairmen
Over the past 12 years of travel and living overseas I've always had issues with finding honest repair people. Some do shoddy work, others simply over charge. Bangkok has good repair centers but they do charge a bit.
I've spent quite a bit of time talking to Kiran and his small group of repairmen. They all nodded. Times have changed. They believe in traditional values. Honesty. Along with helping people who enjoy Nepal and photography.
It's rare to find people like this anywhere these days
I've been back to Kiran on several occasions including today. Apparently a fungus had grown on my inner lens (don't ask-humidity).
Kiran repaired it on the spot. Again, the charge was "as I wished". Literally. It helps to understand and speak a little Nepalese.
Save time and money by locating Kiran's Camera Repair Shop
Kiran's Camera Repair Shop is not easy to find as it's not marked out well. Basically locate Mc Donald Fast food in North Thamel (see my guidebook to Kathmandu city). Continue up to the end of the very street. Take a right at the main road and walk about three stores down.
You'll see some motorbikes parked inside an open garage beside a tailor. The repair shop is at back.
Or call  01-4417771. Better yet, I'd prefer if you bought my guidebook and supported independent guidebooks and camera repairmen ;)
---
Get my latest Kathmandu Valley Guidebook to learn more about Nepal!
The most up-to-date, popular and dedicated guidebook to the Kathmandu Valley in the world. Take a look below and you'll find out why!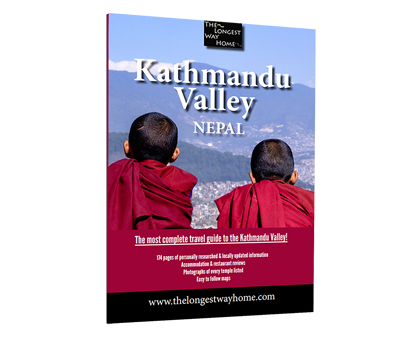 Find out more here!