How is Nepal's reconstruction of its Durbar Squares doing after the earthquake?
Nepal has many Durbar Squares (royal squares), however the three most famous ones are Kathmandu Durbar Square, Bhaktapur Durbar Square and Patan Durbar Square. These ancient royal squares are stalwart popular tourist attractions due to their beautiful temples, artwork and historical importance.
They were not completely destroyed in the 2015 earthquake – that was all fake news
Yes, "some" temples within the squares were damaged or knocked down. But the vast majority of the old buildings and monuments survived.
At the time a priority was put on these squares to have them reconstructed as quickly as possible as they were a symbol of national pride. They are also a huge source of income in relation to the entrance fees tourists pay to visit them.
Interestingly, the three Durbar Squares became so beautiful due the kings of each trying to out do each other.
Back in the 17th+ century the Malla kings of each square competed against other – not in war, but in artistic beauty as they built each square to be more beautiful than the rival kingdoms.
Who won the race for the most beautiful square? Well, I'll reveal that later! I'll also reveal who has won the modern day race to reconstruct these squares.
It's now over three years since the earthquake and I decided to have a look at each of the three squares to see how the modern day reconstruction work is doing – I did this for all three squares over the period of one week during the off season to keep everything equal and fair.
Kathmandu Durbar Square's reconstruction work
We start with the nations pride and joy, Kathmandu Durbar Square (Basantapur). It's where epic buildings like the former royal palace sits, the Kumaris (living goddess) house is located and dozens of other Malla period buildings still stand.
It was also the most damaged of all the Durbar squares in the 2015 earthquake. Over 7 buildings were completely destroyed and nearly every other had some form of damage. Priority was put on Kathmandu Durbar Square to have it reconstructed quickly.
Sadly, this never happened. Of all the Durbar squares it has had the least done to it since the earthquake.
I wrote about the shameful mess that is Kathmandu Durbar Square last year. Little changed until 2018 when some reconstruction began.
Why is Kathmandu Durbar Square such a mess?
To be honest, it's always been a bit of a mess. Bureaucracy is the honest answer as to why. The squares well being is split between the local municipality, the Department of Archeology and the local community. None of them unilaterally agree on anything it seems.
A case in point can be made about Kasthamandap – Kathmandu's first public building. A trading place where two towns once joined and Kathmandu was formed. It's still in ruins today.
Kasthamandap, looks worse now than after the earthquake.
What happened? Nepal has the unfortunate directive of giving reconstruction work out to tender and selecting the lowest bidder. Anyone with some common sense can see the problem here. Lowest bidders have often meant shoddy reconstruction work which is backed up by other heritage building reconstruction across Kathmandu. Locals objected to their heritage being rebuilt badly, in concrete and without consultation.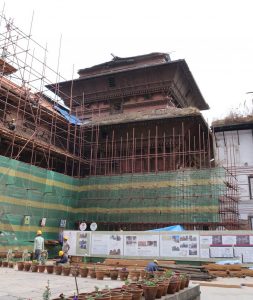 In the case of Kasthamandap it's even more contrived. Reconstruction has bounced between the local municipality, the department of Archeology and a community group known as help to rebuild Kasthamandap. Agreements have been made and broken. It's gone to court. It's become ridiculous. The ruins of Kasthamandap have been exposed to the elements, shelters torn down, religious objects fenced off and just about anything else you can think of that would disrespect an ancient site has been done to it. Finally in May 2018 the locals won the right to have the building reconstructed traditionally.
However, the Department of Archeology and the Kathmandu Municipality have even been caught trying to dump centuries old stone monuments and timbers as waste material (source: photos)
Meanwhile reconstruction in the rest of Kathmandu Durbar Square has stagnated. The simple red brick enclosure of the "great drums" has been rebuilt (not exactly difficult) but the drums that used to warn the city of an attack are missing from the rebuilt enclosure. The octagonal Krishna temple, Chasin Dega, is slowly being rebuilt and the nearby white domed Shikhara style temple is also nearly finished. In 2016 the much touted Taleju temple (Kathmandu) reconstruction was completed, yet scaffolding still surrounds the building.
Hanuman Dolka (Royal Palace) in April 2018 became covered in Chinese scaffolding and building materials as they won the contract to reconstruct it.
King Mallas column was also, finally, repaired. It's prone blocks had been a symbol of the squares lack of repair for years.
Entrance fees increased: in 2016 the entrance fee to Kathmandu Durbar Square increased from 750 rupees to 1000 rupees. 10 years ago it was 200 rupees.
General upkeep: Terrible. I've never enjoyed the upkeep of Basantapur (Kathmandu Durbar Square). The main area is filled with taxis, rickshaws and touts. It's never looked pristine despite the hefty entrance prices over the years to a "public square". Post earthquake the area is even more of mess. Aggressive ticket staff hound tourists while touts do the same. It's not an enjoyable experience in a place that still looks a mess.
Back in the 17th-18th century Kathmandu Durbar Square won the race of the best of the Durbar Squares in the Malla empire. Today it is in a resounding last place.
What can be done about it? From a tourists perspective, not much. Few people pay attention to tourists when there's this much bureaucracy involved. The municipality ticket office is not friendly towards tourists. If you feel it is overpriced and lacks reconstruction then the best thing is to write a paper letter to them, drop it at the main office. And, also send a copy to Nepal Tourism Board on Exhibition Road. It may seem simple, but things like this get noticed a lot faster in Nepal than verbal or email feedback.
Lastly, you can take a heritage walk elsewhere in Kathmandu where there's much more to see. Yes, it's a shame to avoid Kathmandu Durbar Square but while it goes through this nightmare and you are on holiday then it's important you get to see and enjoy Nepal as much as possible.
Try a free heritage walk around the outskirts of Durbar Square which contains, at this stage, a lot more to see.
Bhaktapur Durbar Square's reconstruction work
Of all the Durbar Squares in Nepal it is Bhaktapur Durbar Square which often gets credit for being the best in terms of how it is looked after.
For years now the entrance fee has been 1500 rupees. The highest to any heritage site in Nepal. However for that fee you get more than just one square – something many "travel sites" fail to realize even though they claim to have visited. The fact is, you get an entire ancient city which in "best things to see" terms includes Durbar Square itself, Taumadhi square, Pottery square, Dattatreya square plus everything in between.
What's more, Bhaktapur is a very well kept heritage site in terms of maintenance
The main Durbar square area is traffic free. Thats a big bonus. Sadly it also took the biggest hit from the earthquake. My favorite temple, the Vatsala Durga temple was completely destroyed.
On the plus side five temples have already been reconstructed in Bhaktapur Durbar Square alone! Moreover, the rest of Bhaktapur looks like there was never an earthquake to begin with.
Why is Bhaktapur Durbar Square doing so well?
Most of this credit can be put down to people like Ram Shrestha from the heritage department who has worked tirelessly to repair the damage. It's not just about putting bricks back together it's also about getting municipalities, the Department of Archeology and local communities agreeing on things.
Bhaktapur did not wait for financial aid. It went ahead and started reconstruction with its own finances as a priority to their heritage and indeed tourism.
They have concentrated on rebuilding one temple at a time. The result is that the concentrated effort per temple means it's reconstructed faster. It's an approach which seems to working better than in the other Durbar Squares.
In my visit to Bhaktapur a few weeks ago I was astonished to see a suggestion I made two years ago come to fruition. It's the "adopt a temple" proposal. Today tourists can directly donate to one specific temple (Vatsala Durga), get a receipt and even have their name put on display. It's totally transparent and the only example of this type of funding in all Nepal.
Credit needs to be given also to the tourism office in Durbar Square where the staff like Damodar, Sharad, Muraj Didiya and the others are more than happy to show tourists how their entry fees are helping rebuild history.
In May 2018 news broke that Bhakapur had refused aid money from the German Bank for reconstruction. Instead the local community said it would fund reconstruction using local workers paid for by ticket prices. Bhaktapur once again raised the bar in sustainable heritage development in Nepal.
Entrance fees increased? Of all the heritage sites in Nepal Bhaktapur has kept it's fee steady at 1500 rupees for years. Word is that it will increase soon, but only once the reconstruction is complete as they feel tourists would prefer it that way! Wow, just a great mindset to put tourists first!
General upkeep: Very good. One of the secrets to Bhaktapur's success has been a traffic free Durbar Square. It's an accidental success that should really be copied else where. Read more about how this happened due to the reconstruction of Chayaslin Mandap.
There's more to Bhaktapur than just a single Durbar Square. There's the other squares which are not traffic free but still kept well. In particularly Dattatreya square. However, Taumadhi square really needs to be traffic free too. It's become a bit like Kathmandu Durbar Square in regards to traffic.
What can be done about it? Visit Bhaktapur! Stay there. High-end, mid-range and budget accommodation is easy to find in Bhaktapur. Don't try to get in without a ticket. Yes, it's expensive. But, if you are staying there then the ticket is extendable at no cost. Look around and visit the ticket office to find out how your ticket fee is helping to reconstruct this ancient city. There's a difference to Bhaktapur and it should be rewarded as such. Again, writing a letter with your thoughts to the tourism board or dropping it into the ticket office works wonders!
Go visit my guide to Bhaktapur for more.
Patan Durbar Square's reconstruction work
Patan or Lalitpur, as it is to referred to locally, is known as the city of artists. Rightfully so considering the great amount of art that there is in the city. Patan Durbar Square is the crowning jewel of Patan in that respect. To the untrained eye it may look like another Durbar square and similar to Kathmandu or Bhaktapur. However, the detail in the intricate workmanship found on those very temples is in a way superior.
The earthquake did not flatten Patan Durbar Square – not in the least, despite international media saying it did.
Two temples were lost and a gateway to Manga Hiti. There's about a dozen temples/monuments still standing. However, Patan Durbar Square in 2016/17/18 looks a bit like it's being completely rebuilt.
Why is Patan Durbar Square under so much construction?
Unlike Kathmandu where bureaucracy has slowed everything down and in Bhaktapur where the municipality, DOA and local community get on well, Patan has taken a different road to reconstruction. Most of this has involved foreign aid.
In 2016 the contract to manage the Patan Durbar square changed hands. The entrance price went up to 1000 rupees with the bonus that Patan museum and Durbar square would now come under the same ticket. Tourists now save … 50 rupees …
Such changes are part due to the Kathmandu Valley Preservation Fund, a quasi independent, government led, internationally funded organization with heavy contacts in the diplomatic area. They've done a lot of reconstruction work in Durbar Square over the years. However, post 2015 earthquake the money has been pouring in it would seem.
Credit where credit is due, the KVPT has led the way to reconstruction in Patan. Tourism is not their focus though. They've taken an all encompassing approach to reconstruction and nearly every monument in Patan Durbar Square now has a fence or scaffolding around it with "some form" of work being done on it.
There's a double mindset here. 1) the KVPT and it's "partners" have started all the work, so they will be the only ones that can finish it. 2) repeat point 1 using the moniker that the fences are to protect tourists and the buildings. The danger is of course is how much control and power a quasi private internationally funded organization can have over a nations heritage.
On the ground reports have stated that one of the "partners" UNESCO and others have spent vast amounts of money on … well, themselves. All in the name of reconstructing Patan and other protected areas. Bureaucracy is at work here perhaps more than anywhere else in the country in terms of heritage.
Even with this, Kathmandu Valley Preservation Fund launched a second crowd-funding campaign to raise funds for their work. Much like the first, this one also seems to have not had much impact. Several people have reached out wanting to help, yet heard nothing back.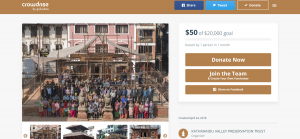 There is also a project led by a local "entrepreneur" and the World Bank to introduce audio tours to Patan. Local guides are objecting to this and perhaps wondering why such money wasn't spent in education or improving guide services and employment.
Entrance fees increased? Yes, in 2016 the entrance to Patan Durbar Square went from 750 rupees to 1000 rupees. Much like Kathmandu it was only 10 years ago that the fee was 200 rupees. How is this money used? Nobody knows. Unlike Bhaktapur Durbar Square the ticket office in Patan is not so friendly. Indeed you'd be hard pressed to find any official who knows what's going on. The staff are nice, but seem completely out of the loop.
One might get more information from visiting the KVPT office than the official Patan Durbar Square office
The ticket price is in this case very high for such a small area. Moreover, there are rumors that more of Patan will be sectioned off and fall under an entry price in the future.
General upkeep: Good. Patan Durbar square is quite small and the upkeep has always been quite good in terms of being neat, clean and traffic free. Prior to the earthquake there was always a little reconstruction going on. Post earthquake and it's a boom town of reconstruction. The fact that nearly every monument now has a fence around it speak volumes that "someone" has a lot of say here.
However, why is there a popular coffee shop now built into a section of a heritage building that was under protection? Again, questions that have no answers.
Unfortunately there's another knock on effect taking place in Patan. This NGO style approach has also raised the price of accommodation in Patan up as well. Paid "managers/consultants" seem to flock around this nice little earner of a town. Old guest houses have been taken over by new "boutique" guest houses charging insane prices of up to USD$80 per night! There's only one budget hotel left near the old square.
All of these are listed, with maps, in my guidebook to Nepal.
What can be done about it? Visit Patan for a day trip but do realize there is more to the city than just the Durbar Square! I've spent a vast amount of time writing about the heritage walks in the north of Patan, south of Patan, East and West! There's a reason for that. There's more to see around Durbar Square than there is inside it. Moreover, it will only cost you 100 rupees in ticket prices (two monuments offer a two for one ticket).
Full details on these walks are in my guidebooks to Patan and Nepal or in minute detail in my guide to Patan.
Which Durbar Square in Kathmandu is the best to visit in 2018?
Centuries ago the Malla kings had an artistic competition between themselves to create the most beautiful city. A novel approach that certainly seems nicer than war. The winner back then was Kathmandu Durbar Square. Today Kathmandu Durbar Square, in my opinion, is last by a mile.
The winner of the best Durbar Square in the Kathmandu Valley is Bhaktapur Durbar Square. Not only for its approach to reconstruction – one temple at a time. But, also for its transparency with ticket pricing. You can also sponsor a temples reconstruction, get a receipt and put your name down. It's all out in the open and good.
Add to this the fact that there's more to Bhaktapur than just it's Durbar Square and you have a winner.
Further, Bhaktapur has guesthouses and hotels for all budgets. From high-end to mid-range, boutique and budget. The only thing really lacking in Bhaktapur are good restaurants. But that's just a Nepal factor true of many places.
The future race to be the best Durbar Square in Nepal
It's interesting to note the three approaches to reconstruction of the Durbar Squares in Nepal.
Get bogged down in bureaucracy (Kathmandu).
Do it yourself and put people first (Bhaktapur).
Do everything at once privately with international aid (Patan).
Past winners of the best Durbar Square in Nepal
2017 Bhaktapur
2018 Bhaktapur
Today the winner is Bhaktapur with the outright loser being Kathmandu. Next year the answer might be different.
Patan Durbar Square once completed may suddenly overtake everything else as a stand alone square that's being traditionally rebuilt. What's more, Patan's all in one approach with private donations may well seal the fate of Nepal's heritage by essentially showing what can happen if they were to be privatized.
Privatization of heritage sites has happened in other parts of the world. Sometimes successfully, sometimes not. In Nepal things often go the way of "profit". Privatization of Nepal's heritage is, essentially, what's happening in Patan. It will be interesting to see where the future lies for Nepal's heritage if this case scenario works out.
Could privatization of Nepals heritage spur on a new artistic war to see who can make the best and most beautiful monuments in the country? Something that made Kathmandu Valley so unique in the first place.
Or, could privatization decimate Nepal's heritage by handing over control to profit minded business and people? A method that so far has blemished the reconstruction of so many other sites in Nepal like Kasthamandap and Rani Pokhari.
---
Get my Guidebook to Nepal & discover more than anyone else!
Looking for more insider tips and information like this? Get the most up-to-date, popular and dedicated guidebook to Nepal in the world. Over 617 pages & 984+ photographs of every temple listed, daily guides on all the treks listed and so much more.
Take a look below and you'll find out why this beats all other guidebooks!