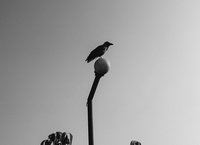 Tihar in Nepal is a festival of crows, dogs, cows, people and light
Tihar is the second largest festival in Nepal, (the largest is Shivaratri) which consists of several smaller festivals. It is also known as Deepwali (India) or Swanti (Newari). It is an incredible festival of color, animals, lights and people.
Over the next five days I will recreate the five days of this festival so you can get an idea of what it was like.
First, a brief look at what it's all about
What is Tihar?
Tihar is an annual Hindu festival celebrated shortly after the Dashain festival. It's also the last big festival of the calendar year.
Essentially Tihar is a festival of light and color. However, over the five days it is also used to give thanks to crows, dogs, cows, goddesses, sisters and brothers. This year it also fell on Newari New Year.
It's important to note that there are slight variations of Tihar in Nepal based on eithnic cultural history. Hindus have slightly different rituals as do castes within the Hindu population and the Newari people have slightly different variation again.
Whichever Tihar celebration you take part in or are in Nepal for the best thing is … go with the flow and enjoy.
Hopefully over the next five days you'll get an idea of what it was like in these shorter than normal posts.
Day one of Tihar: Kaag Tihar / Kwah Puja / Crow Festival
The first day of Tihar is commonly known as Kaag Tihar or Crow Festival. For more tourists to Nepal it's a bit of a non-event. The celebration largely takes place in peoples homes.
In the morning people go to their roofs or gardens to feed crows sweets, bread or grains.
For me I was in Kathmandu city and saw little on the streets. Durbar Square is filled with pigeons and and not crows. I had breakfast on the roof of a restaurant though and sure enough a crow came flying down cawing.
I left some bread on my plate for him and within seconds of leaving my table he was hoping down for a snack.
Why celebrate the crow?
Good question. There's a twofold answer.
Firstly, in Nepal, the crows cawing represents grief. So feeding them averts grief.
Secondly during the 2015 earthquake in Nepal crows became an early warning system of sorts. Before the earthquake and during the aftershocks crows began to caw. Thereby warning people to get out of buildings.
Thusly this years crow festival and an extra special meaning of thanks to Nepalese people.
Tomorrow is day two of Tihar and it's bit more colorful as people celebrate their best animal friends: the dog.
Here's a full list of festivals in Nepal.
Get my Kathmandu Valley Guidebook to learn more about Nepal!
The most up-to-date, popular and dedicated guidebook to the Kathmandu Valley in the world. Take a look below and you'll find out why!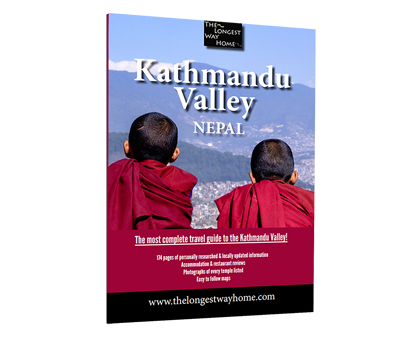 Find out more here!
---

Need a hotel in Nepal?
I recommend you try my own hotel search for Nepal.
The best online rates guaranteed!