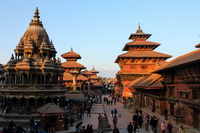 Patan is one of Kathmandu valleys greatest and oldest cities to visit. It's also known as Lalitpur which translated means "Beautiful city" – there's a good reason for this. Patan is a city filled with artisans, craftsmen and designers.
It's with this in mind that we can enjoy uncovering one of Patan's oldest enigmas. A quasi-mythical series of events about how the city got its name. From gods to kings and lepers they all played a role as we unravel a mystery in the oldest city in Nepal.
Discovering Patan beyond its main attraction
Anyone visiting Patan should really try to look beyond its premier attraction Patan Durbar square. There's so much more here to explore, see and experience. The whole city is abuzz with ancient streets, buildings and traditions.
Walking the streets of Patan is a treasure trove of discovery.
It's here in the ramshackle streets of north Patan that a temple complex sits that holds a combination of legends that together form the secrets that gave this city its name. It's real name. Not just its first settlement. However, we know that too.
Patan's first name
As you walk beyond the incredible Golden Temple in north Patan you are walking on cobblestones that date back to the origins of this ancient city. The first inhabitants, the Newari, called the place Yala. From this historians conclude that Patan is the oldest city in Nepal.
It's not where our search stops though. Patan's name is "Lalitpur" which came later after Yala.
To find Lalitpurs origins we continue north a little further until one of the tallest buildings in Nepal appears on the skyline. This unmissable five-story wooden temple almost looks to be on the verge of tittering over.
These are the slender wooden roof struts of Kumbeshwar Mahadev Mandir or the Kumbeshwar Temple Complex. While this temple was built in 1392 surrounding it is where a great series of events shrouded in history gave the "beautiful city" its name.
Kumbeshwar Mahadev Mandir
As you approach the Kumbeshwar temple complex you get a feeling that it's a little "different" to other temples in Patan. Perhaps it's the tall dangling main temple or maybe it's the fact that it's a temple complex rather than just one temple as is so popular in Nepal.
Just outside the iron railings is a large deep brick basin. This is one of two hiti's or water sources here. Search along the railings beside it and you will find a small little gate you can enter through. Here, inside the complex, is a smaller hiti and a series of temples all spaciously spread out with what looks like a form of order.
If you are wondering by now why you haven't had to pay an entrance fee you have nothing to worry about.
There is no entrance fee or ticket needed (so far) for Kumbeshwar Mandir.
It's fairly unique in that respect too.
However, it's the myth behind where you are now standing that's truly unique!
Legends behind Kumbeshwar and Patan's name
Legend one: Remember that small hiti? Take another look at it. Now imagine this place when it was nothing but a grass field …
One day a cow farmer with leprosy from Kathmandu arrived here to find feed for his cow. The grass here was bountiful as no one had cut it. The farmer took his bamboo pole that he used to carry the grass and plunged it into the ground before he got to work. However, as he did this a gush of water shot up from the ground. The thirsty farmer drank from the natural spring.
On his way home that evening the leper had to step off the road as the kings convoy was passing by. It was customary for anyone with a disease such as leprosy to let such dignitaries pass. The king saw the man and ordered his convoy to stop so he may get a better look at the man.
The man seemed to no longer have any trace of leprosy. Indeed, the king found the man so handsome he named him "Lalit" which means handsome. Knowing a miricle had occurred he asked the Lalit to explain what happened. Lalit explained the story and the king order a hiti to be built from the water source.
Legend two: the Hindu god Shiva had been poisoned to save the world. At Gosainkunda, in the Langtan region of Nepal, Shiva cast his trident at a mountain to find water as his throat was parched. Water sprang forth and lake was formed. It is said this lakes water is the source for water at Kumbeshwar.
Legend three: A man went on a pilgrimage to Gosainkunda where he lost his water vessel. On his way home he stopped here for prayer when he found that same water vessel.
Factual "legend": the word Kumba in Kumbeshwar means "water vessel".
Factual "legend": Kumbeshwar is one of Shiva's other names or titles.
Putting it all together
Kumbeshwar has a temple dedicated to Shiva who formed a water source that fills a sacred lake where upon a man with a disease discovered a natural spring from it and was cured only to become "beautiful" as a king proclaimed while passing by.
Lalit the beautiful was cured and made beautiful in what is now known as Lalitpur or the "beautiful city" or as we know it  – Patan.
Where is the sacred water that helped give Patan its name today?
The sacred water source is closed during the year. Many hiti's in Nepal are used by local people for washing and bathing. As Patan is now a major city it is most likely closed to prevent the sacred water from being wasted.
However, during one of the many festivals in Nepal, there is one pilgrimage known as Kumbeshwar Mala in August. During this festival the water source is opened up for all.
Want to know more about Patan?
Do read my full online guide to Patan to learn more about: the Golden temple along with the Kumbeshwar temple and many more.
Or if you plan to visit Patan find out how to save money, time and typical guidebook frustrations by downloading my essential guidebook to Patan.
---
Planning on booking a hotel room in Nepal?
Looking for the best online rates?
I recommend you try my own hotel search network here. The best rates guaranteed!
---