Mha Puja, 
Gobardhan Puja, OX festival and Newar New year!
Day Four of the week long Tihar festival in Nepal comes after the cow festival and it's when things get a little complicated. Essentially it's the Ox festival, a celebration of oneself and when children come out in the evening asking, singing and dancing for money.
Lights and rangoli are still lit up again around the streets. The difference this time is that groups of children will be found everywhere at night going around to these decorated homes and shops shouting for money.
Lastly, it's also Newari New Year which is known as Sambat.
Is it the cow festival or ox festival?
The short answer is that it's both. The confusion for tourists is that you may be told by some people today is the gai or cow festival. It's one of those occasions when it's best not to completely believe your local best friend.
Depending on their faith, they won't even readily admit that there's two days for the cow.
The reality is that the majority cow festival was yesterday. But some people will be insistent it's today.
And if they are Brahman, they would be correct. But in Newar custom yesterday was the cow festival and today is the ox festival.
Today you won't see many cows adorned with garlands unless you are staying with a Brahman caste family who live near a cow.
To the Newar people it's the ox festival. The only problem is that there are very few ox around.
Ox Festival
You'll be hard pressed to find an Ox in Nepal these days. However if you are in remoter areas you might come across a few bulls that people will substitute as an ox.
On this occasion I found a bull who was waiting to be fed in the streets of Kathmandu.
Mha Puja
This is a Newari festival which means the worship of the self. It's celebrated in Newar homes using Mandala's drawn on the floor.
People are given tika and plates of food. The evening ceremony is very similar to Bhai Puja which we'll see tomorrow.
Gobardhan Puja
This festival is to the Goverdhan mountain. Cowdung is taken as representative of the mountain and is decorated with garlands, candles and food.
It may seem a little off. But, it's essentially to express thanks to the mountain (earth) for providing food and well being throughout the year.
Both Mha Puja and Gobardhan Puja are best seen from inside a Newari household. Both are not seen on the streets.
Sambat (Newari New Year)
This is also Newari New Year's Day which is known as Sambat. It's now 1136 according to the Newar calendar. It's 2073 according to the Nepalese calendar.  It's not custom to stay up the night before until midnight. Most of the celebrations take place during New Year's day.
Any of the Durbar Squares is a good place to see some of celebrations which normally consist of drum beating and parades.
In Thamel a few rangoli are made and there are often some displays are put out.
Children take to the streets
At night groups of children (usually five) call around to people's houses and business shouting, singing, dancing and calling out. It's custom for people to hand out five rupees to each group of children.
If you know a local shop owner it's often fun to tell the children "there's a rich person in here, come sing!"
The children will all pile into the shop or business and the owner will give them a small monetary token.
Tomorrow is the fifth and final day of Tihar where people celebrate Bhai Tika.
This is where brothers and sisters bless each other in homes. I was invited to two homes so got to experience both Hindu and Newar Bhai Tika which you'll see next.
Here's a full list of festivals in Nepal.
Get my Kathmandu Valley Guidebook to learn more about Nepal!
The most up-to-date, popular and dedicated guidebook to the Kathmandu Valley in the world. Take a look below and you'll find out why!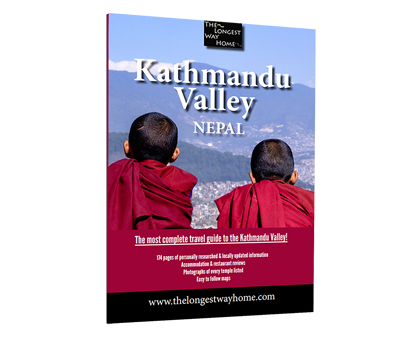 Find out more here!
---

Need a hotel in Nepal?
I recommend you try my own hotel search for Nepal.
The best online rates guaranteed!