Patan's famous cityscape has not changed much!
Patan, or Lalitpur as it's known locally, is one of the central attractions in the Kathmandu Valley. It's known as the "city of artists".
After the 2015 earthquake people said Patan had been flattened. This is simply not true.
Patan lost over five temples. However some are not even visible to most people.
If you've never been to Patan you might not even notice that there had been an earthquake at all!
One big photo of Patan shows it all
As you can see from this photograph overlooking Patan Durbar Square it still looks fabulous. Indeed it makes Kathmandu's own Durbar Square look dull in comparison
What's more, with new hotels opening up in the area you could wake up to a view like this in the morning. That's pretty great!
I took this photograph just a few weeks ago during monsoon season. So do excuse the clouds. I'll be back soon to do a comparison shot as right now it's all blue sky!
---
Get my Kathmandu Valley Guidebook to learn more about Nepal!
The most up-to-date, popular and dedicated guidebook to the Kathmandu Valley in the world. Take a look below and you'll find out why!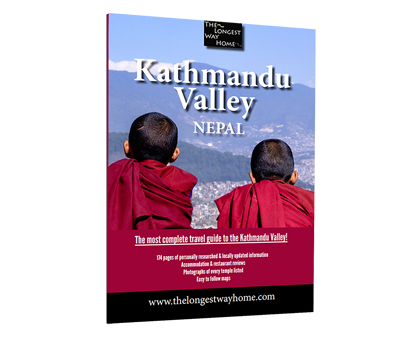 Find out more here!
---

Need a hotel in Nepal?
I recommend you try my own hotel search for Nepal.
The best online rates guaranteed!