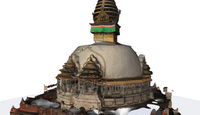 Digital Archaeology: saving the past for the future in Nepal
Digital acquisitions enable us to capture the surface of an object in 3D along with its visual properties. These digital images collectively reform temples, monuments, shrines and artifacts into three-dimensional representations of geometric data. This includes not only structural modules but also textures, tones and in some cases the immediate surroundings.
These models can then be used as an aid to physical reconstruction, or indeed in printing the object out in 3D. Visual inspections can be carried out on screen to look for defects, wear and tear and for structural analysis. This technology can also be used to present the object to the public for educational purposes.
If I had the foresight to do this last year when I was in Nepal, before the earthquake, then perhaps today we would not be mourning the loss of so much.
If only we had captured Nepal's temples with 3D technology before April 24th
This year was not an easy one in Nepal. Months after the 2015 earthquake I had no expectations on what to expect. Nepal moves in a different timeline to the rest of the world. In some respects this is one of its unique characteristics that I like so much. It's also one of its downfalls.
Last week I wrote about the lack of rebuilding in Nepal post-earthquake and how the temples still lie in ruins.
This week I am writing about a project I've been working on for the past few months here in Nepal. It's not something I ever thought I'd be doing. It's not something I ever thought I would need to do. But it's something that desperately needed to be done.
I never acted on a thought last year – it could have helped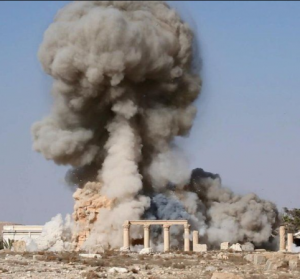 As Nepal's temples lay in ruins before me I thought in hindsight about an idea the Institute of Digital Archaeology (IDA) had in Syria as terrorists ran rampant blowing up ancient monuments at a bewildering rate. Monuments that were thousands of years old were being reduced to rubble.
What's more, museums, government archives and libraries were being destroyed taking with them the diagrams and engineering reports of these once great monuments.
The IDA deployed 3D cameras to allow people to capture these monuments before the terrorists reached them (source & source). Thereby preserving them in 3D for digital preservation and reconstruction later.
Nepal doesn't have this direct threat of terrorism. In the back of my mind I did wonder what would happen if some radicalized group did launch something horrendous here. I also knew the "big one" (earthquake) would eventually hit Nepal again.
Then I had that feeling we all get. That spark of an idea that hits your head which you then brush away just as quickly. You think either somebody else must have thought of it already. It's already been done. Or, you think it's not my job to do this.
Then indeed, the earthquake hit.
Over 228 monuments were destroyed in the 2015 Nepal earthquake and over 515 were damaged.
Little documentation exists for the fallen temples
Hindsight didn't linger as much as I thought it would as I entered Kathmandu Durbar Square months after the 2015 Earthquake. Instead sadness, then anger were my feelings at the lack of rebuilding and current care of these monuments.
I was researching for updates for my latest guidebooks to Nepal. I wanted to know when construction would begin; how people could help and what were the deadlines.
All I got was what I wrote about last week – a lack of reconstruction or knowledge of when it would begin.
The part in all this that terrified me the most was that there was an incredible lack of documentation regarding the temples in Nepal. While some floor-plans existed so much more did not exist.
The former Director of Nepal's Department of Archaeology's point hit things squarely on the head.
"Of course, there are some drawings available with the Department of Archeology. However, they are not enough"   Dr. Shaphalya Amatya goes on to say "German professor Niels Gutschow's, the three volumes on Architecture of the Newars: a History of Buildings, Typologies and Details in Nepal is the only available book which details the structures of temples with drawings"
People were actually inquiring from overseas to see if they could give engineering and architectural reports on the temples from the 70s and 80s. I found it shocking that very little actually existed in Nepal.
What were all these people doing over the years? Was it a lack of budget? Had nobody ever gone out with a simple pencil, paper and measuring tape?  Let alone conducted engineering reports on these great hugely unique monuments of a nation's great past?
The answer was deafeningly silent.
Disaster Recovery for Nepal's Temples
I once managed a disaster recovery project. Nothing to do with ancient temples, more to do with business and personnel relocation along with data re-deployment in the event of a fire or other event that would cause a corporation's headquarters to relocate overnight. Old alarm bells began ringing in my head.
There was no disaster recovery for Nepal's temples. While physical reconstruction could never be accomplished easily, data redeployment could be.
Why had nobody ever done this?
This thought continued to cross my mind as I met and interviewed people from Kathmandu, Bhaktapur and Patan heritage departments.
People had little to go on. That "saving face" stance reiterated a lack of documentation and funds. That call from an architect in Germany to say he had some floorplans told a lot.
And what of the remaining temples? As Nepal flounders from crisis to crisis and cannot even form a committee to oversee the committees that will begin the reconstruction process what chance do they have? (source)
Things always get "done" in Nepal tomorrow.
Tomorrow never comes in Nepal so I contacted the IDA in Oxford that day to discuss what was happening here.
One month later and I was unpackaging 3D cameras in Kathmandu that the IDA sent us.
Firsts steps in digitally preserving Nepal's Temples
I take a lot of photographs. It is part of what I do when researching my guidebooks to Nepal. It somewhat made sense to duplicate this work with this new 3D acquisition project. But within a matter of just a week it quickly became apparent it was going to be a much bigger project than I could ever have envisaged.
3D digital preservation, photogrammetry, digital artifact acquisition and synthesis, mesh domes and that was only the beginning.
Nepal's temples span far further than just the tourist sites we all know and love. There are unique and one of kind heritage buildings throughout Nepal and I needed help.
The first on the scene was my good friend Amir. With his passion for Nepal, getting things done and knowledge of logistics he was onboard and busy getting a team in place.
I contacted John Clinton from the Bristol (UK) Archaeology Department who have done fantastic work in 3D acquisition. In turn others from Arc 3D in Belgium offer services to help with this scale of project. A snowball was forming and we were not only capturing Nepal's temples in 3D but making additional digital acquisitions which far surpassed my initial expectations.
We then formed the Digital Archaeology Foundation. From small beginnings we were piecing together an alternative solution to preserve Nepal's temples.
Finding answers to the forgotten past for the present and future
Here's a 3D reconstruction of the Balkumari Shrine from Patan.
This shrine is unique in all the world. It was stolen on three occasions. It is in fact a replica of the original. What if it too gets stolen again?
The Digital Archaeology Foundation is not just about preserving temples from the next earthquake. We also digitally acquire objects that are unique and are under threat. You can read about our initial three phase plan here.
If this unique shrine is ever stolen again, damaged or destroyed we now have a 3D copy of it that can be used to help physically reconstruct it again.
With this technology we can share this data across the globe.
Comparisons can be made by archaeologists around the world and not just in Nepal. Art historians can compare gilding, workmanship and traits of this artifact to match it with others either in their own museums or in private collections.
This synergy of information will allow professionals from around the world to derive questions and answers on these objects like never before.
Monitoring deterioration of monuments and artifacts
It's not all about reconstruction and preservation either. Using this 3D technology we can also monitor any deterioration on a shrine or indeed any temple that we digitally preserve. As climate change becomes a reality in Nepal so too does higher pollution.
Both have a detrimental effect on cultural heritage buildings in Nepal.
Gilding is eroded, wood rots, paint fades and brick crumbles. Once an artifact or building is digitally preserved it can then be monitored for these changes over time aiding in restoration work and future preservation.
Previously an architect or artist would have to physically touch the object to caliber and measure any defects. With three dimensional models nobody has to touch the artifact and you can get closer than ever before.
Digitally mapping broken buildings
Currently people will have to physically mark broken fragments, manually list them and then try to reconstruct them. It's a hugely time consuming and error prone process.
With 3D technology one can virtually reform an object or building. It gives you the complete restoration of an object using the available materials before actually physically doing it.
Measurements can be calculated and new materials tested. Restorers can then look at new ways of rebuilding using both traditional materials and modern techniques safely and without the expense of physical tests.
Furthermore these digital models can easily be shared remotely among technicians, engineers and designers throughout the world for additional opinions, feedback and ideas. The implications for this are overwhelmingly positive for Nepal's cultural heritage which is currently critically endangered.
A joint project in digital archeology
The Digital Archaeology Foundations project in Nepal spans many aspects of preservation. This work cannot be done with just computer science alone. Indeed given Nepal's current situation most of the three dimensional work cannot even be processed here.
We see ourselves as the first step not just in 3D digital archaeology in Nepal but also the first to share this informational infrastructure.
This is a joint project that encompasses the knowledge and expertise of photographers, computer scientists, art historians and archeologists from across the globe.
This is a relatively new science. It is the first of its kind in Nepal. Working together is not simple nor easy but it is essential. Part of our objective is to educate people on the work being done and how digital acquisition can help Nepal save its own past.
Helping Nepal help itself
I believe in sustainability. At the end of the day only Nepal can help Nepal in the long term.
Archaeology is not popular among young students in Nepal. It's not the "magic" key that many see to a better life here. Commerce and business studies reign supreme as does manual labor overseas (source).
However Nepali's do love to embrace new technology. I recently attended a Google Translate Workshop here filled with Nepalese volunteers willing to translate Nepali to English for free. There's an interest there, we hope to tap into it.
It is our hope that part of this project will be embraced by Nepalese people interested in furthering their learning of 3D technologies, computer reconstructions and art history. People can even build their own virtual museums and exhibitions.
The possibilities are great in so many respects.
Future-proofing Nepal's temples digitally
We are not physically rebuilding temples. Organisations like the Kathmandu Valley Preservation Trust are already doing the best they can in that field here in Nepal.
The Digital Archaeology Foundation is digitally preserving Nepal's heritage buildings and monuments.
From these first small steps we hope our work will encourage others to actively get involved in protecting, preserving, restoring and indeed rebuilding Nepal's cultural heritage.
This applies to Nepal's own Department of Archaeology all the way to lead organisations around the world involved in the same field. We hope by uniting minds as well as technologies to overcome current obstacles we can make history stay forever.
Moving ahead with 3D preservation in Nepal
Aside from actually being out there collecting digital acquisitions, processing the data here and also sending it for further processing along with cataloguing we've been forging out a future phased plan for the foundation.
We've already carried out some workshops here from field reconnaissance to mesh reconstructions. It's not for everybody. It's hard work. Harder still when you rely on unreliable electricity and internet, a lack of equipment and funding.
Dare I say we also play second fiddle to humanitarian aid projects here, understandably so in many regards. However, out of the hundreds of aid projects taking place we have yet to come across a cultural aid project until now. One look at one of many fundraising projects for Nepal highlights this (source).
At the moment I am funding this project myself along with transport and office help from Amir. I'm also donating 25% of sales of all Nepal guidebooks to this project.  In the future I would like to see Nepalese volunteers interested in preserving their own past, take over and run the project.
It's not just work, it's learning new skills too
For a Nepali interested there's much to learn and such skills can be transferred to other lines of work. Be it in archaeology, computer science, photography, art history or even 3D movie making. Yes, we also make 3D videos at the Digital Archaeology Foundation.
Don't have a special camera? No problem. We also plan to release a 3D in your Pocket project soon where anyone with a smartphone can help.
So for archaeology students, art historians or even a Nepalese person who wants to see their own heritage up close then they will be able to do so through this project once it's fully up and running.
Our initial priority in phase one is data acquisition. I cannot emphasise this enough. We are working today, not tomorrow.
This week Amir came back from Nuwakot with imagery. It was midnight and he wanted to send it to me. I told him to rest and we'd do it tomorrow. He reminded me of my little mantra "Tomorrow never comes in Nepal."
So we spent until the early hours transferring, cataloging and backing up this data using battery backup power, mobile internet and candlelight. It's not even processed yet. But it's safe. Step one of disaster recovery.
Today we are collecting as much data as possible. This is our lead priority.
Tourists can help too
We are also calling out to tourists from the past and present in case they have photographs of destroyed temples that they can send us.
360 degree rotations of a building would be ideal, but anything that clearly shows a destroyed temple in as many angles as possible could be of massive importance.
Alternatively if you've done any panorama work from within sites in Nepal that show how places used to look it could be of use for educational purposes.
Bungamati for example is sorely lacking in documentation. Likewise if you have documents, video, audio or designs. We have already begun cataloging such items in our Digital Archive of Nepal.
One of the simplest methods we found for tourists wanting to help is by using Microsoft's Photosynth project. Do check it out as the documentation is excellent. Then it's as simple as sharing the link to us. We'll do the rest.
Lastly if you have any equipment to spare we have arms wide open for an additional DSLR or two along with some other equipment that will aid the project greatly.
Do check out our support page for more information.
Preserving Nepal today, for tomorrow
I have one haunting image that won't leave my head. It's the Vatsala Durga Temple in Bhaktapur. It was one of my favourites that was completely destroyed in the earthquake. I'd photographed it so many times. But this was long before the idea of 3D preservation entered my head.
If the Digital Archaeology Foundation had begun work last year then I know that I'd have captured it and would now be able to look at the 3D reconstruction, with hope. But I let the idea slide.
Last month I captured the Balkumari temple in Patan. It's not well known. But it's unique and irreplaceable. If, or when, the next earthquake hits or if a fire engulfs it we have a complete 3D digital copy of it.
Never again should we be in a position whereby we lose what can be saved.
Please visit the Digital Archaeology Foundation website for more information.