Travel Journal Overview: Home Nepal was not, but it give me the feeling of what it should be like. However like all good things, there's very often another feeling around the corner. What happens when you finally find something you are looking for? You've reached a goal. You flounder. At least I did.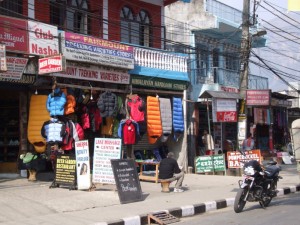 A day of blatant shopping in trek stores. Granted I came away with nothing but a day pack cover and a pair of socks, but I did get a the rough gist of all the prices. I also had a lot of fun haggling and bargaining. They do it with a strange kind of honesty in Nepal. People will tell you if an item is cheap and bad. If you ask though. It seems the moment they see you are versed in bargaining they will drop the prices. Asides that is for the women, they were tough nuts to bargain with.
After much bargaining and generally pissing off a lady so much she said I would never find a jacket cheaper than hers. I bought one at the same price further down the road from a man that was actually good enough to sew on extra Velcro straps for me.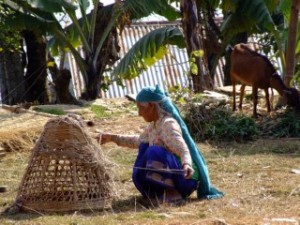 I slept well in the altitude, and enjoyed the silent dark sky outside. I was relaxing for the first time in years. Such a strange feeling. It didn't last.
We have all been there. Do not leave your room today, everything will not work out. No hot water for the shower, no water in fact. No bacon either. A family of Indians had arrived and had taken it upon themselves to use their holiday time to wash the family cloths in the hotel bath tub. Yes, using all the hot water. The clouds had moved in and not a single mountain was visible. With Chubby's help and two hours of confusion I managed to get a 550 rupee Nepalese international Metro sim card. Of course it could not send an international text nor receive one, and calls were expensive on it.
I went to the Frontiers Paragliding office to inquire about the para-hawking they offered. It reminded me of Nigeria in the office. Not a single person knew anything about it, nor who should I ask. I started getting pissed off. Thanks to a contact number Bob in Varanasi gave me I called a guy called Scott who helped run the place. The conversation was much better, straight and to the point. He was out, but coming back to Maya Village where it was run in a while. I grabbed the local worker who had mentioned he was on his way there, and said I was going with him on his bike.
Again it must be said locals were more friendly than the tourists. Maya Village had 5 tourists sitting around. Not one said hello. Yet the local workers all did. A few came in from paragliding, and again no hello's. I sat and ate expensive carrot cake as the alleged Maya restaurant was closed. Scott finally showed up. A nice guy, but in a rush as it was Christmas shopping day and his birthday.
$40 for2 hours $120 for the day. It was too much, I was expecting less. Strange thing is, I might have been more enthralled even with the rush if I had been made to feel more welcome there. It had the air of a rich playground. In a place where a luxury room can cost $6 for 24 hours, it made be a little discouraged to pay some foreigners $120 for a day, or $85 for 35 minutes.
I walked back along the lake, deciding along the way to climb up to an interesting looking guesthouse on the top of a hill. After 20 minutes of trying to pass by closed gates, flooded rice fields and unmoving cows I headed back down. This was not a progressive day.
I tried out the infamous Dahl Bhat for lunch. Expecting great things was not something to do today. Soupy curry, rice and a few bony chunks of chicken. The curry splashed onto the sleeve of my new jacket. I was seriously thinking of just going back to the hotel now.
Outside I ran into two old Tibetan lady's selling their own crafted jewelery. Well, actually everybody in Pokhara seemed to have the same design. I looked at the two old deep wrinkled faces. What else to do today. I sat with them and went through their stuff. The taller one noticed a stone held bracelet I have and offered to repair it for free. I gave her an interrogation over this. And brought up the subject of people always taking, taking, taking. Nigeria made me skeptical to the most maximum of anything for free.
If you are expecting enlightenment and wisdom from two old Tibetan tribal ladies, look somewhere else. They never stopped smiling though. I bought a turquoise bracelet, and as the skinny one refused payment treated them to a cup of chai at an expensive restaurant. The owner didn't seem to happy.
I called into a few trek stores to compare prices on offer for guides etc. With the day I was having it came as no surprise the person I needed to talk with was either not there, or no one knew where he was. Back to the hotel for sure.
No Electricity at the hotel!! Still no water. I stormed out. I needed something good. Expensive restaurant with attached culture show. That would do.
I sat far form the actual show as the place was actually quite full. I decided to break with tradition and not order a steak. Instead I asked for the Fresh Lake Fish.
"It's from this lake here?" I asked nodding in the direction of Lake Phewa.
The gel haired waiter nodded enthusiastically.
"Fresh today?" I said almost in polite conversation and looked over at the desert menu.
"Two days ago, sir." replied the waiter with a smile
I looked at him in disbelief. "Two days ago? I . .I don't think that's so fresh eh."
"Not really." he agreed with a smile of innocence, "The German Carp is better I think sir."
"From Germany?"
"Yes sir, freshly frozen"
"I'll have the pepper steak."
The show was nothing to get excited about. Tribal outfits that looked like they had never had a scene in history. And, some lackluster music. I had a feeling they did this every night. In fact, they did.
After a gristle entrapped piece of meat, I was subjected to Hot Chocolate pudding that was frozen in the middle.
Whether it was this particular day or not I don't know. But I was not feeling the vibe for Pokhara or Nepal. The tourist scene was subject to clique's and spending money. The locals were obsessed with taking the money. Nothing was working.
The idea of even trekking was loosing its appeal. Yesterday I seemed to have so much, and now it was dissolving away in somesort of strange self caused mannerism.
Some related links on this website that  you might like: (including a lot more photographs from Nepal)
Stories: Talika the twelve year old miner from Nepal
Stories: NGO's in Nepal & Developing Countries
Resources: How to Guide – Nepal to Tibet Overland
Resources: How to hire a guide in Nepal