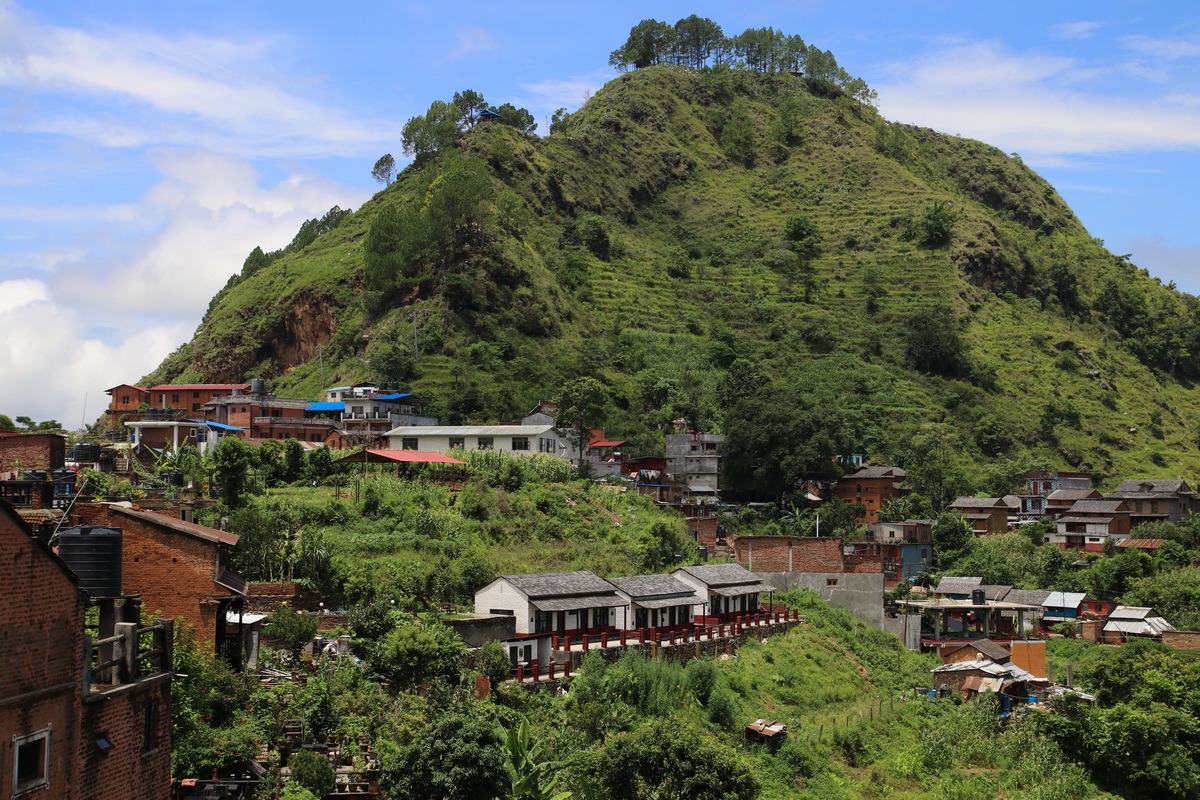 Bandipur Village: Does It Live Up to High Expectations for Visitors?
Nestled halfway between Kathmandu and Pokhara is the idyllic village known as Bandipur. It's one of those rare places in Nepal that actually lives up to expectations and delivers a peaceful, scenic, and enjoyable experience when you visit. As with so many places in Nepal, there's not much time left to enjoy such an experience. The developers have discovered it, and big plans are underway.
Imagine that picturesque Nepali village perched on a hillside overlooking snow-capped mountains. Now imagine such a location but without any traffic! Yes, the blight that annoys everyone who visits Kathmandu, Bhaktapur, or Patan in search of solitude among the classic Newari architecture. Well, you've just imagined a reality known as Bandipur.
Located halfway between Kathmandu and Pokhara, it's managed to slip past the tourist trail as people on the main highway are just so desperate to get off the bumpy bus they wouldn't dare think to jump off and take another short bus up a hill. It's up this windy stretch of hillside you'll be startled to find the ideal Nepali village for both tourists and guidebook writers. The developers are on the way, so the secret is out; get there soon and enjoy real Nepal.
Unlocking Bandipur's Past: So You Can Enjoy More Today
Bandipur's history reveals why it's remained so hidden from many people over the years. Traditionally a Magar farming community in the 18th century, the Newars of the Kathmandu Valley arrived here seeking shelter after losing to the Shah's war. The Kathmandu to Pokhara route had already been opened up to trading by the Newars, but such locations were now under threat by a new king who had no hesitation in cutting off the noses of his victims.
Seeking a peaceful life away from persecution, the Newars settled in Bandipur and built the hilltop village. Much like their ancestors in the Kathmandu Valley, the Newars designed everything in a similar way. This included pagoda-style temples, red brick houses, stone roads, and trade routes. It's not wonder that if you arrive here from Kathmandu, it's like a miniature, more peaceful, and clean version of the Newari capital.
As the Shah King united the various states that made up Nepal, the Newars in Bandipur were largely left alone in land deemed too mountainous to be worth a fight over. Using their experience in trade, Bandipur's settlers eked out a quiet life. As Nepal moved into the 20th century, Bandipur opened up, and Tony Jones converted one of the old Newar buildings into a hotel known as the Old Inn. At the same time, the main Bazaar road was blocked to traffic, creating a village atmosphere unlike any other in Nepal.
Exploring Bandipur Today: A Memorable Journey Awaits
My first trip to Bandipur was many years ago. Today, not much has changed, thankfully. Though the locals are convinced that the upcoming new cable car will reel in tourists and cash. I cannot see it happening. The cable car is linked to a large hotel with a large car park. Much like the other cable cars, it will be difficult to reach without private transport, have double prices for non-Nepali, and offer little more than what you can see from Bandipur already. This is my fear. The excess tourists will descend or rather ascend to the quiet hilltop town and make it an "attraction."
Getting off the tourist bus from Kathmandu to Pokhara in the dusty town of Dumre, look around. Nobody is interested in me. Good. There's a small cafe across the road. I hedge my bets that as the only tourist, I might get a better price than usual for a jeep to Bandipur. No such luck. 3,000 rupees, declares the first big-bellied man sitting outside the cafe. I make it clear that I want a shared jeep seat and not a private jeep. There's a few glances between drivers as locals queue up looking for the same. There's not enough of us. 10 to a jeep these days. I offer 500 to get things moving. No bites, and I'm not interested.
I walk over to the other side of the road. A scraggly 20-something-year-old gets handed my big bag. I reaffirm Bandipur and 50 rupees. He barks back 80. I enter the hot bus and pick a front seat to wait out the afternoon. Over the years, I've never understood why Nepal must make the most simple things so frustrating. I look back at the jeep drivers arguing over the remaining passengers. There's not enough to fill the jeep, so they must wait. As do we. Forty-five minutes later and the bus is off first. Half-full. No problems. We are on the way to Bandipur with no sign of any jeep.
All Roads Lead to Bandipur
Well, there's only one blacktop road. I always remember the warning from my first trip – "the road winds so much you will be sick." That's what the guidebook said. Thankfully, I've written my own since then, which is far more accurate (Nepal guidebook with dedicated Bandipur chapter). Indeed, the road does have some twists and turns, but we barely chug along uphill, making it all quite pleasant as we overlook acres of pristine forests. The only time I did not like the bus was when I took a full bus and was jammed in the back in the sweltering heat. There's plenty of buses, wait them out and grab a window seat!
The bus pulls up, usually blasts of horns next to some other buses. One of the great things about Bandipur is that the buses all drop you off close to the main bazaar. On my first trip, I remember jumping off long before then when I started seeing the signs for various Bandipur hotels. These days I know where I'm going. And even if I didn't, I don't have much interest in staying in a resort away from the quiet main bazaar.
I walk over a line of concrete bricks and stones. This is the border to the traffic-free zone in Bandipur. Yes, no cars, motorbikes, or even bicycles are allowed along the main bazaar road. It's an initiative by the main tourism committee of Bandipur, much to the chagrin of larger hotels and businesses who want taxis to ply the 500m to shuttle guests and their luggage back and forth.
Traffic-Free Bandipur Bazaar
Why is it that the biggest attraction to Bandipur initially is that there are no taxis, kids on motorbikes, or whizzing mountain bikes? Ah yes, the peace and quiet of it all. There's something really nice and refreshing about being able to walk down a main road in Nepal and not be clipped by cars or bikes while inhaling vast plumes of vehicle fumes. The same thought always crosses my mind. Why can't all heritage towns in Nepal be like this?
Bhaktapur Durbar Square tried. Well, the architects who restored the Chyasalin Mandap tried by "forgetting" to remove the stone posts built during its reconstruction. There's a similar rumor in Bandipur. Apparently, when the main bazaar was being re-laid with valuable stone, it was temporarily blocked off from traffic to protect it. And so it continued on. There was a brief uprising from a taxi mob and one of the big hotels, but it was squashed when the neighborhood took to the streets to block them.
So when you step over that little concrete and stone wall into Bandipur with your bags smacking and scratching along behind you, remember the alternative. Which is to have Bandipur be like every other town in Nepal. It's one of the reasons it's better. The walk down the old bazaar is like stepping back in time. Traditional wooden fronts support the red-bricked Newari-style houses that line both sides of the stone street. Potted flowers hang down from balconies. Wooden tables sit in the sun outside cafes as bakeries cook up sweet bread.
"Jo Jolapa," greets Piya, who runs a local guesthouse.
I return the Newari greeting and ask meekly if she has a room for me. There's a half-head waggle, and I wait patiently. There's no need to ask the price. I won't be overcharged. It's a good place that I've been coming to for years. My room will be simple. But functional. Much like the nearby "high-end" guesthouse that charges triple figures for not much more. My recent pet peeve in Nepal – boutique guesthouses. Where once it was $5 a night, now it's $85 just to stay in a traditional guesthouse.
The Best Newari Food Inside and Outside the Kathmandu Valley
The first order of business for me is to eat. It's been a while since breakfast and it's off to my next favorite lady in Bandipur, Nanu. Her family restaurant is just behind the towering and often colorfully painted Bindebasini temple at the top of the Bazaar. The restaurant is as ever slightly full. I take my usual seat up by the kitchen entrance. It's a leftover table placed to just squeeze one more in when things get busy. It's my favorite when I arrive because it means Nanu knows I'm here for a catch-up chat.
Nanu has a smile and laugh that would make anyone welcome. Her husband is a lovely man who chose well. The two of them make a great team and an even greater Newari food. Strange as it may seem, but Newari food in Kathmandu does not always appeal to me. Often dry, always too spicy, and sometimes chewy, Nanu's cooking elevates Newari food to the best I've had.
I order Chatamari – a sort of rice flour Newari meat pizza without the cheese. And overdo it with some Bara, which are rice flour pancakes – I'll take a few away as snacks. Nanu fills me in on the latest gossip, which usually revolves around the big hotels trying to open up the road to traffic. The cable car, which will make everyone rich. And the local dispute over the Bindebasini temple which yet again has been painted in bright colors which half the village says brightens the place up, and the other half say is too bright. As always, I congratulate everyone for at least looking after their temples unlike in Kathmandu. This usually gets a prideful smile. With that, I'm off for an afternoon walk to make sure everything is as it should be.
Walks Around Bandipur
I'm not going to list out all the walks around Bandipur here. My claim to fame is I was the first to extensively write them out, and they are in my Nepal Guidebook. I politely declined to list them out for a tourism board too at the bequest of the local tourism committee. The reason was that nobody from Nepal Tourism Board had visited Bandipur for … well, at least a decade if not more. So why do their work for them. We all agreed. Instead there is to be a local map made, printed locally, and thereby in keeping with helping Bandipur help itself.
Of the several walks, two stand out as being popular depending on your demographic. If you are a Nepali couple or group away for the weekend, then the main attraction after the bazaar is Tudikhel. A tree-lined football-sized grassy area at the top of Bandipur town. It's used as a picnic area and a viewpoint over the Annapurna Mountains. It's not my favorite, but each to their own. There is a view of the mountains, and if you're picnic-inclined, the attraction is there. Otherwise, my mind sits on the trees that line the area and a couple of hotels that want them chopped down so guests can see the mountains from the rooftops. As I mentioned at the start, "development" is on the way.
To be honest, my favorite walk is the one I made encompassing Tin Dhara and some hidden temples that takes you all round the town. There's also another walk to Buddha Monastery which is the only Buddhist temple in Bandipur and can link into the Tin Dhara walk, but it takes time and I really wanted to get one more special walk in on what was becoming a lovely evening. Tin Dhara first though!
Tin Dhara or the Three Water Spouts (there's five)
I take the meandering stone pathway through the old Bazaar which quickly transforms from pristine to slightly familiar "Bhaktapureseq" backstreets. The difference here is that in between the occasional building you get a glimpse of faraway forests and blue sky. Bandipur really gives the impression it's a town perched on a hilltop … because it is. The road twists into a stone pathway which stretches up and down through local houses. Children play on the street while parents tend to shop fronts, idle chat or the odd game of tiger and goat. There's no one coming up looking for money, tours, or such like. It's all so peaceful.
The path comes around and down to marker pole in the center of a road. Much like the marker pole on the way up to Dhuikiel's lookout spot. I take a left and descend to an open green area where off to the left is the rustic Tin Dhara temple. Further down and the village's famous stone water spouts appear against a stone wall with the forest behind them. Tin Dhara means three water spouts but someone installed another two during a renovation. Still used today on a daily basis for bathing and clothes washing.
Across from Tin Dhara is one of my favorite Shiva temples. It's a typical mogul design with a stone-domed roof, but what sets it apart is that it appears to be raised up high. So high that if you approach it from another trail the ground around the temple is much lower making it look like there's a water-less moat surrounding it. One can only conclude that the soil around the temple has eroded away over the years due to the high moisture content in the area and so the temple gained a moat of a sort!
The remainder of my walk takes me on a loop around Bandipur. I won't go into detail here (it's in the guidebook), but the blacktop road is encroaching every time I visit. Still, hidden in the lanes are many prized sights and experiences. Including a Newari community's god. A rare find. Instead, we'll head off to perhaps the best mountain viewpoint in Bandipur and one of the most scenic places in all Nepal.
Thani Mai Viewpoint
When people arrive in Bandipur and you ask locals what to see, you'll be inundated with various lookout points. Which there are. You'll discover most of them by randomly walking around the town. But the two biggest ones are from the top of Tudikhel and by far the best, most difficult to reach, is from the top of Thani Mani or Gurngche Daada. The latter is a craggy hilltop opposite Bandipur town. It's got a long concrete stone staircase leading up to the top. Here, there are a few Shiva shrines and a grassy patch surrounded by trees. At the end of the grassy patch is a small temple which resembles a shack – this is Thani Mai.
Behind Thani Mai, the rest of Gurngche Daada stretches on through rough, unmarked, and grassy knolls towards a paraglider area. The area is often fenced off, and one can see why. The trail is often hidden, filled with holes, and not so easy for many to climb though. It's also in danger of being completely bulldozed as the paraglider and cable car attractions dictate a new road under Gurngche Daada. Nonetheless, an "off the beaten path" location is one of my favorite solitary places in Nepal. If it is indeed taken over by cable cars, tourist buses, traffic, and bright neon lights all in the name of progress (hint, there's not enough water to make it a major tourist destination), then I have another place as a backup. For now, I'm quite happy taking in the tail-end of an afternoon by this tree.
At the end of the ridge-like trail, it starts to rise up towards a huge tree and platform. The route up changes every rainy season or whenever a developer gets the idea to mark it out for development. It's up here by the this huge sal tree that I like to come and sit. Stretching out in front of the tree is the deep forested valley and hills leading up to Bandipur. Beyond them are some open grass fields which have the backdrop of the stunning Annapurna's behind them. Sunsets here are gorgeous. Peaceful and precious. There's no traffic, no touts, people are small dots on the roads far below, and Bandipur town sits opposite glowing in the evening sunset.
I turn my head to the left and all that remains are the mountains, the gentle sunset, and an age-old tree overlooking it all.
---
Get my Guidebook to Nepal & discover more than anyone else!
Looking for more insider tips and information like this? Get the most up-to-date, popular and dedicated guidebook to Nepal in the world. Over 617 pages & 984+ photographs of every temple listed, daily guides on all the treks listed and so much more.
Take a look below and you'll find out why this beats all other guidebooks!