Travel Journal Overview: A guide book in hand, I felt like a new tourist for some reason. I'd been through worse, yet a I felt lost leaving the boarder. Nepal was not doing it for me and I'd not even left the border. Things felt like they were going bad … but I was wrong.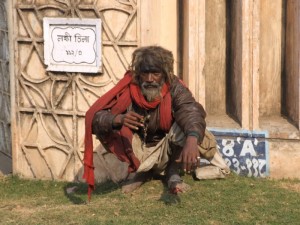 As I scrambled on board my over crowed "Luxury Air-conditioned" bus and sat down next to the broken window I know I had been done. This is why I am so down right rude at bus stations, train station and border towns. Trust no one. Why I decided to take the risk of trusting the border tout I don't know. What an idiot, I am.
To make matters worse, as we pulled away, one of the goons suddenly learned to speak English.
"This man," he said pointing at the shaven headed conductor. "He tell you when to change the buses… But he speak no English either OK?
I tried to stand up on the jostling bus as the goon disappeared into the dusty exhaust of the bus, but the potholes forced me down again.
I looked at the shaven headed conductor as he scowled back at me. "I change at…"
Bollox where do I get off at??? I drew a blank.
"Pokhara, I go Pokhara!!" I said with a stupid shrug.
He glared again and then waved me to stay seated. OR more likely to shut up.
Why oh why did my memory fail me know? I took out the LP and started to look for this place the bus changed at. Please goodness may the LP map be good this time. Grah… There was a bloody great white line going right through the centre of Nepal in the LP. The spine of the book broke the map in two. And the town he seemed to have pointed at was in the centre.
I looked at the possibilities. Dumre? Gorka? Mugling? No idea. Bollox again. No one spoke English on the bus. I fact an old man preferred to sit on his rice sacks in the centre aisle than next to me.
I stared out the window as this new country whizzed by in a dusty bumpy fashion. Shop fronts all had signs written in a crylic style script that I could not make sense of. The store could be selling car tires or instant noodles for all I could understand. I put my faith in time, and settled that if the bus was stopping half way, it would mean in about five hours.
I scanned through the LP trying to make sense of where I was going. Sunauli Border..Direct buses to Kathmandu and Pokhara… nope. Junctions… nope. Popular routes … turn to page 89! Page 89….babble. Kathmandu to Pokhara..that rang a bell. Mugling …is halfway between Kathmandu and Pokhara and is a popular place for rafting, not for me I am at Sunauli.
It was doing my head in. We stopped and the driver got out for food. I waited for 5 minutes as no one else seemed to be moving. I was starving now. To heck with it I was going out for food too. No I wasn't. As I stood up the driver came back with a orange. I settled in for a read of something other than LP.
After three hours we stopped in a small town. I peered out the window. Was this the change over town? I looked at the conductor and began a session of sign language. The answer was I was should remain seated. And so I did. For a whole hour.
I thought we had broken down. But no one was working on the bus. I figured it might have been like in Nigeria, and the bus driver had gone off to find a part. But no. I looked out the window as I saw the conductor walk over to the driver as he emerge from a building. The driver was puffy eyed and his hair tossed up. There was little doubt the man had been asleep. Yet something about his look also told me the building also offered a lot of long haul drivers some company with their rest too.
We were off again, and I wondered if this one hour break was included in the time it took to get to Pokhara? We pulled over two more times for 30 minute breaks before we reached the next big town. It was late afternoon. I stared out the window as we trundled into the town, and seemed to get stuck in traffic. I took the opportunity to look out at the crylic scripts on store front again. Hoping to find anything that would tell me where I was.
Nothing but the unreadable. We turned a corner, and there as we turned I caught a glimpse of a hotel whose address mentioned 'Mugling!!'
It was 7.30pm, dark and cold before we stopped outside Mugling in what looked like a motor park. I should have been in Pokhara one hour ago. The whole bus seemed to disembark. I stood there as people disappeared of in all directions. I looked up at the conductor. He headed over to a white van and began talking to someone. I was about to head off in search of Pokhara ride when he waved me over.
I saw him exchange money with a driver. Could it be he was actually arranging a change over lift for me?
"100 Rupees more…he wants"
The bugger spoke English too!"Why?" I retorted, "I paid everything already?"
The conductor and the new driver began arguing. The new driver had a knack for waving his hands around a lot, and I think swearing in Nepalese.
"You go Pokhara?"
I turned around to see a woman in a white sari and a skinny male companion looking at me. They had been on the bus, and had said nothing the entire trip.
"Yes, I am trying to."
She nodded, "Then we are going with this man. He charge extra because it is night driving."
I looked at her, then the conductor and finally the red eyed driver. I nodded at them all and took out a 100 note.
My bags loaded up we all huddled into the two rows of seats, a 10 of us. It was now I began to understand why the driver was red eyes. The whole van stank of alcohol. In fact the man seated behind me made a point to breath hard enough before he passed out for me to figure they all had been drinking rum.
Rum makes Nepalese talk as well. The man beside me insisted on questioning my every motive for coming to Nepal. We stopped for 40 minutes as well by a roadside café. One by one people disembarked. I was thinking of doing the same until I looked out the fogging window and saw the café only sold Rum and popcorn.
3 hours later and we were all still alive. It was bitterly cold outside, and inside most of the people had passed out. I looked out into the darkness. An occasional house light passed by. But that was it. Everything else was pitch black. I was glad the two van headlights were strong. There was a strange glow in the night sky to my right. As if a cloud was lit up by a dull moon. I stared at it for a while. And then clicked. It wasn't a cloud in the sky. I could see a black triangle like shadow beneath. It was a huge snow capped mountain.
I smiled. It must have been the Annapurna range, the Himalyan mountains. Ten minutes later and we pulled over. There was a crowd outside and they were all touts calling out names of hotels. But as touts they quickly got discouraged to see only locals get out. Finally one peered into the van and saw me. The furore started again as I battled my way out.
Outside I swung around looking for my bad and wondering where the heck I was, when I heard a voice behind me.
"Hello Mr. My brother sent me to pick you."
I looked at the slicked haired man with a big grin. He was holding a piece of paper with my name on it. I smiled at him.
I got on the back of 'Chubby's' motorbike, backpacks and all. It was freezing cold and it seemed like Chubby was in a worse condition as apparently he had been waiting for 2 hours. We drove for about 10 minutes and I felt the icy breath of high altitude pierce my light clothing.
At the hotel reception I was greeted by friendly waves and smiling faces. I was then shown upstairs to my 400 rupee room, completed with huge double bed, an en suite bigger than most singles, and a large TV.
"Would you be needing dinner first or a hot shower?" Asked the very young looking man carrying my bags.
I choose a steak and a beer.
I pushed over the nicely arranged folded towels on my bed and stretched back with the TV on. What a room, for only 4.80 Euro. I tried running the shower, very hot.
10 minutes later there was a frantic knocking on my door.
It was the young man looking like someone had been shot, "Oh sir, wait! Its coming, your dinner sir. Wait."
I looked at him with a laugh as he rushed off. What a panic over my dinner.
"Sir I am coming!" I heard him call from down the balcony.
Then then the flickering shadows of fire appeared on the floor in front of me just before the young man appear with a flaming steak.
"It's on fire sir," he squealed stamping his feet as another young man appeared behind him holding my beer.
I let them both in as they quickly set my dinner down on the table just as the flames went out. They both laughed in glee and wished me goodnight.
I sat back to a flaming hot pepper steak and an ice cold Himalayan beer before having a steaming hot shower and falling quickly asleep in the crisp sheets of the soft double bed.
Some related links on this website that  you might like: (including a lot more photographs from Nepal)
Stories: Talika the twelve year old miner from Nepal
Stories: NGO's in Nepal & Developing Countries
Resources: How to Guide – Nepal to Tibet Overland
Resources: How to hire a guide in Nepal