Plan your trip to Nepal in steps
The number one tip I can give you plan a trip to Nepal is to use the following page >> how to plan your trip to Nepal <<. In it is everything you need to plan in 5 easy steps. Best of all, it's free!
Meanwhile, let's condense it all down to help you a little more with some quick tips and tricks to get you on your way.
Find out about Nepal
Before you even begin booking flights or treks do some simple and fun online research to find out what there is to see and do in Nepal.
This is best done right from home or the office. Simply type "Nepal" into Google or another search engine. Then when you see the results – click "images".
You'll soon see lot's of activities and sights to do with Nepal. Open each image up into its own tab and read more about it.
This is a good time to have a guidebook to Nepal and open up a page from the image you saw in Google. Now, read more about it and if you like it then write it all down in a list of "must do's in Nepal".
All of this is listed on the first step on how to plan a trip to Nepal.
Learn about when to go and the weather
Nepal has two peak seasons. They both offer different weather conditions. One has a lot of tourists flocking to Nepal, the other only a few.
There are other months in Nepal that offer great times to see wildlife but not trekking and other months that are the opposite.
This is can all be found out on when to visit Nepal.
In between all of the months you'll also need to learn about festivals in Nepal.
You're now ready to learn about travel itineraries for Nepal.
All of this is listed in detail on the second step on how to plan a trip to Nepal.
Plan out your activities in Nepal
Treks, jungles, culture, adventure sports. Take your pick and work out if something needs to be booked in advance or if you can save money by doing it in person.
Before you get that far though, you'll need to sort out your Nepal tourist visa. Then book a flight and book any hotels you need. Finally, do checkout this dedicated packing list for Nepal.
Next, it's on to booking (or not) activities in Nepal.
For trekking find out the best online treks and tours in Nepal or simply learn how to choose the right local trekking guide in Nepal and if you are still not sure about what trek then look up this list of treks in Nepal.
There's more to do in Nepal than just trekking!
Checkout the Kathmandu Valley to get an idea on what to see and do culturally in Nepal.
Visit these pages on Chitwan or Bardia to look at wildlife and jungle activities.
Read up about Pokhara for hikes and adventure activities.
This section of planning your trip to Nepal is about the most time consuming. It's well worth checking out a dedicated travel planning service to Nepal or visit step 3 of how to plan your trip to Nepal.
Getting around in Nepal
From the moment you arrive in Nepal everything will change. It's like nowhere else on earth. Doing a little research will help you immensely. Get a jump-start with this guide on arriving into Kathmandu Airport to learning about public transport in Nepal.
You'll also need to know about how banks and ATMs work in Nepal.
All this and more is found on step 4 on how to plan your trip to Nepal.
Travel Nepal!
Lastly it's all about your day to day travel in Nepal and what to see or do. This is quite simply done by reading my best guide to Nepal. Or, to really get the more out of your trip my full guidebook to Nepal.
Again, all of this is written up in step 5 of how to plan your trip to Nepal.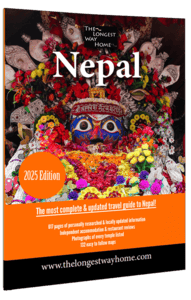 Planning a trip to Nepal, easily
I purposely wrote this page to help give you a kick start in working out what to do in planning your trip.
To fully make the most of your planning I strongly suggest you use the link below. It's all free, so give it a read and you'll see the majority of the work has already been done for you!
So get started on your trip of life time with discover how to plan a trip to Nepal.