Kirtipur is a great heritage site to visit & very close to Kathmandu
Many people looking for things to do around Kathmandu overlook the former "capital" of Kirtipur. It's only 25 minutes on a local bus from Thamel and is filled with history, culture and away from all that traffic!
While most people head for full day trips or half-day trips out to Patan and Bhaktapur.  I'm adding Panauti into this list too because it really is a great cultural city worth visiting. Shorter trips to Boudhanath and Swayambunath are also mainstays. Try adding Kirtipur to your list as well, here's why!
Why you should consider visiting Kirtipur
It's off the beaten path yet just a stones throw away from the hubub of Kathmandu. I've visited Kirtipur on many occasions and have rarely seen more than a handful of tourists there. Why? Simple. It's not on the tour operators hotlist. There's no money to be made bringing tourists here as there is only one hotel, a few restaurants and there's no entrance fee.
All this sounds good to me!
Kirtipur's history might answer a few questions
Kirtipurs history dates back to 1099 AD when it was part of Patan. When the Gorkha King Prithvi Narayan Shah invaded the valley in the 18th century Kirtipur managed to break away.
However in 1767 Kirtipur was brought back into the kingdom following 23 attempts to conquer it by the King. On the 23rd attempt one of Kirtipur's noblemen defected and the king was able to launch a final assault on the beleaguered town. These battles became known as the "Battle of Kirtipur".
Kirtipur has always been a bit of a rebel …
– quote from my Kathmandu Valley Guidebook 
Soon after the Malla kingdoms of Patan, Bhaktapur and Kathmandu fell and under the new Shah era the country united into what is known known as Nepal.
These days there's an air of isolation about the place. Some say that it still views itself as a rebellious old Malla kingdom so it's often the last to get funding. Others say it's still living in the past.
Visiting Kirtipur today
No matter ones view on Kirtipur's past its streets are well kept, there's a little tourist office, no entrance fees for tourists anywhere and a great way to experience a little bit of old Nepal right on the doorstop of the capital.
A quick bus from Ratna bus park will bring you to Naya Bazaar at the base of the steps (a good place to eat, get a haircut and visit a Thai monastery) leading up to the old city.
At the tops of the steps (I didn't count but it's about a 7 minute walk), you enter through one of Kirtipurs old gates. From here on the old city starts. Traffic free, entrance fee free all you need to do is start walking to enjoy the unique temples and stupas in the city. Not to mention the classic old Newari streets and people themselves.
Kirtipurs must see highlights
There's too many things to list without dragging on (they're all listed in my Kathmandu Valley Guidebook) but here are the main things to see in Kirtipur.
Chilancho Stupa
Think boudhanath but smaller and seriously more neglected. Built in 1515 by the Emperor Ashoka today the harmika (top) and the white stupa is badly in need of some white paint. Perhaps this is what makes it so interesting?
Tri Ratna Temple
This old stone Krishna like temple is worshiped by both Hindus and Buddhists alike. It encompasses Buddha, Dharma and Sangha. The temple took some mild damage in the 2015 earthquake and was used by many aid organizations as a landmark. To the right down a street are two large golden Buddha statues well worth visiting too.
Dev Pukku
This old royal area is one of most charming in Kathmandu. The pond here is where Kirtipur's main water source is fed by underground water. To the tank's left is the very well-preserved former Royal Palace. It's all local accommodation now and it's great on a summers day to see people sitting at the old Newari style windows looking out.
Bagh Bhairab Temple
The whole complex is one of my favorite in all of Kathmandu. The main courtyard is filled with shrines and temples. It's worth having a look at a few as they are extremely unique.
The temple itself is huge, though Saturday mornings might best be avoided due to the odd animal sacrifice. The views from behind the temple are also some of the best in Kathmandu city.
I also managed to solve a little riddle there that certain other guidebooks couldn't! In the south east corner is a Dhartimata statue giving birth to "something". I won't spoil what. It's in my guidebook (sorry, but I gotta keep somethings for the books).
Uma Maheshwar Temple
This tall temple is guarded by two elephants wearing saddles made of metal spikes (to keep people off). Originally built in 1663 with four roofs one was destroyed in the 1934 earthquake. It survived the 2015 without much of scratch. There's also a British Bell here from Croyden!
A heritage site worth visiting
If you've only got time to visit Kathmandu and little else then put Kirtipur on your list! It's only 25 minutes away by bus or even faster by taxi. You can cover all the sights there in well under half a day trip. It's away from the crowds. There's no entrance fee. It's a classic Newari heritage site. And, you get to go somewhere very few people know about!
Looking for more? Here's my free online guide to Kirtipur and for even more information with maps, restaurants, accommodation and hidden facts – check out my book below.
---
Get my latest Kathmandu Valley Guidebook to learn more about Nepal!
The most up-to-date, popular and dedicated guidebook to the Kathmandu Valley in the world. Take a look below and you'll find out why!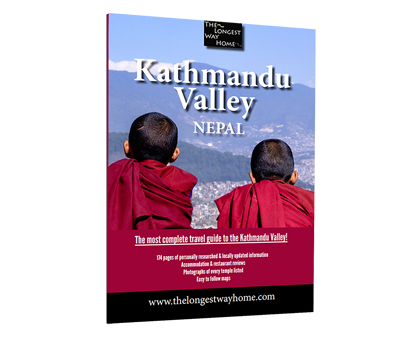 Find out more here!