by Dave from The Longest Way Home ~ July 20th, 2016. Updated on February 9th, 2017. Published in:
Travel blog
»
Nepal
.
Welcome to the continuing evolution of travel guidebooks
Over two years ago I began publishing guidebooks to Nepal because I truly wanted to deliver something that would help people get the most out of their trip. And quite frankly, the current crop of guidebooks to Nepal are just not up to scratch.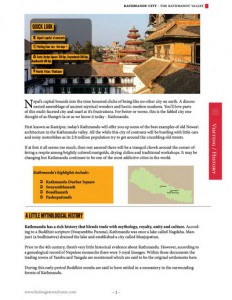 Nepal is a very different country to say Portugal or Thailand when it comes to guidebooks. The country is racked with power-cuts and feeble WiFi so online guides or apps can only go so far.
Print guides are great but those well known big brand guidebooks are still outdated and quite lackluster these days. I've bought the latest, read them and tried to use them with lots of frustration at how poorly they function as guidebooks to one of the greatest countries on earth.
The feedback I've received to my guidebooks has been stunning. So I stepped up and added new features to my constantly updated guidebook to Kathmandu city.
Why is this guidebook to Kathmandu better than the other brands?
Kathmandu city is a beautifully disorganized place. The city is plagued with congestion yet blessed with some of the most exquisite buildings, squares and palaces in the world. I've detailed them all for you.
The maze that makes up Kathmandu's old complex streets are map wrenchingly difficult to navigate but its hidden side lanes are like finding little lost unicorns of true travel inspiration. I'll show you where to find them with my exclusive heritage walks.
The cities magnificent old temples are all crowded together into intense choc-a-bloc groups making them hard to identify unless there's a photograph of them in your guidebook. Most guidebooks don't bother with this. Mine does – for every single temple listed.
These are just some of the things that current guidebooks fail to realise. They treat Kathmandu the exact same way as they do Paris, Lisbon or Bangkok. It's a completely different type of city. I don't blame the travel writers for this. I blame big corporate mentality and the editorial boundaries made by people who've never even stepped foot in the city let alone taken the time to understand it.
Kathmandu city and you deserve better than dated, out of touch big brand guidebooks publishing in cookie cutter format that have lost touch with the essence of travel
I've written independent guidebooks that deliver what travelers to Nepal actually need. Not what a company has time to squeeze into their deadlines and profit margins. My guidebook to Kathmandu city delivers to you the city as it should be and can be seen. Easily.
That's one of the beauties in this modern age of publishing. Being independent means you can actually give people what they need and what they want – to make the most out of their holiday.
The feedback to my guidebooks has been overwhelmingly positive:
"Just bought your guidebook to Kathmandu … It's so easy to use, incredibly informative and there are so many places to see in it!"

-Emily, USA.
What this guidebook does for you:
Every temple photographed and linked to its location on a map
Interactive digital maps (click a photo or location & it will zoom to show you)
Cross compatibility from being printable to digital (laptop, PC, tablet, or mobile)
Interactive elements (no more endless swiping on mobile or tablet)
The digital version works completely offline
Easy to follow walking tours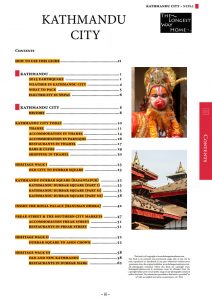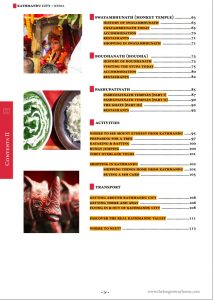 Table of contents: + 111 pages, 18 color maps over 221 color photos
What's inside the guidebook for you:
All areas covered from Thamel, Paknajol, the old southern city, eastern city (Heritage Walks), Freak street and the markets, Boudhanath, Pashupatinath, Swayambhunath (monkey temple)
Personally visited and reviewed accommodation for all budgets (high-end, mid and budget)
Personally visited and reviewed restaurants for all budgets
How, what and where to shop for souvenirs, jewelery and more in Kathmandu
Lists & contact details of recommended courier companies
Transportation details (how to get around)
Trekking preparation
Lists & contact details of recommended trekking agencies
How to travel to Tibet overland
18 color maps and over 111 pages of fresh original content
Easy to follow content that shows and gets you where you need to go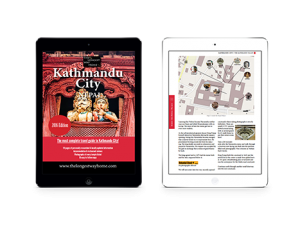 Looks and works great on an iPad, iPhone, Android tablet, phone and in print!
An original well researched guidebook to Kathmandu city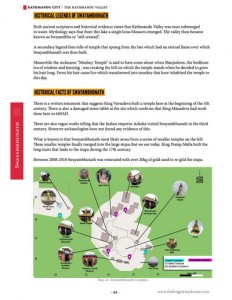 Sometimes when you buy a guidebook online you end up getting some scraped together word document containing complete pages from WikiTravel/Voyage. This is not the case here. I've written, mapped, photographed and created every page in this book myself.
In Kathmandu city alone I personally visited and reviewed over 220 hotels, guest houses and everything in between keeping the best constantly updated.
It was a physically and mentally exhausting task to say the very least
Why did I visit so many types of accommodation instead of just copying from a hotel booking site or another guidebook? Simple.
I wanted to see the accommodation for myself and bring you the best of what's actually out there
Out of those 220 hotels I eliminated and narrowed them down for visitors looking for high-end stays (USD $100+), boutique accommodation seekers ($60), mid-level accommodation ($30) and budget backpacker accommodation ($4+). I took out the worst, the long gone and the rundown. Leaving you with the recommended places to stay. Contact details, prices and even easy booking options are all listed!
I've also placed every hotel correctly on a map for you, something even the booking sites keep getting wrong!
What's more, everything reviewed in this book was paid for by me. Not a single guesthouse, hotel, restaurant, ticket office or travel agent knew they were being reviewed. This guidebook brings you 100% genuine reviews and facts without exception so you will know exactly what to expect.
A guidebook written for you by someone who actually took the time to find the truth
As I did my research live on the ground I grimaced at last years big brand guidebook recommendations. I came across the same old dated recommendations that have been in there for years.
One hotel in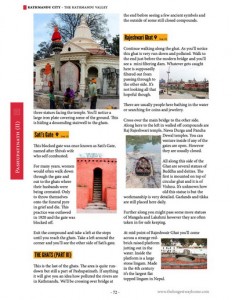 a big brand guidebook was once listed as having "great mountain views from the rooftop."
I know this guesthouse, it's a nice place. But the fact is there's been a shopping center blocking the view in front of that guesthouse rooftop for the past 5 years!
This year a hotel was listed as being "slightly damaged and under renovation" by the earthquake in 2015.
I visited this hotel last year, and this year, and can tell you it was completely destroyed. As in no walls! 
Likewise there are missing maps and diagrams in several of the big brand guidebooks that leave you wandering around nameless streets wondering where you are and what exactly you are looking at!
That's because big brand guidebooks have lost touch with what's actually on the ground in a place like Kathmandu city.
My guidebook has been written from the ground up for real people like you and me who want to make the most out of a place like Kathmandu city.
This edition of my Kathmandu city guidebook now includes several exclusive courtyard diagrams of popular sights letting you know what and where everything is exactly. Heritage walks along the old city now get their own listing. There are new highly detailed bookmarks to help people along with updated maps, recreational activities, reviews of places, accommodation and restaurants.
Here's another recent example of what the big brand guidebooks can't tell you:
Did you know Ratna Bus Park (the main bus park terminal in Kathmandu city that takes you to Boudhanath, Patan and Bhaktapur etc) was moved in April so the old one could be rebuilt? This information is not in other books.
Don't worry though, I've already updated the new location in my book!
You're in good hands with this book
If you've been following me along here over the past 10 years then you know my modus operandi when it comes to writing. It's original, helpful, factual, truthful and honest every time.
I've listened to everyone's feedback over the years and brought you the best Nepal guides online. I've been bringing the best of this and a whole lot more to my offline guidebooks and keeping them updated.
With your great support, together we can and are breaking the mold of those out of touch big brand guidebooks people are currently stuck with. These great new generation of guidebooks are accessible to everyone helping to make travel to Nepal so much better.
If you are on the brink of buying this book then rest assured you won't be disappointed. If you know anyone thinking about going to Nepal email them a link to this page.
Kathmandu city's best guidebook can be yours to own
This guidebook has been written by a traveler, tested by other travelers LIVE on the streets of Kathmandu city and is now available to everyone worldwide.
If you are going to be in Kathmandu city then this is the best guidebook you can have.
(Email/RSS subscribers please click here)There's a personal 100% free update guarantee with every copy. If you buy the book and are not traveling for the next 6 months or even a year from purchase then just drop me an email before you fly out and I'll send you a free updated copy. More details on the guidebook.
---
---