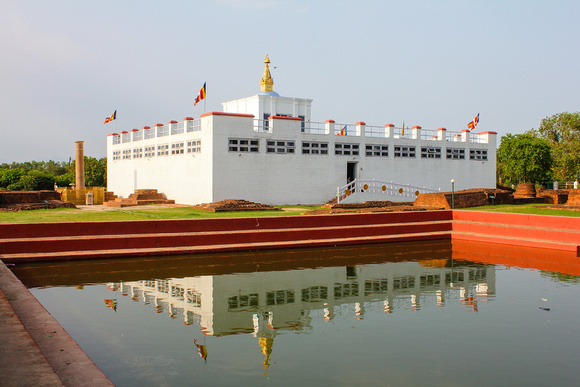 Visiting the Maya Devi temple Lumbini birthplace of buddha
There's a separate ticket inspection booth and entrance into the Maya Devi temple area than the rest of Lumbini's temple complex. Also a small security search but nothing too forceful. This is after all one of the most important religious sites in the world. It's the location where Siddhārtha Gautama Buddha the most enlightened of Buddhist followers of the current age was born.
Inside the Maya Devi Complex is a small landscaped garden area that consists of the Maya Devi temple, a pool of water, the Ashokan pillar and the sacred Bodhi tree.
Along with my rickshaw driver I walked to the simple side entrance of the Mayan Devi temple to enter.
Inside the Maya Devi temple photographs
There are signs everywhere saying No Camera. I understand this if there are paintings or other works of art that could be damaged by flash. Generally speaking many tourists are not bright enough to ensure flash photography is set to off on their cameras so it's easier to ban photos altogether in such places. (see my orangutan in Sabah entry for a bit on tourists with flash photography)
However my rickshaw driver accompanied me inside and insisted I could take photographs as I'd purchased a 20 rps camera ticket at the entrance back at the main park. It kind of made sense. And as the surroundings were basically mud bricks I started to take some photos without flash. People paid no attention.
Moving closer to the area where Buddha was born it all kicked off as one man lost the plot and started shouting over in Nepalese. I put my camera down as I knew this must have been the reason. Sadly the man never bothered speaking to me and just continued to berate the rickshaw driver.
Another joy of the Nepalese caste system. Assault the staff and not the master.
As we approached the birthplace area of Buddha this unknown man continued his verbal tirade towards my driver. Getting tired of it  I questioned him in English after a Nepalese greeting.  That was the end of his tirade … silence.
Everyone was in the wrong in the birthplace of Buddha. Having seen some websites out there from other tourists I take it I was not the first to take photos inside. And still I wonder why I paid 20 rupees for a camera that you can't use inside any of the temples!
History of Buddhas birth in Lumbini (as per legend)
In the Buddha's time( 563 BCE) , Lumbini was a park situated in Kapilavastu Nepal. On a full moon night, Queen Maya who was married to King Suddhodhana (ruler of Kapilavastu) had a dream. She felt herself being carried away by four spirits to Lake Anotatta in the Himalayas.
After taking a cleansing bath in the lake, the spirits dressed her and  anointed her with perfumes and flowers. Following this a white elephant holding a white lotus flower in its trunk appeared and went around her three times. Finally it entered into her womb through her right side.
Maya  had a ten month pregnancy and returned to her home for the birth. On the way there she stopped by a  Sal tree (note: not a Bodhi tree as many mistake it as) in the beautiful flower garden of Lumbini Park. As Maya Devi enjoyed the park she chose to bathe in the puskarini pond in the garden to cleanse herself. After which she gave birth while standing and holding onto a branch from a Sal tree.
Legend says that Maya gave birth to Prince Siddhartha from her right side on the eighth day of April.
---
---
Maya Devi temple stands over another temple
The Maya Devi temple is said to be the exact place where Shakya Prince Siddharta Gautama, better known as the Lord Buddha was born. There are drawings depicting his birth inside. The current whitewashed temple was built to protect the older temple under it. This is older temple was probably built over a Ashokan stupa.
Inside it's no more than mud bricks. There's a small area looking down into dug out area where it's alleged Buddha was born. There's a small glass panel with some faded painting.
Outside things get a little more interesting again.
The Ashokan Pillar in Lumbini
The Ashokan pillar has an inscription which is the oldest in Nepal was erected by Emperor Ashoka (249 BC) who visited the park. The inscription however reads that it was erected  by the people in charge of the park to commemorate Ashoka's visit and gifts. It also grants Lumbini as a tax free location due to this fact.
The Ashokan pillar has a fascinating history in it's own right. Read more about the Ashokan Pillar.
The sacred bathing pool or sacred pond in Lumbini
This is where legend says Maya devi bathed before giving birth. Today it's been renovated and is filled with turtles. So no bathing allowed. Still at the right time of evening it does give some nice reflections of the Maya Devi temple.
The famous Bodhi Tree – Lumbini
Certainly the most colorful and decorated sight in Lumbini is the famous "Bodhi tree". Related to an ancient fig tree and characterized by heart shaped leaves this was a term given to a tree where the Buddha was said to have achieve enlightenment in India.
Today the Bodhi tree beside the Maya Devi temple is highly regarded and decorated with many colorful prayer flags.
Conclusion on visiting the Maya Devi temple in Lumbini
Personally I found this to be the highlight of Lumbini. Not so much the Maya Devi temple itself but the surrounding area which is filled with Bodhi trees and ancient foundations. There's a very old history here which has been blended well with modern day landscaping.
It's the sort of place you could easily spend a day sitting under a tree reading. That  is except if there's a religious pilgrimage taking place in which case the place becomes overcrowded and a lot less serene.
If you miss out on all the other temples in Lumbini be sure not to miss out on this one!
Coming soon
Exploring behind the town of Lumbini