Have you seen any space invaders in Kathmandu?
Bear with me on this one as there's more to it than just a title. I've seen them before, space invaders in Kathmandu. But, I just passed by. Kathmandu is full of weird, quirky things so sometimes walking by is best.
It wasn't until I was updating my Kathmandu City guidebook that I came across another space invader in an unusual position high up in Ason (old city). It looked cute. I took a photo of the little 4 legged creature. Then about 20 minutes later I spotted another one only it was blue.
In case you are wondering I'm not talking about living creatures here. I'm talking about one-foot square space invader tiles. Space-invaders as in the video game space invaders from 1978 (source).
The question was why were there space invader tiles all over Kathmandu city? Were they mistaken as gods? Was it a local artist? Or was it something else?
Ask a local!
I showed the two photographs I had of the tile space invaders to some locals. I got everything from explanations of the temple behind them to the iconic symbols were "ghosts".
Ask the internet
A little digging online confirmed that they were indeed space invaders. Though I do think some are rather pac-man like. But who put them there?
A world wide space invader artist
It wasn't long until I tracked down what was going on. There's a French artist known as "Invader" (source). The incognito artist has covered 65 cities in 33 countries. Everywhere he goes he puts up a series of pixelated art based on the game space invaders.
A graduate of the École des Beaux-Arts, a Parisian art school the artist is quoted as saying that the pixelated characters from the game lend themselves well to being duplicated on tile. Then came the "invasions".
Space Invaders around the world
31 cities in France have been "invaded." Including: London, New York, Hong Kong, Varanasi, Tokyo and of course Kathmandu!
Crime or art?
The "Invader" has been arrested on multiple occasions and spent over 22 nights in jail. Some people don't like these little quirky tiles. Others' won't admit that they do. In Orange county USA a building owner had "Invader" arrested, removed his work then promptly preserved the tile work!
Reception to Invaders work
Invader is a hacker of public space it would seem. However his work has brought life to many a dull working day in big cities. A small little tile work above the routine daily commute has prompted many to preserve them.
An inspirational hack on the monotony of daily life in a big city
World "Invader" tours
There are also tours in many cities, including Paris to follow a set path Invader made of these tiles. On his website space-invaders.com he sells maps showing where the tiles are in various cities.
Where to find space invaders in Kathmandu?
Invader put up his tiles in Kathmandu during 2008. The map is nearly USD$250. I didn't buy it at that price. I did however look through some of my Nepal city guides and came up with a few showing the space invaders.
I then went on my own heritage walk in Kathmandu and purposely found some more.
Watch out for the Space Invaders in Kathmandu
Kathmandu is a huge blend of old and new, quirky and religious, bizarre and unknown. If you every go for a walk around the city and spot one of these colorful little space-invaders, then you'll now know what they are!
Get my latest Kathmandu Valley Guidebook to learn more about Nepal!
The most up-to-date, popular and dedicated guidebook to the Kathmandu Valley in the world. Take a look below and you'll find out why!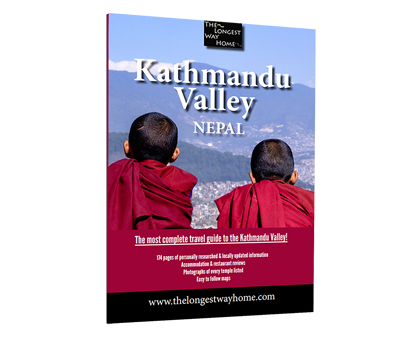 Find out more here!