by Dave from The Longest Way Home ~ May 25th, 2016. Published in:
Travel blog
»
Nepal
.
Panauti – last of the great Nepalese Heritage sites?
I'd heard of Panauti before. It was that little Newari town most people said was "nice". Not much to do, but still it was "nice". I've already learned not to pay too much attention to local information when it came to cultural heritage appreciation in Nepal. So I looked it up on several guidebooks. There was never more than a half page dedicated to the "town on a rock".
Nothing very inspiring.  That is until I saw a photograph of the town. It looked charming. Then, when researching my own guidebooks to Nepal, I stumbled onto the history of Panauti in an old book and the town came alive.
I would visit Panauti to research it for my own guidebook.
Since then Panauti has become one of my favorite towns to visit in the Kathmandu Valley. Here's why it's a place all tourists who love heritage should visit it.
Getting to Panauti
I won't bore you with the gritty details. I've written free guide on getting to Panauti here. Sufficed to say it's not hard to reach Panauti. It's just a 90 minute bus trip from Ratna Bus Park at the cost of 50 rupees. As opposed to a taxi or private car hire which will set you back about 2,000 rupees one way.
The bus is fine and the road is being resurfaced so the end of it is a little bumpy but it's all very easy. The bus park in Panauti is an ugly dusty square and I have a feeling it's being used as a parking lot more than anything else.
Due to the lack of good guidebooks when I first got there I got a little lost. Ignore the lack of signs or the vague guidebook descriptions of heading south. Use my guidebook's map and go straight across the bridge across the bus park to escape the mess and within 5 mins you'll be overlooking the tops of pagoda temples by a confluence.
The mythical confluence, Brahmayni Temple & Tribeni Ghat
This is where the magic of Panauti happens. Steeped in history the confluence of the Rosi and Punyamati rivers also consist of a third magical river the Padmavati. It is said that Shiva turned Indra's wife into this invisible river.
The first three-storey temple is the impressive Brahmayani temple which is worth a look before you cross one of the bridges into the old township. The Temple is said to be where the third river originates.
Crossing over the river and you'll be surrounded by dozens of temples, shrines, lingams and a centuries old Pilgrim house (sattal). Do take a look at the ghats by the river where cremations take place. It's a prime example of two cultures living in harmony. On one side Hindu's are cremated while on the other Newari are cremated.
There are virtually no tourists so you really feel like stepping back in time here.
See the Pilgrims House before it fades into history
The large white building at the top of tribeni ghats has several frescoes on its exterior. It's probably the least preserved area of Panauti that needs restoration work desperately.
The fading frescoes depict both Hindu and Buddhist scenes. These include a picture of a Ram killing the blue demon King Ravana; Vishnu playing his flute up a tree while naked ladies bathe in the river below along with a demon disemboweling an unfortunate person.
There's a toilet behind pilgrims house which can sometimes claim to be one of the worst in Nepal. I won't describe the terror inside.  Ask at the museum later if you have to go.
Indreshwar Temple Complex & Museum
This is the only place where you have to pay in Panauti. If there's one thing that grinds me the wrong way in Nepal it's the lack of well kept heritage sites that charge people money to enter them yet get so much funding from overseas. The Indreshwar Temple Complex is an exception!
The first thing that strikes you about the complex is how clean and well preserved it is. The place is basically spotless. I met the charming Osin at the ticket counter. Why can't all ticket counters in Nepal have people this nice?
Osin took the time to show me around the small Panauti museum. Normally I'm not a fan of museums, let alone Nepalese Museums. But surprise took hold as the battery lighting actually worked and the museum was incredibly well maintained. Not a spot of dust!
Indreshwar complex
My second surprise came from the temples and shrines inside the complex itself. Not only were they very well preserved but they've done something no other heritage site in Nepal has done. And, they've done it well.
They've actually put up little brass name plates for all the temples and shrines in the complex. Unlike other heritage sites in Nepal which either don't bother, or instead put up big ugly placards.
These little brass name plates fit perfectly into the style and ambiance of these old buildings
The complex itself is dominated by the Indreshwar temple itself which houses a huge stone Shiva Lingam. It's worth going all the way around though as behind the complex are several black stone statues covered in oil and vermilion that are quite striking.
The Unmatta Bhairab  Temple is also impressive with its three stone statues staring vividly out at you from the second storey.
All in all I really have to give a huge thumbs up to this area. One of the best in Nepal.
Panauti Durbar Square and the tourism office
Panauti Durbar Square is no more. It's been under reconstruction for decades. There is life there though as workers put down stone and bricks. Across the way is a brick skikhara temple and behind it the small Panauti tourism office.
The staff are friendly and knowledgeable and I'm again giving them a shout out because of this. Whoever is in charge in Panauti is doing a great job. Post earthquake visitors to Panauti are down to nearly 80 per month which is tiny. The tourism office can also arrange home-stays which includes free food and tours.
Panauti's old city
I've saved the best for last and it's a hard sell unless you really like old Newari townships. Let me put it to you this way. Have you visited Bhaktapur or Patan and enjoyed the old city streets? Well, Panauti's are better!
It's like stepping back in time when you walk through Panauti's old city. Narrow twisting lanes lined with two-storey red brick Newari homes. There's virtually no traffic. The people all smile and say hello (Namaste). There's a cool breeze everywhere and little children still play with old bicycle tires.
There's a stupa marking the birth of an old prince who sacrifices his arm to feed a tiger. A pavilion with no walls. A well hidden Bhadrakali temple and oodles of shrines along with rest houses.
Panauti's old city is what many people wish the rest of Nepal's heritage sites could still be – like – stepping back in time
The Nepal Tourism Board, municipalities and heritage departments should take note of this and follow this great example of conservation and tourism done right.
Don't miss out on Panauti
Panauti is one of those places I am hesitant to write about. I don't want it to be overrun. If there was a list of "undiscovered Nepal" then it would be on that list near the top.
The thing is it has already been written about and is well known. Nobody's just bothered to do it right. It's only a matter of time though. So I got there first with this short online guide to Panauti along with my guidebook to the Kathmandu Valley which has the most comprehensive guide to Panauti on the planet (including maps, diagrams, hotels and restaurant reviews).
For good reason too. There's nowhere else as well preserved and worth a visit in the Kathmandu Valley as Panauti.
---
Get my latest Kathmandu Valley Guidebook to learn more about Nepal!
The most up-to-date, popular and dedicated guidebook to the Kathmandu Valley in the world. Take a look below and you'll find out why!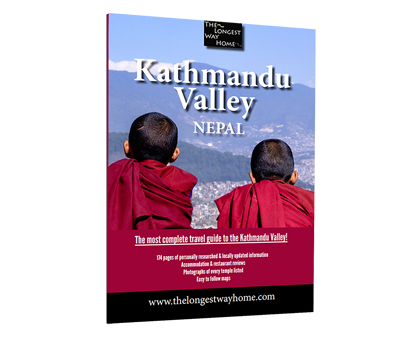 Find out more here!
---
---