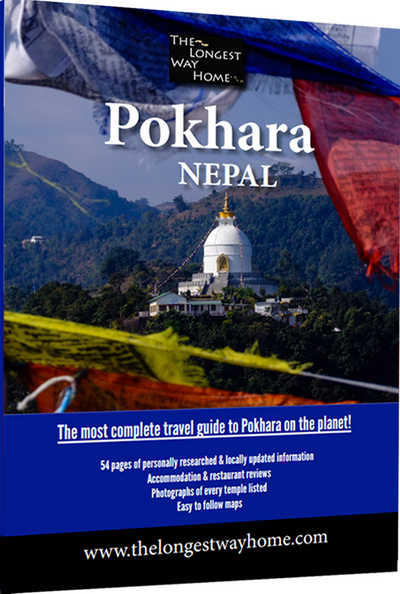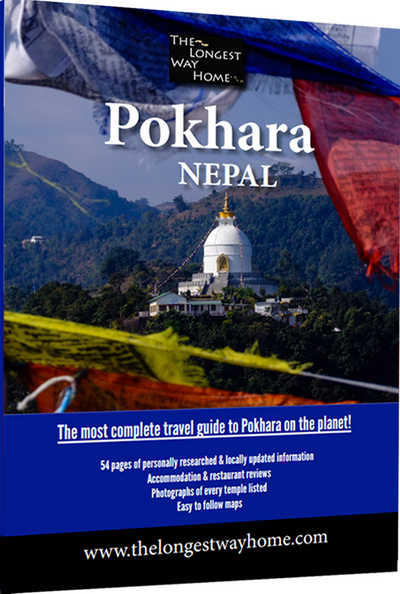 The most updated and detailed guidebook to Pokhara, anywhere!
The latest of my 2023 edition guidebooks for Nepal has just been published. This August 2023 edition to Pokhara marks the continued success of my guidebook collection which offer more detail, practical advice, reviews and better maps than you'll find anywhere else. They also include post-pandemic updates.
Pokhara is Nepal's number one resort region which holds a magnitude of activities for visitors to enjoy. Due to the vast range of activities on offer it's vital to have a guide book that's updated and one that contains the very latest things to do! This is the most up to date guide book to Pokhara you will find anywhere in the world today!
Nepal is a very different country to Thailand or Spain, as such the standard guidebooks simply don't cut it in this Himalayan nation. Moreover I'm here live in the country and am all too aware of the current problems. From trekking fee changes to strikes and the latest hotel or restaurant updates.
Moreover, I don't and have never accepted sponsored treks, hotel stays, meals or tours. I pay for everything myself so you the reader can get the most honest reviews.
Let's take a look at why this guidebook to Pokhara is everything you'll need and more!
Why is this guidebook to Pokhara better than the rest?
Pokhara city is Nepal's number one destination for adventure activities, sports, relaxation and the starting point to the vast Annapurna trekking region. I've detailed all of these activities for you.

Pokhara is more than just the main Lakeside area tour guides, agents and other books concentrate on. There are other lakes in the area, towns and villages. I'll show you where to find them and how to get there.
There's more than just paragliding in Pokhara too. From skateboarding to microlights and hot-air ballooning. Horse riding to waterballing and indoor soccer. This guide book includes all these and so much more. 
I've read the latest branded print guides to Pokhara and to be frank all of them are woefully out of date. There's one popular guidebook that simply doesn't "get" Nepal anymore. It's missing the latest activities, hotels / restaurants and transport details. I've included them all.
I've been writing about Nepal for well over a decade and publishing independent guidebooks that deliver what travelers to Nepal actually need. Not what a company has time to squeeze into their deadlines and profit margins. My guidebook to Pokhara city delivers to you the city as it should be and can be seen. Easily.
That's one of the beauties in this modern age of publishing. Being independent means you can actually give people what they need and what they want to make the most out of their holiday.
What this guidebook does for you:
Every activity photographed and linked to its location on a map
Interactive digital maps (click a photo or location & it will zoom to show you)
Cross compatibility from being printable to digital (any laptop, PC, tablet, or mobile)
Interactive elements (no more endless swiping on your mobile or tablet)
The digital version works completely offline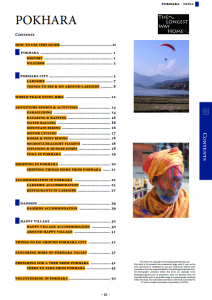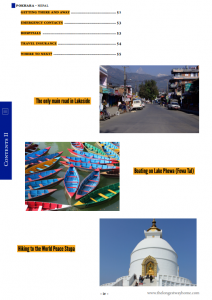 Table of contents: + 57 pages, 12 color maps over 82 color photos
What's inside this guidebook for you:
All areas covered from Lakeside, Damside, Happy Village (Khapaudi), Rupa Lake and Begnas Lake
Personally visited and reviewed accommodation for all budgets (high-end, mid and budget)
Personally visited and reviewed restaurants for all budgets
How, what and where to shop for souvenirs, jewellery and more
Transportation details (how to get around to everywhere listed in the book)
Annapurna trekking preparation
List of treks you can take from Pokhara
Lists & contact details of recommended trekking agencies
Where and how to get your trekking permits in Pokhara
12 scalable color maps and over 57 pages of fresh original updated content
Easy to follow content that shows and gets you where you need to go
Looks and works great on an iPad, iPhone, Android tablet, phone and in print!
What's new in the August 2023 Pokhara Guidebook edition
While I keep Pokhara guidebook updated throughout the year the new 2023 edition offers substantial updates making it better than ever.
The biggest technical addition is the reduction in file size. It's now under 10mb and still retains all the great maps and photographs. I've been working on the technology behind file size compression of these books for a while and now it's good to go!
What does all that mean? It mean the book can fit on older devices, you don't have to worry about running out of space and it's very fast to download.
Maps continue to be scalable! My guidebooks were the first guidebooks, anywhere, to introduce these type of maps. They are offline and interactive! Plus, you can zoom right in for the tiny details. Enjoy!
On any device you can now zoom right in with no blurring of the map. That's nice when you are trying to accurately find something!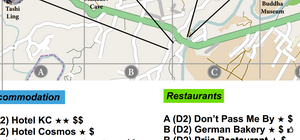 All the hotel reviews have been updated. I've visited and personally reviewed every hotel in this guidebook. I've removed some that no longer make the grade and added new hotels that do.
Pokhara has experienced a boom in the past year and many hotels have vanished or been taken over. You can read more in my post about the recent changes in Pokhara here.
The bus stop in Kathmandu to Pokhara has also changed and the new location is not available in any other guidebook except my books.
Restaurant reviews old and new have been updated. I've also eaten at every restaurant listed here. Every hotel and restaurant review here is 100% genuine and paid for by me with no one knowing I was reviewing them.
Transportation updates. Prices go up! Some bus companies fail, others improve. I've listed them all here.
New activities! Did you know Pokhara now offers waterballing, hot-air balloon rides, roller-blading, bicycle boats and indoor football (soccer). Likewise you can also find out the latest in the microlights changing to tour agencies for tickets rather than their own offices. Go golfing, play tennis or enjoy the new skatepark.
You've nothing to worry about, I've updated everything in this guidebook.
Pokhara's best guidebook is right here!
This guidebook has been written by a traveler, tested by other travelers LIVE on the streets of Pokhara City and is now available to everyone worldwide.
If you are going to be in Pokhara then this is the best guidebook you can have.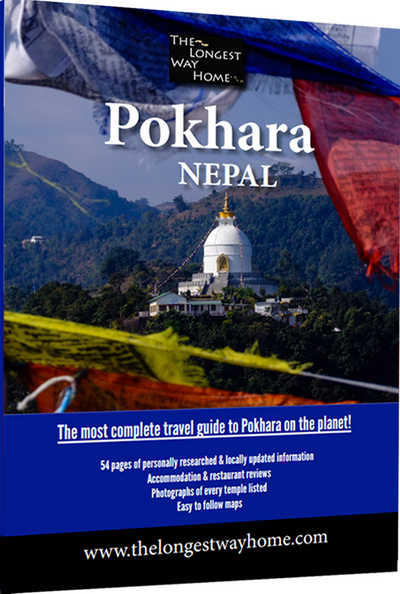 Click here for more purchase options
There's a personal 100% free update guarantee with every copy. If you buy the book and are not traveling for the next 6 months or even a year from purchase then just drop me an email before you fly out and I'll send you a free updated copy. More details on the guidebook. If you are looking for a complete guidebook to Nepal, including Pokhara then do see my guidebook to Nepal.