by Dave from The Longest Way Home ~ December 29th, 2007. Updated on November 4th, 2016. Published in:
Travel blog
»
Nepal
.
Travel Journal Overview: The following is the first in a four part travel entry on my trek around the Annapurna circuit.
Day 1 Annapurna Circuit Journal: Pokhara – Besisahar – Ngadi
I was up at 5am the usual on off sleep before a big day. I noticed the weight of my day pack again after countless repacking attempts and through out my flip-flops and tripod. I think the majority of weight was coming from the trekking bars I had bought.
Narayan was downstairs on time, and I waved goodbye to both by big backpack and chubby before heading off to the bus station. At first it seemed the bus tickets Chubby had bought for us were bad, as there was no bus to take us to Besisahar. But Narwin Negotiated this initial hic-up and soon we were bumping away on an overcrowded local bus. I registered at the conservation post and noticed that a British couple had been through that morning (yes someone else was actually on the trek too). We stopped for a lunch of Daal Bhat and were soon off on another bus, where I spent most of the time being told by a local how expensive the trip was going to be. We arrived at Bhulbhule and finally started out on our trek.
My first suspension bridge was not as bad as I expected, yet the landscape was nothing too spectacular. By 3.30pm we were at the small town of Ngadi. This is where Narayan wanted to stop for the night, though a little early the 50rp bed had me sold. By 4.30pm the sun was behind the mountains and I got my first taste of Nepalese mountain cold. I had a headache, but refused to believe it could be Altitude Sickness, we were only at 930 Meters.
Day 2 Annapurna Circuit Journal: Ngadi – Syanje – Chamje
I was up by 7am, the being surprisingly good considering two visits by rats or mice. I was glad of the extra blanket though, by cheapness in buying a 500rp sleeping bag was going to be an issue I thought. Not to mention I was wearing only my thin African hot weather combats… hmm under prepared was coming to mind.
We ate pancakes for breakfast that would prove to be our staple meal for the trek and we were on the rad by 7.45am. We passed several small villages on our gentle sloping morning. Narayan said today we might run into Maoists so we agreed to tell them we were only going to Jonson so not to have to pay them more than 1000rp. Not that I wanted to pay them anything, but they were getting more aggressive lately and had beaten a few tourists.
The shade was nice to walk in as when in the sun it was hot to walk in, meaning I was sweating like a beast again. A Japanese tourist tore by us with a guide and porter, and I was again relived to see others around. We stopped at Syanje for lunch consisting of out lunchtime staple of Daal Bhat, which was great for me as Daal Bhat in Nepal means free second servings!! 1 Litre of water and lunch
only came to 250 rp. But as we walked on for the rest of the day I soon had the water consumed in the heat.
By Jagat we passed a truly massive Pass where people were hammering away on the rock face with chisels and hammers in the effort to construct a road. It felt like a scene from an ancient explorer movie as we walked the 4 foot wide pass rocks tumbling down into the raging aqua marine colored river, several thousand feet below us. We made it to Chamje by 4pm with the air cooling and the financially enjoyable 50rp room was a welcome sight. No electricity or running water, but they did boil up a bucket of water for me. It was here I realized I should have also brought my padlock. I did a little washing, ate veg egg macaroni and realised how terrible a squat toilet can be without foot wear.
Outside in the mountains we looked on as fires lit up the night sky. Deforestation. We were asleep by 7pm.
Day 3 Annapurna Circuit Journal: Chamche – Khotro – Timang Besi
Apple Pancakes are not all they are cracked up to be, but still could for a 4 hour morning trek. The scenery was much as it was the day before. Light forest, steep rocky paths and hot sun. We passed the British Couple, who were not so friendly, but then they did seem to be in the middle of a domestic at 2270 meters. Lunch at Khotro took 45 minutes to prepare but was good, and once we were off the scenery finally began to change. Pine trees began to appear and the snow capped Annapurna range came into view. The daytime temperature was also lessening, but though I had started using iodine in mountain tap water I was still drinking a lot.
We reached a village Bagarchhap by 3.30pm when Narayan wanted to stop, but I pushed for us to continue for another hour, and I am glad we did. Ice capped mountains began to become larger and more majestic as we continued out forested assent. We trudged up high narrow ledge passes that reminded me of Indiana Jones movies. It was fantastic, though as we reached Timang Besi by 5pm I was feeling quite tired. The sun was setting and the mountains were taking on there pink shades of fantastic colors. We stayed at the Royal Garden hotel, and sat ourselves into the smoke filled kitchen for warmth as the night was really getting cold. The local women were making buffalo momo a sort of steamed or fried pastry dumpling with meat in them for a celebration. I then remembered it was New Years Eve, so I decided to try Yak Cheese momo as a treat, and as we were banished into the freezing dining room, I was slightly suspicious that my momo's had no cheese.
From my cold room I had a great view of the mountains, but also had to endure the snoring of various local occupants, hence I was glad I took my mp3 player. I also experienced the urge to release a giant poo, but was also too cold to do so.
Day 4 Annapurna Circuit Journal: Timang Besi – Bhratang – Lower Pisang
By morning I wasn't so cold, but outside I still found it too cold to engage in the squat position. Thankfully a giant apple pancake helped with the morning cold before we headed into the increasingly dramatic mountain scenery. For the first time there were less people around, and I also came across the strange sight of frozen ground. All water in patches of the ground had frozen up, making a strange icy substance appear on the top. Later we came across the fantasy like sight of frozen waterfalls, water frozen in the air.
We stopped at Bhratang for lunch, a near ghost town of a place with a bitterly cold wind wiping through it. The Daal Bhat was not so good, and a crow began to caw nearby our table putting Narayan on edge. Clouds started to move in through the massive valley as we started off again. We were at 3000 meters (10,000 ft) and I noticed how it became increasingly had to trek after such huge lunches. My Jaw and head began to hurt, I figured it was the amount of chewing gum I had been using so I spat it into a piece of paper. I also began to feel the dreaded rise of friction burns.
We stopped at Lower Pisang and scored another 50rp hotel, and I also spotted Germans in the distance, the register earlier had given their nationality away. But I really was bursting for some squat relief at this stage. The lady in charge of the hotel handed me a small bucket of hot water, and I tore off to the outhouse. I struggled to remove my pants for the squat and shuddered at the cold wind as it blew through the huge cracks in the walls. In the shower my feet froze on the concrete flooring. By the kitchen the water from the tap had completely frozen, large icicles hung from it instead. Even the locals were shivering. I shoved my fleece on from Narayan's bag, and notice it had picked up a strange odor, and I hoped it was not from his underwear.
My stomach grumbled as we ate dinner, something was up there. And my friction burns were tingling. It was the first stage of things getting harder. Time for two blankets, Happy New Year was not said all day, and I wondered why …
Some related links on this website that  you might like: (including a lot more photographs from Nepal)
Stories: Talika the twelve year old miner from Nepal
Stories: NGO's in Nepal & Developing Countries
Resources: How to Guide – Nepal to Tibet Overland
Trekking resources: How to hire a guide in Nepal »  About trekking in Nepal  »  Travel guide to Everest base camp» Equipment you'll need for trekking in Nepal » List of treks in Nepal » Day by day account of trekking to Everest Base Camp
---
Get the best Trekking guide book to Nepal!
---
Liked this page? You'll love my guide book to Trekking in Nepal! I cover Everest Base Camp, Annapurna Circuit, Annapurna Base Camp, Mardi Himal, Ghorepani Poon Hill, Dhampus plus side treks to Gokyo and Tilicho Lakes. With day-by-day detail trekking details along with photos of what to expect, extensive preparation chapters, budgets, where to find a trekking guide plus the costs & much more!
It's only guide book to Trekking in Nepal with color maps that you zoom right in with!
The book can be read on tablets, laptops or mobile devices & is printable. Quite honestly this will help you more than any other guidebook to get the most out of trekking Nepal.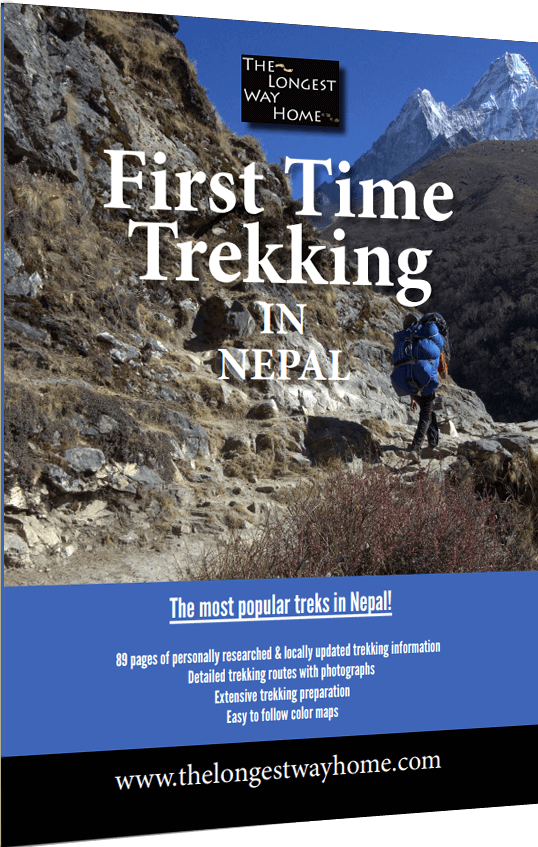 Get a special discount offer on this book here!
---
---