by Dave from The Longest Way Home ~ January 2nd, 2008. Updated on November 4th, 2016. Published in:
Travel blog
»
Nepal
.
Travel Journal Overview: The following is the second in a four part travel entry on my trek around the Annapurna circuit. It's where I wake up unable to breath.
Day 5 Annapurna Circuit journal: Lower Pisang – Manang
I slept very soundly, but my stomach woke me early. I took off for the outhouse and de robed taking the squat position. I was running low on toilet paper and decided to take the natural cleaning method, not for the first time ever. However as bad as this was normally, the freezing night temperatures had frozen the taps solid, and the little bucket of water was full of loose ice. Owww…. Now that is a bloody cold thing to do at 6.30am, difficult and very strange too!
I headed back to my hut accommodation and bandaged up my legs before devouring pancakes and hot lemon for breakfast. The attractive Nepalese woman laughed as I ordered another honey pancake. Her laugh is what made here beauty stand out, and what better. She handed the receipt to Narayan to add up, and I figured she did not know how. I was now seeing a different part of Nepal
at last.
We headed off and crunched over the rocky paths through brown leafed trees surrounded by increasingly huge snow capped mountain peaks, over broken bridges and into frozen ice streams. 4 hours later and we were close to a place called Manang, where most spent 2 nights acclimatizing to the altitude, 3360 Meters. I wanted to eat and move on, but Narayan started to change his tune about the nights previous conversation and continuing on. I had a slight headache more from the cold than anything else I figured. Manang looked at first like a shit hole, empty and boring. We got to the hotel, and the woman tried to charge me 200rp, thankfully Narayan got her down to 100rp. I looked at the menu, 580rp for a yak steak??!!! Tourist rip off town. The mountains were full of goats, and no Yak, where was the mutton? I went for 240rp Daal Bhat, the prices were going up. It seems menus were divided up like hotel grades (A), (B), (C), We were in the (A) listing. The room had not not been cleaned for a while and the sheets dirty. The shower was broken, frozen solid, and the solar did not work.
After lunch I asked about the highest lake in the world, but it seemed that it was already impossible to reach due to the snow. But Narayan mentioned there was a glacier and lake nearby, so no sooner than he had mentioned that and I had him off in the cold afternoon again. We wandered over another few rocky paths against the harsh icy wind until we found the giant circle of frozen water, my first frozen lake. Stream drifted up from the lake in the distance below the massive glacier from the afternoon sun. To the left was a a running stream, at least in parts, the rest was frozen. Moreover what little unfrozen water there was had an incredible light blue color to it. I couldn't resist taking a mouthful to drink, imagining that this glacier water was thousands of years old… also possible containing bacteria thousands of years old… but what the heck. I was like a child on the ice, at first nervous about walking on frozen water. Then tepidly venturing further out onto the cracking shiny surface. I stared down in wonder as tiny jagged lines
loudly cracked alive under my weight near the edge. It was like the ice lake scene from Batman Begins, minus sword fighting etc. Narayan sat at the shore, shivering and unimpressed at my child like antics. I explained that he would be the same if or when he ever gets to see the sea as he had said to me before. I must have spent the best part of 2 hours on the ice before the dipping sun, forced a retreat to the hotel.
I invented a new way to wash a small load of clothes, by filling a dry bag up with water and leaving them to soak for a few hours brilliant. I also discovered the first person with Altitude sickness, one of the Korean guests was by the fire in the dining area when all of a sudden he began to throw up heavily. His friend said he was a student doctor and would be fine, though the guy did not look so good at all. A German couple joined us for dinner and we has a good evening of conversation.
Day 6 Annapurna Circuit: Manang – Yak Kharka
It had been a cold sleepless night. The air was certainly getting drier as my washing had dried out completely by morning. After buckwheat pancakes we headed out into the bitter cold. The landscape had changed yet again, vegetation was getting sparse, the surroundings drier. We crossed one large frozen stream, and shakily took a long metal suspension bridge. The wind was the worse, cold and piercing, for the first time I was cold enough to take a pee during the trek. We reached Yak Kharka by 12pm, I had a headache and figured it must be due to the altitude 4018 meters. Looking at the map it seemed like Thorung Phedi was only 3 hours away, without a second day acclimatizing at Manang I felt it better to stay here. I also was feeling the cold more than ever, and wondered if my mere fleece and wind stopper would be enough.
The Koreans from yesterday showed up, as did two Korean girls. But unlike yesterday as I lay on the couch they did not give my ailing head any peace, and showed little consideration for keeping quite like I had for there sick member. I got up and headed out
into the cold to try and clear my head taking a couple of paracetamol. I walked down to the river, giant mountains surrounding me. My headache lifted and I started to feel better alone by myself. I headed back to the hotel for dinner as we were joined by a group of Nepalese, stocking the fire with dried Yak shit. An older, nice Korean man arrived later, apparently he only traveled at night, in search of the
illusive Snow Leopard. He also had the sense to have a -40 sleeping bag though. The Koreans one by one headed for bed, one of them commenting if my silence meant I was tired, how could I tell her it was her silent group that was pissing me off. So I just nodded. Then headed for bed.
By 1am I woke to turn over in bed. The cold air was hard to sleep under. I pulled the sleeping bad hood over my head and started back to sleep under my warm breath. Something was wrong though… No Air! I figured the altitude and sleeping bad covering my head was the problem so pulled it back. I inhaled deeply. No Air. I gasped. Sucking in empty coldness. I began breathing rapidly, shock was setting in fast and my heart started beating rapidly. I sat up my body breaking out in a red hot sweat of panic as I tried to breath in a deeply as possible. A little air crept in, not enough. My head started to spin a little as my mind raced and heart thumped loudly. It was the altitude, I had to get down. I sucked in deeply and drew what little air I could as I pulled my pants on and threw my arms into the fleece. As I bent over to grab my boots I felt a little more air enter my chest. I started to catch more gasps of icy air as. Making my way to the door I open it and caught a blast of the freezing air and felt it fill my aching lungs. Breathing as deeply as possible I headed for a pee. I was breathing again, but what to do…
Back in my room I looked at the barometer – 5.5 degrees. I was recovering, but my heart was still pounding. I was OK. But for how long? I decided to get back into bed this time with my fleece on. I felt my heart continuing to pound. I couldn't get back to sleep for fear of it happening again. I put my MP3 player on to distract myself. I was breathing normally again. But only just. My mind raced with thoughts of anything to distract myself from what nearly happened, or on what might happen again. 2 hours later I turned over to the other side and fell into a light sleep. Vivid images of different future dreams running through my mind like never before.
Some related links on this website that  you might like: (including a lot more photographs from Nepal)
Stories: Talika the twelve year old miner from Nepal
Stories: NGO's in Nepal & Developing Countries
Resources: How to Guide – Nepal to Tibet Overland
Trekking resources: How to hire a guide in Nepal »  About trekking in Nepal  »  Travel guide to Everest base camp» Equipment you'll need for trekking in Nepal » List of treks in Nepal » Day by day account of trekking to Everest Base Camp
---
Get the best Trekking guide book to Nepal!
---
Liked this page? You'll love my guide book to Trekking in Nepal! I cover Everest Base Camp, Annapurna Circuit, Annapurna Base Camp, Mardi Himal, Ghorepani Poon Hill, Dhampus plus side treks to Gokyo and Tilicho Lakes. With day-by-day detail trekking details along with photos of what to expect, extensive preparation chapters, budgets, where to find a trekking guide plus the costs & much more!
It's only guide book to Trekking in Nepal with color maps that you zoom right in with!
The book can be read on tablets, laptops or mobile devices & is printable. Quite honestly this will help you more than any other guidebook to get the most out of trekking Nepal.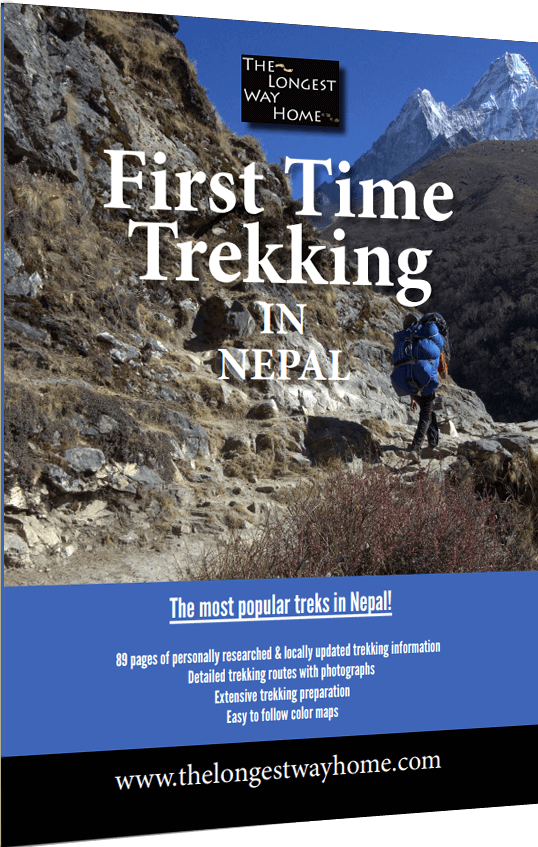 Get a special discount offer on this book here!
---
---