by Dave from The Longest Way Home ~ December 28th, 2017. Published in:
Travel blog
»
Nepal
.
A watercolor of a Bodhi tree overlooking the Himalayan Mountains in Bandipur
This majestic Bodhi tree sits on a high hill over Bandipur in Nepal. The view from here is of the majestic Himalayan mountains.
The tree is reachable with a 45 minute hike from the town itself. The mountains aren't always visible though. Dawn and dusk are the best times to view them during peak season.
Bodhi tree
For those new here you can read all about Bandipur here. There are not too many Bodhi trees in Nepal this size. The other more famous Bodhi tree is in Lumbini.
The tree is also known as a Bo tree. It is the tree where the Buddha is said to have sat under when he reached enlightenment in India. This is known as Bodhi.
Today the name "Bodhi tree" is given to many trees that are important within Buddhism.  This particular tree does not seem to have any links to Buddhism but it does have an immense presence sitting atop a rocky hill alone with one of the best views in the world.
The painting
The painting depicts sunset over the Himalayan mountains from the Bodhi tree view point. The mountain range fills up most of the horizon far beyond the painting. However it's from this viewpoint that you get the immense sense of nature up close and afar.
---
Get my Guidebook to Nepal & discover more than anyone else!
The most up-to-date, popular and dedicated guidebook to Nepal in the world. Take a look below and you'll find out why!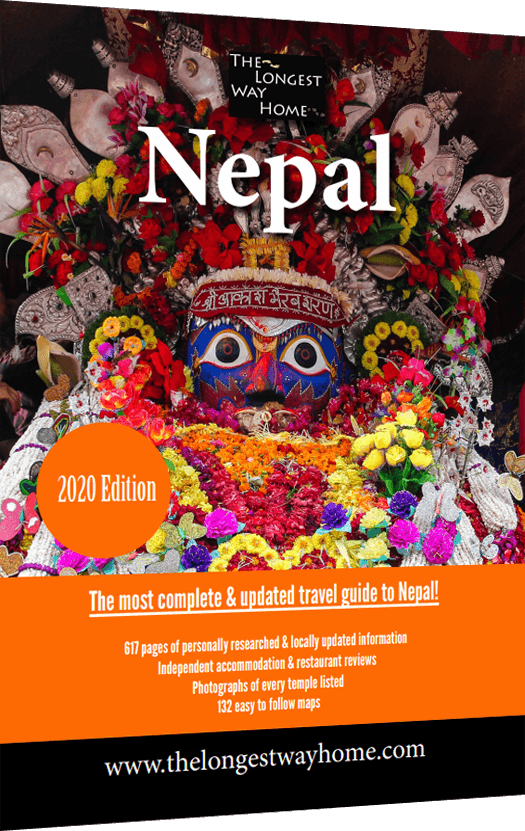 Find out more here!
---
Please take a moment to share this photograph using your favorite social network
---
Liked this post?
share it

Never miss a post!




Subscribe to my free newsletter now for weekly updates. (No spam, I promise)
---