by Dave from The Longest Way Home ~ December 22nd, 2017. Published in:
Travel blog
»
Nepal
.
A painting of the impressive Siddhi Laxmi Temple in Nepal
Every year I try to include something light, enjoyable and photographic for the holidays. This year I'm including some art from Nepal and new photographs from around the world.
The paintings are a different look on iconic and little know parts of the country. I thought it might be a change from just photographs from around the world. I'll be including some of both over the next 12 days.
The Siddhi Laxmi Temple
This Siddhi Laxmi temple can be found in Thimi Nepal. A small little known township half way bewteen Kathmandu and Bhaktapur.
Do read my guide to Thimi for more. It's a nice town filled with culture and virtually no tourists go there as they are either taken by Bhaktapur or the capital. You can reach Thimi in 30 minutes. A walk around the town take an hour. There are not entrance charges. You'll get a lifetime of memories!
This temple is at the end of the heritage walk in my guidebook to Nepal. To me, it's one of the most impressive temples in Nepal. It's very well preserved and used everday.
Note the Patanka (the golden decor running from the roof). These simulate a road from heaven to the earth and back for the gods to follow. The more there are, the more important the temple. As you can see, the Siddhi Laxmi temple in Thimi is regarded as very important.
It's temples like this that are off the beaten path that make a trip to Thimi something you can brag about back home!
The painting
What I like here are the shadows and the golden highlights. The center of the temple and the Patanka are the highlights. To the rear is a halo like beacon of light surrounding the temple. To the lower right are some colorful ladies live in the area.
Digital art brought to life in Nepal.
---
Get my Guidebook to Nepal & discover more than anyone else!
The most up-to-date, popular and dedicated guidebook to Nepal in the world. Take a look below and you'll find out why!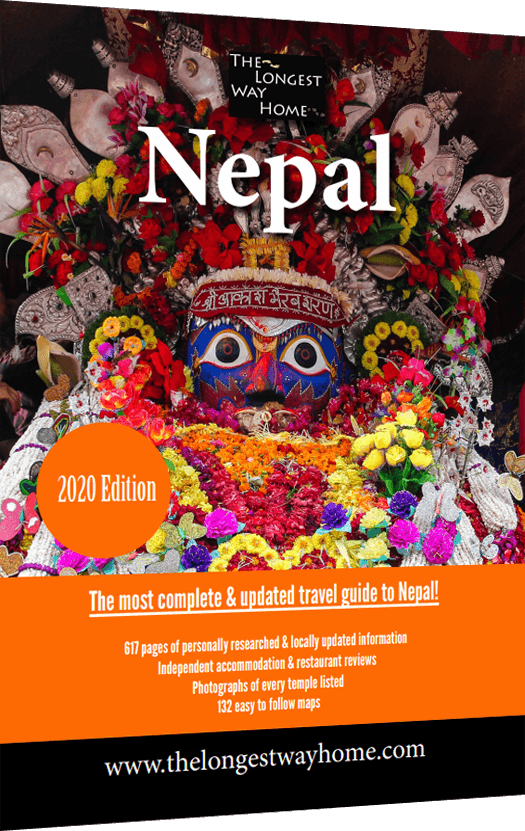 Find out more here!
---
Please take a moment to share this photograph using your favorite social network
---
Liked this post?
share it

Never miss a post!




Subscribe to my free newsletter now for weekly updates. (No spam, I promise)
---