by Dave from The Longest Way Home ~ December 20th, 2017. Updated on December 21st, 2017. Published in:
Travel blog
»
Nepal
.
Spending Christmas & the New Year in Nepal
I've spent many a Christmas and New Year in Nepal. There's plenty to do, but it's not always so easy to figure it out. Here's a helping hand if you happen to be spending the holidays in Nepal!
First things first, do realize that Nepal by virtue of its demographics has never celebrated Christmas nor the "western" New Year, culturally, in the past. However, given the impact tourism has and its newly found secular ways Nepal recognizes the annual holidays. Just don't expect anything too festive.
Keep that in mind if you are in Nepal over the holidays. Meanwhile, let's find out what to do!
Things to do in Nepal over Christmas!
Christmas falls on the 25th of December every year in Nepal just like it does worldwide. This is via the Gregorian calendar (Nepal has it's own calendar too). December 25th is usually a public holiday in Nepal. Meaning, government offices will be closed on that day. Everything else? Well, it's open and business as usual!
Over the past few years the commercial aspect of Christmas has been creeping into Nepal. Visit one of the shopping centers like Bhatbateni and you'll probably find a Christmas tree on display. That's about as festive as it gets in terms of decorations. Unless …
Thamel in Kathmandu and Lakeside in Pokhara have tourism development committees who sometimes put up a bit of bunting on the streets. That's about it for decorations.
For true Christmas decor try visiting a western style bar in Thamel. Some guesthouses also put up a few decorations. Just don't expect anything like back home – asides from the cold weather.
It's in these bars that you will usually find a notice or sign about any sort of planned party they might be having on December 25th or December 31st. The signs usually go up a few days beforehand once they realize what's going on. See my guidebook for a list and map of the best places to go.
So, the two locations to find anything Christmasy in Nepal are  Thamel in Kathmandu and Lakeside in Pokhara!
Non-Christmas activities to do in Nepal over Christmas
This is where a trip to Nepal over Christmas really can shine. Nepal is fully open for the Christmas and New Year holidays! Meaning, you can do just about anything you want as everything will be open. Here are a few ideas to make a great Christmas holiday in Nepal.
Take an Everest Mountain flight on Christmas day! Yes, see the top of the world on Christmas morning. The weather is usually clear so it's a good time (book ahead).
It's a public holiday, so there will be less traffic which means it's a great time to go on a Kathmandu Heritage Walk!
Go indoor wall climbing in Kathmandu
Go winter trekking for Christmas! Yes it's winter but it's the off-season so you should get lower rates! Just don't expect all the treks to be open due to cold weather and snow fall. Keep to low altitude treks – here's a list of treks in Nepal to help you out. Also, do check out what the weather for trekking is like in December for Nepal as it can get cold.
The Elephant Festival in Chitwan is usually on from 26th of December to the 30th of December. Activities here include the Elephant Picnic Program, Elephant Make Up, Elephant Fast Walk and Elephant Polo. If you've not read about how elephant conservation in Nepal works, then do read about Elephant tourism in Nepal and how it is different to other parts of the world.
Where to buy Christmas presents in Nepal?
There are zero dedicated shops for Christmas in Nepal. So, you'll have to use your imagination a little. The main supermarkets like Bhatbateni have a small toy section. Big Mart usually doesn't. There will be no traditional foods like turkey, Christmas cake, plum pudding or mince pies there.
However, you could try the Farmers market (at Le Sherpa ) the Saturday before Christmas just in case one of the expats has decided to go baking! Otherwise, you might just find some other nice edible treats there you wouldn't normally get in Kathmandu.
Think outside the box a little and realize you are in Nepal for Christmas so gift ideas like Pashmina or silver / gold jewelery usually go down a treat for tourists. If you are buying for Nepali people … remember they don't celebrate Christmas so …. But, if you are insistent on including them then go with something they would like e.g. clothing and jewelery just like you!
Again, all shops will be open as normal in the lead up to Christmas in Nepal and there won't be any crowds.
There are no post Christmas or January sales in Nepal.
Christian Churches for Christmas Services in Nepal
There are not so many Catholic or Protestant churches in Nepal. There are quite a few random "Christian" missionary groups/churches (Do exercise some caution with the latter as not all are vetted).
Most of the following churches will have a Christmas service, but do call or visit beforehand to get the times.
Kathmandu Churches
Assumption Church
Address: 
Jhamsikhel Road, Patan 44600, Nepal
Pokhara Churches
St. Ann's Catholic Church
Address: Ganeshman Sinha Maarga, Pokhara 33700, Nepal
You may also want to call into Newa Momo restaurant in Kathmandu where the owners could help you out if you are seeking to know more about church services over Christmas (address and map in my guidebook).
(If you know of another church in Nepal and would like it to be listed here, feel free to send me an email with details.)
Where to have Christmas lunch / dinner in Nepal?
Anywhere! All budget to mid-range restaurants will most likely not have any sort of special Christmas menu. However, high-range restaurants and hotels usually do offer traditional Christmas dinners.
Kathmandu Guest House and the Manang Hotel usually offer great options as does the Third Eye Restaurant in Thamel. Cafe Mitra in Thamel is offering a Turkey dinner on New Years eve along with live music. Rosemary Restaurant in Kathmandu are offering a Christmas day dinner and New Years Eve dinner menu with 5 courses.
In Pokhara try Busy Bee, Maya Restaurant or Moondance. Rubi's Fire & Ice Cocktail Lounge and Restro in Lakeside , are offering a Christmas and New year Special Dinner
If you are staying in a family run guesthouse and there's a group of you then you could ask them if you could cook your own Christmas meal! Take a visit to the big supermarkets, stock up and cook up something you like! Many Nepali will be happy to let you do this!
(If you know of another Hotel or Restaurant doing something special for Christmas or the New Year in Nepal and would like it to be listed here, feel free to send me an email with details.)
A full listing of these restaurants and hotels can be found in my guidebook to Nepal.
Christmas & New Years weather in Nepal
It's the winter in Nepal so this is about as close to the real traditional thing as you can get. There's no snow on the ground aside from in the mountains. But throughout the country it's cold enough for scarves, jackets, red noses and winter fires to keep warm.
Read more about the weather in Nepal including December and January
What to do in Nepal for New Years?
Again, traditionally Nepal does not celebrate the Gregorian (western) New Year. However, it does recognize it as a celebration tourists like. January 1st is usually a public holiday.
The best place to celebrate New Years Even in Nepal, in terms of a party atmosphere, is likely to be Pokhara's Lakeside. Every year Pokhara hosts an outdoor festival of sorts for a few days prior to New Years. This usually consists of outdoor cafes opening serving barbeque's and other restaurant style meals.
Do be warned though that it can get very crowded along Lakeside and alcohol consumption is high. Come midnight there is little fanfare other than a public countdown. Sometimes there are private fireworks that last about … 30 seconds! Aside from bars and clubs people quickly disperse after midnight.
In Kathmandu there is no official celebration. So keep an eye on the nightclub and bar notice boards. See my guidebook for the best of the best in terms of bars and clubs in Kathmandu.
On New Years Day there are no official parades in Nepal. It's business as usual. If it's a public holiday then it's a great time to explore the Kathmandu Valley as traffic will be at a minum.
Enjoy Christmas and the New Year in Nepal!
One big tip I can give you for Christmas and the New Year in Nepal is that it's rare to find a country that hasn't bought into the commercial aspect of Christmas these days.
Nepal doesn't really celebrate either of these festivals in a big way so take advantage of this while it lasts. Enjoy Christmas for what it was meant to be for. Take a time out. Visit a church. Talk to your family or friends on Skype. Relax and enjoy the peace Nepal can bring you over Christmas.
Meanwhile over the 12 days of Christmas I'll be posting paintings from Nepal and photos from around the world for those looking to relax and enjoy some nice sights.
Wherever you are in the world I hope you have a peaceful holiday season!
---
Get my Guidebook to Nepal & discover more than anyone else!
Looking for more insider tips and information like this? Get the most up-to-date, popular and dedicated guidebook to Nepal in the world. Over 550 pages & 900+ photographs of every temple listed, daily guides on all the treks listed and so much more.
Take a look below and you'll find out why this beats all other guidebooks!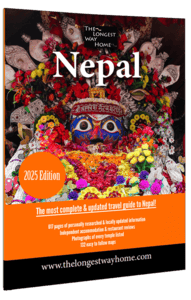 ---
---