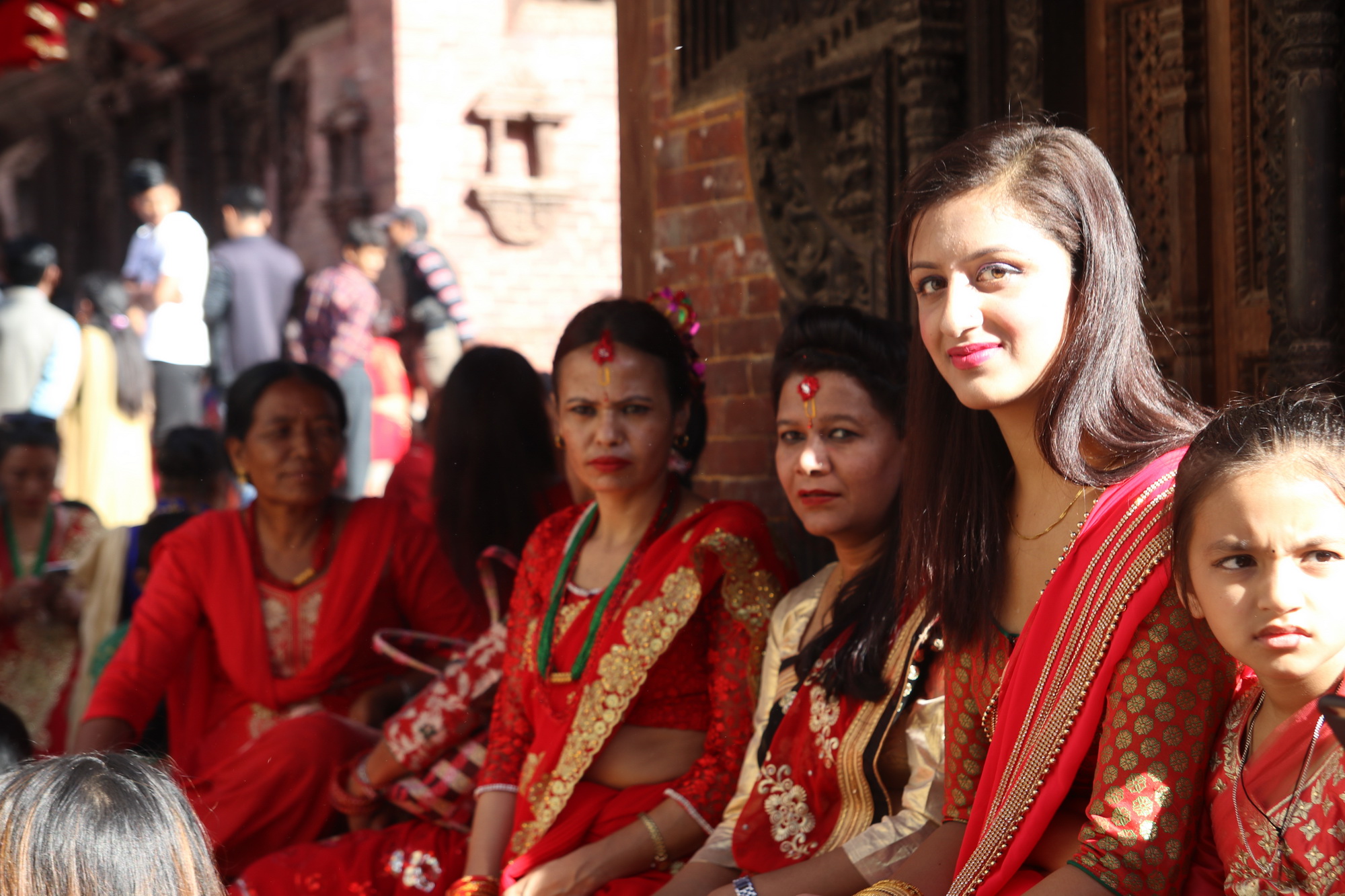 Celebrating Teej in Kathmandu
Teej or the festival for women was celebrated today in Nepal. I went along to the celebrations in Kathmandu to give you an idea of what it's like.
Teej or Hartalika Teej is celebrated in August/September throughout Nepal by women. It is a Hindu festival that is also celebrated in North and West India. In Nepal the Teej is celebrated over three days. It is known locally as the "women's festival".
Although celebrated by women it's not a specifically a celebration of women in the western sense. It's roots go back to Shiva's wife Parvati and the celebration of her marriage which we'll look at shortly. Thus Teej is especially important for married women.
Red saris, bangles, bracelets and adornments are worn for feasts, fasting, dancing, laughing and blessings.
Where is the best place to see Teej in Nepal?
Pasupatinath temple in Kathmandu is the most revered and popular place for women to go for blessing during Teej in Nepal. However every village and town with a Hindu population will have a celebration. Women will go for blessings at the nearest important Shiva or Shiva and Parvati temple.
As Teej is celebrated over three days the best place to see it is on the second day when women go out for blessings. If you are staying in local guest house you may also be invited to the first day of Teej which is a feast.
Although Pasupatinath is the main area where women gather in Kathmandu, I find the crowds and lack of transport to be overwhelming. A better option is to visit Kathmandu Durbar Square on the second day of Teej. Women come for blessings at the Mahendreshwar Temple just outside the northern section of the square. You can find this easily in my guidebook to Nepal.
Due to the excessive crowds at Kathmandu Durbar square the ticket office is usually not open if you enter through the Indra Chowk side by mid afternoon!
History of Teej in Nepal
Hartalika Teej in Nepal is the celebration of the goddess Paravti's marriage to Shiva. The festival celebrates the well-being of a spouse, the children along with the purification of the body and soul. It also celebrates the union of the marriage for this life and many more to come.
Teej is celebrated over three days:
Day 1 is a feast hosted by men to celebrated women. On this day women have a day of rest and do not participate in any household chores. They eat daro khana or heavy food to sustain them through the next day.
Day 2 is the fasting and blessing day whereby many women will not eat or drink for the day. This is also when they go to a Shiva temple for a blessing.
Day 3 is the purification day when women have more blessings and often bathe in red mud.
The celebration remembers Shiva choosing Parvati as his wife. The goddess Parvati had fasted and remained strict in her devotion for many years.
Modern day Teej in Nepal
In very recent years Teej was celebrated as it was for hundreds of years. Fasting today is not always adhered too, especially when it comes to not drinking water. However there are some devotees who will go all day without any food or water.
On the second day of Teej the dancing is slowly moving into modern music in Kathmandu. Traditional dancing is still widely practiced. However large commercial promoters are starting to set up stages and loudspeakers often blasts out music rather than traditional instruments being played.
The second day is also when many women are granted a day off work. However, in corporations and shopping centers this is becoming rare. On the first day of Teej most families will prepare a feast that night rather than during the day due to work commitments.
Colorful saris remain en-vogue. Red is the traditional color though many ladies will also wear blue, green or yellow.
Where did the Teej festival get its name from?
Teej is the name of a red beetle that comes out of the soil during the monsoon season. It is also said that this is why Teej is celebrated with red colors.
When is Teej Celebrated?
It's a lunar celebration so there is not exact fixed day every year. Usually it takes place in late August to mid September. It's traditionally linked to the monsoon season in India though in Nepal it occurs at the end of the monsoon season.
For a list of dates do see my list of Festivals in Nepal.
Can men join in during Teej?
On the first day of Teej Nepali men are meant to do the housework and any other duties the woman normally carries out at home. They are also tasked with preparing a feast that day and night.
As a male or female tourist you could be invited to this feast if you know a local family.
On the second day of Teej which men can visit any public gathering where women are dancing, singing and telling stories. However they do not join in any of the activities. Usually they will escort a lady to the temple but will not be permitted to enter with her for the blessing.
Can women tourists join in? Yes, women tourists can join in the dancing and singing. However the blessings are only for Hindus.
On the third day of Teej, the purification ceremonies are strictly only for Hindu women.
How much fun is Teej?
Teej is a very relaxed festival in Nepal. Women are fully allowed to do what they want in terms of expressing themselves, speaking out about what they want and indeed what annoys them without any repercussion.
As a tourist you may find the abundance of food on the first day of Teej if you are invited to a home to be overwhelming. It's best to eat at least a token offering. And to bring some nice food or treats with you.
On the second day of Teej it's very nice to see so many women in Nepal out and about in wonderful saris. There's a great air of confidence surrounding women on this day. Taking photographs is generally no problem but asking beforehand is still important.
The only downside to Teej are the crowds along narrow streets. It can be overwhelming. However unlike other festivals in Nepal Teej is slightly less crowded and you can easily make your way around the crowded areas.
If you are in Nepal during Teej it's certainly worthwhile to go out and admire the celebrations!
---
Get my Guidebook to Nepal & discover more than anyone else!
Looking for more insider tips and information like this? Get the most up-to-date, popular and dedicated guidebook to Nepal in the world. Over 617 pages & 984+ photographs of every temple listed, daily guides on all the treks listed and so much more.
Take a look below and you'll find out why this beats all other guidebooks!