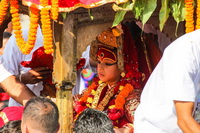 Indra Jatra is Kathmandu's largest festival
After the Gai Jatra festival comes the Indra Jatra festival in Kathmandu. The entire celebration take place over an entire week. Below is a map of where the festival takes place in Kathmandu plus daily events.
For tourists visiting Nepal it is a unique opportunity to not only experience an awesome spectacle but also a chance to witness the largest traditional festival in Kathmandu along with catching a glimpse of the Living Goddesses of the valley – the Kumari.
What is Indra Jatra about?
Indra Jatra is known traditionally as Yanya Punhi which is Newari (the original settlers of the Kathmandu Valley) for "Kathmandu festival". It's also known as Kumari Jatra and Yen Yaa. So in truth it's about two to three celebrations all made into one.
Indra is the hindu lord of rain and god of heaven. While the word jatra means procession or festival. History also tells a tale that the festival was to honor Bhairab, a manifestation of Shiva, who is believed to destroy evil.
What happens at Indra Jatra?
Technically Indra Jatra is an eight day festival. But to be honest, for most people, you'll really only see a spectacle on the the penultimate day. Commonly known as "Indra Jatra".
There are several highlights during the week long Indra Jatra celebrations
The main day usually kicks off at 1pm at Kathmandu Durbar Square with several groups of tribal and local musicians arriving into the main area. The music is heavy on cymbals and drums.
A thirty-six foot wooden pole, selected with due ceremony from the Nala forest in Kavre in east Kathmandu, is brought in to represent Shiva's Linga (Yasingh). The pole is balanced by a man and there's a flag on top. It is believed Indra received this flag from Lord Vishnu for protection.
The massive Bhairab statue is unveiled (usually the day before and on the day) in Durbar Square where alcohol pours from his mouth. It's quite a popular statue to visit as you might imagine!
People dressed as demons enter the square and reenact mythical fights between the creatures.
The music beat gets louder and the crowd surges a little. A stream of young men come running into the square followed by an elaborately decorated team dressed as a white elephant, Tana-kishi.
The elephant is looking for his master Indra and charges along the streets creating mischief along with the men running beside him who lead the charge with a lit torch flame.
Finally after the dignitaries get their blessings the Living Goddesses enter the square in their special rope drawn chariots. Handlers throw out sacred carnations to onlookers. The Chariots are pulled by men and go through massive crowds.
How to get the most out of Indra Jatra
If you'd like to experience Indra Jatra the following might help as I've been there and experienced Indra Jatra myself.
If you are in Kathmandu during the week, then do check out the map and schedule of events as they occur over many days.
By visiting on alternative days you'll get to experience parts of Indra Jatra other tourists will never see.
On the main day in Basantapur (Durbar Square) you can expect the following:
There are no tickets nor is payment required to attend Intra Jatra. Do arrive early to get a space to view it.
Generally speaking the two best places are the platforms of the former Trailokya Mohan and Maju Dega temples (see my guidebooks to either Kathmandu Valley or Kathmandu city for a detailed map). You can climb all the way to the top which will have the best views.
Make sure to bring some water and snacks. Likewise bring some sunscreen and or an umbrella to cope with the sun or, if Indra desires (it's meant to be lucky), the rain.
Everything is good natured but there will be a lot of people close to you. Small children and adults alike can get annoying as they push and shove for a vantage point. There's no escaping this but do remember it's all done in good nature.
A good zoom lens on a camera will help capture things up close.
Depending on the organisers whim tourists can often wander down to the square during the festivities. There are crowd surges, demons running around with sharp knives and a few chariots being heaved around so do watch your step!
When is Indra Jatra?
Indra Jatra is a yearly festival on the day of the Bhadra Dwadasi to Ashwin Krishna Chaturdasi. A rough translation of this means that Indra Jatra falls on the last day of Summer on the full moon.
List of events during Indra Jatra
Do note that these events are by day order and not date order. Times are also approximate due to "Nepali time".
Each day holds a precession that goes through several streets. You can view the streets in the map below. All locations are in my Kathmandu Valley Heritage Walks book.
Day 1: 4am Kilagha – Puja (blessings)
Day 2: 12 pm – 1 pm in front of Laakhe chhen. 1 hour in Majipat, Jaisidega , Chikanmuga, Manjushree kebachhen untiltill 4pm. Starts at Upkau, Hanumandhoka ends at Laakhenani around 9:30 pm
Day 3: Starts at 2 pm- 3 pm in front of Laakhe Chhen
Day 4: Starts at 2 pm- 3 pm in front of Laakhe Chhen
Day 5: Starts at 12pm- 1pm at Laakhe Nani, Jaisidega, Chikanmuga, goes to a Chown behind Basantapur Dabu for puja and switching Laakhe. Hanumandhoka goe with Kumari chariot. Ends at Laakhe nani at around 9:30
Day 6: Starts at 12pm- 1pm at Laakhe nani, Jaisidega, Chikanmuga, goes to a Layeku bahi for puja and switching Laakhe. Hanumandhoka goes with Kumari chariot. Ends at Laakhe nani at around 9:30
Day 7: Starts around 3pm- 4pm at Laakhe chhen the nto Pulukishi and Sawabhaku joining as per Laakhe's invitation for puja. Laakhe, Pulukishi and Sawabhaku dance till 5 pm. At around 5pm Laakhe, Pulukishi and Sawa bhaku leave for different locations as per devotees' invitation.
Day 8: Starts around 3pm- 4pm and leaves for different locations as per devotees' invitation
Day 9: Starts around 12 pm- 1 pm in Basantapur. In Kilagal as per Pulukishi's invitation for puja at 3:00 pm – 3: 30 pm. Goes with Kumari's chariot- Devotee's invited location. Ends at Laakhe nani around 3 am- 4am in the morning the next day.
Thanks to Alina Tamrakar for providing and translating the routes.
As you can tell the events may seem complicated at first. However, by showing up at the starting points you'll soon get the idea that it's a blessing, dance, music, story telling and precession to another location to repeat.
Do use the map below to understand the various locations. Again, you can also use the maps and locations in my Kathmandu Valley Heritage Walks book to find the starting point and mix the Indra Jatra celebrations with a heritage walk.
Map of Indra Jatra route:
For tourists the vast majority of the activity happens in Kathmandu Durbar Square as described above. However the precession does follow this route. Do be aware that it can get very crowded if you follow the route. There will be quiet areas and you will get close up views. Just be aware of bustling crowds.
Indra Jatra Festival Dates:
Indra Jatra was on 27th September 2015
Indra Jatra was on 14th September 2016
Indra Jatra was on September 5th 2017
Indra Jatra starts on September 21st 2018
Indra Jatra starts on September 12th 2019
More festivals in Nepal
If you are interested in other Nepalese festivals do check out my list of festivals in Nepal.
---
Get my Guidebooks to Nepal & discover more than anyone else!
Looking for more insider tips and information like this? Get the most up-to-date, popular and dedicated guidebook to Nepal in the world. Over 617 pages & 984+ photographs of every temple listed, daily guides on all the treks listed and so much more.
Take a look below and you'll find out why this beats all other guidebooks!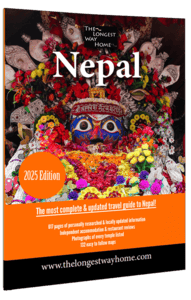 Or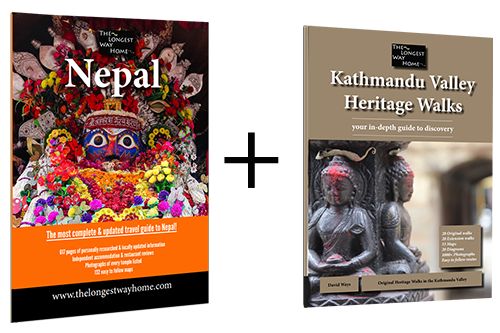 You can get 50% off my Nepal guidebook by getting it with the Kathmandu Valley Heritage Walk book
---