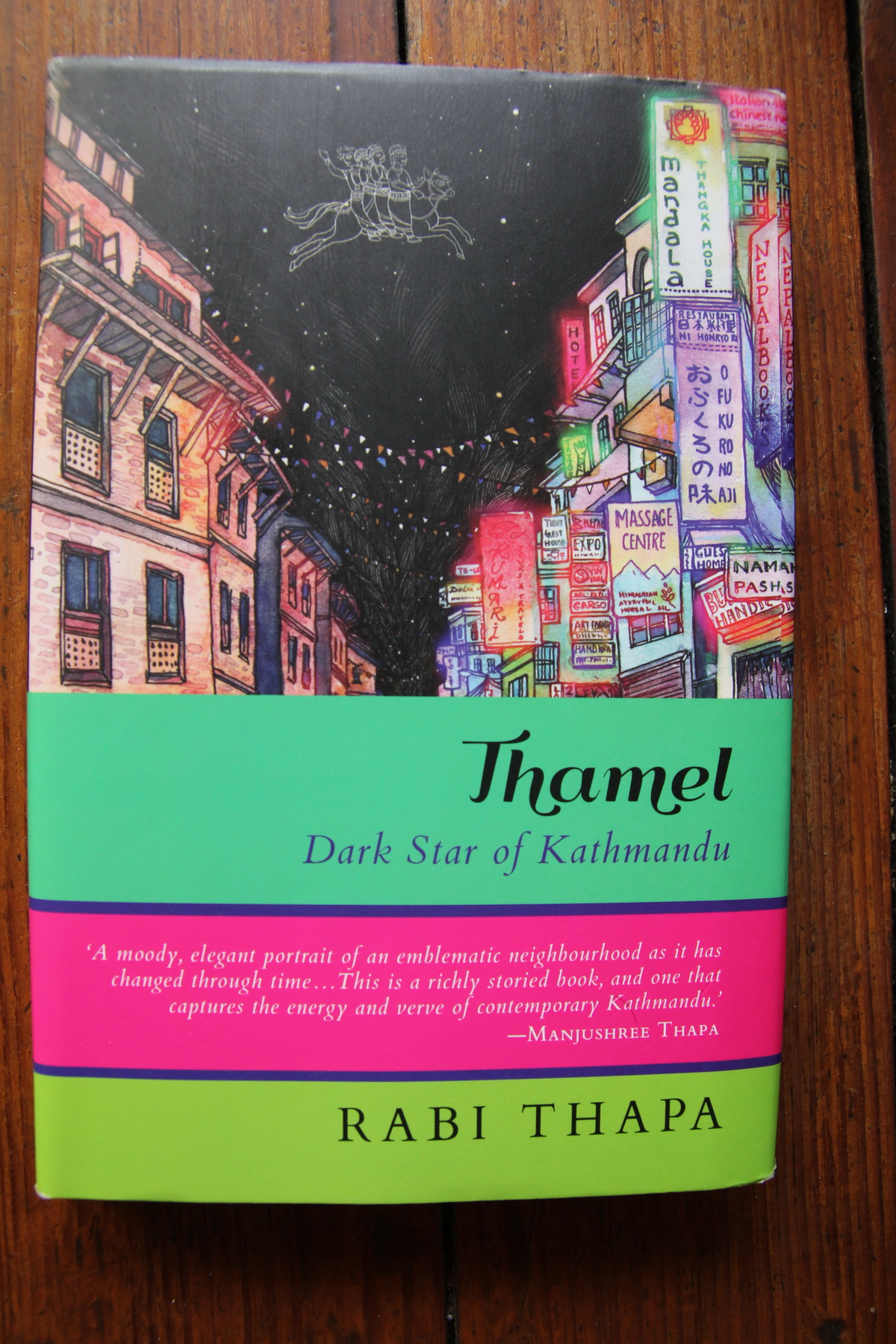 A book about one of Kathmandu's most famous destinations
Thamel: Dark Star of Kathmandu is not a travel book as such. It's more a part memoir part narrative of memories from people who have lived in and experienced this iconic location over the years.
Written by Rabi Thapa, from Kathmandu, it's an insightful, thought provoking and well written historic account about parts of Thamel tourists and Nepali will recognize from both past and present.
It's not a book for those to seeking to grasp the excitement of modern day touristic Thamel but more of a book for those who want to muse over the Thamel they've passed through at some point in the past.
If you visited or lived around Thamel anytime over the past 30 years then this book will be of great interest to you.
What is Thamel?
Thamel is the commercial, tourism and now central night spot of Kathmandu. It's a place you will struggle to avoid from the airport to Kathmandu city on the way to the mountains. It's a place that's teeming with bars, clubs, souvenir stalls, trekking stores, people and traffic.
People either love Thamel or hate it, but few can avoid it.
What is "Thamel: Dark Star of Kathmandu" like to read?
Let me start by saying I read this book in … Thamel. I like to read books about the places I'm currently in. I know Thamel well and I know of its myth, modern folklore and of course its darker sides. So too does the author Rabi Thapa. There is no doubting the research and time he put into this book given its insight.
Included is some great narrative translated from the past by a Yugoslavian travel writer, Steven Pesic. It would have been nice to have a tourists tale too. Ultimately, this doesn't matter as the crop of tales within Thamel: Dark Star of Kathmandu can hold their own.
It was wonderful to read other people's views on Thamel from the underbelly dealings to the delights of what is to many the start of their holiday of a lifetime. Told from many perspectives all the way from the "elites" down to a lowly drug addicts take.
Rabi Thapa shows some real detective work by uncovering the details behind the fire at Pilgrims bookstore to the changes at Kathmandu Guesthouse. All iconic places, events and all well accounted for here.
There is no continuous rapacious tale about growing up in the district by a single author. It's a collection of memories from people who worked, lived, breathed and indeed died in Thamel.
An insightful read into a different world
Rabi quickly cuts into the superficial aspects of Thamel and slowly takes us into the seething dark spots of Thamel few tourists get to see. From sword wielding gangsters to transvestites playing tricks to the many drug addicts.
For those who have visited, lived or stayed for a period in Thamel this is a definite collectors item. For those just arriving put it on your shopping list before you leave. For everyone else, pick up a copy and discover a side Thamel's streets you never knew about!
Where to buy Thamel: Dark Star of Kathmandu
From Amazon USA:
Thamel: Dark Star of Kathmandu
From Amazon UK:
Thamel: Dark Star of Kathmandu
All good bookstores in … Thamel stock this book!
This article is one of several about Thamel which includes photographs, changes, places to go and book reviews. You can find all these articles in my main travel guide to Thamel.