Travel Journal Overview: The following is the fourth in a four part travel entry on my trek around the Annapurna circuit. Thinking of doing this trek? Then here is my fully up to date travel guide to trekking the Annapurna Circuit
Day 8 Annapurna Circuit Journal (continued): Thorung Pedi High Camp – Thorung Pedi Pass – Muktinath
I offered to take the Koreans photos as their camera had frozen up. Narwin then urged us to head down now, so bags in tow we set about the long decent down from the pass. This is when I started to feel very emotional, the altitude was getting to me. Behind us in the distance an avalanche thundered down a slope in a white cloud. We scampered down the loose rocks. My headache returned with a vengeance, and my hands started to swell up considerably. Stopping several time, the others overtaking us it took another 3 hours to get down the snowless barren landscape.
At the bottom we met one of the Korean males and the arrogant porter. Apparently their altitude sick friend was still up there… ass holes for leaving him there. They would have to go back up to find him.
We continued on to the village of Muktinath, where I sat shivering in a nice hotel. Too sick to eat, and my brain still racing in circles from the morning's events. I met a nice French Swedish couple there and we shared dinner with a great Croatian American character and his daughter. Good company, and incredible day, a meek hot shower and plenty of shivering I went to bed. Numb, but Happy.
Day 9 Annapurna Circuit Journal: Muktinath – Kagbeni – Jonson
I could have spent a second day in Muktinath, there was apparently plenty to see, and my body was aching. We met the others for breakfast and again went our separate ways. The landscape was pretty much the same, dry, icy and desolate. Similar to Iran and Turkey in the mountainous regions. Clouds were moving in fast and soon it began apparent we had crossed on the right day, and just in time.
Kagbeni was our stop for lunch. A charming village, and very photogenic. I passed under a temple that
was said to cleanse you of all you sins.
We ate good Daal Bhat and met the two Korean guys, apparently they had found the sick one at 6pm the previous night. He looked bad, and was using two trekking poles to help him walk along. We also saw the start of more tourists as we made our way along a long river canyon where the wind roared down at great noise headlong against us. It was only 3pm when we arrived in the semi touristy airport town. I indulged myself in hamburger (though the meat was dubious) and fries and settled in for a semi cold night in a near empty hotel.
Day 10 Annapurna Circuit Journal: Jonson – Larjung – Lete
I got our times mixed up and was a little late for breakfast, though double apple pancakes made up for it. The clouds had gone and the sky was once again blue as we looked up to a small propeller plane brought new tourists into the town. Soldiers marched up and down the roads from the barracks, a famous staying place for the King of Nepal. By lunch time the scenery had changed once again. We were surrounded by a vivacious mountain landscape standing proud behind lush green forested hills. In Larjung we were joined by a nice German for lunch and I grew slightly jealous as he ate macaroni followed my a giant apple pie, while I ate Daal Bhat again.
We followed a canyon through to the small village of Kalopani where I spotted an 8 year old green eyes local girl. Great photos, though the mint sweet I gave her ended up in her younger brothers mouth and sent him screaming home. I wish that I had brought pencils! That night in Lete we were joined by an eclectic group of Nepalese business men, led by one guy called "Barsai", who had strangely enough worked in Nigeria, and also thought terribly of the place. I survived the what did I think of Nepal questions and was soon brought into their little group of Doctors, Accountants, Agriculturists and possible government dictators, at least when it came to cleansing the area for tourism. I headed to bed, feeling pleased to have met them.
By 10.20 I shot awake in bed. There was shouting and high pitched screaming. A loud rumbling roared nearby. Bollocks, an Avalanche!! So what did I do, I stayed in bed… hoping it was not nearby enough to sweep the little hotel way. Bells sounded from stampeding donkeys and then silence. I slept on.
Day 11 Annapurna Circuit Journal: Lete – Rukse Chhanara – Tatopani
All was normal in the morning. I asked about the noise during the night and Barsai shrugged his soldier and waved his finger in the air. As usual a not very satisfactory answer from the locals. We were joined by the Nepalese groups for part of the morning on our way down. This was a good thing, for as nice as they were, I did not like Barsai's idea of tarmac roads to improve tourism in the region. We stopped at Rukse Chhanara for lunch and things picked up as we had great Daal Bhat made my two friendly locals in front of a beautiful waterfall. It also helped that there were few tourists around. We crossed three long suspension bridges, one falling apart as locals chipped rocks away from around it to widen the forthcoming new road. Then it was into more forest landscape when suddenly a loud deafening BANG made Narayan Nearly jump out of his boots.
We looked around and figured they were dynamiting the canyon opposite us. Ah ha, the avalanche, idiots. I asked Narayan about the dangers of this, and he just shrugged. That is until several more blasts shook the area around us, and clouds of dust appeared from the rock wall and large chunks of rubble rained down into the canyon below. It was upon seeing this that Narayan eventually agreed it was dangerous and we should get moving.
We arrived at Tatopani that afternoon, and were greeted by countless hotels and tourist signs. We checked into one of these establishments, where Narayan immediately stripped into his shorts and headed to a hot spring. I followed along but quickly felt disgusted by the distant view of a group of semi naked white people all set around a rough concrete pool. I headed back to my room and enjoyed a hot shower instead. The nice French Swiss couple were there, and we had a chat before being interrupted by a drunk Australian and Irish person… oh the curse of being back in tourist land. I headed to bed early.
Day 12 Annapurna Circuit Journal: Tatopani – Sikha – Ghorepani
I was first up at breakfast, it was an uphill day and I wanted to get a head start on the tourists. Our day started fine, but we got held up as one of the bridges was falling down by more road works. Then later on another bridge by a 30 minute Mule caravan, thus giving the tourists time to catch up with us. But some how today I was full of energy and bolted ahead up the forested pathways. So much so that I ended up going to far and up the wrong bloody mountain and a small boy had to lead me down to a waiting Narayan. We had lunch at Sikha where a local dog that had took to following us deserted us for another tourist. We were also caught up to by the Korean girls who showed no interest in the photos I took of them on the Pass. So we headed off, soon getting to Gorepani, where a large group of Australian drunken tourists caught up with us.
There was at least a huge fire in the center that was used to heat water to abundance so I enjoyed a really hot and long shower. That night in the expensive menu I had to settle for fried potato and egg, but was entertained at least by the locals as Limp Bisket blared out from the loudspeakers and then sang along, a little surreal. Later the local music came on and the cheers started before they started dancing. I sank to the back and pushed Narayan forward in case I was targeted for tourist dancing or worse still singing. Thankfully a power cut stopped all that and I slipped off to bed in the dark.
Day 13: Ghorepani – Tadapani
This was the start of a few days thin plywood walls, hence earplugs and mp3 players were used to block out drunk Australian snoring. Even all those could not drown out one of their guides at 5am waking the whole place up with pleas for them to begin their trek to the touristy Poon Hill sight. A few snorted and grunted, another shouted back for the guide to go away for a while.
We ate breakfast and headed off, trying to avoid the tourist group as best as possible. And thanks to Narayan and my pleas not to go and climb Poon Hill we did. Instead we trekked up a hill beside it and got some stunning views of the Himalayan range. Unfortunately a group of middle aged Irish interrupted our brief view of scenic beauty and so we escaped onwards. Had lunch in a small village, where the owner seemed to spend most of his time trying to scare monkeys away from his house. 1 hour later and we were at Tadapani.
The view from the hotel would have been spectacular if it were not from the heavy cloud. I met an Australian girl Alex next to my plywood room and later we were joined by Janet a rather animated English lady who had been trekking for 50 days and was in need of a hip replacement. Alex's guide was a rather sleazy young lad, but her porter was quite a character that had apparently been plucked from his farm a few days ago and was told he was going to be a porter for her 5 day trek. The English lady had a rather Afghan looking porter who was a nice chap, and so as Alex got her porter introduced to a beer we enjoyed a nice evening.
Day 14 Annapurna Circuit Journal: Tadopani – Ghandruk
Another short trip, but we were all awake at 6.30 to watch the magnificent sunrise. On Narayan's advise we climbed up to a local temple for better views. The dawn turned the mountain range pink as usual, then the sky lit up in great oranges. Prayer flags waved merrily over the little village below as it sleepily came to life. Hot chocolate in hand I stood looking over the beautiful sight for nearly an hour, before descending to the squat and a breakfast of pancakes.
We said our goodbyes and Janet introduced herself as Janet Porter and I wondered if she was a celebrity from the UK. The trek was nice, through the forest where monkeys chattered above us, and streams ran over mossy embankments. by 10.30a we were already in Ghandruk. Various groups of short day trekkers for Pokhara and 5 day Poon Hill trekkers came up pathways and I wondered if Alex could be found again for the sake of sanity? We headed into a hotel and yes by pure coincidence there she was sitting with her guide and porter, at least I would be saved from drunken Australians and silent Koreans tonight.
After lunch and a mere trickle of a shower we split up and headed into the large town for a look around. Narayan and I discovered a local wedding party that we enjoyed until a group of 5 sweaty Koreans welding trekking poles barged in for a look. I also caused a stir in some locals as I bought a local cream cake, the first foreigner deemed to have eaten one it seemed. Though I did give Narwin my dodgy looking cream bit, it looked to dubious.
That evening I met up with Alex at the hotel and we ate Chilli Chips and Apple Pie as she let loose about her strange guide who spent most of the time catching flies with his hand and asking people if they think he caught them or not?!! That night I celebrated the last night of the trek by sharing a few beers with Narayan. Alex bought her guide and Porter some too, and we enjoyed watching her stunned porter swallow whole glasses of beer in one gulp. Then sitting there and letting out loud burps with somehow managing not to open his mouth and continuing his stunned look. I took out two cheap pocket knives I had bought in Iran which were immediately set upon by the guides who began poking them at each other and themselves before we managed to disarm them. The Porter pointed back to one then to himself, so I gave him one, then the other to Narayan so long as they promised not to damage each other with them. Flycatcher asked about one for him, so I handed him a peanut trekking bar much to Alex's amusement.
The porter and Narayan headed off to bed, and Alex, Flycatcher and myself continued the beer session. Though it must be said that Flycatcher spent most of the night just sitting in silence, sulking over not having Alex's full attention. By 11pm he quit and went to bed as we continued to keep the sleepy staff up by ordering more beer. Narayan mentioned the next day that Flycatcher had gone to bed, but only for a few minutes before leaving the room and staying out until 1.30 am…. creepy guy.
Day 15 Annapurna Circuit Journal: Ghandruk – Naya Pul – Pokhara
Up at 6.30 for the final day. We all ate breakfast together and Alex and I swapped addressed to meet up later in Pokhara before we all split up and went our separate ways. The trek down was quite nice, footpathed villages, forests and streams were before us as the majestic Annapurna range gave us one last fantastic peak to gaze upon behind us. We passed Alex's group, and they passed us as we continued down the trail to the final registration post at Naya Pul. Here we met up with at least two others we had met along our own trek.
Narayan and I settled down to a lunch of Daal Bhat at 10.30 am, then hoped on a local bus for the two hour trip back to Pokhara. Music blared from its loudspeakers and we started off on our bouncy ride back. It was on the bus that I felt the emotional charge come back from the mountains. In the distance the splendour of the Himalayan mountains sat raised above all else, it was hard to believe that one week ago I had been up in the that snow covered wonder. A place I would remember for nearly, and literally, taking my breath away; and for being the coldest I have ever been while all the while being surrounded by the incredible yet harsh beauty of the place they call the roof of the world.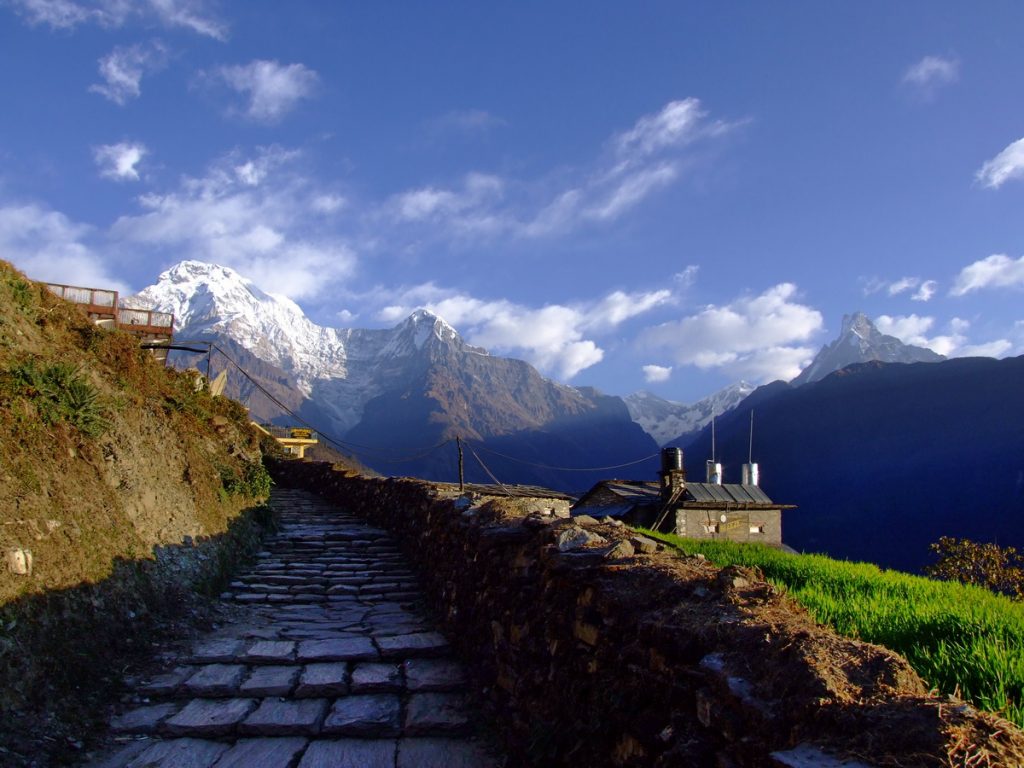 Some related links on this website that  you might like: (including a lot more photographs from Nepal)
Travel Guides: Annapurna Circuit trekking guide
Stories: Talika the twelve year old miner from Nepal
Stories: NGO's in Nepal & Developing Countries
Resources: How to Guide – Nepal to Tibet Overland
Trekking resources: How to hire a guide in Nepal »  About trekking in Nepal  »  Travel guide to Everest base camp» Equipment you'll need for trekking in Nepal » List of treks in Nepal » Day by day account of trekking to Everest Base Camp
---
Get the best Trekking guide book to Nepal!
---
Liked this page? You'll love my guide book to Trekking in Nepal! I cover Everest Base Camp, Annapurna Circuit, Annapurna Base Camp, Mardi Himal, Ghorepani Poon Hill, Dhampus plus side treks to Gokyo and Tilicho Lakes. With day-by-day detail trekking details along with photos of what to expect, extensive preparation chapters, budgets, where to find a trekking guide plus the costs & much more!
It's only guide book to Trekking in Nepal with color maps that you zoom right in with!
The book can be read on tablets, laptops or mobile devices & is printable. Quite honestly this will help you more than any other guidebook to get the most out of trekking Nepal.