by Dave from The Longest Way Home ~ January 4th, 2008. Updated on November 4th, 2016. Published in:
Travel blog
»
Nepal
.
Travel Journal Overview: The following is the third in a four part travel entry on my trek around the Annapurna circuit.
Day 7 Annapurna Circuit Journal: Yak Kharka – Thorung Pedi – High Camp
I woke up feeling OK, but wondered if continuing on was the best thing. I had one more night at high altitude and was not sure if the lack of sleep would effect me that night with even less air. I use the squat again under even icier conditions and wondered if I would be the first victim of frostbite sphincter!
The Koreans all headed off before us after breakfast. The was bright and the wind bitterly cold again. We passed a group of friendly monks on the way up as they spun prayer wheels at a temple on a barren rocky slope. We then passed the Korean girls and their friendly guide. I looked at there heavy coats and equipment and began to realize I might have really done a bad thing by not buying proper cold weather equipment. We passed by a landslide area and were pummeled by Giant Wild Nepalese Sheep as they sent pebbles firing down the rocky slope at us. For the second time I felt the effects of high altitude and the lack of a second day of acclimatizing and Manang as we approached Thorung Pedi. It was as if my head was going to explode, my heart pounded and my mind raced.
The two Korean guys were stopping for the night in the hotel below our restaurant. The terrace smelt of Kerosene which sent my head spinning even more, and headache tightened. I was feeling the effects of oxygen less air, a slightly drunk feeling. Slurred speech and a difficulty in concentrating. Narayan looked a little tipsy too for that matter. We ate Daal Bhat again, served this time by a grubby character who had just spent the last few minutes before serving us cleaning out a frozen squat toilet. Outside the wind was howling in the barren Martian terrain. The two Korean girls continued up to the high camp, we would have to as well. I wrapped myself up as best I could. one tshirt, one shirt, one fleece and one windstopper. African lightweight pants, and a Moroccan scarf… I would freeze in this, I just knew it.
We opened the double doors into the icy high speed wind and plunged ourselves upwards to the high camp at 4800 meters . It took us 1 hour 45 minutes to climb the 1 hour mountain in the fierce freezing wind. We trudged through loose rocks, passed another frozen water source, its frozen icicles bent in diagonal arrows upwards due to the wind. It was a silent ascent marked only by the winds howl and our slipping feet. At the top the tea houses were barren and empty, all for one that had the thick bright neon yellow and blue North Face down jackets of the Korean girls waving at us from the window of the highest perched hotel.
Once inside we found the girls pacing up and down and preparing to get into their heavy sleeping bags. It was only 3pm and already the temp was 0.1 degrees inside the sunlit hotel. Unfortunately the sun was about to disappear behind the mountain, and it was about to get a whole lot colder. I looked at the menu and saw the dorm rooms were 90 rp. But the two scummy boys running the hotel shook there heads in that bloody annoying wobble and grinned that it was off season and only the 320rp rooms were available.
This sent me into a high altitude war with them that made Narayan come over and calm things down. I demanded the managers name and phone number, not that any of that was possible at a near 5000m at dusk. It was -1 inside and stayed standing, no fire, no fire wood. The light was bright, but at 4.30 the sun was now blocked by the mountain. We waited a little. I glared one of the scum running boys as we played with a broken radio. Narayan admitted there would be no sleep tonight due to the cold.
By 5 it started to get dark, and even the down covered Korean girls were shivering in their gear. -2 degrees. I was still fueled by the adrenaline of the scum boys and was doing surprisingly well. It was then that one of the scum boys came in and announced there was a fire! I tore off to follow him, as he lit a kerosene stove under one of the tables. We all huddled around and ordered dinner. The scum boys started to refer to me as sir, and I wondered if my tirade had actually worked.
By 7pm the kerosene had allegedly run out and we trudged off to out beds. My idea of all sleeping in the same room for warmth was initially met with conformation, unfortunately it never happened. Instead I found myself in a grubby little stone room laying out three heavy blanket and my sleeping bag for the night. I found and empty water bottle and improvised a hot water bottle from my pee (hey don't mock it, it works!), and settled in for the night. -5 degrees inside.
Day 8 Annapurna Circuit Journal: Thorung Pedi High Camp – Thorung Pedi Pass – Muktinath
My alarm went off at 4.45am. I put on my head torch and felt the icy bite as I got out of bed and quickly put on my pants, shoes and coat. My water bottle was frozen solid. The barometer measured – 7.5 degrees in the room. I packed up everything and headed out into the dark night. The stars were shining so brightly, yet my attempts to photograph them failed as my hands were shaking so much from the cold freezing wind that was wiping around outside. I ducked back into the room, and felt its relative warmth, the barometer read minus -8.1 a drop of nearly 1 degree in the short time the door was open.
We ate a breakfast of near cold pancakes and I bought a new water bottle from one of the scum boy's, it had icicles in it, but at least it was drinkable, I packed it into my bag after wrapping it up in a shirt. By 5.30 were were off. Narayan and I took the lead using my head torch, we passed to the two Korean guys, and the two girls followed on behind. Snow covered the whole area as we crunched upwards into the darkness. Ice covered large areas making it difficult to traverse the steep slopes in the darkness. Worse still the wind was blowing again and it bit into me like nothing before. We crossed a wooden bridge over a frozen river, Narayan plodding at his usual slow pace. I was shivering and needed to go faster so I over took him and headed up the barren snow mountain alone. The barometer measured – 15 degrees, this was not including wind chill. Dawn began to appear, and the mountains glistened in their icy manner.
I kept the head torch on my head for hope of a tiny bit of insulation, likewise as the sun appeared I put on sunglasses more so to get wind protection than protection from the glare. I was hoping the suns rays would be warming, instead they brought with them even stronger freezing winds. My barometer stopped working, it faded in and out. It had to below -20 degrees (confirmed later -23). The Koreans males young porter shot ahead, arrogantly singing and shouting out at strange intervals which pissed me off as I thought he was in trouble. Was the altitude at 5200 meters getting to me?
I trudged on in the icy snow, Narayan and the others a distance behind me. I tugged heavily at my scarf to keep the wind out, my throat was dry from the icy air. I stopped to take a drink. My outside water bottle was frozen solid as a rock. I scrambled with numb fingers for the inner bottle only to find it too was near frozen solid, with only a cup full of water left to drink that was not pure ice. I felt the bottle crunch against my lips and beard, and realised my beard had formed icicles and was frozen. I smiled, at least it would look cool. I looked up ahead and saw the arrogant young porter perched on a mountain peak. Was that the Pass? I trudged forward scrambling over ice, rocks and snow. Mucus was freezing in my nose as I blew it out in heavy clumps (they never mention that in the movies!). My head was drunken from the altitude. I lost the path. Ahead I saw some stone pillars used as religious markers. I stumbled through some ice and fell into deep snow on the way up. This had to be it.
At the top there was no porter. I fumbled clumsily at my barometer, nothing, it was frozen. I looked around the white snow covered landscape, the beauty of its desolation bypassing my frozen brain as I search for a path in the icy tundra. Narayan called up to me from below, he had caught up. I followed him along the newly found trail path. I caught another glimpse of the young porter in the distance, sitting in the sun on a rocky outcrop. That was the pass.
My beard crunched as I wiped frozen saliva from my mouth. We ascended the final part of the trail. Prayer flags fluttered in the wind around a small cabin. A large green and yellow sign board wrote congratulations for reaching the pass, do come again!! I took an altitude reading. 17120 feet or 5415 meters. No temperature reading could be done as all had frozen solid. I wind chill chart, a rough wind speed chart and previous reading of -20 meant it could have been -42 degrees. We shook hands and posed for photographs as the Koreans all arrived. One of the girls crying as her friend and porter rubbed her frozen hands, they were in pain from the cold.
I felt as if I had just survived one of the hardest things I ever had to do. Many cross the pass throughout the year, meaning it was surely no big thing. Fewer cross the pass at the coldest time of the year January. Fewer still do it in thin African combats and only three layers with no extra acclimatization days, I did.
Some related links on this website that  you might like: (including a lot more photographs from Nepal)
Stories: Talika the twelve year old miner from Nepal
Stories: NGO's in Nepal & Developing Countries
Resources: How to Guide – Nepal to Tibet Overland
Trekking resources: How to hire a guide in Nepal »  About trekking in Nepal  »  Travel guide to Everest base camp» Equipment you'll need for trekking in Nepal » List of treks in Nepal » Day by day account of trekking to Everest Base Camp
---
Get the best Trekking guide book to Nepal!
---
Liked this page? You'll love my guide book to Trekking in Nepal! I cover Everest Base Camp, Annapurna Circuit, Annapurna Base Camp, Mardi Himal, Ghorepani Poon Hill, Dhampus plus side treks to Gokyo and Tilicho Lakes. With day-by-day detail trekking details along with photos of what to expect, extensive preparation chapters, budgets, where to find a trekking guide plus the costs & much more!
It's only guide book to Trekking in Nepal with color maps that you zoom right in with!
The book can be read on tablets, laptops or mobile devices & is printable. Quite honestly this will help you more than any other guidebook to get the most out of trekking Nepal.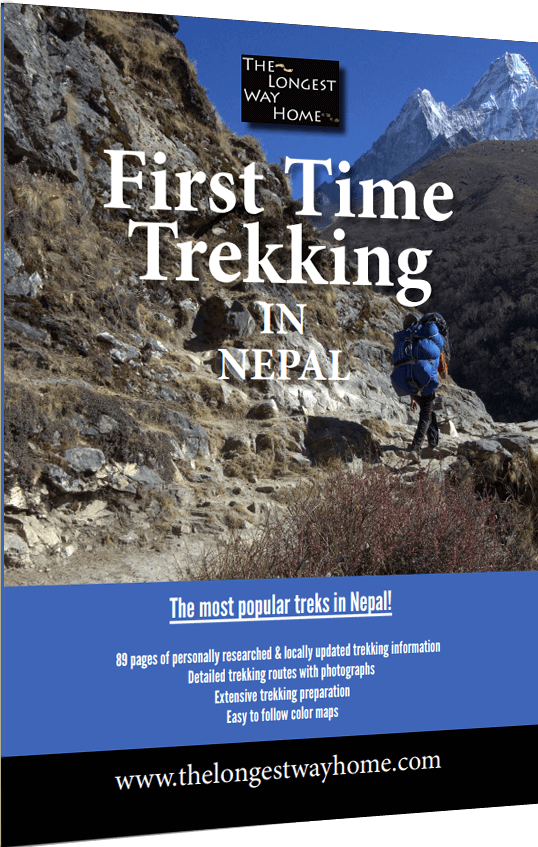 Get a special discount offer on this book here!
---
---