Travel Journal Overview: After the Annapurna circuit it was time to relax a little. Catch up on email, catch up on life and learn some more about Nepal.
Being back in the land of omadi padi hum, para-gliders and general tranquil peace had a strange homey feel about it. Maybe it was the fact that there was one occasion in the high altitude that I may not have made it back. Or maybe it was just seeing familiar faces again. Either was it was good to be back.
Alex was on a mission to para glide, and following my advice she took the Para hawking option. Unfortunately it turned out that to attract the Hawks to fly beside your glider you need to bribe them with bloodied chunks of buffalo meat. It was also unfortunate that Alex was a vegetarian.
Nonetheless she had a good time, so she said anyway. And we spent the next few evenings frequenting the Busy Bee. This is where I can verify the claim that Australian girls can basically drink a fish under the table. A genetic super liver springs to mind. It was also good to take Narayan along, the winner of the battle of the guides for company contest. He was more relaxed back in his home town, and it was here he told me of other non trekking activities around Pokhara.
Christmas and New years were both over, and although I was ready to move on, I was also enjoying Pokhara now. It was starting to feel like the first holiday I had in years. So those reading who think this is all one big holiday can now stand corrected. To some the idea of travel means a constant holiday, I disagree. It depends on the type of travel. If your job is on a site of a construction yard, and you take a holiday to Indonesia to help build houses; I don"t think you are going to come back fully relaxed to hit the building site again.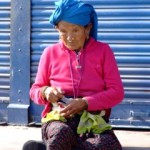 Travel is not so easy when done overland alone. Rarely is there a moment of relaxation. Sure there was Goreme, Turkey. But that was fully of Visa pressure. Here, in Pokhara, after the trek, I felt no more pressure. It seemed certain I would get the Tibet Visa, and that was the last one I needed. As for time, I figured I would not be spending much time in Kathmandu. It would be more touristy than Pokhara, and I figured on spending only a few days there before moving off to Tibet.
"A mining lake"
This is what Narayan had said to me on one particular evening. It sounded a bit weird, and I had put it down to his Nepalese English. He had taken me on a day trip around Pokhara. To an underground cave and waterfall, something that was the pride of the local community. I was less than impressed with the mediocre falls, and 3 minute walk through cave. Narayan was like a kid staring at the sub par falls. My goodness man, you have seen avalanches a few feet away!!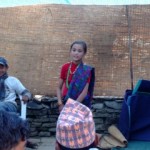 We went to the Tibetan refugee camp. A place I had been looking forward to visiting after my Afghan experience in Pakistan. It was purpose built tourist attraction. Women nearly running to their carpet looms on seeing the next gullible tourist enter the hotel like courtyard. Any refugee camp selling $175 labeled carpets must surely be devoid of deportation threats. Other than the credit card machine breaking down, they seemed under no threat here.
There was some solace in the Tibetan school. Little monks in orange and yellow robes sat reading or meditating. We left once the teachers came over offering to let us see the Buddha statue inside for a donation, of course.
During all this Narayan also managed to take me to the new side of Pokhara. It was a place I had come into for cheap phone calls and the odd shopping trip. It was a great deal larger than the tourist area, and a total opposite. It was like any Asian market, though not quite as crowded, not so much traffic and somehow a little cleaner.
We managed to post some of my things off. And surprisingly the Nepalese post office did not require the Indian equivalent induced migraine. More of a kiss your parcel goodbye type feeling emerged. You see a 800 rupee postage fee would bring to mind a 800 rupee Frank or maybe even 8 sets of 100 rupee stamps at worst. Nope, not in Pokhara. 80 sets of 10 rupee stamps were handed to me. Basically a wallpaper sheet of stamps. That also have little glue on the back. And a post handler who refused to except selotaped stamps. (Note: He did eventually except sellotaped stamps, and the parcel did arrive)
A morning at the International Mountaineers Museum brought about a strange sense of what country am I in? A whacking great 350 Rupees for an average museum, in a very German designed warehouse type open plan building. The museum sported average vintage memorabilia from past treks. Old mummy like body suits, oxygen masks and vintage cameras dotted the large area.
There was a nice ecological area. Various endangered creatures were on display and the whole educational theme was highlighted. It was a all a little non-Nepalese. As if some Euro contractor had come in and built it all, and said 'Right, you keep things the way they are, run them my way, and I come back in 5 years to make changes.' It was a good enough display.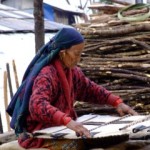 However by far the most impressive display was the multitude of giant photographs that seemed to be used mainly as a means to fill up the huge amount of space the warehouse had on offer. Still, the photographs were stunning. Wide angled vistas of Everest Climbs, base camp tents and lunar like scenery from around Nepal made it all a worth while trip.
Alex went on her way one early morning, and with it I was brought back to being a lone tourist again. It was a signal that it was time to move on soon.
Some related links on this website that  you might like: (including a lot more photographs from Nepal)
Stories: Talika the twelve year old miner from Nepal
Stories: NGO's in Nepal & Developing Countries
Resources: How to Guide – Nepal to Tibet Overland
Resources: How to hire a guide in Nepal
---
Get the best guidebook to Nepal!
---
Liked this page? You'll love my guidebook to Nepal! I cover all of the Kathmandu Valley, Bardia, Chitwan, Lumbini, Everest Base Camp, Annapurna Circuit, Annapurna Base Camp, Mardi Himal, Ghorepani Poon Hill, Dhampus plus side treks to Gokyo and Tilicho Lakes. With day-by-day detail trekking details along with photos of what to expect, extensive preparation chapters, budgets, where to find a trekking guide plus hotel reviews, restaurant reviews, places other guidebooks don't even mention, costs & much more!
It's only guidebook to Nepal with color maps that you zoom right in with!
The book can be read on tablets, laptops or mobile devices & is printable. Quite honestly this will help you more than any other guidebook to get the most out of trekking Nepal.