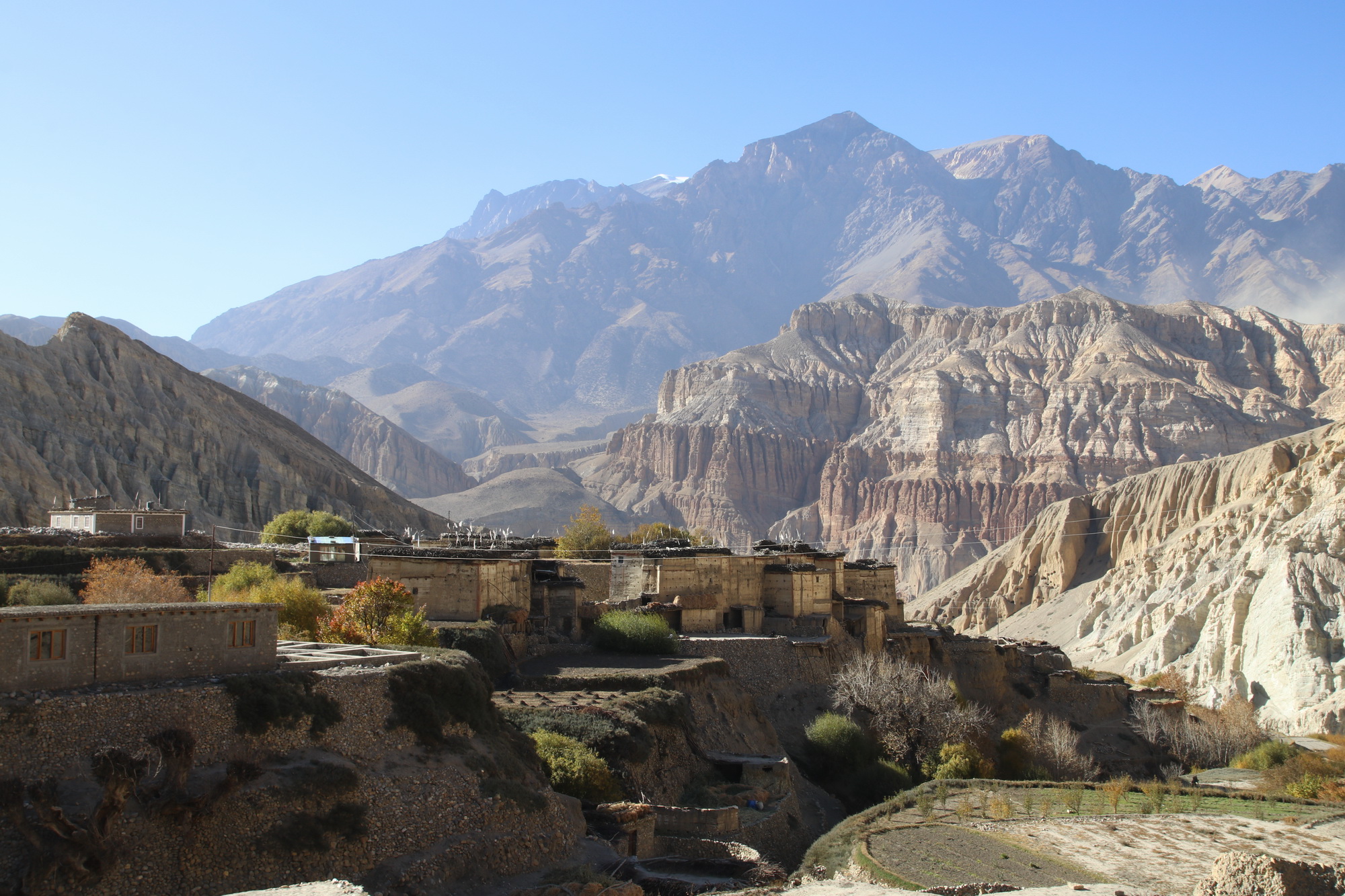 Chhusang to Tetang Upper Mustang
From Chhusang to Tetang Upper Mustang is about an hour, trekking.  After trekking from Kagbeni to Chhusang we trekked to Tetang after lunch. It's a flat trail that's very easy to follow. Tetang is basically to the east of Chhusang's suspension bridge. From the Bhrikuti Guesthouse it's straight out the door, past the om madi pad mi hum wall, past another hotel to the right and straight along the dirt track. One good landmark is the crumbling red monastery perched on the mountain wall to the right.
K has his trekking poles and was already launching himself along the trail. A friendly chap he stopped for a chat as we looked on at Tetang ahead and the sheer cliff face opposite the river dotted with caves.
"I've been coming to Nepal for many years," he nodded. "This is my first time in Upper Mustang, maybe my last.".
I wasn't sure if this was a statement with more to it or just an introductory to show he knew the country.
"I've been coming to Nepal for many years as well," I replied. "I'm not sure there will be an Upper Mustang once they finish this road."
K looked up at with a wizened glint in his eye and grinned. Then he nodded while smiling and making a gruff laugh. We were both here for the same reason. I was glad we clicked. Tetang Upper Mustang here we come.
Kunza Choling Monastery
Seemly torn into the the surrounding hill the Kunza Monastery looks more hill than monastery these days. It's small and perched up high just before reaching Tetang Upper Mustang. Below it is a police station that's meant to check your permits. No sign of anyone and the monastery looked decidedly closed up. The reality is that its gained some fame by housing statues of a Guru Rinpoche along with a Maitreya image. Old and faded wall paintings line its interior.
The monastery had been on my list of places to visit. A worthy inclusion in one of my guidebooks to Nepal for many. However I want more  when researching guidebooks. I find a location and then want to explore beyond it. I've seen, visited and been invited into many monasteries in Nepal and in particular Buddhist and Newar monasteries in the Kathmandu Valley. They are indeed detailed better than anywhere else in my guidebook to Kathmandu Valley Heritage Walks.
On this occasion the Kunza Choling monastery seemed to fall into the shadowed foreground as the sandy village of Tetang nestled into Upper Mustangs valley stone grew closer in the background. There was an air of adventure about Tetang. I could feel something special about the place as we approached.
Entering Tetang
From our point of approach Tetang looked no more than a sleepy village on a raised rocky platform at the end of a wide valley. Pleasant and charming. This seems to be Tetang's natural defense from raiders in the past
In my experience the point of adventure is often well disguised in the journey to discover
We passed an impressive Chorten and an om-mani-padmi-hum wall while we made our accent up to the top of the village where an old mud wall stood crumbling above a path. There was a brightly painted monastery to the right while the wall itself looked like it might have been a part of old Tetang. At one point large chunks of mud brick had fallen through to reveal long forgotten rooms and corridors. I ducked down one narrow path as K moved on.
Beyond the path was a sheer drop to an autumn colored apple orchard running alongside the river below. Across was a vast sandstone colored valley wall speckled with caves. My guide came another way around. We were both looking for the route to the top of the town and the old monastery there. We returned and met three locals by a water pump. My first encounter with the Upper Mustang call of "No photo" before even trying.
The mud citadel of Tetang
The locals were friendly, offered water and were bemused we were looking for a monastery nobody visited anymore. What greater reason to visit I thought. More so, I asked my guide to ask them what this great mud building used to be? A fortress? A monastery or more? The locals seemed confused.
"Tetang" they replied honestly and repeatedly.
A harmless, but curious man with the face of an alcohol hardened life asked more questions of us in return. Not sure of his intent I urged our party forward. Due to my years in Kathmandu we were not accustomed to free talk when alcohol was involved. Strangely the man did not smell of raksi nor did he slur his words. I began to think it was simply the years of open life in this windswept environment that gave him such a look.
We moved on to the end of the path past some cows. Took a left, clambered over some low mud walls and emerged in an open area with a full view of another mud wall from the other side. It all became obvious.
This ancient mud wall was part of citadel.
It was a fortress with a monastery and houses for locals combined. A huge entity that had stood here for hundreds of years as Tetang's protector from the elements. We were standing at a main entrance that crumbled before us into a deep lower portion.
"Let's go!" I beamed.
Inside the citadel
My guide seemed equally excited to make his way down between broken mud walls and into the inner lane within the citadel. One that would have been fully covered with a roof. Today it seems as though time, the elements and a lack of traditional repair are slowly letting the old walls turn to dust.
Tetang's citadel revealed tiny wooden doors leading to still used barns, storage areas and indeed homes. It was still thoroughly inhabited. The man's answer that it was "Tetang" rang home.
We made our way around the citadel and back up to the better kept Tetang monastery at the top of the township. It was locked up and it didn't matter. Asking the locals would have resulted in a long conversation probably resulting in one of them going off to find a man with a key who would then not permit a photo inside. A typical response in Upper Mustang. However, that is not a negative. The highlight was no doubt the citadel, for me at least.
K was also beaming from ear to ear.
"Adventure," he said nodding to himself.
Down to the river orchards and salt mine
We found a steep rock strewn path leading down from the old monastery to the valley below. The opposite side that we came up from. Along the way the old man with the look of alcohol was coming up the path with ease carrying a bag of apples. Confirming directions from him my guide continued down. The man gleefully offered us apples. Not one, but two or as many as we liked it seemed. Indeed, it did seem the sands of time and harsh elements had given him his look and not alcohol. But unlike others in the big cities of Nepal this mans look was not his bite. He was a genuinely friendly man looking for no more than to help and give.
This is one of the pristine reasons I enjoy Nepal. Even though you now need to venture further afield to find it so blatantly honest like in Upper Mustang.
Such kindness from random strangers reminds me of the Nepal of old … it's still found throughout Nepal but in Upper Mustang it still has an innocence to it
We continued down to the river which was much larger than it appeared above. We struggled to find a crossing point so without doubt this route would be closed in the monsoon season. K used his trekking poles and lightweight body to literally pole-vault over the river. Again, impressive for a man in his mid-seventies to say the least.
We passed the river orchards guarded by unseen but heavy sounding mountain dogs and mud walls. At the end of the valley as it narrows into a gorge is the Tetang salt mine. Long since abandoned. It's no more than rock and rubble. The salt itself still seeps out in to the river. Indeed this whole side of Upper Mustang has unmistakable dried up white patches and white salt lines throughout.
The rock caves of Tetang
Heading due west to Chhusang we had one more destination to pass through. The famous upper Mustang caves are not just in one area but throughout the entirety of Upper Mustang. Their history has been told over many centuries with minimal facts. Archaeologists have visited many and come to some conclusions. Geologists and indeed laymen for such surroundings have added further evidence.
Archaeologists have dated some caves in Upper Mustang back 3,000 years. They've uncovered old burial sites within them including human remains and some ritual objects. Other caves have shown clear evidence of recent human habitation. Shelving, interior fires, steps and indeed living quarters. One thing is very clear. The question of how and why did humans carved these caves out of solid rock is answered with ease. As I mentioned earlier these fantastic valley cliffs and mountains are not "solid rock". They are in fact made up of seabed stone, mud, sand and indeed dust. It's very easy to scrape out a hole in them.
It's not hard to imagine human settlers 3,000 years ago discovering this and getting immediate protection from the elements inside these man-made caves. Back then these valleys would have been filled with forests, larger rivers and indeed wild animals. Shelter up high in the caves would have been an ideal location to take advantage of the abundant opportunities below for hunting and for getting near a natural water source.
Exploring the caves of Upper Mustang
We scrambled up loose round stones the size of tennis balls which gave way to smaller stones that slipped like marbles of ice beneath us. We were heading up to the caves which were further and more difficult to reach than they seemed. Hundreds of feet above in the valley cliff face tiny black specs of seemingly impossible to reach caves peered down at our attempt. How did people 3,000 years ago live so high up with no obvious means to reach the cave entrance?
The answer to this question has been asked for archaeologists and historians since the caves discovery. Once you enter the lower caves some of the answers become obvious. People built steps leading up to another level within the cliff face. The cave openings and their initial purpose seems to be simply to let in light. Or, quite possibly to allow people to dispose of items within the caves with ease.
Thinking back all those thousands of years ago and indeed to a few hundred years the sheer scale of the caves infrastructure is akin to apartment blocks . When you see these cave openings hundreds of feet in the air there may well be a labyrinth of tunnels, chambers and stairs behind the valley walls. A fascinating and very possible reality given my later cave exploring near Lo Manthang where this is all but confirmed.
I'd like to add in one more concept that I've not come across and indeed witnessed not just in Tangbe but in other parts of the world. There is also the possibility that some of these caves could also have been linked with wooden platforms, bridges and steps outside. One look back at the Tangbe fortress and something very similar already exists there. These wooden platforms are bonded by rope into something akin to large scaffolding like structures and so it would have been very easy not to mention quick to traverse across the cave settlements. Fetching water, fishing in the river below and washing would have been made easier too. It's certainly not unimaginable.
Back to Chhusang
Our first full day in Upper Mustang exceeded expectations by far. Indeed it still holds a wonderful memory for me. Moreover these caves, mud fortresses, monasteries and citadels scour all of Upper Mustang. To explore them up close like this was an excellent introduction. It's with hindsight I can declare that further cave exploration would confirm some of the findings I wrote here. We'll venture to these places as well during this trek in Upper Mustang.
It also introduced a new facet to exploring Upper Mustang I'd not read anywhere else. Mud fortresses and medieval citadels. Few have written about them nor there history. Old buildings do not capture Nepali guides excitement as much mine. They are used to taking touristd to monasteries and mountain photo spots. It may well be time to break the mold and explore new facets to trekking in Upper Mustang!
As we arrived back in Chhusang by late evening K and his 75+ years looked happy with our outing this afternoon albeit he did also look as if he was on his last legs. We pondered if he'd make it much further. It was then my guide pointed out that tomorrow would be one of the longer days on our trek. Moreover he pointed out it would be one of the harder day of trekking too as if to say we should have been back earlier to rest.
Guides have tendency to say such things to either spur you into an early nights rest or because tomorrow really is going to be a tough day. Sufficed it to say, it was going be the latter as I had written down that a visit to a cave monastery high up on a valley cliff face should be a nice challenge.
The following links about Upper Mustang may help you:
---
Get the best Trekking guide book to Nepal!
Liked this page? You'll love my guide book to Trekking in Nepal! It covers over 28 treks in detail including:  Everest Base Camp, Gokyo Ri, Three Passes, Langtang Valley, Gosaikunda, Ganja La, Manaslu, Tsum Valley,  Annapurna Circuit, Annapurna Base Camp, Annapurna North Base Camp, Mardi Himal, Ghorepani Poon Hill, Khopra Danda, Mohare Danda, Muldai, Dhampus,  Panchase, Dhaulagiri, Upper Mustang, Nar Pu, Muktinath & more. Plus popular day hikes including Shivapuri,  and Kaskikot. With day-by-day detail trekking details along with photos of what to expect, extensive preparation chapters, budgets, where to find a trekking guide plus the costs & much more!
It's only guide book to Trekking in Nepal with color maps that you zoom right in with!
The book can be read on tablets, laptops or mobile devices & is printable. It's also available in paperback with full color print. Quite honestly this will help you more than any other guidebook to get the most out of trekking Nepal.