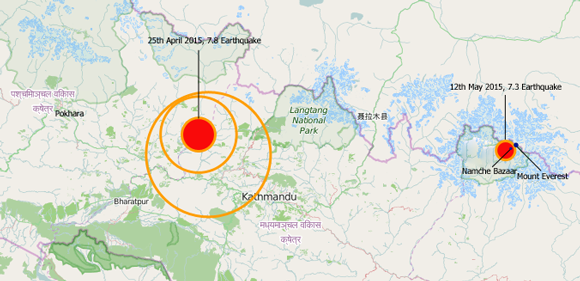 A second major earthquake has shaken Nepal
On Tuesday May 12th (12:35 local time), just over two weeks since the first earthquake, a second major (7.3) earthquake hit Nepal. The earthquake struck in Kodari about 22 kilometres southeast of Zham in China along the Nepal border.
Areas such as Namche Bazaar and Everest Base Camp are also directly affected. It was 83 kilometers from Kathmandu city which suffered more collapsed buildings and fatalities.
Shocking images from Dr Lalit flying over Namche as big #EarthquakeInNepal happens today pic.twitter.com/hs3R91uTKc

— DOCTORS FOR NEPAL (@DoctorsForNepal) May 12, 2015
Namche Bazaar is an old trading route between Tibet and Nepal. It's also one of the major stopping points on the way to Everest Base Camp.  The earthquake was felt in Kathmandu where several already damaged buildings collapsed. Electricity was cut off and all of Nepal's telecoms became jammed. So far casualties in the major cities have been relatively minimal.
Nepal was on the road to recovery
Nepal was well on the road to recovery after the previous earthquake. International & national aid was reaching remote villages and unsafe buildings were being taken down. Nepalese people were returning to their normal everyday lives when the second earthquake hit.
Minimal deaths in the city but the villages were hit badly
The second earthquake occurred in the afternoon of a normal business day. People were inside buildings that had already passed inspection and the previous earthquakes might. Casualties in Kathmandu city, Bhaktapur and Patan were minimal. Though there were deaths in each city none went over 40 65 115 reported dead. Injuries reported to hospitals were higher in number at 1,117.
In the villages of Kodari district it is a different story. They were largely spared from the previous earthquake. They are now at the new epicenter. Landslides and casualties have been reported.  Dolokha is reporting a school collapse. US Ospreys and other choppers flew within the hour to Ramechhap.  Numbers of casualties may be a far less than the 8,500+ people killed in the previous earthquake but the long-term devastation to the Kodari district may be worse.
Here's a video we have just received from @redcrosscanada near Dhunche, #Nepal, after today's #NepalQuake. pic.twitter.com/R82VlU4PLs — IFRC (@Federation) May 12, 2015
International aid is already at work
Most international aid organisations are already in Nepal on the ground. There are still rescue teams there. With such equipment and aid at the ready rescues and casualties will hopefully be kept to a minimum.
The remoteness of the villages and the terrain makes the operation difficult.  What's more the monsoon rains will soon be here making life even harder.
Earthquake magnitude explains why this is less powerful
The previous earthquake measured 7.8 according to the Moment Magnitude Scale (MMS). The latest earthquake was measured at a 7.3 magnitude.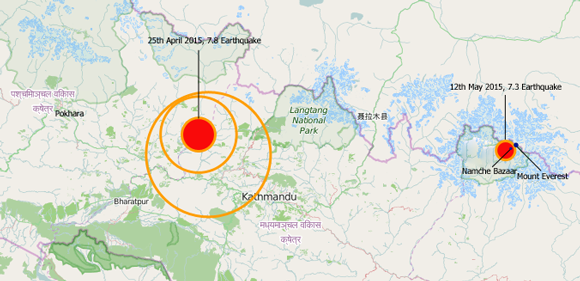 Although those numbers may seem close the latest earthquake is about a fifth of the power that was experienced with the first
"Richard Luckett, a seismologist with the British Geological Survey, said: "It's a logarithmic scale, so magnitude-4 is ten times bigger than magnitude-3." In the case of the latest Nepal earthquake, Luckett said, "because it's about half a magnitude smaller it's about a fifth of the size." (source)
That does not take away from the fact that this was a 7.3 magnitude earthquake that's classed as major. It also does not take away from the fact that it hit a remote area. Technically this earthquake is actually a very strong "aftershock".
Much like Langtang in the first earthquake which was obliterated to the point of only one damaged house remaining hope for Kodari is on a razors edge.
Will there be another earthquake?
Who can tell or predict when natural disasters will strike? No one. Nepal's two in a row is not unprecedented. There is scientific evidence that suggests why it happened.
After the first earthquake scientists believed there was still a lot of seismic pressure that had to be released as the tectonic plates settled. Now with the second earthquake it seems this is exactly what happened.
Hopefully now that the pressure has been released that will be it. Nepal is on a fault line though and reconstruction in the modern age must include earthquake resistant engineering and materials.
Update 13th May: Good news from Namche Bazaar. Though a few houses did collapse the majority survived. Likewise along the Everest Base Camp trail. Here are photographs from Namche Bazaar after the earthquake by the Annapurna Post (Nepalese).
The Annapurna mountain range is still open to tourists and there are tourists trekking safely in that region. The Everest Base Camp trek is currently closed as is Langtang.
A US helicopter that went missing yesterday is still missing despite occasional reports stating that it was found (update: the helicopter is still missing – source).
Airlifts continue to bring the injured down from the Kodari region to Kathmandu for treatment in hospitals there.
In the Kathmandu Valley controlled building razes continue for the protection of those around them.
Rebuilding has already begun in some areas.
What you can do to help
It's just like a few weeks ago but all over again. Don't let the smaller numbers make you think it's better. Langtang was wiped out in the previous earthquake while big media focused on Kathmandu. Namche Bazaar and others in the Everest and Kodari regions are facing the same fate this time.
Kathmandu International Airport is open to aid flights and they are arriving. The roads around the Valley and villages to the north are severely damaged and this is the main concern: delivering aid where the roads are destroyed.
Airlifts and drops will be needed now more than ever.
Nepal Red Cross: the website is down. Probably best to use international red cross below (2017 update: please read about the Nepal Red Crosses post-earthquake spending before making a donation).
International Red Cross: cornerstone providing immediate aid to Nepal
Save the Children: providing relief to children & families
UNICEF: providing relief to families
CARE: providing food and shelter
Oxfam: clean water, sanitation and emergency aid
Handicap International: providing aid to the disabled in Nepal and to hospitals
PayPal Donations: PayPal have waived fees to donations.
Doctors Without Borders: sending medical aid
Disaster Emergency Committee (UK): Brings 13 UK aid based charities together to send assistance
Médecins Sans Frontières (MSF): International medical and humanitarian aid
Local help:
Backpackers for Nepal relief fund: A group of travelers in Pokhara, Nepal are raising funds for the Nepal Red Cross – you can see photos of them helping here
Resources:
List of places to get food and water in Kathmandu city
List of deaths and destroyed houses throughout Nepal
List of places to get food, water and supplies in different regions: give the page some time to load
List of trekkers missing/found
Skype & Viber are now offering free calls to/from Nepal.
Google missing persons in Nepal list
Nepal police missing trekkers list
How not to help: Let the professional experts do their job unhindered. The best emergency crews, rescue teams and aid teams are either on the ground or on the way. Let them have 100% support by using the above links and not going yourself.
Do not give donations to untrained groups. This is hard, especially if you know people in Nepal who are trying to raise cash to help people locally. Two important factors – 1) Nepal needs expertise which the above organisations are capable of delivering. 2) sadly there are devious people trying to profit from disaster.
Giving financial aid to the respected aid organisations listed above is the best way to help.
Red Cross hospital in Sindhupalchowk, Nepal. @rodekorsnorge reported few fatalites & many casulities after 2nd quake pic.twitter.com/iwXjmRnzZj

— British Red Cross (@BritishRedCross) May 12, 2015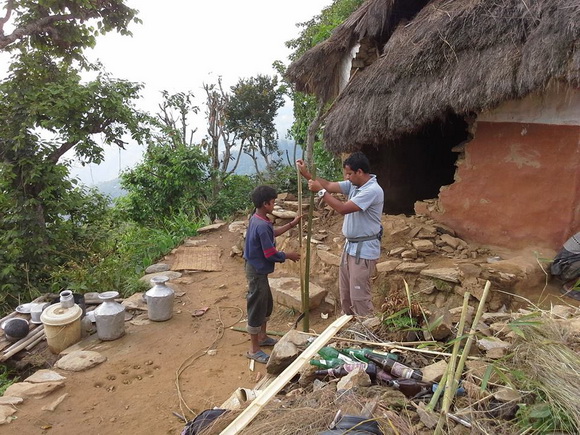 You are Nepal's future
Don't cancel your future trip to Nepal. It may seem heartless now, but Nepal will recover from this second earthquake. Once it does, the Nepalese people will need you.
They are a proud people that don't want handouts forever. They want to work for a living. Officially 8% of the population relies on tourism, unoffically the number is closer to 25%.
Peak season starts in September. All of the Annapurna region is still open to trekkers. As I've already written much of Kathmandu Valley's temples still stand. There's still a lot to see and do in Nepal.
Nepal and the Nepalese people need tourists to return. Yes, right now it is too early. But come September, October, November and December Nepal will be open to visitors again.
It is as a tourist to Nepal that you can help everyday Nepalese people survive for the long term. The news is bad today, tomorrow there is a new dawn.
Updates in the months and years after this earthquake can be found here:
The following articles are also indicative of Nepal's economic "boom" following the earthquake and the link between the events:
More updates on the heritage aspect of the earthquake and the recovery since then can be found on the Digital Archeology Foundation website.
Don't give up hope on Nepal! 
Comments are off, please use the links above to help or if you are planning to visit Nepal – stay tuned!