Where are the best bookstores in Kathmandu?
It's a relative question, but all the answers on bookshops are here. Are you looking for travel books? International fiction (crime, thriller, western, romance etc) Nepali literature or non fiction? Are you a tourist or Nepali? The good news is that Kathmandu still has an impressive amount of bookshops that are easily found!
The not so good news is that these bookshops are disappearing. High rents, low profits and a nation becoming more dependent on the internet mean bookshops in Nepal are under pressure to survive.
This list of bookshops in Kathmandu is primarily for tourists visiting Nepal who are looking to pick something up to read. Whether it's a fictional novel, the latest bestseller, a trekking book, a guidebook or even if you are looking for an old second hand book store – you'll find the best listed here.
The best bookshops in Thamel, Kathmandu
Thamel is the tourist epicenter of Kathmandu. It's where most of the hotels, restaurants and trekking agents are found. So it makes sense that most of the best book shops are found here too!
Bookshops are not listed by rating. We'll do rating's later! Let's just list out the bookshops in Kathmandu first.
Explore Book service
One of the older book establishments in this part of Thamel (right next to Mandala street). They have solid collection of Nepali interest books from trekking, to guidebooks, fiction and non-fiction. They also have magazines and photography books worth a look.
Nepal Book Depot
Nearly opposite is another one of the more established bookshops in Thamel. Nepal Book Depot stocks a good amount of new magazines, guidebooks, Nepal orientated non-fiction, photography/coffee table books along with a nice stock of fiction books as the store extends down the back a little.
Map Centre
Located near the supermarkets opposite Hot Breads is this huge Nepali bookshop which is one of a chain (the largest book chain in Nepal).
They specialize in trekking maps and guidebooks. My guidebook to Nepal is inside here in the bestseller section – so expect a discount if you tell them I sent you in! They also have a huge range of Nepal/Tibetan literature, fiction, postcards and of course great trekking maps which they produce themselves! It's well known that for guidebooks and maps this is THE place to visit!
Vision Books
Located in North Thamel is this old store specializing in rare or out of print books. And they do have them in stock. It's a small collection though, so do ask the owners if they can find you a book if its not on display.
Sagun Bookshop
One of the older bookshops in Northern Thamel. It's a tiny store with wall to wall books specializing in international fiction, non-fiction along with Nepali books and some second hand books. They also have maps, trekking books and a photocopying service. It's worth a look see if you are in this area.
Grand Book Shop
Located further down into Thamel is this book shop with new trekking books, guidebooks, maps, postcards and a selection of photography and coffee table books.
Their "used" books section is dwindling and probably not very profitable but it still there. You can trade in your own fiction books here for a small discount …
Paradise Book Shop
This is one of my favorite book shops in Kathmandu! It specializes in second hand books and every square inch of this store is filled with them. If you can't find what you are looking for they'll find it for you if it exists in Kathmandu.
The owner, Surendra Singh Risal, is hard of hearing. So you'll need to write out what book you are looking. He'll then tell you when to come back and if he's found it or not … yes, it's the last of the great old school book shops in Kathmandu! You can read more here about the nicest bookseller in Kathmandu.  Do pay them a visit, rents have tripled in the past year alone and to be quite honest, they are struggling!
Pilgrims Book House
Probably the most famous book shop in Asia! Pilgrims Book House is a legendary bookshop that made headlines a few years ago when the old location burned to the ground. They relocated down the road and are building back their reputation. I've been there and met with the daughters of the owner who now run it who said the biggest misconception since the tragedy is that they lost all their old books. Many survived!
It's a huge books shop taking on over 3 floors. Specializing in Nepal books, Tibetan books, internatinal fiction and non-fiction along with probably the best place to get childrens school books! Yes, they cost a little more here, but you do get the quality!
Palpasa Cafe
Okay, they are technically not a book shop. But they they have a nice little collection of discounted books i na pleasant environment. They sell Nepali literature and popular international fiction/non-fiction books. The coffee is pretty great too. Find them via my list of coffee shops in Kathmandu.
Summit Book Shop
Another fire brought this classic Thamel Book shop down in 2016. But in mid 2017 they relocated and reopened near Chettrapati. Sadly all of the old books were destroyed.
So what they have now is a new collection of Nepali guidebooks, fiction and non-fiction books. Bravo to them for setting up again after the fire given the current "book economy".
Himalayan Book Seller
Located very close to Chettrapati is Himalayan Book Seller who is a part of the Himalayan Map House book shops. This store has a huge collection of trekking maps, trekking guidebooks, Nepali and Tibtan books along with some historical non-fiction books and one of the largest photobook collections in Nepal.
It's a wide open easy book store to browse though with most of the books being new.
Book and Map Shop
Just up the road to the right is the Book and Map shop. A small corner book shop offering new books about Nepal and Tibet. They also stock alternative trekking maps and have their own small publishing house.
Vajra Books
On the way to Jyatha is this great find of a book shop. With shelves upon shelves of books about Nepal it's worth a trip alone to find out what they have here. Likewise with any Tibetan books or Buddhist books.
They also have a great collection fiction books which are pretty up to dates.
Across the road is …
Vajra Bookshop
Yes, it's nearly the same name but not quite. It's owned by the same family and have a similar collection. If you can't find what you need in either bookshop, just walk across the road!
New United Books
Located close to Jyatha is this old new and second hand book shop. It's the kind of book shop you can get lost in for hours with a well catered catalog of books spanning historic, fiction (murder, crime, romance etc), non-fiction and more.
Again, it's nearly worth investing a few hours in this shop just to pull out some classic out of print or hard to find books!
Mandala Book Point
It's not located in Thamel! But I'd be ashamed not to mention this incredicble book shop along Kantipath. It's got a great selection of classic history books, Nepali literature, fiction and non-fiction books.
If they served coffee here, you might not want to move for the day! They are well known for their academic books which are sought after by Nepali scholars and students alike.
Bookshop
Yes, that's the name of the store. It's located along Freak Street (Jhochhen) and it's all old books here. I'd say many have been here since the hippy era.
So that means there's plenty of hard to find old fiction books to work your way through. The prices are very cheap too and they just about have a book swap system still going.
Himalayan Map House (Basantapur)
Just like the one mentioned above, this is there second outlet just off Kathmandu Durbar Square on the way to Freak street. There's a great selection of trekking maps, trekking books and guidebooks found here.
Book Paradise
Located on the way to Durbar Marg from Kantipath (pass by during my Old to new Kathmandu Heritage Walk in my guide book) this bookshop stocks extensive Nepali literature, and non-fiction books. It's a little out of the way for many, but once you get there you might well enjoy the lack of tourists here along with the extensive collections.
Mandala bookshop Pokhara!
It's been here for years but relocated briefly due to rising rents before it reopened again in 2017 to the main Lakeside area. It's the largest bookshop in Pokhara. They specialize in guidebooks, trekking books, international fiction and non-fiction.
There are about two more bookshops remaining in Pokhara. If you want them mentioned, let me know!
Are there more book shops?
Yes, but I'm tired now, I've been wandering the streets of Kathmandu for hours writing this. All kidding aside there are a few more than can be added and probably will be in due course. If you know one I've left out, then feel free to contact me to have it added.
Likewise, Thamel changes like the wind and so do bookshops and their names. Spot a change? Let me know.
Map of bookshops in Kathmandu
Here you go, a map of all the bookshops in this article!
Where is Nepal's best second hand Bookshop?
I have no doubt recommending Paradise book shop for second hand books. Next up would be New United Books (listed above). Finally try  Sagun, Vision or for a walk back in time "Bookshop" along Freak Street.
Where is Nepal's best book shop for trekking books and maps?
Without doubt, Himalayan Map House either in Thamel or Basantapur (listed above). Likewise Himalayan Book Seller near Chettrapati. They sell everything from in house trekking books you won't find anywhere else and a great  collection of international trekking books.
Where can I buy the best fiction books in Nepal?
Probably Pilgrims, any of the second hand bookstores mentioned and Summit in Thamel.
Where can I buy children books in Nepal?
Pilgrims, upstairs. There's a huge collection of pre-school books and books for children up to their teens. You won't find the latest books, but the collection is good. After that … you'll be hard pressed.
What book shop stocks the best books on Nepali Literature?
Good question. The easy answer is they all do. But if you are trying to specialize then Pilgrims, Himalayan Map House, Vajra or Mandala Book Depot!
Where can I get the best guidebook to Nepal?
Somebody is bound to ask that question! So I'll go ahead and write that you can buy the best guidebooks to Nepal here, however if you are in Kathmandu then nearly all bookshops stock guidebooks to Nepal including my print edition.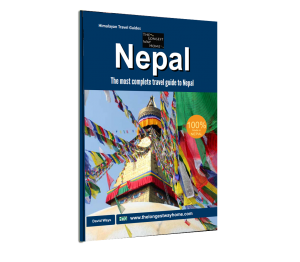 There's an in country 10% discount to my guidebook at Map Centre in Thamel. Just tell them you read that the author at "The Longest Way Home" said you can have 10% off.
Honestly, saying that will work! Or, just show them this website's homepage or logo on your phone.
Finally, if you want to buy the print guidebook and support the author, Nepali publishers and exporters directly you can buy the print Nepal guidebook here or if you are in Thamel, drop me an email and I'll tell you where to go directly to buy the book from a wholesaler (but this will involve a some map reading and leg work – P.S. they also deliver to your hotel).
If you are looking for books for onward travel then Himalayan Map House, Pilgrims, Everest Book Shop, Nepal Book Depot and everything in between generally have a good collection of international travel books for the region!
Speaking of more books …
Need a guidebook right now? Get my digital Guidebook to Nepal & discover more than anyone else!
The most up-to-date, popular and dedicated guidebook to Nepal in the world. Take a look below and you'll find out why!