Coronavirus/COVID-19 facts and figures in Nepal
So far, Nepal has only had a few cases of the coronavirus, now known as COVID-19 (Coronavirus disease 2019). On January 5th a Nepali student entered Nepal from Wuhan (the epicenter of Covid-19). He tested positive to the virus after swabs were sent to Hong Kong for analysis. Nepal closed its land border with China but allowed flights to arrive.
Please note, that all recent updates are at the bottom of this page in chronological order.
As this is an ongoing global issue, please jump to the latest updates below – Nepal is currently in lockdown. 
You can jump to all the updates here and the latest Nepal COVID-19 update here
Why has Nepal got such a low level of coronavirus infections?
Nepal is not alone in having a low infection rate. Indonesia still claims to have zero cases (source: The Guardian). To complicate matters both countries have various rumors stating why they don't have many or any cases. These range in Nepal from being "strong" to high-altitude to already being used to dust in the lungs. Whereas in Indonesia many have claimed it's due to strong prayers. The reality is probably more to do with testing equipment than anything else.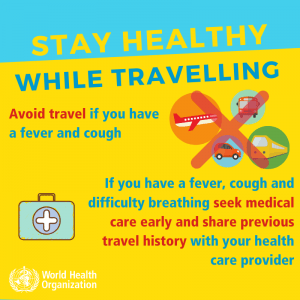 Nepal's medical system is not the best. Hospitals do not have the latest equipment, sanitation systems or even testing equipment. Most of Nepal's viral tests are send overseas for analysis. The same has been said about Indonesia (source: Channel News Asia).
Who do you believe? Personally, I'll go with the vast majority of the world's countries who have shown larger cases and side on the fact that Nepal's screening process is not that good. That said, there does not seem to be any on the ground evidence of flu or cold like systems around Nepal at the moment.
What has Nepal done to prevent the Coronavirus from spreading?
Great question.The answer is delayed and frustrating but the end result is the same as all other countries. For weeks people have questioned why Nepal continued to allow Chinese flights to enter the international airport. There was never a solid answer though most everyone presumes it's to do with keeping the Chinese happy and money coming in.  They have, however, closed the lands borders with China.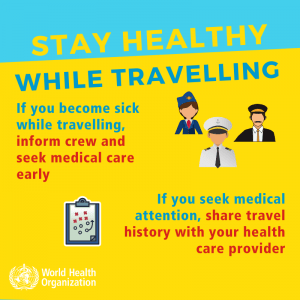 There is now a temperature screening area at the international airport – just like in most other countries.
The main hospitals have been put on alert and staff in some of these hospitals have been trained on the symptoms of COVID-19.
What happens if there is an outbreak of Coronavirus in Nepal?
This is the problem. Nepal is not equipped for any large outbreak. Doctors have stated there simply are not enough isolation wards and beds (source: Kathmandu Post). An evacuation plane carrying non-Coronavirus cases of Nepali from China arrived in Nepal on February 16th 2020. A separate isolation area has been set up for them. In my experience, doctors in Nepal have a firmer grip on reality than administrations. Again, keep in mind so far there doesn't seem to be a large outbreak or any at all in Nepal.
Should you be worried about the Coronavirus when traveling to Nepal?
Any viral outbreak is something to be worried about. The reality is that so far, Nepal does seem to have had only one case and no outbreak. It's business as normal in Nepal though there is complete shortage of dustmasks and handsanitizer. There are no Chinese tour groups allowed to leave China so Nepal is rather refreshingly empty of tourist groups at the moment.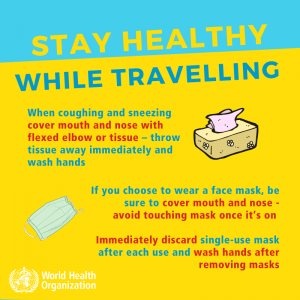 However, if you have booked your flights to Nepal then do keep an eye on the international news for an increase in Nepal. Unfortunately Nepali National News, while improving, is slow, accused of bias, sensationalized, and rarely follows up on news stories. There will be resource links at the bottom of this page.
One of the biggest problems for tourists is if their flight transits through China. You'll need to check with your airline if your flights have been effected. Likewise, bring your own facemasks, handsanitizer, and once again do read the resources below.
It's also about keeping Nepal safe!
One point that's not being mentioned is that you as a tourist also hold a responsibility in keeping people safe. If you have been near someone with the Coronavirus, or been in an area where it is widespread then you may be a carrier of the virus itself. Medical professionals are now stating it can take up 21 days for the virus to show symptoms.
If you even mildly suspect you could be a carrier keep the following in mind. Nepal does not have adequate medical facilities to treat you. If you do bring in the Coronavirus you may be putting the lives of many people without those resources at risk. This is especially true if you go trekking where medical facilities are non-existent.
If you do think you have been exposed to COVID-19 or any Coronavirus please do not visit Nepal until you have been treated at home. 
What are the symptoms of Coronavirus?
Reported signs and symptoms of the Coronavirus include:
Fever
Coughing
Difficulty breathing
Pneumonia in both lungs
How to prevent or get Coronavirus in Nepal?
The Center for Disease Control is recommending the following and it applies to any country at the moment.  CDC Coronavirus prevention guidelines.
Avoid close contact with people who are sick.
Avoid touching your eyes, nose, and mouth with unwashed hands.
Stay home when you are sick.
Cover your cough or sneeze with a tissue, then throw the tissue in the trash.
Clean and disinfect frequently touched objects and surfaces using a regular household cleaning spray or wipe.
Wash your hands often with soap and water for at least 20 seconds, especially after going to the bathroom; before eating; and after blowing your nose, coughing, or sneezing.

If soap and water are not readily available, use an alcohol-based hand sanitizer with at least 60% alcohol. Always wash hands with soap and water if hands are visibly dirty.
The World Health Organisation has the following guidelines for the Coronavirus.
Wash your hands frequently. Wash your hands frequently with soap and water or use an alcohol-based hand rub if your hands are not visibly dirty. Washing your hands with soap and water or using alcohol-based hand rub eliminates the virus if it is on your hands.
Practice respiratory hygiene. When coughing and sneezing, cover mouth and nose with flexed elbow or tissue – discard tissue immediately into a closed bin and clean your hands with alcohol-based hand rub or soap and water. Why? Covering your mouth and nose when coughing and sneezing prevent the spread of germs and viruses. If you sneeze or cough into your hands, you may contaminate objects or people that you touch.
Maintain social distancing. Maintain at least 1 metre (3 feet) distance between yourself and other people, particularly those who are coughing, sneezing and have a fever. Why? When someone who is infected with a respiratory disease, like 2019-nCoV, coughs or sneezes they project small droplets containing the virus. If you are too close, you can breathe in the virus.
Avoid touching eyes, nose and mouth. Why? Hands touch many surfaces which can be contaminated with the virus. If you touch your eyes, nose or mouth with your contaminated hands, you can transfer the virus from the surface to yourself.
If you have fever, cough and difficulty breathing, seek medical care early.
Tell your health care provider if you have traveled in an area in China where 2019-nCoV has been reported, or if you have been in close contact with someone with who has traveled from China and has respiratory symptoms. Why? Whenever you have fever, cough and difficulty breathing it's important to seek medical attention promptly as this may be due to a respiratory infection or other serious condition. Respiratory symptoms with fever can have a range of causes, and depending on your personal travel history and circumstances, 2019-nCoV could be one of them.
If you have mild respiratory symptoms and no travel history to or within China. If you have mild respiratory symptoms and no travel history to or within China, carefully practice basic respiratory and hand hygiene and stay home until you are recovered, if possible.
As a general precaution, practice general hygiene measures when visiting live animal markets, wet markets or animal product markets.  Ensure regular hand washing with soap and potable water after touching animals and animal products; avoid touching eyes, nose or mouth with hands; and avoid contact with sick animals or spoiled animal products. Strictly avoid any contact with other animals in the market (e.g., stray cats and dogs, rodents, birds, bats). Avoid contact with potentially contaminated animal waste or fluids on the soil or structures of shops and market facilities.
Avoid consumption of raw or undercooked animal products. Handle raw meat, milk or animal organs with care, to avoid cross-contamination with uncooked foods, as per good food safety practices.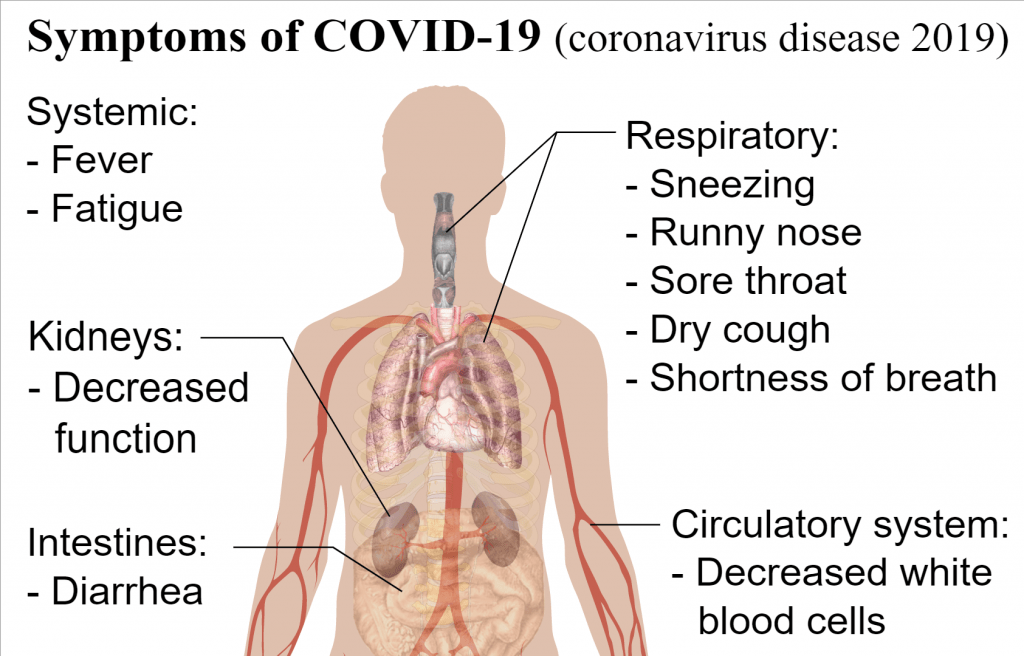 Additional COVID-19 precautions if traveling to Nepal
Keep in mind with the above that socially and culturally in Nepal open coughing and spitting is accepted. However these practices are not recommended by healthcare organisations as they may contribute to the spread of a virus and are hygienically problematic.
There is a shortage of dust-masks and face-masks in Nepal. Genuine face-masks with filters are difficult to get in Nepal at any time of year.
There is a shortage of handsanitizer in Nepal.
Sanitation and good hygiene is not practiced in Nepal so take precautions like washing your hands regularly and avoid touching your face.
In the past few days some medical organisations have said the virus can be transmitted on physical items such as money or paper. So once again, do wash your hands often.
Do bring your own supply of facemasks, handsanitizer and gloves.
Make sure you have good travel insurance for Nepal.
Is it safe to travel to Nepal?
This is for you to decide based on when you are going and if the coronavirus spreads. Take your own health care professionals advice. Keep up to date with the latest news. At the moment, Nepal has had only one confirmed case.
Updates:
March 3rd 2020 Update
On March 2nd 2020 Nepal immigration decided to temporarily suspend visa-on-arrival for the nationals of the following countries, effective from March 10, 2020 until further notice:
People's Republic of China, including Special Administrative Regions
Islamic Republic of Iran
Italy
Republic of Korea
Japan
Those wanting to travel to Nepal from these countries can obtain a visa beforehand from the Nepal Mission abroad (embassy). Applicants in these countries are required to submit a recently issued health certificate with the visa application. Further details can be obtained at http://www.nepalimmigration.gov.np/
On March 3rd the Nepal Tourism Board (NTB) issued the following statement. 
Kathmandu, March 3, 2020
Nepal Tourism Board (NTB) would like to appraise all concerned about the series of measures implemented by the Government of Nepal to reduce imported cases and the community transmission of the COVID19 (Wuhan Coronavirus) in Nepal.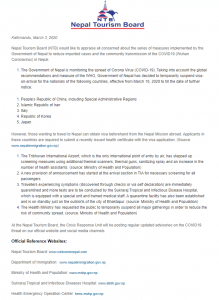 The Government of Nepal is monitoring the spread of Corona Virus (COVID-19). Taking into account the global recommendations and measure of the WHO, Government of Nepal has decided to temporarily suspend visa-on-arrival for the nationals of the following countries, effective from March 10, 2020 to till the date of further notice:
People's Republic of China, including Special Administrative Regions
Islamic Republic of Iran
Italy
Republic of Korea
Japan
Germany*
France*
Spain*
However, those wanting to travel to Nepal can obtain visa beforehand from the Nepal Mission abroad. Applicants in these countries are required to submit a recently issued health certificate with the visa application. (Source: www.nepalimmigration.gov.np)
The Tribhuvan International Airport, which is the only international point of entry by air, has stepped up screening measures using additional thermal scanners, thermal guns, sanitizing spray and an increase in the number of health assistants. (source: Ministry of Health and Population)
A new provision of announcement has started at the arrival section in TIA for necessary screening for all passengers.
Travellers experiencing symptoms (discovered through checks or via self declaration) are immediately quarantined and more tests are to be conducted by the Sukraraj Tropical and Infectious Disease Hospital, which is equipped with a special unit and trained medical staff. A quarantine facility has also been established and is on standby just on the outskirts of the city of Bhaktapur. (source: Ministry of Health and Population)
The Health Ministry has requested the public to temporarily suspend all major gatherings in order to reduce the risk of community spread. (source: Ministry of Health and Population)
At the Nepal Tourism Board, the Crisis Response Unit will be posting regular updated advisories on the COVID19 threat on our official website and social media channels.
#END
*countries added after March 3rd.
Update 10th March 2020
Nepal has added Germany, France and Spain to the list of countries that require a visa before arriving in the country from 13th of March.
I've also found out that the "Certificate of Health" needed to obtain a visa is called a clear NT-PCR test or Real-Time Reverse Transcriptase (RT)-PCR Diagnostic Panel (NT-PCR Test information from the CDC). It should be noted that there's been no confirmation if travelers transiting through the above countries need this test certificate or not. As the certificate is needed at an embassy for a visa it likely to be at the discretion of the embassy. Likewise, it is highly recommended you bring a copy of the certification with you to Nepal.
Update 11th March 2020
Nepal has confirmed that "nationals from these countries and all travellers coming from these countries, willing to visit Nepal can obtain visa beforehand from the respective Nepali Missions abroad. Those applicants including the nationals transiting from these countries bound to arrive Nepal are required to submit a recently issued health certificate stating that they are not infected by COVID-19 along with their visa applications. This document will be scrutinized both at the immigration counter at Tribhuwan International Airport and land border entry-exit points of Nepal."
An important point above for many will be that it affects those "transiting from these countries" as well.
Nepal has also confirmed that heath certificates will be "scrutinized both at the immigration counter at Tribhuwan International Airport and land border entry-exit points of Nepal"
Update 13th March 2020
An urgent update has been sent by the Department of Immigration in Nepal.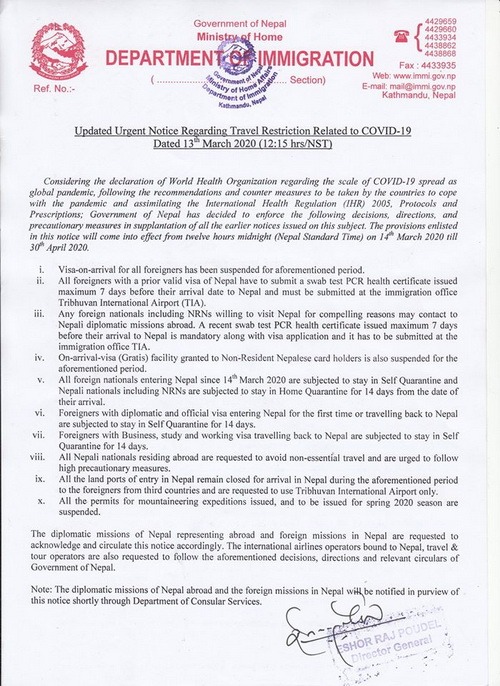 The notice gives the following important facts which will be effective from March 14th 2020 to April 30th 2020.
Visa-on-arrival for all foreigners has been suspended for aforementioned period.

All foreigners with a prior valid visa of Nepal have to submit a swab test PCR health certificate issued
maximum 7 days before their arrival date to Nepal and must be submitted at the immigration office
Tribhuvan International Airport (TIA).
Any foreign nationals including NRNs willing to visit Nepal for compelling reasons may contact to
Nepali diplomatic missions abroad. A recent swab test PCR health certificate issued maximum 7 days
before their arrival to Nepal is mandatory along with visa application and it has to be submitted at the
immigration office TIA.
On-arrival-visa (Gratis) facility granted to Non-Resident Nepalese card holders is also suspended for the
aforementioned period.
All foreign nationals entering Nepal since 14,h March 2020 are subjected to stay in Self Quarantine and
Nepali nationals including NRNs are subjected to stay in Home Quarantine for 14 days from the date o f
their arrival.
Foreigners with diplomatic and official visa entering Nepal for the first time or travelling back to Nepal
arc subjected to stay in Self Quarantine for 14 days.
Foreigners with Business, study and working visa travelling back to Nepal are subjected to stay in Self
Quarantine for 14 days.
All Nepali nationals residing abroad are requested to avoid non-essential travel and are urged to follow
high precautionary measures.
All the land ports of entry in Nepal remain closed for arrival in Nepal during the aforementioned period
to the foreigners from third countries and arc requested to use Tribhuvan International Airport only.
All the permits for mountaineering expeditions issued, and to be issued for spring 2020 season arc
suspended.
Update 17th March 2020
A new letter from the Department of immigration states that all trekking permits for restricted areas in Nepal are no longer being given due to the COVID-19 situation in Nepal.
Do note the letter is backdated to March 11th and is applicable from March 15th onwards. There is no indication that any National Parks are suspending permits.
I would caution any trekker not to partake in trekking during the COVID-19 outbreak – even if you've been in the country for several weeks or months. From what I can ascertain, Nepal has a low level of testing kits for COVID-19. Asymptomatic (no symptoms showing) transmission may be occurring in the country. Coming from a large city like Kathmandu or Pokhara and trekking into remote villages with little to no medical resources would be irresponsible at this time.
Update 18th March 2020
From midnight (Nepal time) on Friday the 20th of March Nepal will close it's borders to all tourists. This includes all arrival flights and also includes Nepali citizens.
Indians and Chinese are still allowed to cross the borders …
At this time, if you are in Nepal, as a tourist, do note that Nepal allows up to 5 months for tourist extensions. I am asking if there will be leeway for those whose visas are passing 5 months considering the international airlines are slowing down and transits are difficult.
I would also encourage all tourists in Nepal not to go trekking at this time. Nepal lacks medical facilities in the mountains, including simple things like paracetamol. There's generally a much older population in the mountains and they are more susceptible to COVID-19. This virus can be asymptomatic – meaning you can carry it without being sick. Please protect the wonderful people in the mountains by NOT visiting them for now. They will be fine! Most live sustainable lives by farming in these areas. They won't be fine if there's a viral outbreak in their village.
This is a historic time across the planet. Never before have we faced an enemy like this. We need to stay apart, to stay alive. Consider this your call to a war like no other before. This is history, be on the right side of the battle lines.
Update 20th March 2020
In a historic announcement NTB have suspended TIMs permits, thereby effectively suspended trekking in Nepal.
This effectively ends trekking in Nepal until further notice.
Once again, I strongly advise and tourist, domestic or foreign, not to go trekking in Nepal at this time. There are many older people living in villages with no medical supplies or centers at all.
Update 22nd March 2020
It has been announced that from 6 am 22nd March till 6 am on March 31 there will be a complete lockdown of Nepal.  This means nobody is allowed out unless it is to buy essential food or medical supplies. Tourists are included.
Nepal Tourism Board have announced the following hotline numbers for tourists stuck in Nepal and trying to get out.  Kathmandu 9851254666. Pokhara 9856022287. Chitwan 9855062052.
There are many international flights no longer servicing Nepal. If you are in Nepal and trying to leave, it is highly advisable you call your Embassy first and the airline. There have been several flights that have been cancelled after bookings have been made. You should also consider transit airports and if they have restrictions. Once again, do co-ordinate with your embassy. Hotels in Nepal can arrange private transport to the airport for tourists only once the flight has been confirmed.
An offical second COVID-19 has been discovered in Nepal. I will not be doing a continuous count of cases here. There are many online COVID-19 counters around the world. Nepal currently lacks testing kits so the data would be askew.
Update 25th March 2020
Stranded in Nepal? Hundreds of trekkers are coming out of treks during the lockdown and are unable to get back to the main cities. Currently there is approximately 119 trekkers in or around Lukla with an estimated 400+ more on the way down from Everest Base Camp. Similarly on the other-side of Nepal there are many more trekkers stranded in Jomson.   In between  these major trail heads there are likely to be hundreds more trekkers who are unable to secure transport back to a major city.
If you are one of these trekkers please read the above updates to familiarize yourself with that's going on. At the moment Nepal is in a national lockdown until March 31st. All flights have been suspended. You are advised to contact your Embassy for advise along with contacting the Nepal Tourism Board crisis hotlines – Kathmandu 9851254666. Pokhara 9856022287. Chitwan 9855062052.
NTB and TAAN are aware of the situation and are trying to coordinate safe passage back to a main city. At this time trekkers are being asked to continue paying their own way in regards to accommodation and meals. You may want to contact your travel insurance company in light of this too.
It is important all tourists, including stranded trekkers, obey Nepali officials at this time. There is both a national and international crisis unfolding and officials are following directives as they have been handed out. Social distancing is part of this and adding to the confusion in getting people back to a major city – if it is possible. It is important you follow officials instructions and avoid any conflict or independent initiatives otherwise you may face detention or arrest. There's no need to panic! Across the world right now there are many tourists in similar situations. Keep calm, follow online if you can, and call the above numbers along with your embassy.
There is now hashtag you can follow on twitter called #strandedinNepal. Similarly you can follow or reach out to @strandedinnepal on Twitter.
Here is a list of embassies in Nepal. Here is a list of airlines in Nepal.
Contacts in Nepal:
Nepal Tourism Board Crisis Number +977 9851254666
Nepal Tourism Board Crisis Email: [email protected]
Department of Immigration Kathmandu +977-01-4429659 / 4429660
COVID-19 Hotline (8am – 8pm – Nepali Time) +977 9851255839 / 9851255837 / 9851255834
Tourist Police +977 14247041 (domestic 1144)
Nepal Police +977 1 4228435 (domestic 100)
Sukraraj Hospital (Teku / Kathmandu) +977 1 4253396
Gandaki Hospital (Pokhara) +977 61520067
—
Nepali media and news outlets have been writing inaccurate and unconfirmed articles about the visa on arrival situation over the past few days. The above information is correct.
Update May 4th 2020
Rescue flights for stranded tourists continued throughout April.
Nepal continues to how low levels of COVID-19 transmissions with zero reported deaths and only 75 confirmed cases. The country is squarely in the statistic of places that have not been medically devastated by the virus. Scientists around the world are still investigating why this coronavirus has had a huge medical toll on some countries and not others.
Nepal has continuously extended its lockdown with the current one ending May 7th 2020. It's highly likely some form of continuation or phased exit from lockdown will emerge.
For tourists in Nepal or those that remained one way or another lockdown continues too with no exception. Food stores and markets are opened during certain hours (depending on location) throughout the country. Visa offices have been closed with notification that visas will be renewed for those "stranded" in the country.
I've been receiving emails from people wanting to know if they can book their holiday in Nepal come the next tourist season. My answer to this is, nobody knows yet. At the moment, like in many parts of the world, the news headlines change daily and often have apocalyptic style headings. The latest is that hotels in Chitwan will remain closed until November … However the real answer is that those who wish to close to save money may do so. There's a big difference in the news headline and the reality. Why November? It's peak tourist season and also Dhashain (Nepal's go home for 10 days and largest festival).
The reality is nobody knows but we should remain optimistic. If you were or are planning to visit Nepal in upcoming peak season this is how I would do it. 1) see how the restrictions in your own country are going re international travel. 2) see what airlines are operating and if you are allowed to transit 3) see if Nepal has any restrictions on incoming tourists – I'll post them here when they re confirmed and in my Nepal visa page.
For now, just like everyone else, hold tight! Things are easing around the world and it's important we remain optimistic. Personally I would guess that by July we'll know if we can book flights to Nepal or not. Or at least we'll have a clearer indication on when things will be opening up!
Update May 31st 2020
Nepal announced an extension of their lockdown until June 14th 2020 and no international flights until June 30th. It's now apparent that these extensions are happening every two weeks. As above I personally don't see things moving until July at the earliest.
Internally the lockdown is starting to turn in the sense that many people are questioning its use in terms of contact tracing. Couple that with returning overseas workers who are coming in through the open borders and more doubts are being cast. Numbers of infections and deaths remain low according to official statements. Again, there's a lack of testing kits and certainly a lack of widespread testing facilities.
Stranded tourists on the ground in Nepal are generally reporting that daily life is continuing well. There doesn't seem to be a shortage of food or medical supplies at all. Naturally there is huge concern over local people not being able to work or for those without enough money to buy food or pay rent. There's been an upsurge in Chinese business type making inquires into renting large amounts of land and taking away properties rented by Nepali citizens.
There's also been concern from stranded tourists who are worried about visa extensions. The Nepal immigration department have not resumed work yet. At the moment they have said all tourists who cannot extend due to the lockdown will be fine and can extend after the lockdown. However, it's after the lockdown tourists are worried about. If international flights do resume will tourists be have the "lockdown" days on their visas removed or restarted? At the moment you can stay for 150 days in Nepal per year. Some tourist are soon to reach that number. The issue has been raised and will likely be addresses. There's no indication on an answer as of yet.
Hold on until around June 12th for the next update!
Update June 9th 2020 (phased easing of lockdown in Nepal)
Although it's not been "officially" announced, all signs are pointed towards a 5 phase easing of the lockdown in Nepal. Please take the following as hearsay until it is officially announced, though for some it may be a good indication on planning trip.
June 15th – department stores, corner provision shops, gas depots and drinking water supplies will open. Construction sites and banks can open. Restaurants will be allowed to have home deliveries.  Domestic flights to start at 40% capacity. Car traffic allowed.
July 1st –  Factories and small industries allowed to open. International non-recreational flights can start.
July 15th – Districts are allowed to open.
August 15th – Colleges, gyms, hotels, bars allowed to reopen. Recreational International flights allowed to start.
Once again, the above has not yet been confirmed. I'll update here when they are confirmed. The above dates are subject to change as are the restrictions.
It seems like mid August is when Nepal is planning to restart the tourism sector. Last week the International Airport was cleaned up a bit with social distancing circles placed in key areas.
There have been no indication if international tourists are required to have any medical checks before or upon arrival. These steps have yet to be announced.
While the above is slower than many people would like, it may speed up a little as many businesses have started opening up on their own despite the lockdown. Tourists who remained in Nepal will likely be at the end of their visas once Nepal opens up. Nothing has been announced about visa extensions. June 15th is the likely start date of the Immigration services in Nepal though an announcement may not come for a while.
Given the fluid nature of the pandemic and that the above is not yet official I would advise not to book any flight yet. I would wait for the above to be confirmed and for any restrictions to be announced. This is likely to happen around the 1st of July. In the meantime, I'll keep things updated here.
Update June 17th 2020
Earlier in the week Nepal immigration began to charge tourists overstay fees. On the 17th of June they announced that tourists stranded in Nepal during the lockdown will not be charged for their visas or any overstay fines within 15 day of international flight starting again.
Full details in this letter and at http://www.nepalimmigration.gov.np
Update July 25th 2020 (Nepal opens up again … )
Nepal has announced that it will open up again to international tourists on August 17th 2020. However, there's no reason to get excited just yet as zero details have been announced. Nobody knows what the entry requirements are. Nobody knows what flight routes will be reaching Nepal. Nobody knows more than Nepal will open up on August 17th.
I'll update again when there is some actual useful information from Nepal about this supposed opening. I would imagine they'll make a full announcement on the 10th of August – one week before opening … or possibly delaying everything again. Meanwhile most of the country is out and about as per normal aside from no tourists.
Update July 30th 2020 (Tourists can come again … )
Nepal has said that visas on arrival will once again be available come August 17th 2020. Details are scarce but so far the following is required.
A COVID-19 test from your home country 72 hours before you depart
A COVID-19 test in Nepal when you arrive (you pay for it).
You'll need to quarantine for 6 days to wait for the test result in a hotel. If the test is negative you can leave quarantine, if it's positive you have to visit a hospital.
None of the above has been "officially" announced. Details are sketchy to say the best. As it become more clear, I'll update here. For now, my advice is hold off on booking anything until they clarify the above.
Update August 13th 2020 (Tourists can not come on August 17th )
Despite announcing August 17th as the date when international flights would start again Nepal postponed the resumption of flights. The new date is September 1st … don't rely on it is the unfortunate reality.
If you've read all my updates above you'll note I believe September is a more likely candidate for Nepal opening up. However, given the intense lack of information or rather unclear arrival protocols it may not even be the first week of September. If indeed September is announced as the resumption of flights and tourism there are still no guidelines so nobody knows what to expect.
Sadly the best advice I can give is to hold off until you know what Nepal requires in terms of quarantines or not. I'll update here once this information becomes available and official.
Update September 1st 2020
Despite "language"  indicating Nepal would resume commercial flights from the 1st of September the reality is there are no flights for tourists. The flights being reported by Nepali media are repatriation flights for Nepali nationals.  There are no flights for tourists.
Domestic flights are meant to resume on the 17th of September … but not guaranteed. Kathmandu and Pokhara are currently in lockdown.
Update September 22nd 2020
There's been an unofficial announcement that Nepal will open to tourists and trekking on October 17th 2020. Despite many travel agents and Nepali media saying this will happen there's been no "official" acknowledgement of this happening. The reality is a minister of government said this in passing and it's being hyped. Once again, October 17th has not been made official, yet.
What has happened is that on September 17th domestic buses and flights were allowed to resume.
COVID-19 like anywhere else in the world at the moment ebbs and flows in Nepal depending on testing centers, testing availability, and testing logistics. Accurate it is not. This could mean, like anywhere else, a lockdown could be announced again at short notice. What has happened is that internal Nepal has realized just how much revenue is being lost with being in lockdown and with no tourists. Hence the sudden push to open up.
At the moment October 17th is being touted as the day Nepal opens up to tourists again. The reality is there's nothing in place in regards to what tourists need to know before making plans. There's nothing official about a 14 day quarantine, or a zero day quarantine. If it helps, my sources say that all tourists will need a PCR test 72 hours before entering Nepal, there will be no quarantine, but for Everest trekkers the Solukhumbu region also wants a PCR test for all incoming flights. Again, this is an inside source and not official.
Latest COVID-19 Update from Nepal:
COVID-19 Update September 29th 2020
Nepal has announced the following protocols to allow tourist entry into the country.  It's important to note that the following is only applicable to trekkers and mountaineers via a pre-booked trek or mountaineering expedition.
Visas must be acquired at a Nepal embassy in your home country (in other words, no on arrival visa)
Tourists must self isolate for 7 days in a Kathmandu hotel on arrival with proof that the hotel has been booked
Travel insurance covering COVID-19 must be purchased and cover up to 5,000 USD
A tourist must book with a trekking or mountaineering company
The trek/mountaineering booking, hotel booking and travel insurance documents must be included in your visa application
A Negative polymerase chain reaction (PCR test) must be acquired 72 hours before arriving in Nepal
After 7 days of quarantine in Kathmandu you must pay for another PCR test and if it is negative you may go trekking or mountaineering
If you fail the second PCR test you must remain in quarantine until you pass a PCR test
Again, it's important to note that regular tourists are still not allowed. The above is only applicable to those going trekking or mountaineering.
The above protocols have created somewhat of an uproar within the travel industry who wished for zero days quarantine. The above is also likely to change as per COVID-19 numbers in Nepal.
It is still unconfirmed, but most people are assuming international tourists will be allowed from October 17th 2020. Likewise there are no details if you need a certain type of hotel, or any hotel will do. This is fairly standard in Nepal in regards to a lack of clear information.
Once again, I'll update here once more clarity or confirmation occurs.
COVID-19 Update October 16th 2020: Nepal officially reopens to trekkers and mountaineers
Nepal is reopening to trekkers and mountaineers on October 17th 2020. The above requirements are still needed. For full details please see Requirements to enter Nepal for trekking on October 17th 2020.
As of yet, general tourists are still not allowed to enter Nepal. However it is rumored that Nepal will fully reopen in mid-November with no quarantine needed. Again, this is not official.
COVID-19 Update November 17th 2020: Still no confirmation on tourist visas
Today was meant to be the day Nepal was to re-introduce regular tourist visas. However there has been no government announcement or even rumor of a pending one. This has left many within the industry and those wishing to visit Nepal left not knowing what to do. Given Nepal's past history, it is not a surprise. From what's understood domestic tourist attractions such as cable cars, bungy jumps, museums, and wildlife safaris were allowed to open from today.
Please be warned and alert that there are now many trekking agencies "promising" no problem tourist visas. Unless you and they are following the criteria for trekking and mountaineering visas there's a strong likelihood these are false promises.  Unless you are going with a prebooked trekking or mountaineering group then it is not possible to get a tourist visa. So that means you cannot get a visa unless you are on a prebooked trek or mountaineering expedition.
It's currently the Tihar festival in Nepal so many government sections are closed for holidays which may have delayed things.
With two vaccines now being over 90% effective against COVID-19 and the Oxford vaccine due soon it's time to start thinking about what vaccine is likely to be rolled out in Nepal. There are rumors the Chinese and Russians are bidding to introduce their vaccines before others can. For those planning to visit Nepal, a vaccine of one kind or another is most likely going to be mandatory before being allowed to enter in the future. It's food for thought.
Meanwhile, it's PCR negative tests and quarantines for all. Though there has again been issues with some domestic tour companies promoting domestic tourism in Nepal with none of the requirements being adhered too. Again, there's no official guidance on this.
COVID-19 Update December 15th 2020: Confirmation on tourist visas
Nepal has finally confirmed that stranded tourists in Nepal may extend their visas until the 1st of January which means that technically stranded tourists can extend again until May 2021.
For tourists coming to Nepal the same rules apply as above. You'll need to book a registered trek or expedition and apply for a tourist visa in a local embassy. There are rumors that this has changed. However the rules are not clear. Most certainly Nepali Embassies abroad have not all been briefed on any changes. So take it that you still need to book with a trekking agency and get a visa at a local embassy. Likewise you'll need a negative PCR test and will need to quarantine when in Nepal. For now, visas on arrival are still not being given out.
March 2021 Update
For anybody wondering, Nepal is still open to tourists. As above, the rules remain the same. You need to contact your nearest Embassy for a visa. Unfortunately each embassy seems to be enforcing slightly different rules. The main rule is that you should have a trek booked if you want an visa though not all embassies are enforcing this. You'll also need to fill out an online form from the department of immigration (the embassy will tell you which one). You'll need a negative PCR test before your flight.
No rules have been implemented if you have been vaccinated already. Confusion lies with the visa on arrival which does exist, but only if there is no embassy in your country. In this case you will need to have trek booked before arriving, and contact the nearest diplomatic mission for their confirmation. There have been reports of tourists arriving with only a trek booked and an invitation letter from the trekking company at Kathmandu airport along with a pre approval letter from the department of immigration that allows a visa on arrival. There is a pre approval tourist visa for Nepal now available here.
March 27th 2021 Update
Nepal has announced there will be no more quarantine for arriving tourists. However, you will need to get a PCR test on arrival, and wait for the results in your hotel. Typically these can take 24 hours. Visas on arrival are still not available unless you get a pre-approved letter from a trekking company first.
I'll likely be splitting up this page due to the lengthy updates in the future but I will write here where the updates have moved to etc.
More updates will be posted here as they happen.
In the meantime by all means research your trip to Nepal. You can use my free how to plan a trip to Nepal guide for more. Need more information? Download my guidebooks to Nepal which are the most updated in the world.
Additional Coronavirus / COVID-19 resources
---
Get my Guidebook to Nepal & discover more than anyone else!
Looking for more insider tips and information like this? Get the most up-to-date, popular and dedicated guidebook to Nepal in the world. Over 617 pages & 984+ photographs of every temple listed, daily guides on all the treks listed and so much more.
Take a look below and you'll find out why this beats all other guidebooks!