Kankeshwari is a mysterious temple in Kathmandu that few tourists know about
More than just a single temple, the entire Kankeswari complex is a treasure trove of shrines, statues, chaitya and pillars. It was one of those courtyards I used to enjoy visiting to get away from the bustling crowds of Kathmandu. It was easy to reach as it was near Kathmandu Durbar Square. Only locals come through the area and it is crammed with unique statues and carvings.
Strangely, Kankeshwari never made it into any guidebooks or tourists maps beyond a small dot. Perhaps it was down to the rather unsightly Bagmati river running beside it. That's been cleaned up quite a bit in the past few years. Or maybe it was because nobody knew much about it so why bother as is often the problem in Nepal. It deserves a lot better and has become a cornerstone in my book Kathmandu Valley Heritage Walks – Maru Tole chapter IV.
In 2015 it suffered a little internal damage in the earthquake. Two pillars outside toppled over. But the temple still stood. Over the past year the Kankeshwari temple was rebuilt from the ground up. If you are looking for something special that only local people visit then it's worth a quick detour.
Entering into Kankeshwari
If you enter as suggested in the book via the main entrance you'll descend down some stone steps. It's here that you are at eye level with the temple. Then as you descend it feels as though it is rising up and you get a true appreciation for its size.
The second thing you'll notice are the quiet courtyards lined up with a treasure troves of statues and chaitya. I can only compare it to being a smaller version of Gokarna temple in the sense that it contains so many unique statues you won't find anywhere else.
For years one toppled Garuda pillar literally leaned across many of them. To the left were a dozen niches with statues along a wall. To the right the chaitya continue with some unique statues . This is the direction to the front of the temple which I recommend you start from.
The Kankeshwari Temple itself
As you walk across the compound you'll  be impressed by the girth of the temple. Inside there is no statue only tantric stones representing Chamunda ,a fearsome incarnation of Devi one of the seven mother goddesses. And with this, we instantly know the importance of the temple. On the eighth day of the Dashain festival people visit the temple to celebrate Kankeshwari (Chamunda/Devi).
Built in 1644 CE the temples three gilt copper roofs outside are matched in beauty by the carved roof struts. While outside are a plethora of bronze flags, guardian lions and bells.
It is for this reason that I began writing this article. The temple has indeed been lovingly restored to its original grandeur.
The highlights of Kankeshwari courtyard
Interestingly one of the first statues you'll find in the Kankeshwari courtyard is that of Manjushri. The very founder of the Kathmandu Valley who wielded a blade and cut a mountain that drained a lake so the valley could form.
Next to this is a statue of no other than Dhartimata who we can also discover in Kritipur. Do read about solving the mystery of Dhartimata.
Adding to this is a rare statue of the archer god Ram. While not overwhelming his statue along with Sita and Hanuman form part of very popular rescue and devotion fable told throughout the Kathmandu valley known as Ramayana.
Circling around the temple you'll come across two cremation areas. While not unheard of, its again rare to find cremation sites like this near a temple and not actually by the river. Granted the river is flowing next to the temple but all the same it makes Kankeshwari that bit different.
On the other side, flanked by chaitya, is another most impressive shrine. This one is to Durga and it hosts a huge tree above it. Another similarity to the one in Gokarna.
There's another two rare statues tucked away in opposite corners. A colorful pillar featuring several Hindu gods and a unique statue of a worshiper pouring milk over a Shiva Lingam. Again, something you don't come across that often in Kathmandu.
The heritage walk that never was compared to a better heritage walk
Back in 2016 there was excitement among local residents. Kankeshwari would be part of a new UNESCO heritage walk linking Kathmandu Durbar Square to Swayambhu. The excitement was somewhat dampened when the residents found out they'd have to contribute to this. Ouch! But promises of more tourists visiting and thus supporting the economy muted this.
In 2017 the walk was launched and …. well it promptly disappeared. I remember art students being taken on the launch being somewhat bemused that there wasn't a lot to see on the walk and instead contented themselves with creating murals of local neighborhood heritage and indeed nice drawings of Kankeshwari. You can see some of the street art around Kankeshwari here.
I went back recently to see if there were any signs, maps or nice brass plaques letting tourists know where to go … not a thing. There was only one street mentioning a heritage walk and it's where the student's artwork remains.
Linking Durbar square to Swayambu is indeed nice. However, Kathmandu's heavy traffic  takes away from it as do the long gaps where there's not much to see. There are far better heritage walks in Kathmandu.
Kankeshwari itself is better suited to a closer walk near the old Newar area of Maru Tole where there's something to see every few minutes and there's much less traffic. In fact, this walk contains less traffic then just about any other! This is part of the reason I created it and it is part of my own Maru Tol Heritage Walk in the book Kathmandu Valley Heritage Walks.
Is it worth visiting the Kankeshwari temple?
Yes. The exception is if you have had your fill of temples. Another reason to visit is if you are looking for a quiet place in Kathmandu. Something more "local" than the touristy spots like Durbar Square, but equally close by. Personally I wouldn't go all out to see Kankeshwari without taking in the full heritage walk of Maru tol which is also blissfully peaceful. It's a fun short walk taking you through virtually untouched parts of Kathmandu's side streets with hardly any traffic.
Secondly, if you just visit Kankeshwari temple itself today it's been completely restored.  So again, it's best to mix it in with some other great sites in the area to make the most out of your walk. Including a nearby monumental chaitya, a few hidden Kumari shrines, giant water sources (hitis) and hidden streets leading to an ancient monastery. Once again, there's virtually no traffic in this area or tour groups and you'll get to meet the real residents of Kathmandu! It's also free to enter.
If you are on the way to Kathmandu Durbar Square then mixing this in with a visit to Kankeshari makes for a great hour or so away to discover a place few people know about. That in itself makes a visit worthwhile.
---
Get my Guidebooks to Nepal & discover more than anyone else!
Looking for more insider tips and information like this? Get the most up-to-date, popular and dedicated guidebook to Nepal in the world. Over 617 pages & 984+ photographs of every temple listed, daily guides on all the treks listed and so much more.
Take a look below and you'll find out why this beats all other guidebooks!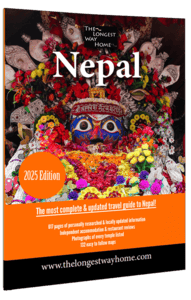 Or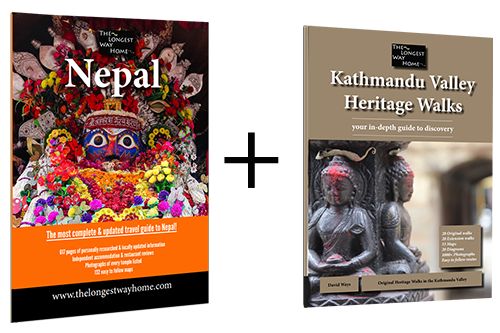 You can get 50% off my Nepal guidebook by getting it with the Kathmandu Valley Heritage Walk book