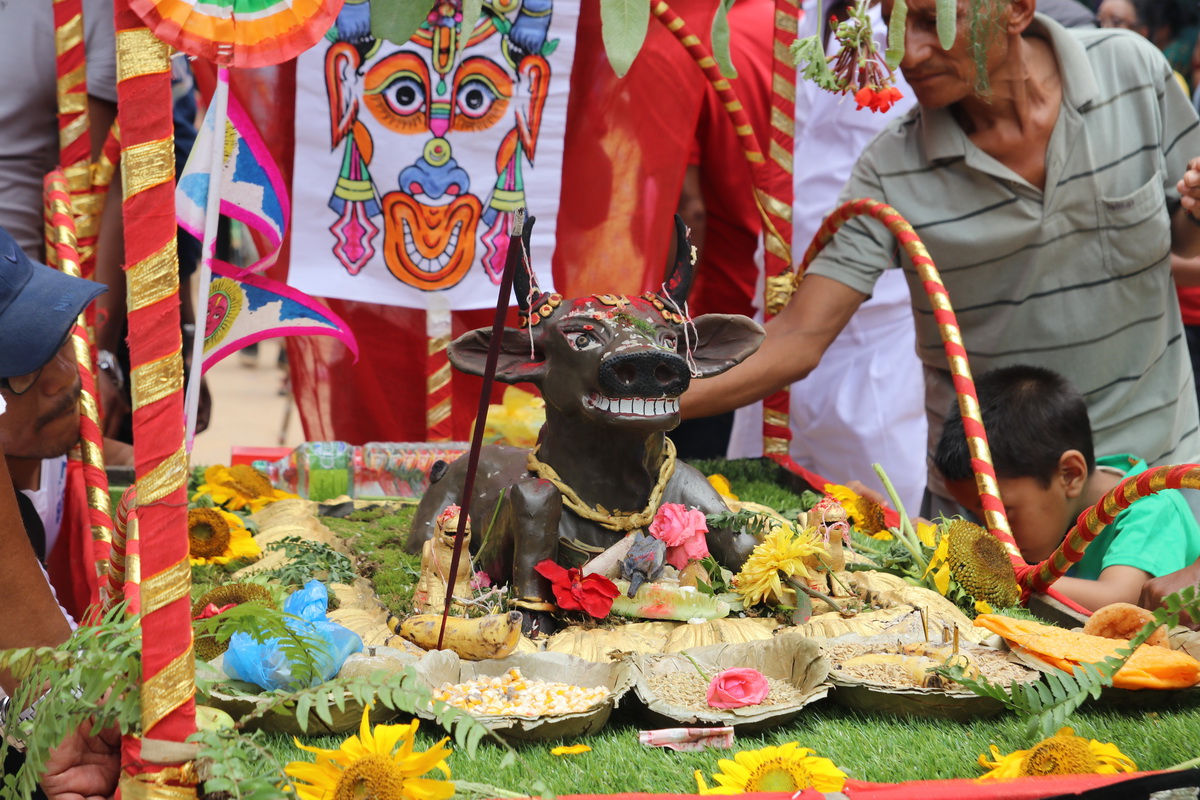 The Gai Jatra festival is the Kathmandu Valley's second largest festival of the year with Kathmandu, Bhaktapur and Patan usually attracting the most festivities. This year I attended the Gai Jatra Festival in Bhaktapur which many people consider to be the best place to experience it. Last year I went to the Kathmandu Gai Jatra festival so hopefully this page will help you decide.
In case you were wondering the largest festival in the Kathmandu Valley is Indra Jatra. Many Nepali will rank Dashain as the largest and in terms of National holiday is it. But Dashain is a family holiday and is not so attractive to tourist. Gai Jatra is however a lot of fun and very interesting for travelers to Nepal.
What is the Gai Jatra Festival about?
Do read more about the Gai Jatra Festival here. In summary Gai Jatra is nicknamed the festival of cows. In reality it's both a festival of the cow which is considered a symbol of the earth and a "happy" remembrance of those that died during the year.
The festivals origins date back to King Pratap Malla's reign 1641 – 1664 when his son died. The kings wife was so depressed even when he tried so hard to make her happy. The king offered a reward to anyone how could make his wife laugh again.
During the "cow festival" in Kathmandu Durbar Square one group of people disguised as cows started to make fun of the rich aristocracy. They made a show of the difference between the rich and poor which ridiculed the wealthy. The Queen burst out laughing much to the kings delight.
From then on the King proclaiming the cow festival to also be a celebration of those that died during the year and also a celebration of fun when anyone cold make a joke about the rulers and rich.
Is the Gai Jatra Festival in Bhaktapur very different to the Gai Jatra Festival in Kathmandu?
Gai Jatra is a Newari festival. So if you ask a Hindu or Buddhist Nepali you will probably be told the best place to go is where they live or Kathmandu.
If you as a Newari Nepali then they will likely say Bhaktapur. Or, if they are from Patan then their home town and the same for Newari people from Kathmandu city.
After visiting both Kathmandu and Patan for Gai Jatra which year I went to Gai Jatra in Bhaktapur to find out for myself. And yes, it is a little different.
Visiting Bhaktapur for the Gai Jatra festival
I had only just come back from Bhaktapur a few days previously when I came down with a feverish cold. I was of two minds to go. I knew it would start at around 10am though a friend told me the precesions started at 5am. Being a little under the weather I took my time in the morning. Had breakfast and jumped on bus at the Bhaktapur bus stop in Kathmandu. 40 mintues later and I was outside the main gate at 10am.
Things were only just getting underway though it's true that some groups start at 5am. I wouldn't be so inclined to go there that early.
Bhaktapur's narrow streets make Gai Jatra there a lot of fun. Processions go in a clockwise rotation from the streets off Durbar Square down through Dattatreya Square and then up to Taumadhi Square. All the while small processions join up in the side streets.
It's a good idea to enjoy the wide openess of Durbar square to get a feel for the festival before braving the more narrow streets.
What can you expect to see at Gai Jatra in Bhaktapur
The first thing you'll likely come across is the most common thing. Groups of people led by children dancing and hitting sticks together. They are followed by adults wheeling memorial palanquin style carts or more commonly a tall bamboo style display with a painting or photograph of the person that died that year.
Even with a fever I found these processions quite manageable, especially in Durbar Square.
The interesting part is that everyone is friendly and happy. That is the nature of the festival. It is an opportunity to leave the sorrow behind and be happy.
Children form long rows hitting these hollow sticks in tune to the common beat of "Ghintang Kishee Twaak". Which means:
People die, but this is not the same as mourning, we will leave that in the past. We need to move on. Not to feel sorry anymore. Let's celebrate the people.
I didn't notice any singing. But certain repetition of drum beats to one tune in particular.
Unique things about Gai Jatra in Bhaktpur
The processions themselves are unique to Bhaktpur and look quite different to Kathmandu or Patan. Another interesting note is that I saw several people dressed as different creatures. Apparently many family members dress up as animals that the deceased liked. So there were a few cats and dogs along with cows!
I also noticed that while in Kathmandu many children dresses as cows in Bhaktapur they stuck more with traditional Newari costumes while adults often dressed up as gods or cows.
There were more children dressed as Shiva and Parvati (Shvia and his wife) than in Kathmandu.
Bhaktapur's Gai Jatra also lasts a lot longer than any other version of the festival. And, as the day went on the crowds just kept growing and growing.
By 1pm the sun was beating down and the streets of Bhaktapur were jammed. I could still get around by venturing off down side streets but the main roads were full of people. Everything is good natured, but there are a lot of crowds.
For most people I would suggest visiting by 10am to 1pm. Similar to festivals in other locations.
If you could choose, which Gai Jatra is better (as a tourist)?
Both the Kathmandu and Bhaktapur Gai Jatras are good fun for a few hours. Especially if you like taking photos, experiencing a local festival and like to have fun. Most of Kathmandu's Gai Jatra happens in Kathmandu Durbar Square where things are a little noisy but fun and good natured.
In Thamel there are a few processions and some very vivid Ladyboy processions – traditionally men would often dress as women for fun but today Kathmandu's Ladyboys have taken this over.
More children dress up as little cows in Kathmandu compared to anywhere else.
In Patan things are similar but it's often crowded and hard to get a place to sit.
Gai Jatra in Bhaktapur is huge and a lot more lively. The processions are loud and more lively. Many are not that colorful though. But this could also be due to the fact that it's so huge compared to Kathmandu's celebration that many people could be spread out.
Is there a best place to see Gai Jatra?
For colorful costumes and only a few hours then Kathmandu. For crowds and a shorter festival then Patan. For color, scale and a full on festival like feel then Bhaktapur.
Even though it's a public holiday, sadly in all cases the local municipalities continue to charge tourists to enter both Kathmandu Durbar Square, Patan Durbar Square and Bhaktapur during Gai Jatra. This is a terrible shame as it's not the best time to see any temples or heritage. Hopefully this charge will be dropped during holidays like this in the future.
How to make the most out of the Gai Jatra Festival in Bhaktapur
Staying in Bhaktapur will help. When you need a break when going back to your hotel will help. Restaurants are surprisingly empty during the festival and there are plenty of places to eat and drink.
Gai Jatra goes on every evening for the next 5 or so days in Bhaktapur. So unlike anywhere else you can also experience local music and dance every evening in each square throughout Bhaktapur.
Once again if you are looking for more information such as when the next Gai Jatra festival is then do visit my page on the Gai Jatra Festival.
---
Get my Guidebook to Nepal & discover more than anyone else!
Find out more about places like this with the most up-to-date, popular and dedicated guidebook to Nepal in the world. Over 617 pages & 984+ photographs of every temple listed, every day on all the treks lists and so much more.
Take a look below and you'll find out why this beats all other guidebooks!