Nepal heads into its fourth trekking season with not much happening
Normally at about this time of year we'd all be gearing up for the peak visiting season in Nepal. It's when the best weather arrives and tourists arrive to soak in the sun, mountains, culture, and lifestyle of the Himalayan nation. This year, like last, everything has changed.
It's been a while since I gave an update on the COVID-19 situation in Nepal, or indeed any update. It's not for want of no interest. It's because very little has changed. I literally sat down the other day to go through updates for my guidebooks to Nepal when I quite honestly had little to update other than restaurants/hotels closing down and new ones opening up. No news is good news. Right?
Well it depends on what you were hoping for. In terms of COVID things are positive at the moment. In terms of tourism things are still non-existent. In terms of anything else … there's a new Prime Minster albeit it's his fifth time as PM. So yes, while we were all hoping for great change or a new normal, Nepal has flipped the term on its head and stayed pretty much the same. Let's find out what you need to know.
Is Nepal open for tourists?
Yes, just like before Nepal's been open for tourists since last October. You'll need a fancy letter from a trekking company via Nepal Tourism Board, a PCR test and a 7 day quarantine to get a visa. But yes, technically it's open. Major airlines like Turkish Air, Korean Air, Malaysian Airlines, Qatar Airways, Singapore Airlines and Nepal Airlines are all functioning with weekly flights. Here's a little more about what you need for a Nepali visa or visa on arrival these days.
If you are vaccinated against COVID-19, with any type of vaccine, at the moment you still need to quarantine for 7 days on arrival. You can however do it a hotel of your choosing. If you are not vaccinated, you'll need to stay in a government nominated hotel. There are hoards of trekking and tour agents saying "don't worry about quarantine, you're vaccinated." Personally, I'd avoid these types.
If a trekking company are willing to have you skip the safety of a quarantine ask yourself what else are they up to?
For the past month we've all been waiting for official government news that will say no more quarantine for vaccinated tourists. It's one of the reasons I've been putting off writing up an update … "tomorrow, tomorrow, tomorrow", is what I'm told. But as we all know, tomorrow never comes in Nepal. I'll update the visa page above when it eventually happens.
Of course the secondary issue many of us have been trying to explain to the deaf ears that make this all change is … don't forget many tourists need to quarantine back home too as Nepal is red-listed in many places. This fact seems completely oblivious to many. Yet it remains one of the main issues surrounding the question "Why is nobody visiting Nepal?".
How are the hospitals? What are the COVID-19 numbers?
I'll spare you the drudgery of official numbers here. Why? Well, the numbers haven't been making sense for a while now. Let's just say that the test, track, and trace regime is not exactly functioning. This is more due to a lack of proper facilities or management than anything else. There are deaths, though many are saying all types of illnesses are just listed as COVID-19 these days and nobody knows for sure. Yes, really. It's all become quite blasé.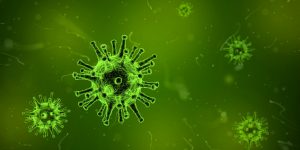 Keep in mind the Delta (Indian) variant that pummeled Nepal back in March and is currently doing the rounds elsewhere hit Nepal way before many other countries. At the moment people are dying, but I wouldn't say hospitals are over flowing. There are some within the tourism industry saying COVID-19 doesn't exist in Nepal anymore – this is garbage. But it certainly isn't pummeling the country as it once was.
The reality about how COVID is doing in Nepal is much akin to how is it doing in your own country. It ebbs and flows.
How is the vaccination program?
While Nepal has had successful vaccination programs in the past, the COVID-19 vaccination program has been quite obscure. Firstly, random pockets of people have been getting vaccinations rather than than the initial roll out of medical staff and the elderly etc. Pressure from certain groups has meant they have got vaccinated in quantity before another group.
Last week it was announced that all of Nagarkot has been vaccinated. I'm not sure why when not everyone in other districts has had a vaccine. Case in point is a guide from Lukla who had to fly all the way to Kathmandu to queue up and get a vaccine. Then wait a month for his second shot. So yes, not everyone in the popular trekking villages have been vaccinated. Despite what some trekking agencies are saying.
The vaccines are also random and the names keep changing. Basically the Chinese Sinovac is the largest one to be administrated while donations of Pfizer, Astra Zenica along with Johnson & Johnson have also been given out.  Vaccine hesitancy is quite low.
Are business open? Are people all starving from no work?
Yes tourism businesses are open, there is no mass starvation from no more work in tourism. If you've been caught out by a guide or person pleading for money to eat because they have no more work, then my apologies upon hearing this. The reality is "resilience". A word thrown around with deliberate ease by many.
The industry has been flattened. But just like in 2015, those large family ties have been the support network for people who've lost jobs. There's a lot of people no longer saving face and simply gone home to live off the land. No they are not earning, but no they are not starving. Much like other countries, it's a case of pivoting to a new approach in life. It is however, not ideal by any stretch of the imagination, and yes there are tragic exceptions.
Now that it's coming into tourist season my phone is ringing more. It's not tourists looking for guidebooks, it's Nepali wanting to know where are the tourists?
I tell them they are not coming. They seem shocked. I explain that nobody wants to quarantine for 7 days. And, that people are only traveling short distances these days. Much like the rest of the world, they take it on the chin. You can almost hear them thinking "Is this over yet? Can we just go back to normal again?"
Again, it's a similar thought process that people around the world are dealing with
Meanwhile, Thamel continues to knock buildings and build new ones as if nothing has changed. The empty streets help the busy construction workers get on with it. It's bizarre to see places opening during such times. There is money in Nepal, we just don't get to see it in ways we are used to. There's certainly a massive discrepancy in the rich poor divide. However isn't that happening everywhere these days? For now, restaurants, hotels and trekking agencies are open albeit with shorter opening hours.
Can I go trekking in Nepal yet?
Yes, but be aware. While you can get a visa as outlined above, not all trekking routes are open! Yes, Nepal's great initiative to let the local authorities run things is causing confusion. Everest Base Camp is open. While the Annapurna Circuit is closed – well parts of it anyway. Tomorrow it might open again. It was closed last month, then reopen for a month. Confusing isn't it? While locals want things open, a local authority might have other ideas. The worst thing is that all this can change at a moments notice if a local authority thinks a COVID surge is occurring.
Moral of the story is yes you can go trekking, just keep an open flexible mind on where you can go trekking in case things change. A good trekking company can manage this at the drop of a hat.
What's the future like for Nepal?
Here is the crux of this article. It's what my first paragraph was all about. As you might have gathered, not much has actually changed in Nepal over the past 2 years. We expected the country to fall flat, it hasn't. We expected everyone to be starving and unrest developing – it hasn't happened.
Things changed last year when everyone realized that COVID-19 wasn't going to wipe out the entire country or indeed world. That's when people started thinking it would be a good time to make changes to tourism in Nepal. Introduce free visas, hotel gradings, public toilets, and improved infrastructure. None of these things have happened either.
The reality in Nepal is that nothing much has changed at all from 2018. That's sad from my own perspective as it tells me Nepal learned nothing from the 2015 earthquake. It's still just bumbling along haphazardly from one disaster to the next. That in itself is not good.
What's Nepal's tourism recovery going to be like?
Wow, that's a question. It's not going to be a big event. It's going to be a slow trickle. As confidence grows in travel and the systems emerging within it people will start to stretch out further and further once more. That's kind of good news for people who have the time to travel long-distance now – they'll have mountains to themselves. Just be aware of inflated prices for a while. No bargains will be had in Nepal – less tourists mean everything goes up for the few that venture there.
Nepal Tourism Board, TAAN and so forth will concentrate on the mass Chinese tour group market once again. Sadly, this is something nobody except the wealthy resorts, companies and agencies want. Meanwhile these same wealthy agencies and companies will be asking officials to only allow wealthy tourists to enter Nepal. These are the people these well connected companies target. The ones who suffer are the genuine guesthouses and family run businesses without such "contacts". This battle of tourist types has been going on for over 10 years now. That's half the problem in Nepal these days.
So yes, it will be a trickle recovery by my estimates. The positive factor in all this is that if you visit, the country is all yours to enjoy before the large groups return en masse. Just keep an eye on my Nepal visa page for when the 7 day quarantine ends and visas on arrival go back to normal.
When will Nepal change?
Tomorrow? The reality is nobody seems to want change badly enough in Nepal to make the big changes happen. I thought the 2015 earthquake would have an impact in making positive changes? It didn't. As predicted, neither has COVID-19.
This can be seen as a good thing by many. It's back to 2018 when you do visit Nepal. As if nothing ever happened. It's bizarre really. Sad in a way. But for those of us who prefer the Nepal of old, it means we get a few more years to enjoy this paradise at the top of the world.
Of course if things continue on like this, we might be reverting back to a time when Nepal was a forbidden land with only a few daring to enter inside. Upper Mustang was once a forbidden kingdom and still is only accessible to a few. The whole of Nepal is a little like that at the moment. Those with time or those with money will reap this reward. That could well be  positive prospect for those of us who like to venture to such places …
---
Get my Guidebooks to Nepal & discover more than anyone else!
Looking for more insider tips and information like this? Get the most up-to-date, popular and dedicated guidebook to Nepal in the world. Over 617 pages & 984+ photographs of every temple listed, daily guides on all the treks listed and so much more.
Take a look below and you'll find out why this beats all other guidebooks!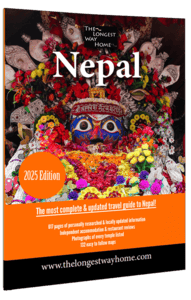 Or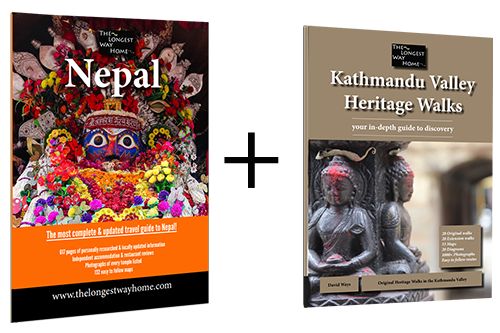 You can get 50% off my Nepal guidebook by getting it with the Kathmandu Valley Heritage Walk book