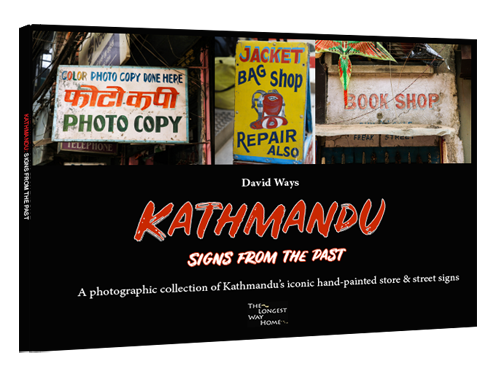 A photographic collection of Kathmandu's iconic hand-painted store & street signs
This coffee table book has been over 10 years in the making. It's a personal project that I enjoyed tremendously. I wasn't expecting to publish it now, but strangely due to the pandemic the cards fell into play. As you know from the news, Nepal is in trouble just like India with the second COVID-19 wave now hitting before vaccines could be fully rolled out. Profits from this book will be used to keep people employed under lockdown. Discount voucher is available below.
For those missing the vibe of Nepal or for those looking for a heartfelt wander down memory lane this could be what fills that missing feeling!
The photographs in this book are ones I've taken of the iconic shop and store front hand-painted signs that cover most of Thamel and around Kathmandu city. It all started as I would head off during my Nepal guidebook research everyday. I'd pass by a wonderful brightly painted shop sign or watch a sign-painter slowly curve gorgeous thick paint into stylish lettering early in the morning.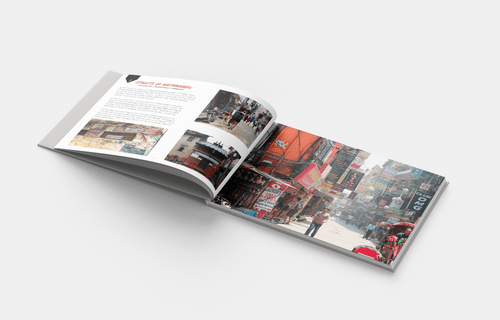 Then as the years moved on I noticed the signs changing from traditional paint on metal to lackluster plastic and tarpaulin signs before now being all plastic or neon lit. The old metal signs and the sign makers went from being essential to being on the verge of extinction. Today these old signs still exist, but their days are limited. This book is a celebration of the iconic hand-painted signs that everyone who's loved Nepal will know all too well.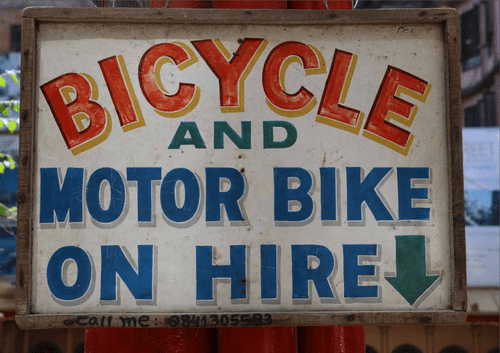 The book that was never meant to be … yet
About three years ago I mentioned to my publisher about an idea I had for a coffee table book. You see, when you visit Kathmandu there are many bookshops there. And in each bookshop there's a collection of coffee table books with big lavish photos of mountains, people or temples. My publisher was keen for more of the same. Which I have oodles of. But I wanted to do something a little different from everyone else.
There's no other book like this about Nepal, Kathmandu or indeed anything like it in other countries. Sign painting is fast becoming a forgotten art. Replaced by computer generated plastic signs and harsh neon lit boards that are quickly taking over Kathmandu. This was a chance to not only document the soon to be forgotten signs, but it is also a part of Kathmandu history travelers from the 70s, 80s, 90s, and 2000s, will surely remember fondly.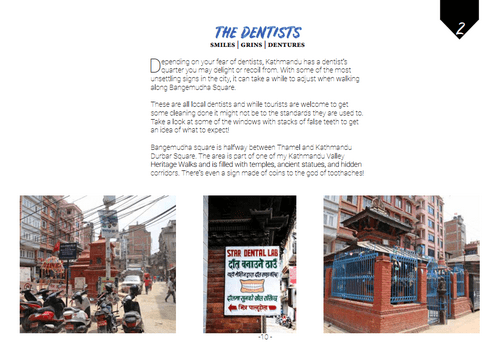 This book is being published ahead of schedule to help people in Nepal
In 2020 – 2021 the pandemic hit and tourism stopped in Nepal. So to did the interest in visiting the country until vaccines become the norm. Sadly in late April 2021 the second wave of COVID-19 variants reached India and Nepal before vaccinations could be completed. Meanwhile, rents in Kathmandu continue to rise up and last week the largest book store in Thamel was forced to close due to a Chinese bidder on their rental agreement. Likewise the Nepali post office is still not shipping overseas.
I've pushed this book up the publishing line to keep the interest in Nepal going and to help support local workers during the current lockdown.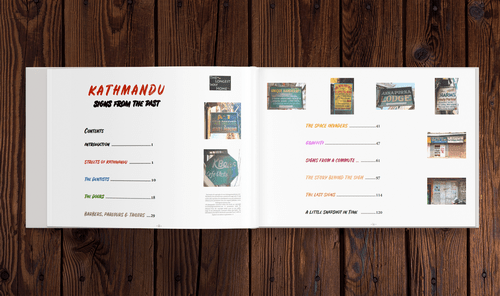 Nine chapters of iconic memories and imagery
Introduction
The Streets of Kathmandu: classic signs from the heart of Kathmandu
The Dentists: remember the grinning dentists quarter? Those hand painted dentures are all here
The Doors: big wooden traditional doors painted brightly along the old market streets, hidden by products until now
Barbers, Parlors & Tailors: Had a hair cut or suit/dress made in Nepal? This will bring back memories
The Space Invaders: Yes, first revealed on this website, Kathmandu's own invaders made it into this book too!
Graffiti: We are not talking spray-painted Rockstar logos here, we are talking Gods and Goddesses
Signs from a Commute: My daily walk and my favorite signs in Kathmandu
The Story Behind the Sign: Some signs deserve and explanation
The Last Signs: They are already most likely gone now. But not forgotten
Final sign
Big photos & and a desire to help from start to finish
It's a coffee table book so the photos had to be big. So big, Amazon said no. The largest Amazon would accept was 8 inches and a square shaped book. I looked at the proof and rejected it. I went with just over 11.69 inches which is what we'll also be printing in Nepal too. So it's all landscape with full bleed imagery, meaning the majority of the full page photographs flow right off the page and into your hand. Because of this, I'm calling this a collectors edition. It's only available here for now. If people like it, then we'll work on the Nepali printed version or a square version that the bookshops prefer. Let me know if you are interested in the 8×8 inch square version.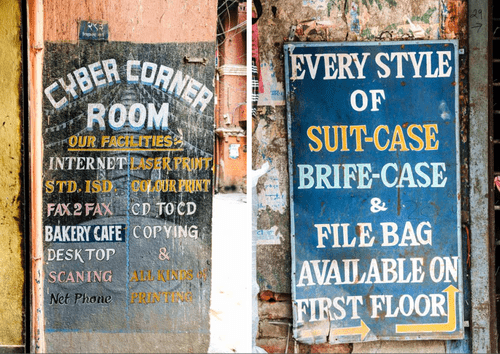 Personally, I prefer this big landscape version – it's also cheaper for you as it can be ordered directly from the printers
The colors are a premium ink on silky paper. They pop out naturally in a way that inspires ones memory. I was happy with this book version the moment I was handed it. The cover is soft to reduce the cost of a hard cover which is an additional $10. If people ask for it, I can make it happen. But for now, it's a softcover.
When Nepal opens up, this book will be printed in country as all my books are. At the moment sales of this book will be going to help keep locals employed who work in Nepal on publishing my guidebooks. The ones who just lost their largest bookshop in Kathmandu and a huge seller of books.
Secondly for every copy of this book sold, 10 trees will be planted. This is a new initiative I'm working on for my paper based books. Previously I'd donate copies of my books in Nepal to schools and orphanages in Nepal, this will still be happening with the Nepali printed version. I will be writing more about this soon but first we have to tackle COVID-19 and keeping people going over the next few weeks. Digital copy? There is one, but I don't think it does justice to the book. Again, if there's a call for it, then I will make it happen. The photographs look fantastic on paper in this book which take pride of place on any bookshelf or coffee table with memories for some or as a great conversation starter for visitors who will spot it.
The perfect gift for anyone who's visited or loved Nepal
The unique thing about this book is that just like everyone I remember these signs so well. Yet I never thought about photographing them, until I realized I already had an eclectic collection built up over the years. Then I went out to document them. These signs are the very character of Kathmandu we all walk by everyday as we take in the hustle and bustle. It's what our imaginations reach out to when we think back to the crazy times getting lost around the city.
The signs with their muddled expressions, amusing spellings or selling points, the classic trekking stores, those brightly painted colorful wooden market doors are all here. They are things we pass by everyday but never think about photographing until we've left.
This is a snapshot in time of a part of Nepal that is soon to be gone – now it can live on in this book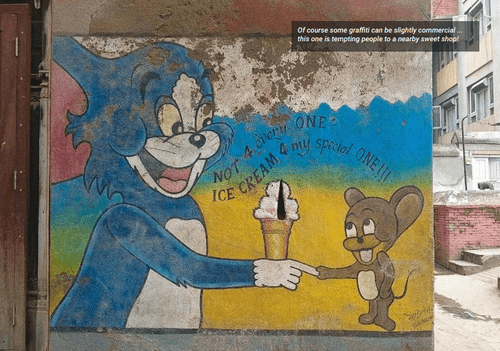 This is my "passion" project. It's not a subject matter like big mountains or classic heritage or indeed my guidebooks to Nepal. It's a unique part of Nepal that many of us have walked by without ever taking a photo of. Yet in a wonderful way these signs are part of our memories of Nepal and Kathmandu when we think back to our time there.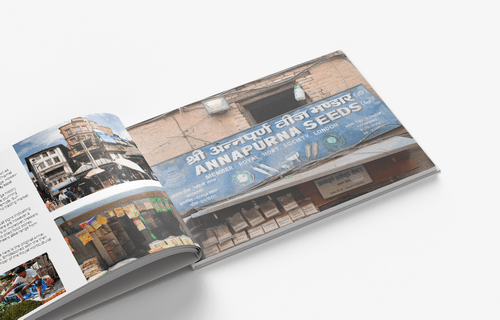 If you know someone who's visited Nepal and loved it, this book will bring a smile to their faces. The memories will come flooding back with happiness at every turn of a page. For everyone else it's a great conversation starter when they see the eclectic signs in this one of a kind photography book.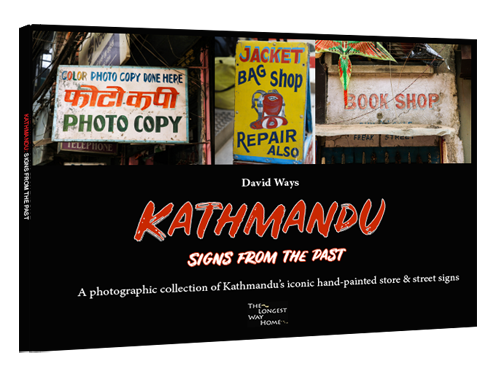 I've been through disasters in Nepal before. Government aid was dismal during the earthquake and non-existent now during the second COVID-19 wave. This book will help local people stay employed during the lockdown. Likewise profits from any of my Nepal Guidebooks will be doing the same so we can all get through this over the coming weeks.