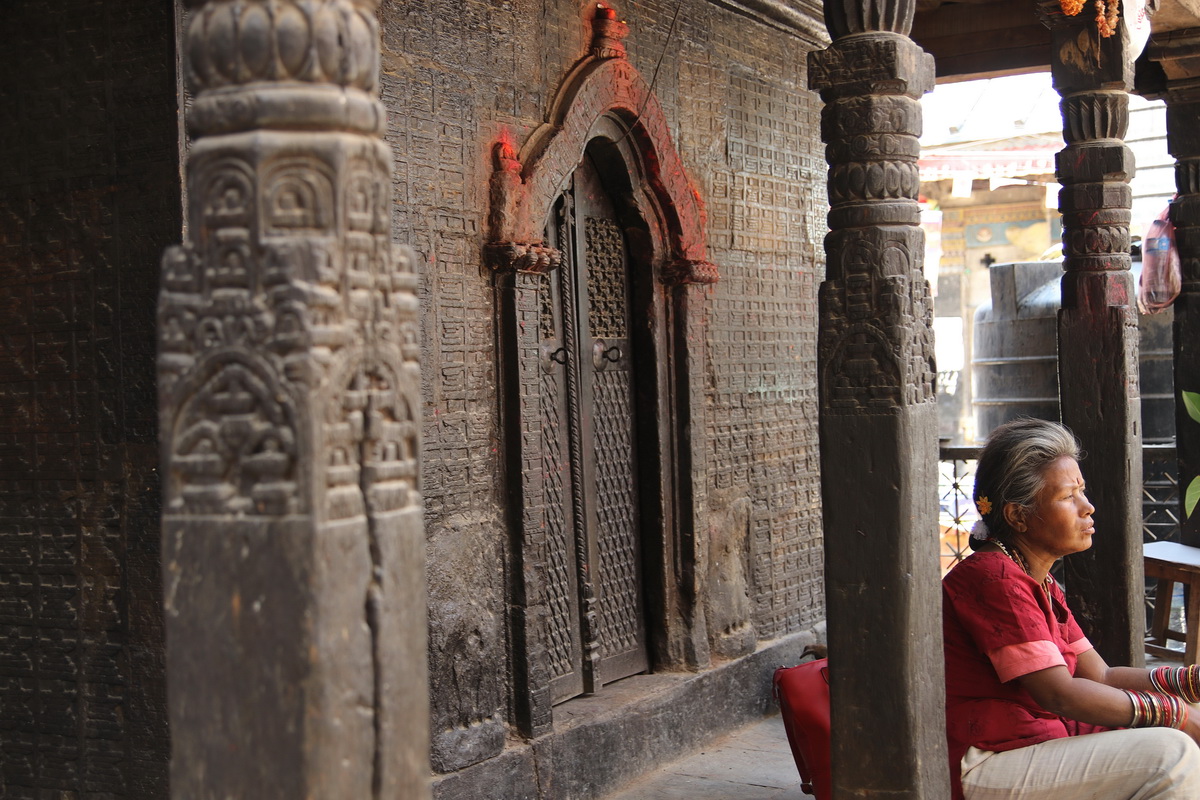 Koti Mahadev Mandir is easy to find, but often overlooked!
Although it may look like a standard two roofed Newari pagoda temple, Koti Mahadev is worthy of a closer look as it holds a secret in plain sight many overlook. One clue is that the word "Koti" in Nepali means thousands upon thousands. It's a very easy to find temple near the tourist accommodation zone of Thamel.
Koti Mahadev Mandir (temple) is located in its own plaza or courtyard very close to the famous Om Bahal in Kilagal, Kathmandu. Just head south from Thamel using my heritage walks in Kathmandu. The courtyard is rectangular and the temple shares it with a tall Krishna temple and some Shiva lingams. Therein lies the secret to Koti Mahadev.
Ignore the ugly plastic water containers blocking the full view of this temple, they've been here for decades. Perhaps that's why it's secret has stayed so well hidden. It's been in my guidebook to Nepal as an exclusive heritage walk for quite some time. It's also described in great detail in my Kathmandu Valley Heritage Walks guidebook. Now you too can discover something most tourists walk by without knowing. Step inside this courtyard and discover the undiscovered!
A temple made of Shiva Lingam bricks
In case you were wondering, a Shiva Lingam is a representation of the Hindu god Shiva in the form of a column or phallic shaped object that often rests on disc shaped object (yoni). It is said to represent the power and energy of Shiva himself. Rather crude Nepali tour guides often joke, repeatedly, that it's Shiva's penis which comes about from its shape and some rightful stories behind its origins.
Shaivism states both are a representation of the universe based on masculine and feminine objects. So in non-crude terms it is above any form of sexuality and more to do with creation of the universe.
For us, let's take the path that it is a representation of Shiva.
In this case, the Koti Mahadev is made from bricks which have all been stamped with a Shiva lingam when they were made. This was most likely done with a special mold then the bricks were fired in kilns.
Koti Mahadev is the only temple in the Kathmandu Valley, if not Nepal, made entirely with bricks stamped with Shiva lingams
A unique temple indeed.
Koti Mahadev design
Aside from the Shiva lingam bricks, the rest of the temple is largely a typical two-roofed building. The roofs are made of metal and are quite wide. The roof struts on the top section are carved with representations or deities while the lower roof struts are quite short. Pigeons have taken their toll on the struts though.
The lower base has a metal butter lamp fence going around it which visually looks like a porch like area. If you come here on a warm sunny day you'll often find locals sitting out here. There's a picture of Shiva about the main entrance. Inside the temple is a large Shiva lingam at the center.
Around the Koti Mahadev Mandir
There's a lot more to the temple than just the building itself. There are some very well preserved statues you won't find the likes of anywhere else either.
Walk around the temple clockwise. To the left of the temple you will come across several shrines. The first is a nicely made stone Ganesh shrine. Just next to the Ganesh shrine is a rather random Shiva lingam out on its own.
In the top corner is one of the most vivid full body Bhariab statues you'll find in Kathmandu. The statue has been protected from the elements, pollution and other damaging conditions on all four sides. The result is that the intricate masonry work is still very vivid.
Little else is known about the Koti Mahadev Temple
More needs to be found out about this temple. In all my time documenting Nepal and writing guidebooks there's nearly always at least one person who holds the key to discovering more about a place.
So much is not written down about temples and shrines in Nepal the information is becoming lost. Moreover, due to the cultural diversity and historic nature of Nepal some peoples perception of a place will be different to another.
Koti Mahadev is one of many locations found on my original heritage walks of Kathmandu, just before it is the impressive Kathesimbhu stupa, nearby is is Kathmandu's most famous monastery Itum Bahal. All these and the best of which are in my guidebook to Nepal and for those looking to explore even more my in-depth Kathmandu Valley Heritage Walks book.
I'd like to know more. So, asides from documenting this temple here, this article is also open to comments or if you'd like to send me an email if anyone would like to share their historic knowledge about this temple.
Meanwhile, if you are around Kathmandu near Itum Bahal and spot Koti Mahadev. Step a little closer and you'll be one of the few people to discover the secrets of this unique and interesting temple.
---
Get my Guidebooks to Nepal & discover more than anyone else!
Looking for more insider tips and information like this? Get the most up-to-date, popular and dedicated guidebook to Nepal in the world. Over 617 pages & 984+ photographs of every temple listed, daily guides on all the treks listed and so much more.
Take a look below and you'll find out why this beats all other guidebooks!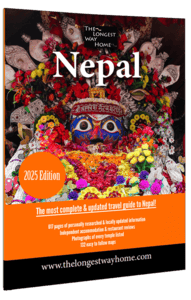 Or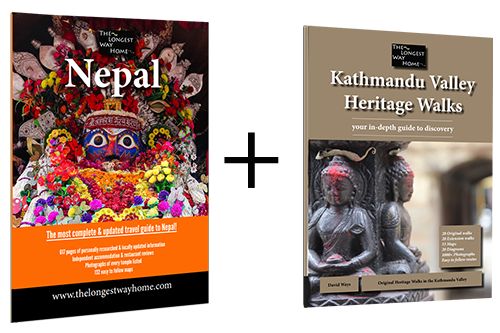 You can get 50% off my Nepal guidebook by getting it with the Kathmandu Valley Heritage Walk book