The street art scene in Kathmandu is starting to emerge
Nepal is known for it's beautiful mountains, mysterious temples and fantastic wildlife. New treks emerge and Nepal's animal conservation is among the world's best.
Nepal's Malla period is renown for creating a huge artistic boom in Nepal. Then there was a lull. Boring concrete buildings are now built just about everywhere will little thought to the aesthetics of the city. Street Art has emerged, as it has in many parts of the world, as a one-part solution.
These photographs were taken over the course of one year. I will not reveal where the street art is located in this post because, as you will discover, some people want it removed. Instead, let's look at art that's brightening up the city once more.
Street Art in Kathmandu shows no prejudice
Manjusheree is a Bodhisattva who is said to have created the Kathmandu Valley be striking his sword into a mountain and releasing a lakes water to reveal the valley.
Bhairab is a fierce representation of Shiva but also has many forms. One of these dates all the way back to the known Kirati period in Nepal.
The street art above shows no prejudice for either belief nor religion. Both are represented in stunning art work that brightens up this corner of the city.
The Lakhey Street Art
This Lakhey street art became the center of much publicity last year. Laxman Ranjit was the man behind the mask of the Lakhey. He was giving blood on April 25th 2015 when the earthquake struck.
He ran home but his wife Nilu did not survive.
The artist Martin Travers created this mural in their honor. The artwork has become a symbol of pride for the neighborhood.
Today one hopes modern construction will not cover it up. You may notice to the side is a space invader! Another hidden symbol of art in Kathmandu from years ago when an artist placed space invaders throughout Kathmandu.
Symbols of Nepal represented on street corners
Sadhus are everywhere in Kathmandu. But their images are strangely absent from many works of art. It was refreshing to come across this image on an-otherwise dull building corner.
Watching street art being created
I sat in a cafe watching an artist create this wonderful sketch of a shrine. I didn't know what he would be making. But it was enough to have me come back to the cafe every week until it was complete.
On this day the Newari girl began to emerge in color.
Street art banned in Nepal?
Street Art is not banned in Nepal, though permission is needed from a building owner before work is carried out.
I talked with a street art artist in Kathmandu about how their work was viewed by Nepali society today.
The artist did not want to be named. Not because they were doing anything illegal, but because laws constantly change in Kathmandu.
There's a difference between street art and random graffiti he said. Some people don't get that. They see someone with paint drawing on a building and call the police straight away.
Despite having permission, we still get hassled.
Artists sometimes get a commission from the building owner. Sometimes they know what they want, sometimes they tell the artist to do what we feel like. Having a letter from the building owner helps when people start questioning them.
Nobody could answer what happens when the art is finally washed away. Though the prospect of another commission is a possibility.
The oldest street art in Kathmandu?
I came across this street art years ago of what looks like an depiction from the movie "Planet of the Apes".
I may even be so bold as to say it's from the original movie and not the remake. Though that may be wishful thinking on my part. Perhaps the oldest street art in Kathmandu is the Bhairab statue in Kathmandu Durbar Square?
The Newari Girl Street Art nears completion
From a shrine to a sketch to the image of girl.
While this image alone is stunning, the final one is equally good.
Street art in Kathmandu is something we can learn from
Most of the street art in Kathmandu is about the "art" or image itself. However some street artwork tell stories and give positive messages.
Tom and Jerry are old rivals, but here they are shown giving one or the other an ice cream.
Over ten years ago I mentioned the harassment tourists got outside the American Mission Association near Thamel in Kathmandu. Back then if you so much as raised up a camera near this wall or the gate you'd have a guard running after you and ordering you to delete the photograph.
The "private" grounds house recreational facilities for many diplomatic staff or those with "passes". It's located right beside a popular tourist spot. You could see inside the facility with Google Maps, but you could never take a photo of it without the very real fear of being dragged inside. It was just a really dull regulation that caused distress to many. It even garnered a spot in my guidebooks as a warning to avoid.
A lesson learned?
Then in 2017 they seemed to get the message. A mural was painted outside and the regulations were relaxed. You can even take a photo of the mural!
I hope they purchased several copies of the guidebook as memoir of the past! It's now safe to walk by this place and enjoy some art along the way.
A better promotion of heritage?
This epic street art depiction focuses on Newari and Kathmandu heritage in ways that no tourism promotion has come close to. Yet it sits about some rubble.
It seems there many people in Nepal who know how to highlight their heritage better than others. This one bland wall is now a cultural highlight that you can see tourists stopping by to admire and ask about the different places in it!
The Newari Girl Street Art is Completed
The final image of the Newar Girl in this street art is both stunning and intriguing.
Hopefully, street art in Kathmandu will continue on. New generations of artists will emerge and create not only street art, but other forms of art that may one day rival that of their ancestors who made the Kathmandu Valley renown for art.
---
Get my Guidebook to Nepal & discover more than anyone else!
The most up-to-date, popular and dedicated guidebook to Nepal in the world. Take a look below and you'll find out why!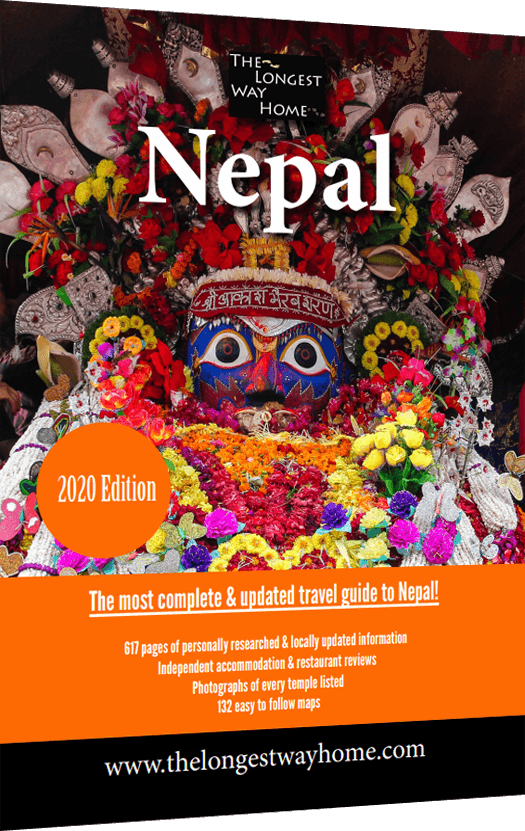 ---