Travel Journal Overview:The following is the original journal write up from the river Seti. Please read my Real People Story: Talika the twelve year old miner from Nepal For a better read along with photographs and a podcast.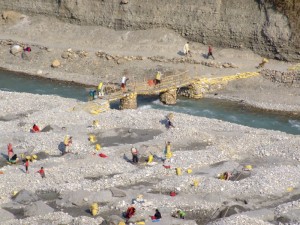 After a rather dodgy introduction to a local Nepalese dish of deep fried goat sternum and sugar puffs Narayan finally played his ace in the pack.
The river Seti was at its driest at this time of year. The river bed would be nearly completely waterless. I was expecting some old east European or Chinese digging equipment to be on display when we arrived. Even with that I wasn't sure we had arrived, I was too distracted by a red hammer and sickle communist flag flying over the local headquarters of a political youth wing nearby.
The first sign of an actual mining presence were the bright 3.5 foot yellow concrete sacks lining a dry dusty road. Trucks rumbled by, their suspension weighed down by the tonnes of rubble waste. There was no noise of heavy construction or digging machines. Just the odd truck.
We walked further down the road and into a steep incline. Then it all came into view. We here high up over the deep dried up river canyon giving us an eagle like view below. It was like a scene from an old slave movie. There below were hundreds of tiny people, and yellow concrete sacks.
One had the feeling that you looking at an ant colony. Everyone was moving. Some were busy digging in rectangular marked sections throughout the area, while others hoisted the giant sacks onto their backs and followed trails leading up the steep valley's side to awaiting trucks.
We headed down the rocky slope that took us to the valley basin. We passed men and women, both young and elderly on the way down. Wearing no more than rubber sandals they all plodded in a slow pace upwards in silence, a heavy sack the size or larger than their torso strapped to their backs.
From ground height the river bed looked more like a desert area. The sands were whitish, and the rocks grey. The silence was now more apparent than ever. In small 12×12 foot sections people worked on sifting through the river bed gravel. Some had shovels, others used their hands, to sift through the various grades of dirt. It was filtered on size. A 3 foot standing wire mesh sieve was used to separate large rocks, medium pebbles and sand. Then the three grades would be piled high and bagged appropriately.
It struck be quite quickly that people were working in groups. Family groups. Fathers, Mothers, sons, daughters, grandparents all toiled together on one plot. Ages varied between 7 to 70.
We stopped at a few plots so that I could photograph the work. I felt strange, it was still quite a visual image. One that had for me the hallmarks of slave labor. All that was needed was a man and a whip to make it all seem justified in some ancient way. But no, these people were there for survival or a different nature. Each sack was worth 11 rupees. Pebbles, rocks or sand it did not matter, the sacks all weighed 75kg. From start to finish, 11 rupees.
People were silent in their work, yet greeted me with smiles. But rarely did they stop work for the stranger amongst them. Nepalese are fairly proud as a whole. And though in the center of Pokhara one could easily class a few as being lazy, or not interested in work. It was different in the valley. They worked methodically, and without a break. Whole families worked together for a daily income of maybe 200 rupees.
One man approached me and asked Narayan to translate. It chilled me a little. He asked if I would take his son away. I asked Narayan to explain to me what he meant. It was as it sounded. The man had no money to send his son to school and was willing to give him up so that he could have a better life overseas. I told Narayan to tell him I was a journalist and was just capturing how hard life was here for the world to see their struggle. Narayan translated, and the mad nodded. Then posed for a picture. We moved on.
To stand in the center of this dried of river valley was quite a feeling. Silence surrounded us. Occasionally the echo of metal on stone rang out. If you listened carefully you could pick up on a constant flowing sound. The sound of sand and dirt on the move.
I heard a strange buzzing sound and looked up as the buzz grew into the droning noise of a twin prop plane overhead. It flew low and banked left, as if using the river valley as a marker. The tourist plane, taking people from Pokhara to Kathmandu. The passengers oblivious to the workers not full impact of the sight below.
We headed back up. A not so easy climb in itself. Something to put one to shame when looking at a 12 year old girl struggling with all her might with a 75 kg sack of rubble on her back. Behind her the girls mother said nothing as she overtook her daughter.
We waited at the top of the valley, I wanted to see the trek from start to finish that this tiny 12 year old girl was struggling to make. She stopped often to rest, but never to put the sack down. Doing so would hinder others. He climb complete the girl leaned against a pile of concrete blocks were her mother was waiting.
It was here her mother spoke to the daughter with a smile. The daughter leaned forward a little with a smile, and in doing so some sand slipped out of her sack. No more than an ounce. But still, as if gold dust, the mother scooped it up and placed it back in the open sack.
We followed them a little further to a loading area where trucks were waiting. They emptied out the sacks into a pile of similar sand. I wondered why the mother had but that small ounce of escaped sand back into her daughters sack. Nothing was weighed it seemed. I asked Narayan to find out in Nepalese by asking them.
The answer did not come as expected. Instead it a question directed at me. Where did I come from? Narayan answered. Then a short conversation ensued between them before Narayan turned to leave.
"What did they say?" I asked him, perplexed at the lack of forthcoming silence from my guide.
Narayan shrugged, "Nothing, not important."
I held out my arm, "Can you ask them how many sacks they carry a day?"
Again Narayan hesitated. Then reluctantly he turned and spoke to the mother. The woman smiled and looked around pointing to the sacks, then gave her daughter a nudge on forward.
"Too many," said Narayan with an uncomfortable smile. He moved forward as if trying to escape a situation.
"Wait," I replied with a look that Narayan knew all too well by now. He knew that I was aware more was being said than was being translated. "What is she saying? Tell me?"
Narayan scratched uncomfortably at his leg, "She wants to know how much for the girl?"
Some related links on this website that  you might like: (including a lot more photographs from Nepal)
Stories: Talika the twelve year old miner from Nepal
Stories: NGO's in Nepal & Developing Countries
Resources: How to Guide – Nepal to Tibet Overland
Resources: How to hire a guide in Nepal
---
Get the best guidebook to Nepal!
---
Liked this page? You'll love my guidebook to Nepal! I cover all of the Kathmandu Valley, Bardia, Chitwan, Lumbini, Everest Base Camp, Annapurna Circuit, Annapurna Base Camp, Mardi Himal, Ghorepani Poon Hill, Dhampus plus side treks to Gokyo and Tilicho Lakes. With day-by-day detail trekking details along with photos of what to expect, extensive preparation chapters, budgets, where to find a trekking guide plus hotel reviews, restaurant reviews, places other guidebooks don't even mention, costs & much more!
It's only guidebook to Nepal with color maps that you zoom right in with!
The book can be read on tablets, laptops or mobile devices & is printable. Quite honestly this will help you more than any other guidebook to get the most out of trekking Nepal.