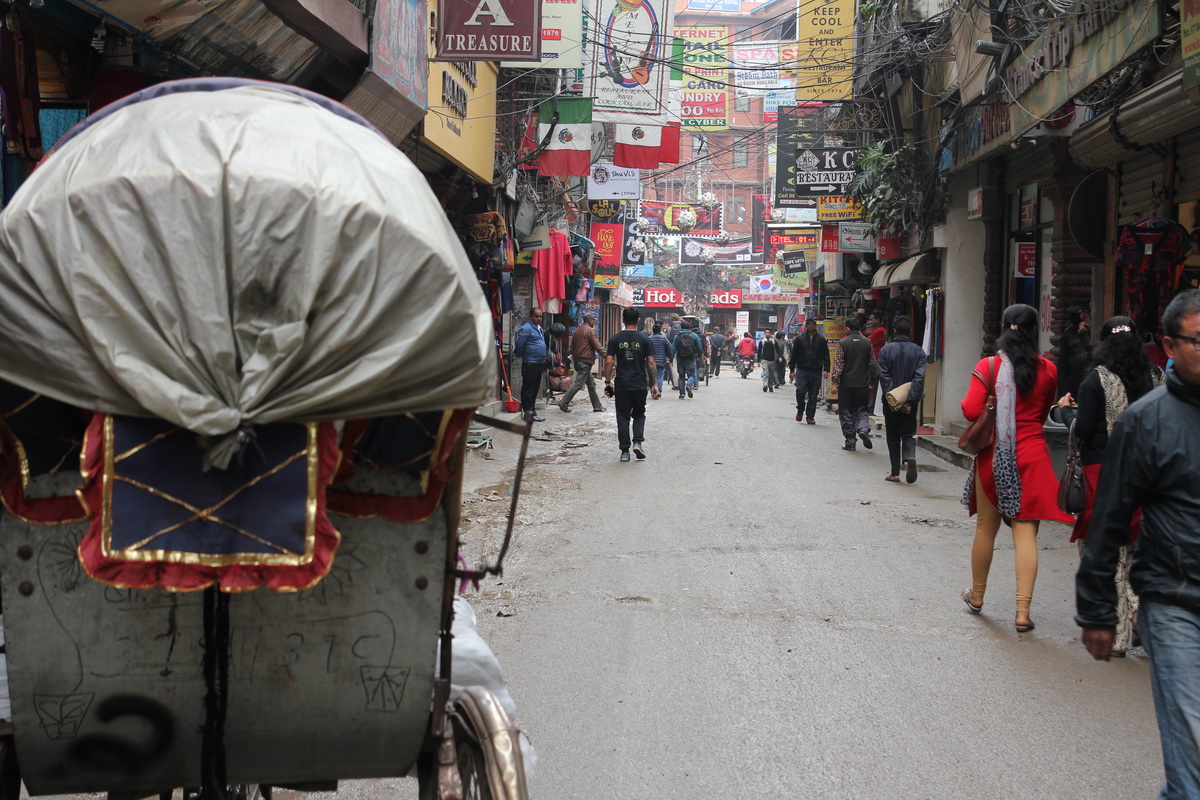 Arriving in Thamel ten years ago
It's been over ten years since I first took tentative steps entering into Kathmandu's main tourist and commercial zone known as Thamel. It was late at night as my bus from Pokhara had been delayed by nearly 7 hours. A local pointed me in the right direction though a jumble of bus weary travelers as my guidebook's map was woefully inept.
Thamel at night back then usually closed up a few hours after dark. All that remained open were 2-3 bars thumping out 80s rock music which wailed over the sound of spluttering generators due to heavy load shedding (power cuts). Few roamed the streets past 11pm aside from the odd street thug and barking street dogs.
The next day things were even quieter. There was a bhanda (strike). Within minutes of getting a daytime view of a near empty Thamel, I found myself surrounded by tear gas, riot police and rock throwing protesters. Within a few days the protests were over and Thamel was once again rocking with 80s music alongside Buddhist mantras, determined trekkers, chilled backpackers, pie chomping hippies and trekking touts.
Those were my first experiences of Thamel. Today, this bustling epicenter of tourism in Nepal is changing at a phenomenal rate. Is the Thamel of old becoming better or have we lost an era into the jowls of an unforgiving city.
When did Thamel start to change?
The simple answer is that Thamel has always been changing and evolving since its origins over 1,000 years ago as a Buddhist Newari settlement known as Tabitha which had the Bikramashila Mahabihar (Bhagwan bahal) monastery/temple as its central area.
For me I first noticed a change in 2009 when the then mainly pedestrian streets of Thamel suddenly became overrun with young Nepalis on motorbikes. Before, it was mainly tourists, trekkers, cycle rickshaws, a few motorcycles, some annoying taxis and several cows.
The motorbikes had mainly wealthy students riding them. I seem to remember there was a good financial deal on various Indian bikes at the time like Hero's. They rode them badly and there were many accidents and skids along the broken roads of Thamel and New Road.
There were always rumors of a samurai sword wielding gang member in Thamel (turned out to be true). Tourists were usually exempt from such trouble back then. We were the cash crop of trekkers and money spenders. The words "You want smoke, hashish" were usually the worst it got when it came to harassment.
Street children in Thamel huffing bags of glue would roam around looking for cash from well-meaning tourists not knowing that their money only went to buy more shoe polish, rugby or aerosols for the kids to inhale.
Ear plugs at night helped with sleep in Thamel as street dogs fought, howled and romanced until heavy metal shutters alongside hacking shop owners signaled dawns arrival.
The next big change in Thamel
Motorcycles and traffic increased rapidly over the next few years and the roads deteriorated but Thamel still had its east meets west trekking and touristic vibe. Pashmina stalls thrived as did metal souvenir stores selling everything from singing bowls to prayer wheels. It was never about temples or culture in Thamel. If you dared to stop for an instant to gaze upon something of note you'd be subjected to the sales pitch of a flute seller or dirty hashish dealer.
Of course trekking agencies and tour companies continued to come and go but Thamel remained largely the same until around 2013 when the Chinese first arrived, en-masse.
The Chinese in Thamel
There's a Chinatown already in Kathmandu off Kantipath, but it never took off. Instead the Chinese "businessmen" took over a district in Thamel at the end of Amrit Marg. Chinese hotels popped up everywhere along with dubious exporters.
Within two years you could be mistaken for thinking you were in China around that area. When researching my guidebooks to Nepal I quickly realized that many of these "hotels" were only for Chinese customers. Rooms were either "fully booked" or triple priced for westerners. Moreover many hotels were merely fronts for antiquity exporting. Plush double rooms filled with cargo crates were commonplace in my explorations.
Throughout the rest of Thamel Chinese businesses offered double the rent for local stores and landlords took their money giving their Nepali countrymen a mere 30 days to vacate their decades old stores that helped to build Thamel.
It was a sad and worrying period in Thamel as local businesses who had been running for decades where closing rapidly while Chinese businesses were popping up everywhere along with throngs of Chinese tourists who held little respect for Nepali culture.
Only the landlords of Thamel truly prospered now along with some vendors enamored by the short term fixation of Chinese tourists with fat wallets blatantly looking to copy all for their own businesses just down the road.
Greed had come to Thamel and Nepal's bureaucracy bent to the might of the Chinese Yuan.
Then the earthquake came …
2015 earthquake and Thamel
Though nearly 10,000 people lost their lives during the 7.8 earthquake in April 2015, Most of Thamel itself survived with only cracks and superficial damage. On the outskirts of Thamel and beyond things were much worse.
Following the earthquake, Thamel motored on at a hot new fevered rate. While the Chinese tourists left in manic droves in fear of aftershocks countless well funded volunteers arrived to help out villages. Internationally financed NGO workers set up bases in hotels and in the outskirts of Kathmandu. Though utterly devastating to all of Nepal, post-earthquake Thamel saw "new" money arriving at a shocking pace.
By the following year Lazimpat/Naxal (diplomatic /expat areas north of Thamel) were flourishing. As were areas in Patan which became popular with NGO offices. Tangaal Marg saw hip new clubs, restaurants and hotels quickly open to take full advantage of this new money.
Pollution rose astronomically and dust masks became the norm for nearly all as new money wriggled its way into new exclusive commercial buildings and historically devastating road widening projects.
In Thamel the "boutique" hotel had arrived. Old budget guesthouses were converted into contemporary hotels and prices started going up.
The influx of new money along with established bars, clubs and nightclubs saw Nepali youth converging in Thamel instead of previously popular local places further afield. Indeed, by 2016 Nepali people outnumbered tourists when it came to dining out in Thamel or in bars, nightclubs and even when it came to purchasing "fashionable" trekking gear.
Then in late 2016 load shedding stopped. In simplicity, someone discovered that for 19 years electricity was being stolen from the people of Nepal and sold to various companies. Literally overnight, 24 hour electricity returned to Nepal, including Thamel.
There were no more excuses, Thamel was seeing a wealthy boom among those who had money to invest and buy.
Thamel in 2017 – no more cows
Construction. Boutique hotels and stores. Trendy and wealthy Nepali are the main shoppers in Thamel these days. Western trekkers and tourists look positively scruffy next to well-to-do Nepali youths in newly renovated bars and clubs. Chinese businesses are still in a state of flux between closing up post-earthquake and starting up as new Chinese tourists return.
It's not all change though. The roads of Thamel are still pot-holed and nearly a foot higher than the drains due to years of cheap tarmac being added. There are still sections of Thamel by Bhagwan Bahal that look gloriously untouched for centuries. Garbage bins are still missing as people still throw waste on the streets for the road sweepers at 6am to whisk away to unknown destinations.
Narshing Chowk and Thamel Junctions are still delightfully crisscrossed with rickety signs for trekking agencies, bars, cafes and laundry shops. The traffic is hideous as is the pollution but there are still strong hints of Thamel of old here.
The one thing missing? Cows. It seems in 2017 the mad traffic, pollution, the need for stylish boutiques and changing bureaucracy has meant those holy cows once found grazing in garbage piles have left Thamel.
The future of Thamel
I've thought about this a lot. There are basically three ways Thamel can go.
1) A complete Chinese takeover of virtually all businesses in the throws of a focus on Chinese tourism over anyone else.
2) Thamel becomes a modern boutique shopping zone and exclusive night spot for the wealthy. Meanwhile the Thamel of old will move out in the direction of Paknajol.
3) There's a serious revitalization of Newari culture with old/new buildings being created with Newari designs along with similar multi-budget stores, hotels, shops and restaurants that cater to all tourists along with locals. Ramshackle signs still point to trekking agents, laundry stores and so forth as past meets present allowing everyone to enjoy Kathmandu's diamond in the rough.
Of these three options the first will succeed without hesitation if Nepali bureaucracy continues on as it is. Greed and money will see to this.
The second option is probably the most likely and my best guess.
The third option is the ideal one. The new being built in the style and tradition of the old. There is some hope here as a few newer hotels are spending money on Newari style architecture in north Thamel. However the vast majority of new buildings are horrible concrete shells.
Every time a bland concrete building is constructed, a little bit of Thamel dies.
Yes, Thamel has stood for a thousand years and is likely to continue standing for a thousand more. Within those first thousand years it changed and some would say adapted well to the changing times.
Perhaps this article is no more than a rose tinted 10 year memoir by a traveler who misses those first few adventurous steps into the chaos that was Thamel then.
Yet, much like Thamel, I too have adapted to the change. I have to as I continuously update the very best guidebooks to Nepal to help others on their own first steps into new adventures in the still chaotic fun that is Thamel.
This article is one of several about Thamel which includes photographs, changes, places to go and book reviews. You can find all these articles in my main travel guide to Thamel.