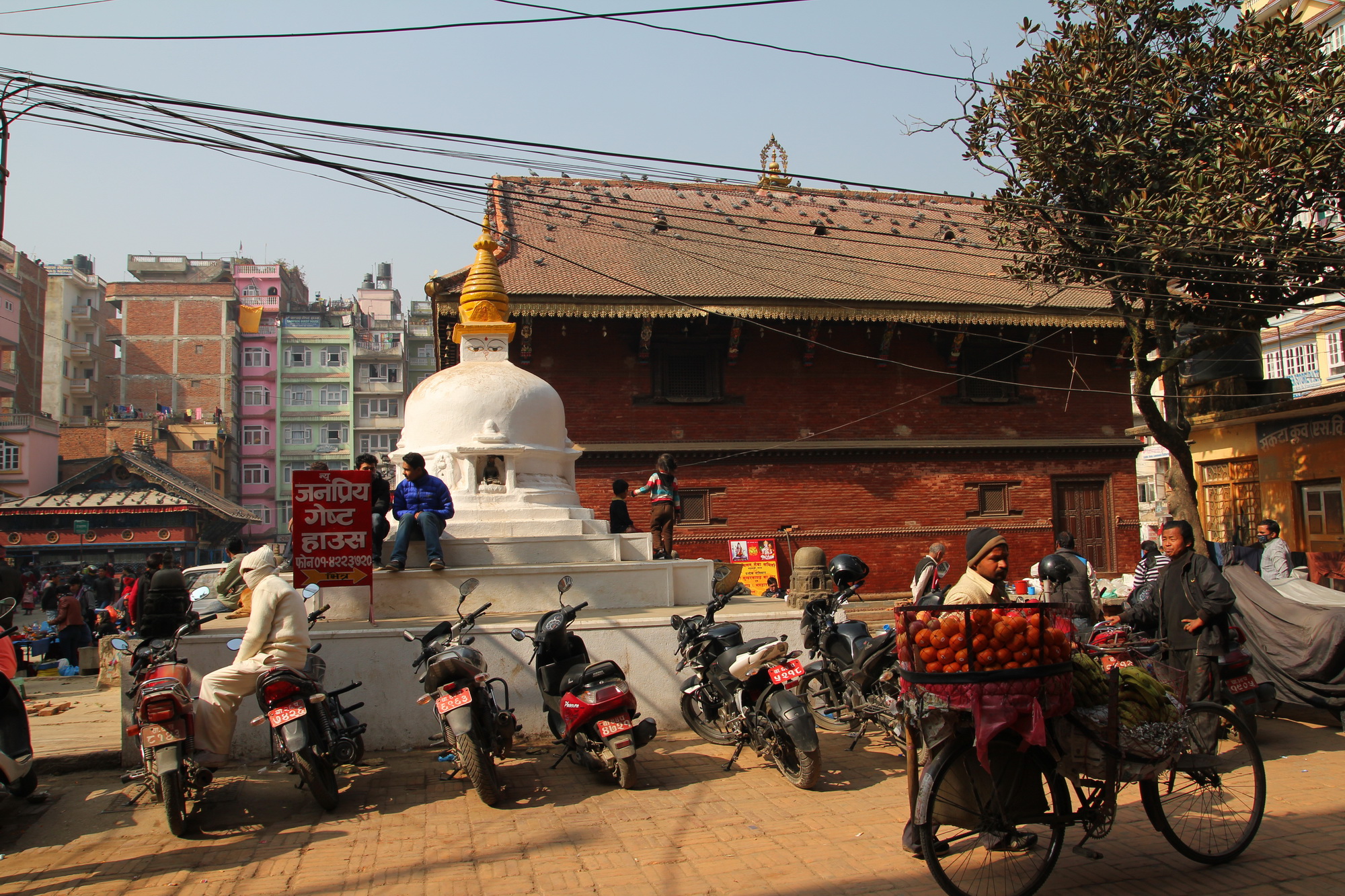 Discovering Nepal's largest Monastery Courtyard: Te Bahal
Looking for an interesting and free sight to visit in Kathmandu? Try a short walk to Te Bahal to discover a place few tourists venture to. Moreover, Te Bahal predates Kathmandu itself!
It's one my favorite places to visit early on a Saturday morning in Kathmandu when blessings are made and it's full of life. With a stupa, the important Sankata temple, a god's house and so much more it's a great place for a quick place to visit or better yet – as part of a full heritage walk.
A quick paragraph to understand what the place is
A Bahal is a monastery or teaching monastery in the Kathmandu Valley. There are literally hundreds of them throughout the Kathmandu Valley. You can discover them in detail along with many more along original heritage walks in my Kathmandu Valley Heritage Walks book.
Let's take a look at Te Bahal and what you can discover there with this short walking tour that you can easily do yourself.
Entering Te Bahal
Just opposite a small Ganesh Shrine nearby the Nepal Airlines buildings along New Road is a small passageway leading to a large open area. The square is filled with temples, shrines, inscription pillars, a stupa and indeed a monastery. This is Te Bahal or Raja Kirti Mahavihar. Kathmandu's largest open monastery. It is a Newari monastery which is a blend of Buddhism and Hinduism.
The area was renovated between  2016-2017. It dates back to the 5th century when the Licchavi were still living in the Kathmandu Valley. Most of the buildings you will discover now were built later in the Malla era. 
Te Bahal Stupa
The very first monument you come across is a stupa though many will call it a Chaitya as there is no evidence of the Buddha's sacred relics here. However, the stupa does contain Licchavi period statues. So it could easily date to this period. As with many parts of Nepali or Newari heritage exact dates are rarely recorded as we'll discover later on.
Bhadrakali Dya Chen
Just in front of the stupa is a this large red brick 17th century Newari gods house. A slightly different variation on a temple in that this is where the god resides. In this case Ganesh, Bhairab and Matrika reside here. Chamunda also resides here but there was an issue with another house who also claimed she should live there. In the end, she was given two houses.
Bandudatta Vihar
Again to the front is this small unassuming building which happens to be the oldest building in the bahal. It is dedicated to the Buddha and was done so in the Liccachi period. It is named after Bandudatta Acharya who by way of legend, brought the Red Machhendranath (saint/founder of hatha yoga) to the Kathmandu Valley. It's likely the building has been rebuilt many times over the centuries. An interesting note is the lack of "nath" in the names here compared to similar monuments with links to the Natha. 
In front and to the left of the building is possibly the most famous temple in the area.
Sankata Temple
There's a common misconception that this is "Te Bahal". It's not. It is a temple dedicated to Sankata. The first floor is filled with Buddhist relics and statues. The toran above depicts Padmantake. In the second floor is the main Sankata shrine which is accessed through a set of steps at the rear of the building. 
Sankata is worshiped to ward off illness or ill health on Saturdays. Interestingly Sankata is worshiped as female deity by Buddhists while Hindu's treat Sankata as a manifestation of Bhairab. Newar's simply call her the deity Sankata.

Te Bahal (monastery)
To the right of the Sankata temple is a lone Newari style building which is in fact the entrance to the Te Bahal monastery. There's surprisingly little to see here as it's normally locked up tight. Built in the 17th century it's also not the oldest in the square. But, the entire area is named after it all the same.
Te Bahal on a Saturday
If you visit Te Bahal during the week or on a Sunday it will be a quiet place. Sometimes people take advantage of this and try to sneak in with their car to use the open area as a parking place. The local community are continuously trying block cars from entering. It's a good time to visit for some peace and quiet.
However, if you'd like to see some genuine Newari culture then Saturday mornings are the best time to visit when people come to pray outside the Sankata temple. Local stalls are often set up along the entrance way. Butter lamps are lit up outside the temple. Very often you'll also see visiting priests holding open consultations with people.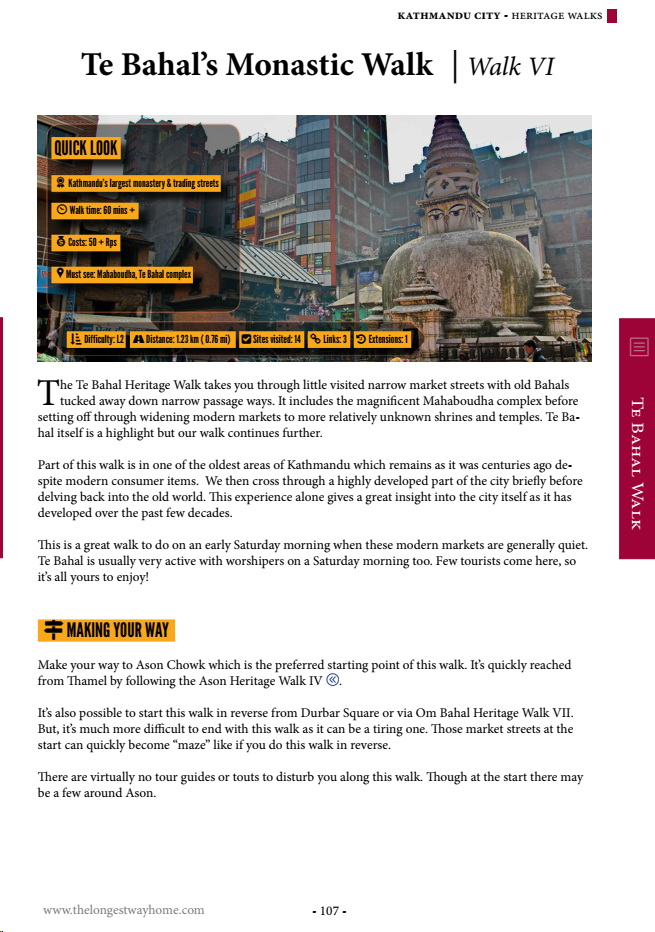 Discover Te Bahal for yourself
Virtually no walking tours visit Te Bahal. This is a great thing as you'll have the place to yourself. Moreover Te Bahal is a thriving community that supports itself. A great number of Kathmandu city tour guides are not Newari and don't even understand the place!
Hopefully this page will hopefully give you some insight into the actually place known as Te Bahal.
If you'd like even more information and detail then Te Bahal is part of a 60 minute Monastic Heritage Walk in my Kathmandu Valley Heritage Walks guidebook.
The walk to Te Bahal is an interesting one filled with hidden streets, more bahals and temples that you won't find anywhere else!
---
Kathmandu Valley Heritage Walks can be yours to own
This book has been written by a heritage enthusiast, tested by other heritage walkers LIVE on the trails of Kathmandu in 2018 with the very latest updates and is now available to everyone worldwide.
If you are going to Nepal and enjoy heritage and discovering new places not mentioned anywhere else then this is the best guidebook you can have.
More details on the Kathmandu Valley Heritage Walks guidebook digital edition
More details on the Kathmandu Valley Heritage Walks guidebook paperback edition
Get 50% off on this book when you get it with the my full digital Nepal guidebook (see the offer in the "discover more section")
Or get it for free if you purchase my digital Nepal Guidebook and digital Trekking in Nepal guidebook together (see the offer in the "discover more section")