Should Nepal open for trekking and tourism in 2020?
"Should" rather than "will" seems to be the international perspective on Nepal's 2020 tourism industry. Meanwhile in Nepal, there are few people who think of "should", the vast majority are shouting "when?"
There are those on the outside looking in who are convinced that tourists will bring in COVID-19 and wipe the country out, or enter the mountains and infect the elderly population. There are those who are worried that they will catch COVID-19 in Nepal. And, there are those who simply want to know if there are flights and if everything is back to normal yet.
We'll take a look at all of this from a boots on the ground perspective.
Will tourists infect mountain trekking villages with COVID-19?
Let's wind back the clock a little. Before thinking if tourists will bring in COVID-19, do we know if the virus is currently in Nepal? The answer is a definite yes. Are there lockdowns in Nepal preventing the spread? Technically there is still a lockdown, but you can go out if you wear a facemask. Is everyone wearing a facemask? No.
Before we even look at the above, there's another aspect to think of. Testing kits. Are there testing kits up in the mountains? No. Well, I'm sure there's a few swab kits that have been brought into a few places, that then have to be carted off to Pokhara or Kathmandu for analyses. As for in each village? No. Far from it. Much like at the start of the outbreak when Nepal proclaimed itself virus free the reality is different on the ground. Indeed I listened to countless Nepali at the start say they were immune due to high altitude, dusty air and the list goes on. Then the testing kits arrived.
Today the number of infected Nepali with COVID-19 is … well I'm not going to give a number. Why? Because nobody knows. There simply are not enough testing centers, kits or adequate resources to give you an accurate number. Yes, there's an official number of 17,000+, 35+ deaths and about 3,700+ recoveries. I don't believe a single number. The country, testing areas and facilities are just not good or accurate enough to rely on. Keep the Johns Hopkins fancy maps for countries that do have enough testing centers to produce nationwide accurate data.
Nepal's open borders and returning workers
Nepal shares an open border with India. Meaning anyone can cross over each others border. I'll also add in that to the north there's a closed but porous trading border with China. People are transiting no matter what the official statements say. Few get swab tested at most of these crossings. Those that do, well they seem to be able to cross anyway.
Nepal has a huge amount of returning overseas workers. They do get tested at the airport. There are home quarantines, and plenty of stories of people going out for a party when they get home.
When things go belly up in Nepal, people always return home to their village. This includes mountain villages. Trekkers will not be the first to visit the mountains of Nepal during the COVID-19 era.
Will tourists increase the amount of COVID-19 in Nepal? 
Yes, but not necessarily. At the moment nobody is allowed in for tourism. Other countries are requesting medical tests, COVID tests and more to travel. If a tourist gets a COVID test and passes the chances are less that they'll bring the virus in. But, there's still heaps of loop holes to contract it before leaving for Nepal no matter if they had a test 24 hours beforehand or not.
The answer is obviously yes, tourists can bring in more COVID-19. But the real question will be, is it worth the risk and will it hinder people or help them?
Can Nepal survive without tourism due to COVID-19?
Yes it can. But it will devastate millions of people who work in the sector or benefit from the far reaching trades it affects. The fallout will be felt for decades. Much like other countries around the world who are now opening up quickly as their economies cannot survive a prolonged lockdown.
It's not just about COVID-19 infections. It's also about getting medical access to other disease testing and treatment facilities. Hospitals are turning away people with heart complaints or respiratory conditions because they fear COVID-19 infections. In 2018 34,167 people in Nepal died of heart disease. 16,203 died of strokes. 13,853 died of lung disease. 9,834 died of diarrhea related disease. And, 9,712 died of respiratory illnesses. 6,498 died of TB. The list goes on. So far 35 people have died of COVID-19.
More than asking if Nepal can survive without tourism, can Nepal survive when people cannot get access to medical treatment due to lockdowns and a crippled economy?
These are questions every country around the world has been asking. The answer seems to be, we need to get out of lockdowns or we'll make this even worse. Is there a country on earth that has implemented a lockdown and protection strategy for the elderly or those vulnerable to COVID19 while keeping everyone else running the economy?
Humanity has failed to deal with COVID-19 properly
Indeed this is the crux of the issue. We were warned for years about a virus outbreak. But we had nothing in place to deal with it. Then it happened.
Can you catch COVID-19 in Nepal as a tourist?
I would say yes. But I'd also say you can catch it at home too at the supermarket or out on the street. If we've learned anything from COVID-19 it's facemasks, handwashing, and social distancing. All of these things can be done in Nepal when you visit.
Should you trek with a facemask? If I'm well spread out from others, I wouldn't wear one. It's not going to be easy to trek with one on. But if you maintain social distancing outside and then wear a mask when you are around people, it will certainly go a long way. So too will hand washing, and proper sanitation.
Nepal has worked on a huge booklet for tourism professionals as a guide. It includes sanitation. This is one huge benefit of COVID-19. Finally sanitation will happen in Nepal. Something that has been missing for years. Tourists can help with this by being strict with washing, facemasks, and indeed all manner of sanitation.
Can I get a flight home from Nepal?
Right now, you can't even get a flight into Nepal let alone home. The airlines have been terrible with flight cancellations around the world. They need to guarantee flights. Even if there's only one person on a flight, they need to guarantee it leaves.
This might mean fewer flights. But I would prefer fewer flights than unknown cancellations. Let's ask this of Nepal.
Make flights guaranteed on fixed dates before opening up
It's far too early to talk about booking flights. In my COVID-19 in Nepal updates I've kept track of what's been happening since February. They say that August 1st 2020 will see the return of international flights …. I think that's great, but there will be lots of kinks to work out first. COVID-19 tests, quarantines etc. This all has to be worked out before. And, Nepal is not good at working things out.
Quarantines in Nepal for tourists
Don't listen to anyone saying there will be 14 day quarantines in Nepal for tourists. No statements have been made. Not in the least. Internally the idea has been mooted, stopped, and paper filed for later after tea. There are very few people in the world who will fly all the way to Nepal only to spend 14 days in a quarantine before being allowed out. It's a no brainier. In reality, it might be part of a "phased easing" of a lockdown at the start.
The reality is more likely to be a COVID-19 test before leaving home. Though the effectiveness of this is debatable. One thing that is important, will be insurance. With or without quarantines getting good travel insurance for Nepal when traveling is now essential.
Countries like Cambodia are requesting USD $3000 deposits from tourists – though this is given back within 3 days of testing negative. It's also not meant for "tourists" but more for people who want to travel there e.g. workers, spouses etc.
Thailand is also muting what to do. And again, there plenty of internet rumors and gossip. Nothing official has come about.
Meanwhile in Europe things are opening up. Travel bubbles have appeared between nations with similar COVID-19 numbers. Personally, I think this can help. Unfortunately some of the lists show clear bias and are more political than scientific. Another sign of failure on the part of today's world.
As such, there's no point in speculating on Nepal quite yet. When can we look at this more closely? I would guess August 1st. Again do see my page on COVID-19 in Nepal for more.
What's been happening in Nepal during the lockdowns?
Truth be told for the past few weeks everything has been pretty normal. Though there are not many tourists. Quite a few opted to remain in Nepal during lockdown. People are not allowed out without masks. Tourist areas are empty. But, you guessed it, ticket offices are open in many places charging entrance fees – hello Kathmandu Durbar Square. Do see my heritage walks in Kathmandu to get a better free look around this area.
A few stores are open in Thamel and Lakeside. But they are open with no customers. It's still off-season so it's expected. What they don't know is what will happen in the coming few months.
This is a pivotal time in Nepal that will decide what the future of tourism in the country will be like for the next few decades.
What I see on a daily basis are people out of work, rents not being paid, and an industry that won't last in its current form to the end of the year. Chinese and Nepali big businesses are already moving in and buying up the local stores, trekking agents and local hotels we've all loved for so many years.
So, will Nepal open up again for tourism?
The answer is yes. When will it happen? We don't know yet. August 1st is said to be the day international flights are allowed again, but it's not been made "official" yet. It also doesn't mean you should or can book your ticket quite yet. Wait until you know what the criteria will be to allow you in.
Should you visit Nepal? That's a personal choice. I've come across people petrified of COVID-19 who seem adamant to wait until there is a vaccine. They might be waiting for some years. I've also come across people who think anyone going outside their own country is going to get us all killed. On the other hand I've met people who refuse to wear facemasks and think it's all a joke. We need to settle on a happy middle ground. Otherwise, we will all sink.
This is the reality on the ground. The choice of visiting Nepal will be up to you once they announce flights are open and that tourists can come back.
Many people are already making inquiries. I'm keeping my guidebooks updated. I have hope for the future.
---
Get my Guidebooks to Nepal & discover more than anyone else!
Looking for more insider tips and information like this? Get the most up-to-date, popular and dedicated guidebook to Nepal in the world. Over 617 pages & 984+ photographs of every temple listed, daily guides on all the treks listed and so much more.
Take a look below and you'll find out why this beats all other guidebooks!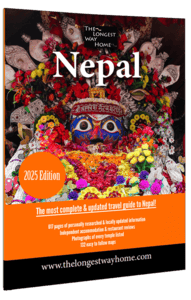 Or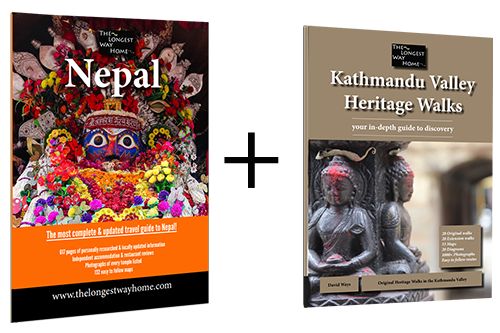 You can get 50% off my Nepal guidebook by getting it with the Kathmandu Valley Heritage Walk book